The impact of Coca-Cola Sabco Mozambique befits that of the world's largest total beverage company and most valuable brand. We discuss investments and sustainability initiatives with General Manager, Duncan Wyness.
INTRODUCTION
It was 1886 when Dr. John Pemberton served the world's first Coca-Cola.
From that one iconic drink, The Coca-Cola Company (TCCC) has grown to become the biggest non-alcoholic beverage business, with an unrivalled portfolio of brands that includes Sprite, Fanta, Dasani, Powerade, Del Valle, and many more.
From refreshing soft drinks to dairy, sparkling water and natural juice, more than 1.9 billion Coca-Cola drinks are now enjoyed across more than 200 countries worldwide each day.
In Africa, where the first Coca-Cola was later served in 1928, Coca-Cola Beverages Africa (CCBA) operates in 14 sub-Saharan countries. Designed to advance a consolidated, more successful Coca-Cola system on the continent, the group was formed in July 2016 by combining the non-alcoholic, ready-to-drink beverage bottling operations of TCCC, SABMiller, and Gutsche Family Investments (GFI) in Southern and Eastern Africa.
With an inclusive business culture that reflects its African identity, the purpose of CCBA is to refresh Africa every day and make the continent a better place for all, an aspiration driven by its engaged, motivated, and inspired employees.
Today, CCBA is the eighth largest Coca-Cola bottling partner worldwide by revenue and the biggest on the continent, accounting for more than 40 percent of all Coca-Cola volumes sold in Africa and serving over 600,000 outlets.
CCBA clearly has a diverse footprint in Africa, and one of its key markets is the scenic Southern African nation of Mozambique, where iconic beverages have been offered by group subsidiary, Coca-Cola Sabco Mozambique (CCSM) for more than a quarter of a century.
"We started in Mozambique in 1993, and on 6th May 1994 we produced our first 300ml bottle of Coca-Cola," opens the General Manager of CCSM, Duncan Wyness.
Wyness has extensive African experience in Mozambique, as well as Angola, specialising throughout his career in fast-moving consumer goods (FMCG) with a short stint in financial services. As an FMCG company that is customer-oriented, socially and environmentally conscious, CCSM was a natural fit for Wyness, who has now been at the company for approaching six years.
"I realised that FMCG was really my passion, and in October 2016 I moved across to CCSM. I was appointed at the beginning of May 2022 as Managing Director; it was my first step out of finance and into more general management," he tells us.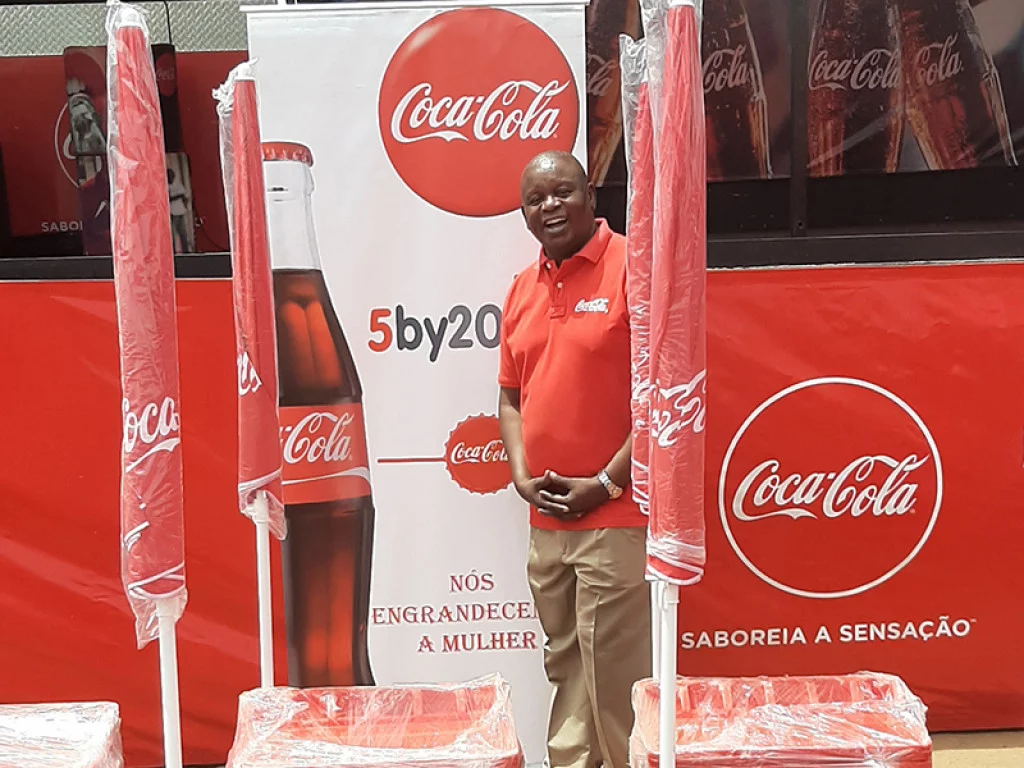 GREENFIELD PROJECT
CCSM employs close to 1,000 people at its three manufacturing facilities across Mozambique, in Nampula in the north, Chimoio in the centre, and the capital city, Maputo in the south.The north of Mozambique, comprising the provinces of Nampula, Zambezia, Cabo Delgado, and Niassa, has been identified by Wyness and CCSM as a huge area of growth potential for the company.
"50 percent of Mozambique's population is in the north, but only 15 percent of our volume, so big opportunities are going to come in the future as it catches up with the centre and the south," he states.
At all three sites, CCSM now produces glass and PET plastic bottles having invested over US$11 million in a PET plastic line at the Nampula facility which was commissioned in early 2021.
In the south, meanwhile, CCSM has increased its capacity by constructing a world-class, US$110 million greenfield bottling facility in Matola Gare, close to Maputo, which was inaugurated in June 2016.
"By March of 2013 we had basically outgrown our facility in Maputo, so we decided to construct this greenfield facility which took almost four years to build," Wyness explains.
"Because it was greenfield there was nothing there, not even a road to get to the plant. We looked at Matola Gare because there is reasonably good access to water, as it is pretty close to the pipeline that comes from our main feeder dam south of Maputo.
"Matola Gare also has close access to the gas pipelines, and the land was reasonably affordable. The municipality was very excited to host a big industry like ours, so they really helped us to acquire the land and get all the necessary permits," he continues.
Currently equipped with two production lines for glass and PET plastic bottles, CCSM has the capacity to expand the greenfield site to up to seven lines.
"It has been designed with the intention of CCSM being here for a very long time, and the size of the land is such that we can expand as we need, so this really is a long-term investment."
The inauguration of the site was attended by Mozambique's President, Filipe Nyusi, who acknowledged CCSM's investment in job creation and the growth of skills in the country.
"A couple of years ago, an independent socio-economic impact assessment found that CCSM has a one in 45 impact on jobs, so for every one permanent employee, we create 45 indirect jobs in the country through our ecosystem. At the time we had 850 full time staff, meaning that we were indirectly creating over 38,000 jobs.
"That's very powerful and a strong indicator of the impact that CCSM has on Mozambique," Wyness emphasises.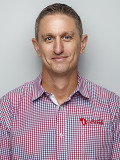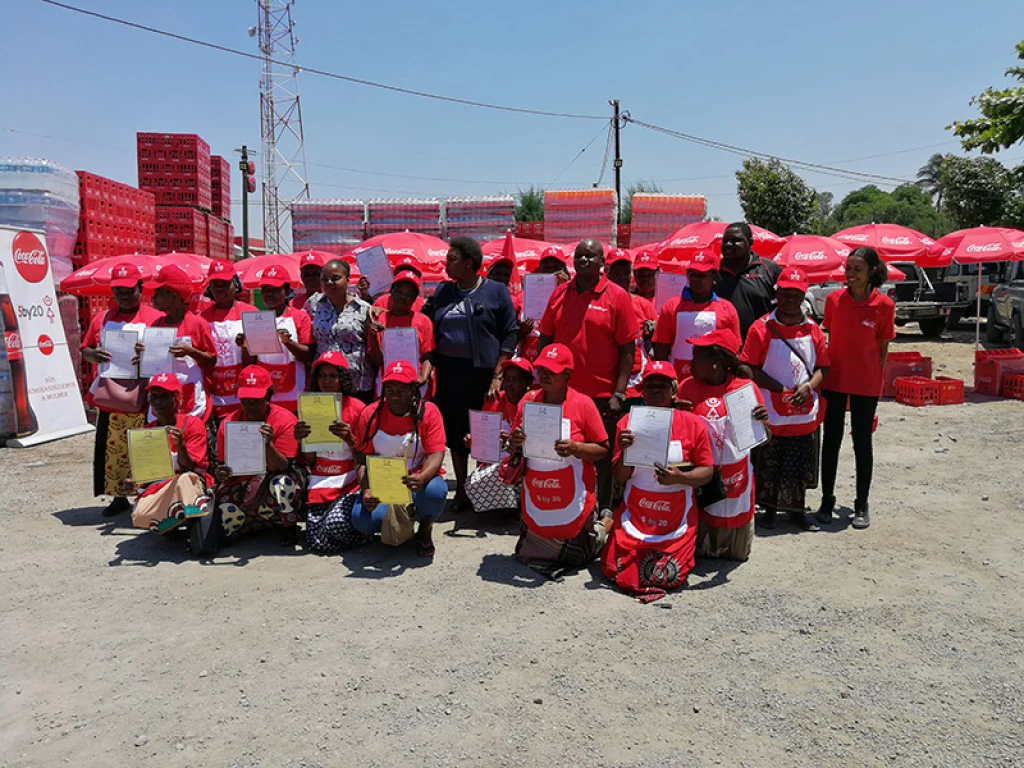 RECYCLABLE PACKAGING
Despite being a continent of extraordinary potential, expected to enjoy the second-fastest economic growth in the world over the next 10 years, Africa is also expected to be among the worst-affected regions when it comes to climate change.
To both stimulate the economic growth required to offer dignity and prosperity for all its people, and to do so in a manner that is environmentally sustainable, Africa must find ways to decouple economic growth from the overexploitation of natural resources, such as water, and reduce the use of fossil fuels.
While governments can contribute to creating an enabling environment, the private sector and communities themselves also have a critical role to play.
For this reason, CCBA, and thereby CCSM, has made sustainability integral to its business strategy, so much so that it has been incorporated into the group's short- and long-term incentives on the understanding that the business can only flourish if the continent flourishes too.
One of the biggest contributors to reducing the carbon footprint of CCBA subsidiaries such as CCSM will come from more recyclable packaging. The recyclability of CCBA's packaging is already at more than 95 percent, ahead of TCCC's global target of 100 percent by 2025.
"If you look at packaging generally around the world, if you only give consumers a certain type of packaging, then that's all they're going to buy because you're not giving them a choice," Wyness observes.
"Whereas 20 years ago we might have been selling 100 percent of our products in glass, today we give people that choice. About 60 percent of our sales come from PET plastic bottles, 30 percent glass, and 10 percent cans which are produced by a third-party packer.
"Within PET plastic we then obviously have all different sizes, so customers are able to choose the size of bottle that is appropriate to them."
As a responsible bottler, CCSM, like all CCBA subsidiaries, continues to increase the recyclability of its packaging with a strong emphasis on shifting to homogenous and clear bottles, and significant progress has already been made in this regard.
"The design of a lot of our plastic bottles has changed. We've moved all of our coloured PET to clear plastic, so Sprite bottles for example which used to be green are now clear," Wyness says.
"We've also lightweighted our bottles as much as we can, so we've reduced the amount of plastic that goes into a preform."
Likewise, CCSM is improving the collection and recycling rate of PET bottles, in line with TCCC's commitment to a World Without Waste in which it has a global goal to collect and recycle every one of its bottles or cans by 2030.
"In Mozambique, we know based on our sales exactly how much plastic CCSM produces and is put out into the market. In 2022, for example, we know that we are going to sell the equivalent of 4,000 tonnes of plastic; we have put in place recycling initiatives with recyclers and collectors to extract that amount from the market this year.
"That plastic doesn't have to be Coca-Cola bottles, it can be any type of plastic as long as it's 4,000 tonnes. It means that CCSM will be neutral in 2022 from a plastic emissions perspective," Wyness acclaims.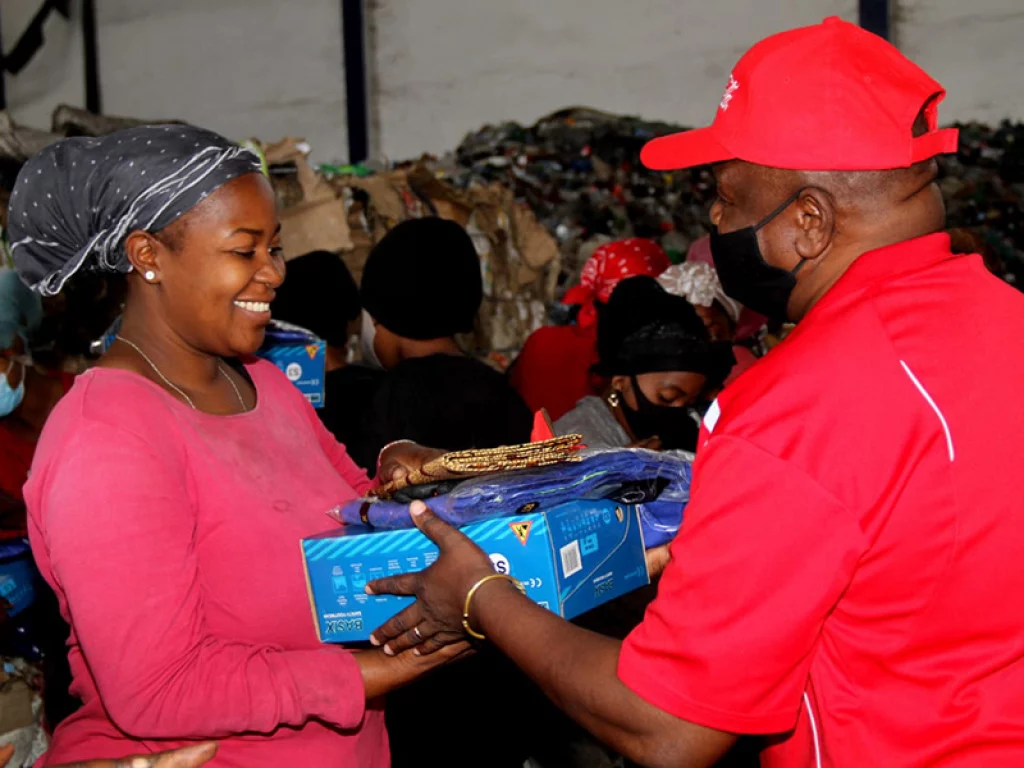 NEW TRENDS, NEW TARGETS FOR Coca-Cola Sabco Mozambique
Wyness notes that the COVID-19 pandemic had a very interesting impact on CCSM's pack mix (sizes, types of material, etc.) with consumers gravitating towards future consumption over immediate consumption.
"When we talk about future consumption, these are products and sizes that people buy and take home to consume in the future. It's your big items such as a one or two litre bottle of Coca-Cola, something that you're not going to open straight away and drink on your own, but share it with family and friends at home over a period of time," outlines Wyness.
"Immediate consumption includes the 300ml glass bottles, 280ml PET bottles, 330ml cans, or 500ml bottles of water that people buy because they are thirsty in the moment and want something to drink. They are built and designed to be drunk by one person and to be drunk immediately.
"Bearing that in mind, and the impact of COVID-19 which resulted in a lot of bars and restaurants being closed and the trading hours of a lot of shops being reduced, it meant that our consumers' behaviour was forced to change from immediate consumption to future consumption.
"In June 2020, we saw quite a significant drop in sales of our glass bottles and cans, and it all went towards our one and two litre bottles because the only opportunity people had was to buy our products in a supermarket and take it home, because restaurants, bars etc. were closed," he details.
With the lifting of COVID-19 restrictions, this trend has reversed and moved back towards immediate consumption.
To look after people and communities during the pandemic, CCSM bought more than 4,500 COVID-19 vaccines to protect staff and family members.
Vaccines were also distributed throughout the CCSM ecosystem, to canteen staff, cleaners, security personnel, transporters, and customers such as distributors and wholesalers.
In what is a year of transformation for CCSM, the company is now targeting success that surpasses pre-pandemic levels through a number of key targets.
"We've got a number of initiatives for the year ahead in terms of meeting consumer preferences, making sure we produce products that the majority of consumers can afford to buy, and that's specifically around our glass and small PET plastic bottles," Wyness shares.
"Our second big focus is local employment, and ensuring that we've got a pipeline of talent coming in. We have another year of intakes for our graduate trainee programme, and we continue to drive women in leadership.
"Finally, we're looking at projects to further progress our responsive behaviour. We aim to recycle 100 percent of our PET plastic bottles, source locally rather than importing raw materials, and we've got quite tough targets in terms of water and energy usage in the production of our beverages."