Shipbuilding giant Samsung Heavy Industries Nigeria forms the ultimate collaboration in manufacturing. Jongseok Kim, Managing Director, details his experience.
INTRODUCTION
We believe in a future which builds capacity and capabilities within local companies and the local workforce, a future where the combination of South Korean efficiency and expertise, fused with Nigerian talent and passion, presents limitless possibilities."
The opening mantra of Jongseok Kim, Managing Director of Samsung Heavy Industries Nigeria (SHIN), provides the driving force behind SHIN's success, as it continues to expand operations in the highly competitive oil and gas maritime sector.
A subsidiary of Samsung Heavy Industries (SHI) in South Korea, Kim was appointed as the new Managing Director of SHIN this year. Majoring in a Bachelor of Science in Naval Engineering in 1995, he decided to join SHIN because of a desire to work with the very best in the industry.
"SHI is one of the largest shipbuilders in the world for the commercial shipbuilding and offshore business, with unbeatable leadership and competitiveness in the building of high-value special purpose vessels including LNG carriers, FPSOs, drillships, and other offshore-related vessels," Kim explains.
A professional expert in the oil and gas industry, Kim can call upon a vastly impressive array of experiences, having occupied several key positions in the operations, planning, execution, and completion of SHI's wide variety of shipbuilding and offshore projects as a Project Director, Project Manager, Contract Manager, and Warranty Engineer for over 26 years.
Previously, he held the position of Project Director for the Coral FLNG project, which is hailed as Africa's very first Floating Liquified Natural Gas (FLNG) facility. The vessel is 432 metres long and 66 metres wide with 13 utility and process modules in place. It also has eight-storey living quarters, accommodating up to 350 people. With a liquefaction capacity of 3.4MMPA annually, it is perceived as a technological jewel. SHI was responsible for the entire vessel's construction process, from hull design to commissioning, as well as topside production design and manufacturing. "By implementing SHI's highest level of management system and proactively cooperating with the client, we were able to achieve a contractual milestone, despite persisting challenges due to the COVID-19 pandemic," explains Kim.
As SHI's prime African subsidiary, SHIN is engaged in the heavy industry sector of the oil and gas maritime industries in Nigeria. SHIN began its Nigerian operations in 2013 with the construction of the SHI-MCI FZE fabrication and integration yard in Lagos. In bringing together South Korean technology and Nigerian human capital, the company has successfully exemplified the value created from combining international knowledge and expertise with Nigerian partners.
One of SHIN's greatest milestones to date is the construction of the SHI-MCI Yard in Nigeria, built to carry out the in-country aspect of Total's Egina project as well as other high-technology and high value-added projects.
Crucially, the construction of the yard involved an investment of over $300 million by Samsung, which is one of the largest foreign investments to be made within the nation. This is the first-ever fabrication and integration yard in Nigeria and the only FPSO integration yard in the entirety of Africa, equipped with cutting-edge facilities that are optimised for world-class, ultra-large, high-value projects. Some of its impressive facilities include an in-door fabrication shop (6,300m2), blasting and painting shop (4,550m2) that can maintain humidity and optimum temperature. The yard also has a robust 502 metres long quay wall with 12.5metres berthing water depth.
The core services of SHIN are focused on EPC (Engineering, Procurement and Construction) contracts, which is why the company is making proactive efforts on winning orders for large-scale offshore projects. In addition, SHIN seeks to contribute to the nation's economic development through collaboration with Nigerian companies.
"As proven through the successful completion and sail away of the world's largest FPSO, Egina, we have proved our full capability to carry out large-scale offshore projects in Nigeria that meets world-class standards and expectations." he continues.
This exchange of knowledge and potential is proof that SHIN is in Nigeria for the long term, and the company will continue to demonstrate its faith in the country by training and investing in Nigerian workers through the execution of projects. This workforce is now the core of a developing, locally trained, international-certified marine construction capability, benefitting all shipping and marine construction and maintenance companies operating in the West African region.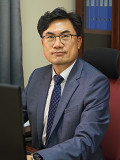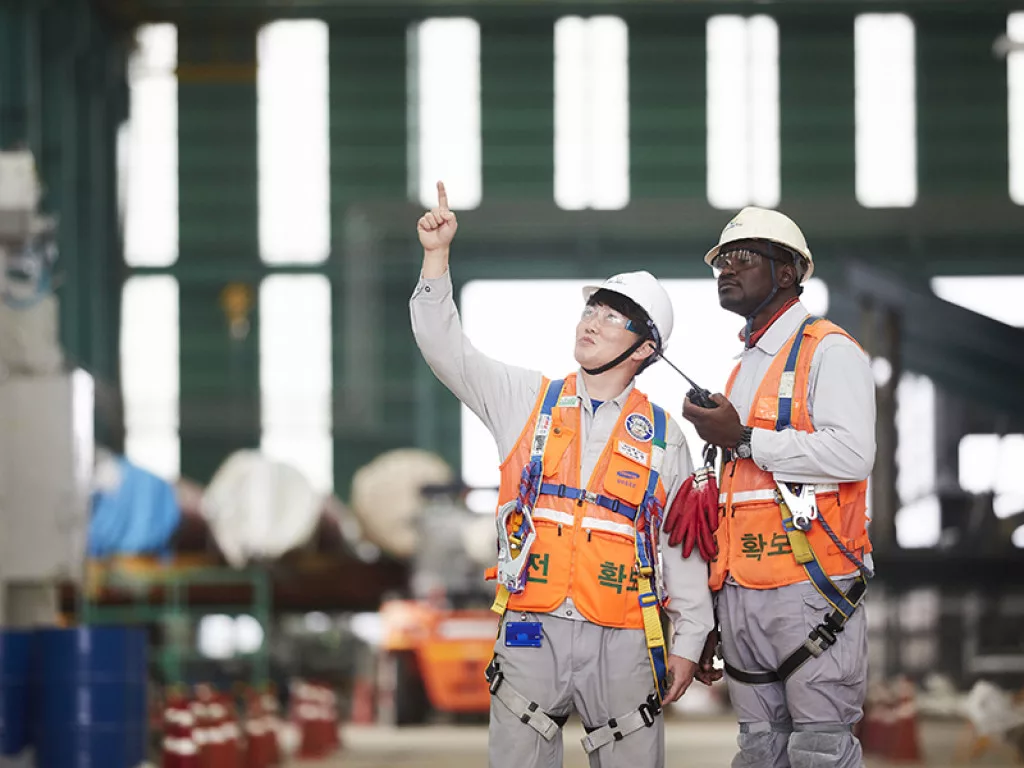 INVESTING IN NIGERIA
Nigeria's economy is bouncing back from an inevitable downturn following the COVID-19 pandemic, and the government has introduced several measures to kickstart the economy in 2022. For example, it is seeking to diversify into new and unexplored markets such as agriculture, by establishing more support through legislation in other sectors. One of the biggest achievements to date is the Petroleum Industry Act which enabled NNPC to become a limited company, allowing access to funding externally from financial institutions to execute independent projects which weren't possible before.
SHIN is set to utilise its skilled labour force to ensure that it generates and provides the capacity needed in the industry to achieve its desired goals. Nigeria remains the single biggest market in Africa, with an abundance of youth, talent and skills ready to take on any challenge. All investors have the opportunity to be part of the country's huge growth potential in the coming years.
"There are limitless possibilities for the future of building, repairing, and maintaining high value-added ships to serve the needs in Africa and beyond," adds Kim.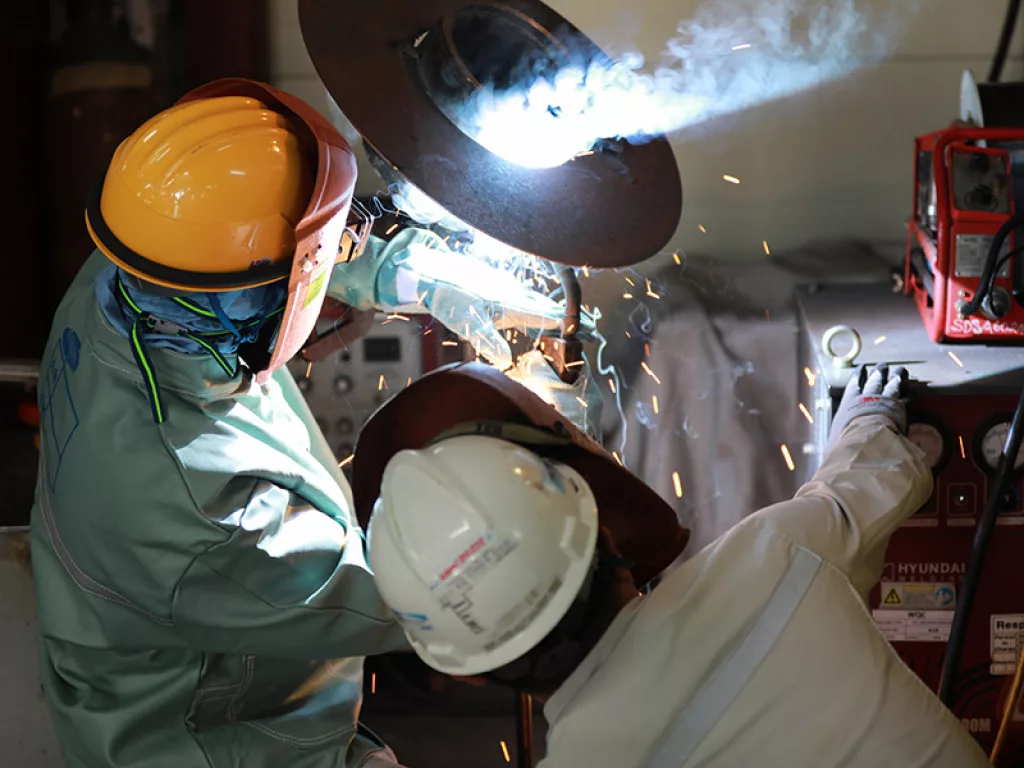 DIVERSIFYING OPERATIONS INTO CLEANER ENERGY SOURCES
Rapid economic growth achieved since the industrial revolution has come at the expense of the planet, with the use of fossil fuels destroying forests causing environmental pollution and thereby global warming in the process. As a direct result of this, from an industrial point of view, the main issue is how we can reduce carbon emissions as the calls for decarbonisation increase.
For this very reason, SHI has raised over one billion USD to develop environmentally-friendly ship technologies to accommodate the needs of the market.
"As the biggest fabricator of LNG carriers in the world, SHI continues to take a lead in the energy transition and is also a pioneer in FLNG, making it possible to explore and produce LNG on water," explains Kim.
Furthermore, SHI is taking a step closer to carbon neutrality by developing ammonia-fuelled vessels with fuel cell-generated engines. Ammonia is regarded as a highly suitable marine fuel as it does not emit carbon dioxide during combustion and is easy to store, transport and handle. SHI aims to commercialise ammonia fuel propulsion ships by 2023, by developing its very own ammonia fuel supply system.
"We believe that there could be policies and mandates in place for project owners to actualise the development of these vessels. This will increase the domestic gas availability for the nation and bring about the emergence of gas power plants all over Nigeria to end the power shortage in the country. As a subsidiary, SHIN is able to implement SHI's innovative and unparalleled shipbuilding technologies in Nigeria as well," Kim details.
The COVID-19 pandemic impacted major projects and the oil and gas industry at large, but SHIN continues to navigate the fallout and its various consequences.
"HSE (Health, Safety, and Environment) is considered the number one priority at SHI and its subsidiaries. We continue to establish our own safety culture and make every effort to prevent accidents and ensure on-site safety," adds Kim.
SHI's safety culture and measures go beyond educating and training the workforce. "Even the most rigorous training of employees cannot sufficiently guarantee the highest level of safety on-site as the safety will greatly depend on each individual workers' actions and decisions," Kim explains.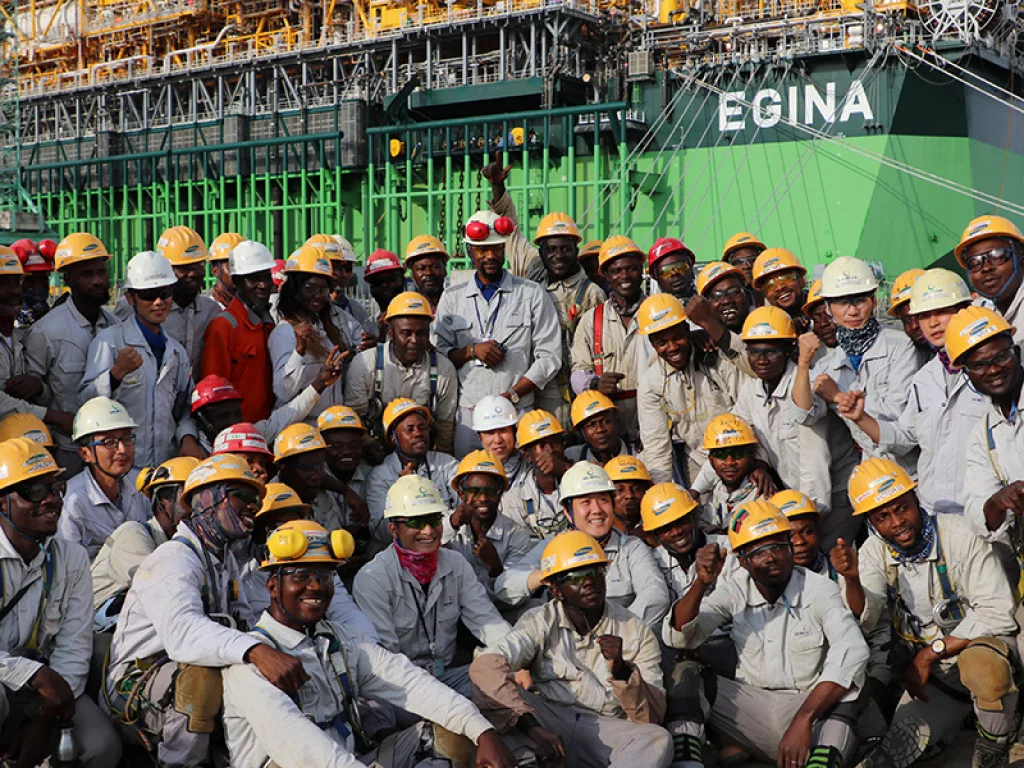 Kim alluded that in line with SHI's HSE management policy, all forklifts at the SHI-MCI yard were recently equipped with cameras that monitor and alert only the human body movements around the equipment for up to 10 metres range, in real-time.
"As a subsidiary of SHI, we continue to adhere to SHI's technical guidance and safety improvement measures to ensure that we can deliver the same level of safety as the Geoje Shipyard in Korea, while making sure every worker goes home safe at the end of the day," says Kim.
The company also continues to receive constant support and technical guidance in regard to COVID-19 prevention protocols. This has included the installation of a sanitization chamber at the entrance of the yard and office. Anyone entering the premise must pass through the chamber and get their body temperature checked and their hands completely sanitised.
All workers are also provided with high-grade face masks to be worn at all times. This is alongside carrying out weekly COVID-19 tests for all workers, whilst the offices are also sanitised frequently. Despite the pandemic, SHI and SHIN remain unaffected in completing the projects on time.
"Some of these awards, projects, and targets I mentioned are all positive indications and proof that SHIN's 10th year of operation in Nigeria has been a success so far, and that we are headed towards even more achievement in the future," concludes Kim.
It is SHIN's belief that the future of the company, as well as Nigeria, lies in the capacity and capabilities of the Nigerian people, and in that regard, they are certainly in safe hands.