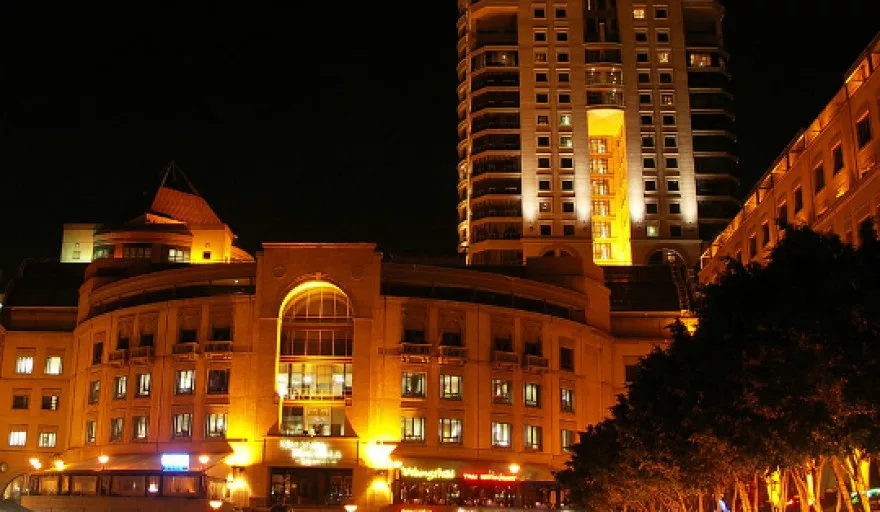 Johannesburg claims barely any of South Africa's official titles but nearly all of the accolades, as the country' largest city and most globally-renowned representative.
Despite not being one of South Africa's three capital cities, its fame – and fortune – derives from its origins as a gold mining hub described as a modern day El Dorado upon its discovery in 1886. As such, the area has never been lauded for its deep historical significance like so many national cores around the world, and has subsequently become the modern option for locals and visitors alike; its image perfectly depicting the current status of the wider country's maturity over the generations.
Of course, in more recent history, this depiction has been less than positive at times – and there are elements of Joburg's infrastructure and museum array that still allude to these pivotal eras – but on the whole, the city serves as a glimpse of the present and to the future.
Comprising numerous CBDs and what seems like a continuous overhaul of older buildings into newer constructs, the city skyline is an indictment of its global recognition as one of the world's leading industrial and cultural hubs, and while this has not necessarily transcended into tourist prosperity on the scale of its neighbours in Cape Town and Durban, it still has more than enough to thrive as a popular business travel destination.
INFOGRAPHIC
Facts and figures
Country: South Africa
Languages: English, Zulu, Afrikaans, Xhosa
Area: 335 square kilometres
Population (2011): 4.4 million
GDP: US$83.9 billion
Currency: Rand
Time zone: UTC+2
Climate: Subtropical highland
Highest recorded temperature: 41.4°C
Transport Links
Ironically, the fact that Johannesburg lags behind Cape Town and Durban in the tourism stakes, means that its long-haul transport infrastructure is even more refined; having played its role as a link between international visitors and the surrounding cities over the years.
However, as landmarks including the Apartheid Museum and Constitution Hill found their feet; as areas such as Soweto and Alexandra benefitted from the city's urban sprawl; and as Joberg's approach to fine dining and globally appealing entertainment became more refined, so too did the city's internal transport system
Upon arriving at OR Tambo International Airport, the ability to get around the vast landscape efficiently, safely and speedily is now easier than in any other South African hub; catered for by everything from metered and minibus taxis, to its Metrorail Gauteng commuter rail system, its Gautrain link outside of the city, and its more recently unveiled Rea Vaya bus rapid system based on a smartcard payment system.
Topping all of those options though, is the plain and simple open road. As an inland city, Johannesburg has had to build an extensive highway network over the decades as a link to the rest of the country, and visitors equally benefit to this day; initially via the Johannesburg Ring Road, and branching out to the country's most extensive collection of freeways.
The business end
With inevitable interests in mining given its inception, the city's evolution from an industrial and economic perspective is nothing short of remarkable. Mining was the foundation of the Witwatersrand region, but as reserves depleted and as mining operations sprawled outwards from what is now the city centre, Joburg's core was replaced by a sector compliment ranging areas of manufacturing, finance, retail, and art and culture.
Now, as Africa's economic powerhouse, the once mining-reliant domain is littered with the most modern of CBDs – including Sandton, Rosebank and Roodepoort – hosting some of the biggest names in global business. IBM, BHP and Absa are complemented by the cream of the finance crop including Nedbank and Standard Bank as just a minute sample of Joberg's unrivalled appeal.
As a knock-on effect, its attractiveness to the leading business executives embedded into this culture has become similarly unparalleled over the years too, as it continues to live up to its billing as the soul of Gauteng, and arguably the most financially attractive city on the continent.
Being ranked 47 in MasterCard's 50 top cities in the world from a commerce perspective back in 2008 enforces this role, and it doesn't take a long walk around any one of the city's CBDs to understand why. Encapsulating a mix of modernity and subtle glances back down South African memory lane, the final blend of business, art, culture and fine dining results in one of the more sophisticated stays you will enjoy over the course of your business travel adventures.
Outlook recommends
"Johannesburg – a 'World Class African City of the Future' – a vibrant, equitable African city, strengthened through its diversity…"- joburg.co.za
Accommodation
Indaba Hotel, Spa & Conference Centre
A setting for luxury, pampering, business, fitness and socials, the Hotel continues to grow on an almost yearly basis to facilitate similarly increasing popularity and demand.
The only four-star self-catering lodge in the Fordsburg region of Johannesburg offers a flexibility and all-encompassing experience matched only by the incredible views surrounding it.
Museums
Retail
Nature
Walter Sisulu Botanical Gardens
Art and culture
Food & Drink
Landmark attractions
Apartheid Museum
"The Apartheid Museum opened in 2001 and is acknowledged as the pre-eminent museum in the world dealing with 20th century South Africa, at the heart of which is the apartheid story. For anyone wanting to understand and experience what apartheid South Africa was really like, a visit to the Apartheid Museum is fundamental. The museum is a beacon of hope showing the world how South Africa is coming to terms with its oppressive past and working towards a future that all South Africans can call their own." – apartheidmuseum.org
Constitution Hill
"Constitution Hill is a living museum that tells the story of South Africa's journey to democracy. The site is a former prison and military fort that bears testament to South Africa's turbulent past and, today, is home to the country's Constitutional Court, which endorses the rights of all citizens," the landmark's website states. Within the walls of Constitution Hill's Old Fort, Women's Jail and Number Four, the likes of Nelson Mandela, Winnie Madikizela-Mandela and Mahatma Gandhi have all been incarcerated.
Mandela House
"Mandela House strives to be a world-class visitor attraction and a leading centre for the preservation, presentation, and research f the history, heritage and legacy of the Mandela Family. The Mission of Mandela House is to provide an effective, efficient and meaningful experience to all visitors, informing them of President Nelson Mandela's story, both in the context of his home, and in the context of his life as a whole, in a manner that promotes human rights, democracy, reconciliation, mutual respect and tolerance amongst the peoples of South Africa." – mandelahouse.com
The main events
Chinese New Year at Old China Town
"A celebration will break out into the streets of Old China Town as the New Year festivities get underway. There will be plenty of entertainment, including a lion and dragon performance, a kung fu and tai chi display, traditional dancing, drumming and singing, and a jaw-dropping fireworks display!" – joburg.co.za
Date: February, 2017
Venue: Old China Town
Soweto Wine Festival 2017
"Discover the art of wine in SA's most vibrant hood! Here, the best kind of magic happens when good vibes collide… you get to partake in some of the best wines, mouth-watering gourmet food, rub shoulders with some of our A-listers and hit the floor while an amazing music line-up of local artists take to the stage." – joburg.co.za
Date: 3-5 March, 2017
Venue: Walter Sisulu Square of Dedication, Kliptown, Soweto
Website: http://www.sowetowinefestival.co.za/
The Grand White Johannesburg 2017
"The Grand White Dinner 2017 is a pop-up picnic event at a secret location, which only gets revealed on the morning of the event. These dinners are a lively social gathering of people, all dressed in white with a touch of green. During the afternoon and evening, guests will enjoy delicious food, live music, speeches, entertainment and much more." – joburg.co.za
Date: 1 April, 2017
Venue: Secret location, Johannesburg
International Festival of Language and Culture
"This Festival is the largest and most prominent global project for promoting world languages and cultures. The ILFC is dedicated to cultivating and educating the youth, creating a platform to share their cultural heritage with their peers around the world. This year, it will showcase exceptional song and dance performances by students of diverse nationalities." – joburg.co.za
Date: April, 2017
Venue: Nelson Mandela Theatre, Braamfontein