Bus Rapid Transit has been embraced in South Africa to improve public transport services. Operated by Tshwane Rapid Transit Pty Ltd, we delve into the system with CEO, Samuel Matebane.
INTRODUCTION
Bus Rapid Transit (BRT) is a relatively new phenomenon in Africa.
BRT delivers fast, comfortable, and cost-effective bus-based services, through the provision of dedicated lanes, segregated right-of-way infrastructure, offboard fare collection, and fast and frequent operations.
Containing similar features to a light rail or metro system, BRT is thus much more reliable, convenient, and faster than conventional bus services, which are often slowed by the likes of traffic and onboard payments.
It was the National Land Transport Act 5 (NLTA) of 2009 that first made way for BRT in South Africa. The system was inaugurated in the City of Johannesburg ahead of the 2010 FIFA World Cup and has since been rolled out across the country.
Responsible for rapid bus services within the City of Tshwane, the second-largest municipality in the South African province of Gauteng, is Tshwane Rapid Transit Pty Ltd (TRT), who seeks to transform road-based public transport services through BRT.
"TRT established BRT in 2012 and began operations in 2014, through a resolution by the City of Tshwane municipality council," states CEO, Samuel Matebane.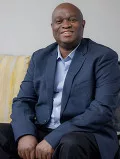 "This relationship is governed by the Bus Operating Company Agreement (BOCA), as stipulated by NLTA. Since then, TRT has grown into the company it is today and has been expanding in relation to the City of Tshwane's requirements."
TRT is run based on a concession agreement with the City of Tshwane, which is responsible for collecting fees, monitoring services, and tracking the company's performance.
Having also served the communities of Mamelodi since 2017 on an ad hoc basis, TRT provides "one of the best commuter services in the country," according to Matebane.
"Our operational space is within the City of Tshwane central business district (CBD), from Wonderboom Junction to Hatfield and Menlyn, with feeders around the regional trunk road network," he says.
"Our Mamelodi operations are widely spread, from Mahube and Lusaka to Midrand in the south and Garankuwa in the north. We are committed to serving our communities with humility, pride and providing a safe and reliable transport system."
As the CEO of TRT since 2017, Matebane himself is driven by safety and reliability in the provision of transport.
"My purpose is to impact every person that I interact with, and this is how I do it in my daily life. I operated in the fast-moving consumer goods (FMCG) sector until I joined the transport industry in 2009, and I have loved it ever since."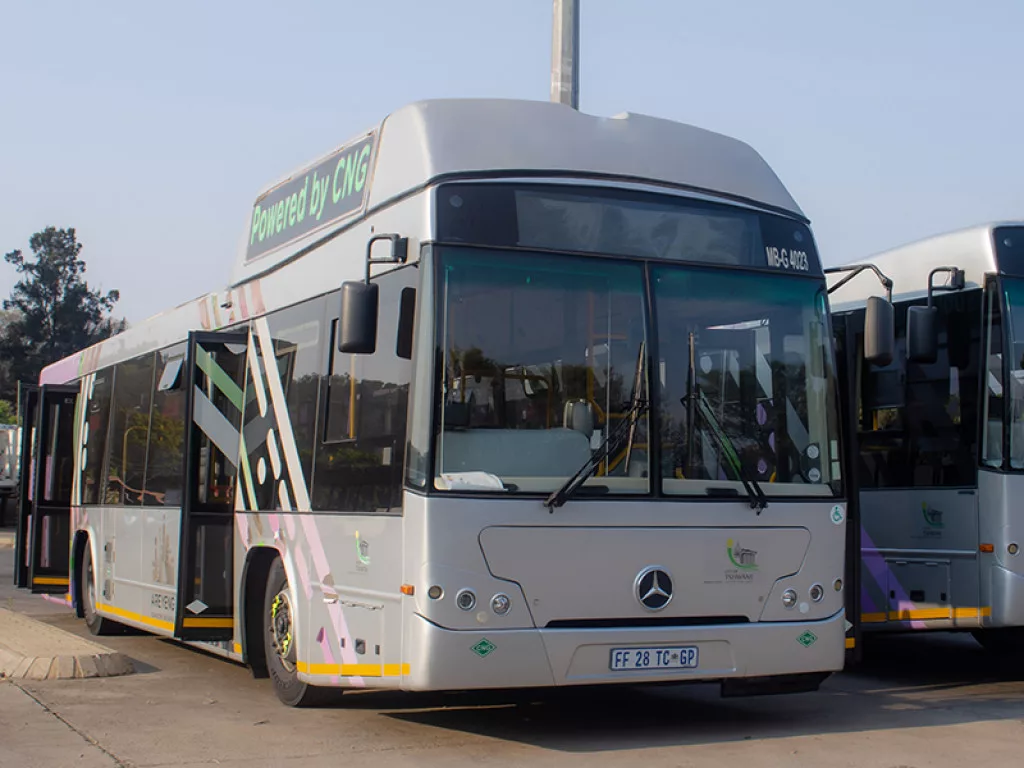 EMPOWERING OPERATORS
An independent corporate entity, TRT is owned by qualified taxi and bus operators within the City of Tshwane that previously operated on the BRT route.
BRT seeks to empower these "affected operators", by bringing them into the mainstream economy and ownership of the system.
"This is a work in progress, as a lot of mistakes were made with the implementation of BRT which need to be resolved to make sure affected operators can be proud to own the system for a while longer," Matebane acknowledges.
"We strive to empower the affected operators of BRT, and this is non-negotiable. By implementing improvements to BRT, we will be using taxis and buses as feeders and allowing commuters to move around easily and seamlessly."
TRT employs 257 members of staff, the majority of which are recruited from the affected taxi associations in the City of Tshwane, with 80 percent working as bus drivers.
More than 70 learner drivers have been trained by the company, all sourced from the taxi industry, whilst 34 TRT apprentices have qualified as diesel mechanics and auto electricians in collaboration with the Transport Education Training Authority (TETA).
Working together with the taxi industry, and with the support of government, TRT strives to make transport accessible to all through BRT.
"The transport industry is an ever-changing space and improving daily. Whilst transport has transformed our lives when it comes to access, we still have people without access, especially in the rural areas and townships," notes Matebane.
"Government focus in these areas is needed. Townships are on the periphery of metropolitan areas and travelling distances are longer for daily commuters. It is imperative that more is done to transform the industry, whilst coordinating with other areas of development such as housing and industrial parks to make the movement of people easier and less costly.
"Technology is taking over, and we have no option but to comply. It's an exciting time to be part of the transport sector which is a basic human right," he continues.
DIGITAL INVESTMENTS
The TRT commuter experience has been improved further by a major investment in a revolutionary automated fare collection (AFC) system, developed by intelligent transportation solutions provider, KentKart.
Equally, as the first commuter business in South Africa whose operations are now 100 percent cashless, the risks of cash handling have been eliminated for TRT's bus drivers by KentKart's AFC system.
"We are now able to offer a safe driving experience, where the driver doesn't have to worry about cash handling, making errors, or being a target for criminals," Matebane explains.
"We are glad to have chosen KentKart, as we have immediately recovered 35 percent of the cash losses we were experiencing due to the previous system."
TRT has also invested in KentKart's passenger information system, allowing commuters to check travel information and the number of on-board passengers, as the company embraces digitalisation.
This will prove particularly useful those travelling to and from work on a daily basis, with most buses filling up during the morning and afternoon peaks.
Today, a total of 114 BRT buses are owned and operated by TRT, with another 57 to be purchased. An additional 55 buses are dedicated to commuter services, bringing TRT's fleet total to 169, and in a first for sub-Saharan Africa, 40 run on concentrated natural gas (CNG).
A cheaper and greener alternative to diesel power, CNG buses release fewer greenhouse gas (GHG) emissions, create less noise pollution, and have lower maintenance costs.
The roll-out of CNG buses reinforces TRT's commitment to providing an efficient transport service and making the system more sustainable.
"We are the first bus operator in South Africa to have 100 percent CNG buses, and this is a leading-edge technology advancement," acclaims Matebane.
"We are learning from these operations, in order to improve our energy mix into the future."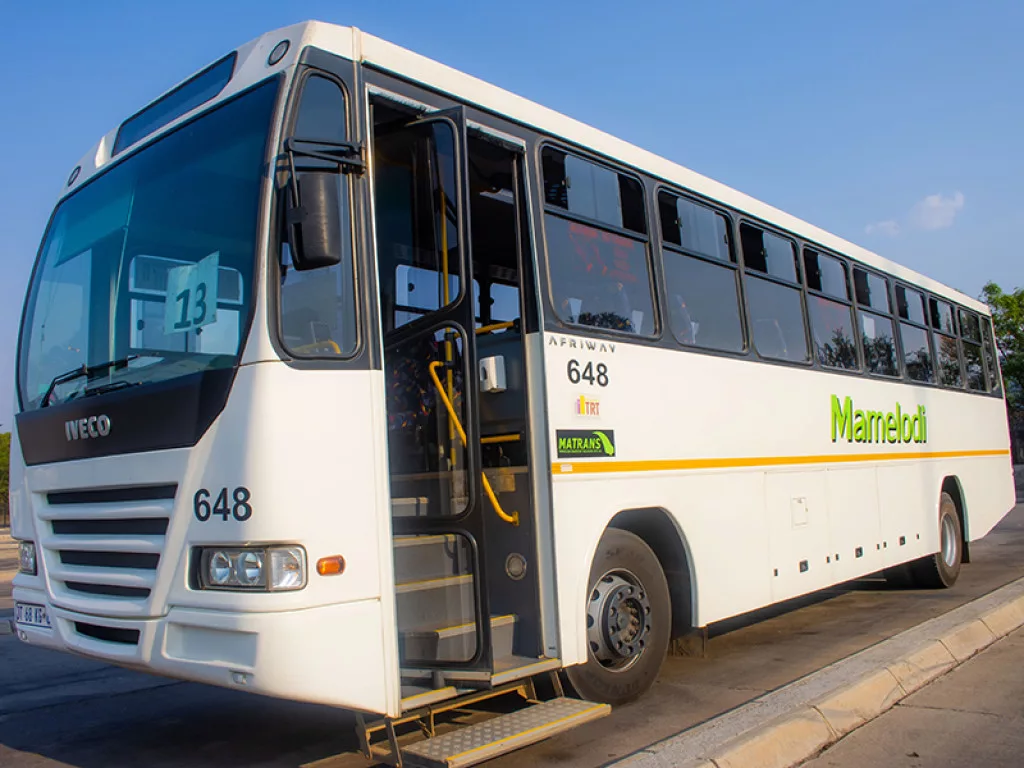 COMMUNITY RELATIONSHIPS
Social responsibility is the first of TRT's five core values, along with excellence, integrity, teamwork, and accountability.
In Mamelodi, the company works with schools in the community for its corporate social responsibility (CSR) initiatives.
"Our employees spend their time doing work within the communities, and assist with painting, gardening, and cleaning at these schools," Matebane smiles.
TRT likewise maintains long-lasting relationships with local suppliers in the community and is building on these partnerships in order to bring about change.
All the while, TRT remains committed to the affected operators in the City of Tshwane and is looking to diversify into other commuter contracts.
Matebane tells us that this is the "immediate goal" of TRT, with the company also in negotiations for a 12-year cost-per-kilometre contract.
"This is the basis of our existence," he affirms. "We are excited and look forward to a new model for the business in the next 12 months.
"We have implemented value-added services, which we are seeing major returns from, and these will continue vigorously in the short term."
TSHWANE RAPID TRANSIT PARTNER