Setting the benchmark for earthworks projects in mining and construction, JVChantete Earthworks Ltd is a company of ambition. We unpack cultural values and future plans with Director and Co-Founder, Shaun McCann.
INTRODUCTION
"JVChantete Earthworks Ltd's vision is to be the frontrunner in terms of technological innovations and interdisciplinary knowledge and skills throughout the realm of the mining and construction industry worldwide."
The opening words of Shaun McCann, Director and Co-Founder at JVChantete Earthworks Ltd (JVChantete) encapsulate the bold ambition that runs at the core of one of Zambia's largest contract mining and civil works companies.
Founded in 2014 and based in Kitwe, JVChantete was born from the amalgamation of two Zambian-registered companies – JV Civils Ltd and Chantete Mining Services Ltd. Leveraging the combined strengths of both entities, JVChantete is further bolstered by over 22 years of expertise and knowledge gained from delivering successful contracts with major Zambian mining houses.
"Through its amalgamation, JVChantete has become recognised as a leading contracting company in Zambia," states McCann.
Priding itself on delivering remote projects to world-class standards, JVChantete specialises in macro earthworks projects including open pit contract mining, blast hole drilling, crushing and screening solutions, bulk material handling, secondary and feeder road construction, civil infrastructure projects (teach pads, TSFs and ponds), bush clearing and specific hourly plant hire.
"Our focus is to deliver efficient, professional and cost-effective solutions to our client base of business partners, together with a guarantee that production targets are sustained and exceeded," he adds.
McCann himself brings to the company a wealth of experience in Zambia's mining industry, originally investing in Chantete Mining Services following over 20 years working as a sales representative and then Managing Director of Bell Equipment Zambia – a manufacturer of earthmoving and materials handling equipment.
"My life evolved in the mining industry and as such, I wanted to contribute to a sector which is the biggest foreign capital earner in Zambia," he says.
Under McCann's leadership, a core component of his role is emphasising the sustainable nature of the company and the work that it undertakes, formulating a sales strategy that combines this with successfully meeting profit targets.
This involves championing a different approach to undertaking new work, compared to the company's direct competitors.
"Historically, heavy plant contractors in the Zambian market have tended to seize any work opportunity, despite not being able to offer a comprehensive solution to a client," McCann observes.
"Against the backdrop of this market trend, from the earliest days of JVChantete's operation, the need to identify and establish a core business was recognised as an important means of differentiating the company from its competitors in the market and initiates the strongest platform for its sustainable development."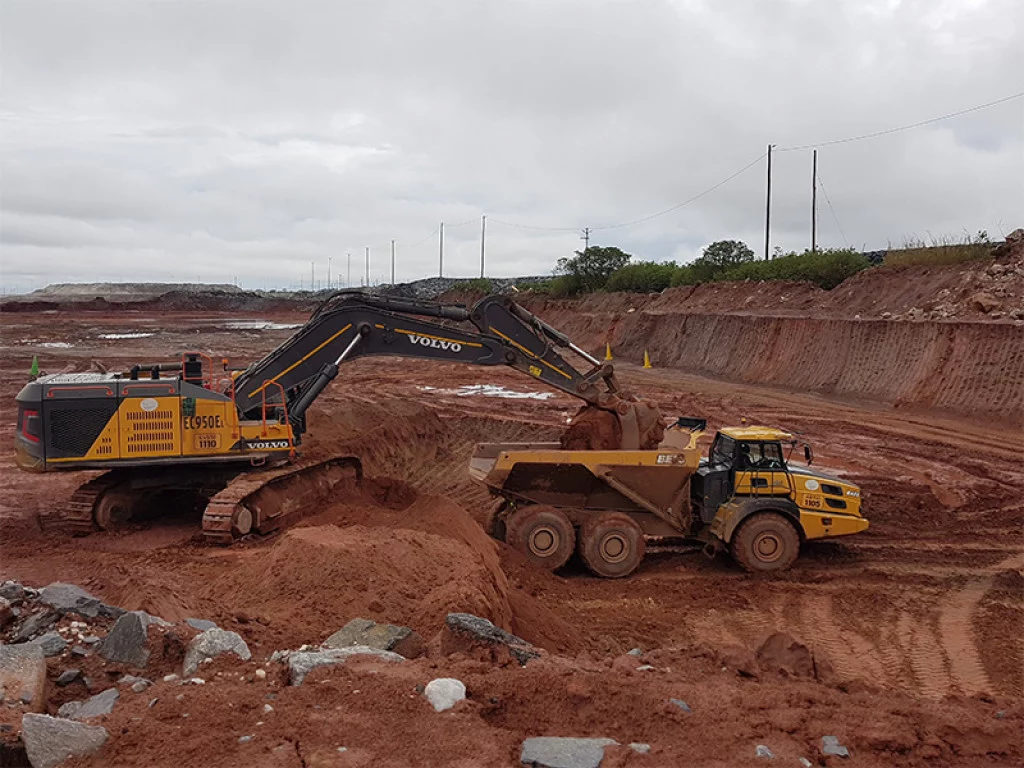 THE PEOPLE DIFFERENCE
Aside from the company's earthmoving fleet, JVChantete's 400+ employees and unparalleled skill base represent its greatest asset. As McCann affirms, "our people, backed by our systems and processes, drive our performance."
Tasked with meeting and exceeding clients' expectations across a diverse range of projects, JVChantete believes in selectively choosing staff on a project-by-project basis, subject to their experience and skills for each new undertaking.
"Choosing the right people for the right job has been the driving force behind JVChantete getting the job done on time and within budget."
The workforce behind each project is typically sourced from local villages, and intensively trained to JVChantete standards.
"JVChantete has adopted this elementary rule in selecting and retaining the most experienced and qualified people and business partners in their fields, who are also best able to work in a team structure within the required environment," he continues.
McCann goes on to acclaim that JVChantete's operations, engineering and maintenance personnel are rightfully considered the "best in the business". As the company's standout factor and the backbone of its success, JVChantete's people are well-equipped with the necessary specialist skills in infrastructure, communications, contract mining, civil works, and operations and maintenance delivery to be able to deliver in challenging environments.
"They work incredibly hard in a demanding environment where personnel responsibility and opportunity are cornerstones of our management approach."
Crucially, this management team works intimately with all levels of staff across the company to train and empower Zambians in high-quality and safe operating practices. Boasting significant experience in the company's core services after 22 years of successfully delivering on contracts, JVChantete's management team and complementary supervisors are well-placed to meet the daily challenges of an ever-evolving industry.
"JVChantete brings in skilled labour from abroad and we work hard to provide intensive training and transfer skills to the Zambians. There is not a very high turnover rate in the company given that we strive to create a solid work environment and look after our employees. JVChantete also makes use of outsourced training facilities, thus we have internal and external training in our company."
Aside from this emphasis on the welfare of the people behind the business, the client is the individual at the forefront of JVChantete's operations, as the central foundation and core concern behind every project.
"Our staff are enthusiastic, progressive, and dynamic in the way they approach all projects and operate within a culture that truly understands traditional customer service expectations."
Indeed, this culture of customer service and client-centric focus is paramount and provides the bedrock of JVChantete's operations, in executing a project and delivering innovative contractual solutions and construction techniques to the client's benefit.
"Our strategy includes continuous liaison with the client during the early phases, so our team can develop a clear understanding of each project's short and long-term objectives," McCann elaborates.
"We actively seek to partner with clients to add value to their business and offer the expertise of our experienced managers and personnel."
The JVChantete approach is centred on customised solutions that deliver quality work in a timely manner without compromising on safety. Above all, a personal investment in the work ensures that everyone takes pride in their efforts.
"We consider our work as our own," says McCann. "This personal approach to whatever task we are doing makes us proud and motivates us to be responsible and accountable."
The refinement behind JVChantete's mode of operation enables a more focused concentration upon the consistent delivery of optimal performance standards, the meeting of customer expectations, and the provision of comprehensive solutions that are competitively priced, giving rise to the company's solid reputation and dominant market share in its spheres of influence.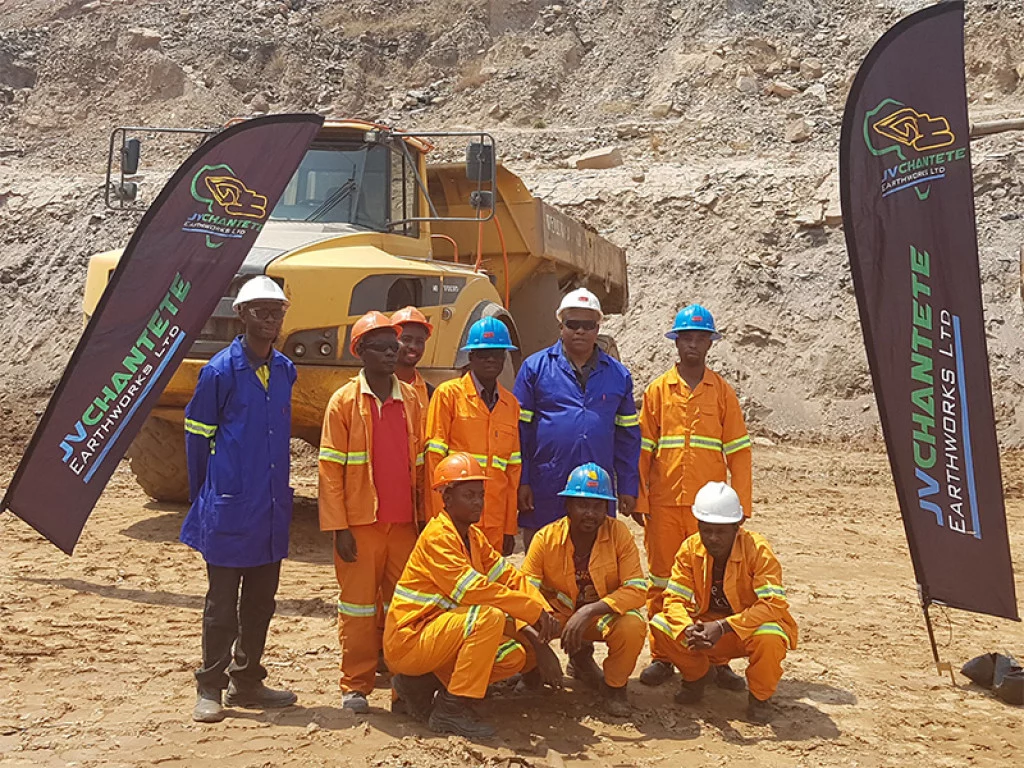 FUTURE AMBITIONS
JVChantete is on a trajectory of continual improvement, developing its technical resources through constant upgrades, training, and identifying new ways and techniques that marry with the upskilling of its workforce.
Replacing old and uneconomical equipment, the company is currently investing in the expansion and improvement of its mining fleet to more advanced and technologically equipped machinery.
"This will include a larger size mining fleet to meet future mining requirements and demands," comments McCann.
Aside from this, JVChantete also seeks to diversify the mining opportunities it pursues, such as in gold, cobalt, and nickel markets amongst others, to reduce its reliance on copper. Elsewhere, the company hopes to undertake further long-term mining contracts that will allow it to deliver on its own growth strategy.
"Our ambition is to continue to be the best contract mining company and grow our business by at least 25 percent in the next four years," shares McCann.
The future for JVChantete is defined by both dynamism, and optimism.
"Strategies, financing, policies and procedures are already in place, and the investment confidence for existing and potential investors in Zambia has been high. The commitment from the Zambian government to the mining industry has been extremely positive, so we feel our ability to achieve the increase in our business is achievable," McCann concludes.