Mission Holding Group are the property development specialists bringing homes of the future to the Eastern Cape. We discuss operations with CEO Tjaart Van Der Walt.
INTRODUCTION
As South Africa's second-largest province, and widely acknowledged as the most scenic, the Eastern Cape holds an irresistible allure for homeowners.
A predominantly mountainous region, the province boasts the peaks of the Drakensburg range, and deep river valleys carving through the grassveld to create unrivalled scenery against a backdrop of wildlife-abundant National Parks. Meanwhile, a rugged and unspoilt coastline running parallel to the Indian Ocean lies interspersed with beaches.
It is in this rich and varied landscape, amongst the winding waterways and ocean views of the Eastern Cape, that the Mission Holding Group has earnt its name as a leading property developer.
"My criteria have always been that the land must be close to the water, the river or the sea.
Both always increase in value over time," opens Tjaart Van Der Walt, CEO of esteemed private property development firm, Mission Holding Group (MHG). "It must also be close to an existing town and there must be a supporting underlying economy in the target market."
Championing the laudable goal to become the Eastern Cape's leading private green developer, MHG benefits from the backing of EXCO – an established team of specialists within their individual fields to propel the company's growth and development. As CEO of MHG, Van Der Walt is joined by Business Development Manager, Tim Dlulane, a former Blue Bulls rugby player and ex-Springbok, to form the MHG leadership team.
As a vertically integrated holding development company, MHG showcase unparalleled versatility in the field of property management, overseeing all aspects of architecture, construction and sales.
Van Der Walt himself found his way into the housing sector after attaining an MBL as a qualified mining engineer. "I worked for Sasol for six years after completing my studies, designing their mines at Secunda.
"Part of our training was to design the mine as well as the town from inception – usually it was in a very remote area where there was no availability of any bulk services," he explains. Enjoying the challenges of the role, Van Der Walt's interest in property development was piqued.
"I started off with small property purchases and developments in St Francis, Mossel Bay and then later embarked on the first mixed use development in Struisbaai, Cape Agulhas. This was the Langezandt Fisherman's Village about 15 years ago," he explains. The picturesque, whitewashed homes of Langezandt now represent one of the most sought-after estates along the Overberg Coastal Region, an area of astounding natural diversity.
"Today, I only have to design the town and not the mine," Van Der Walt quips.
It was also during this period that Van Der Walt began to work on projects across the Eastern Cape including Coral Beach, and the two main developments that represent MHG's portfolio to date; the Balugha River Estate situated in Glengariff, 20 kilometres east of East London, and the Kidd's Beach Green Estate, located within the urban edge of the city, some 20 kilometres west of East London.
"Our main target markets are government officials working in Bisho and East London, Mercedes Benz South Africa and Industrial Development Zone employees, as well as investors on a national level," he tells us.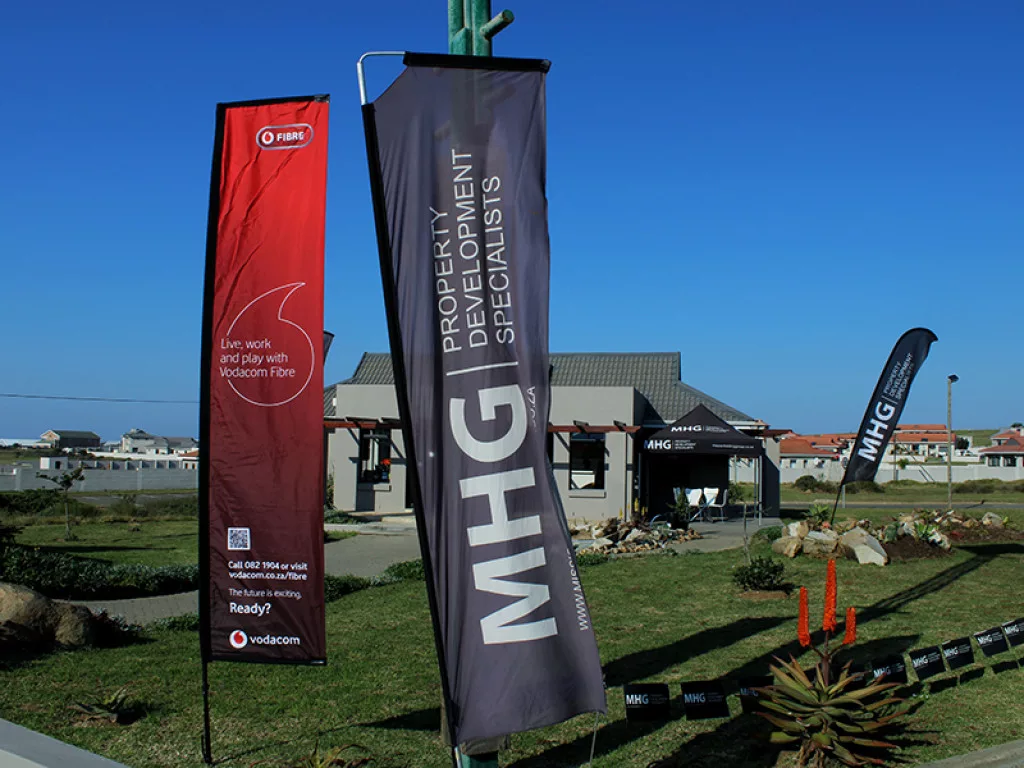 NAVIGATING THE MARKET
The headwinds of the ongoing COVID-19 pandemic continue to make the construction sector a challenging environment to navigate. Across South Africa in particular, civil unrest combined with ongoing lockdowns continue to plague the country.
"The construction industry is under a lot of pressure in South Africa, due to COVID-19 and the lockdown that has slowed down both our economy and indeed the world's," Van Der Walt states.
"Sales are currently still good in the affordable housing segment, as well as the medium to high income groups in the East London area – it is a deep market and there is a need and a demand," he expands.
At present, Van Der Walt highlights the struggle of attracting development equity investors and raising debt funding in the face of a depressed economy as MHG's greatest challenge.
In these trying circumstances, the strengths of MHG's vertically integrated supply chain become truly advantageous, thereby allowing the company to create and control its construction pipeline through its own sales.
"This means that we are able to purchase the agricultural land, get the necessary approvals for the EIAQ (Environmental Impact Assessment Questionnaire) and rezoning. We then design, market, and sell the developed land, do our own bond origination and the rental management for our investors."
With a workforce of approximately 29 personnel, MHG are fully equipped with inhouse architects, quantity surveyors, engineers, sales and marketing staff, civil and construction managers and a financial and admin management team in place to oversee its developments.
"We also do our own civils, bulk and internal infrastructure installations and the construction of our sold houses and buildings," Van Der Walt explains, which are made possible through the varied subsidiary companies unified under MHG's ownership.
"We also register subsidiary development companies for the varying products for the different income groups from affordable houses/units (from R695,000), medium, high to luxury houses (R10 million) and units situated within one estate. These come with their own security entrances and levy structures managed by HOA's (Homeowner Associations) and body corporates," he continues.
An integral component to the company's operations, MHG pride themselves on supporting South African suppliers through strategic partnerships that reflect a social consciousness prioritising job creation and education within the immediate community.
"We at MHG believe in forming strategic alliances and long-term relationships with our local suppliers.
"This is so important to support the local economy and to build local capacity. Also, to help develop local SMME businesses, in order to train and develop them, and to create job opportunities that will uplift the local communities," Van Der Walt surmises.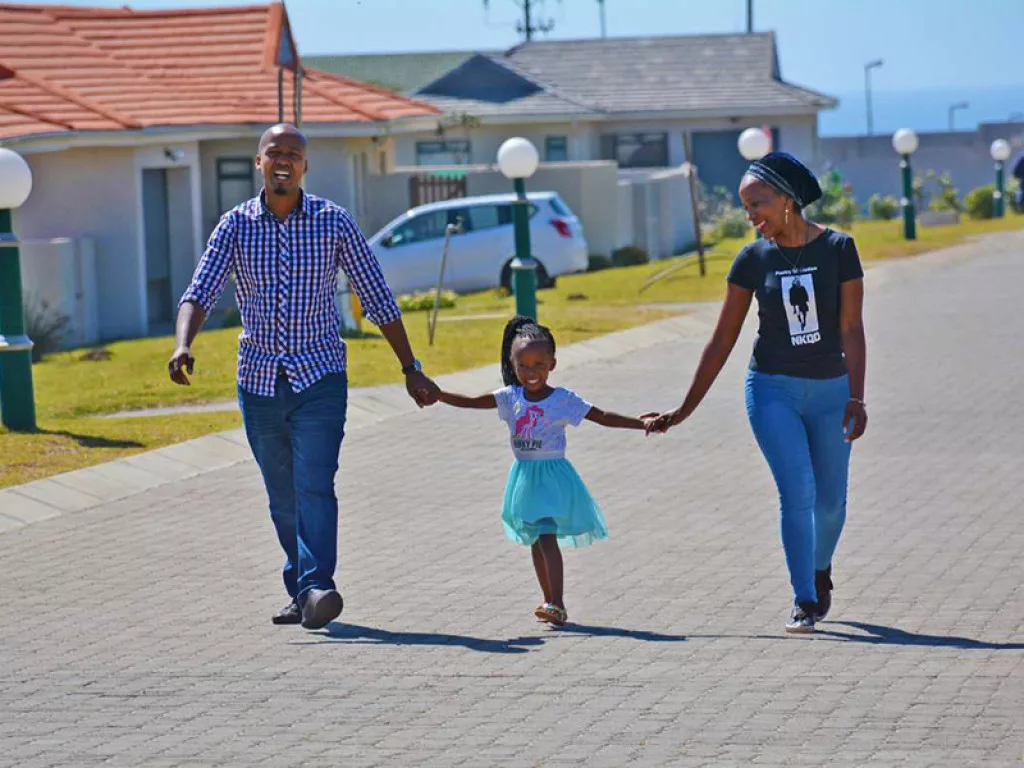 EMBRACING SUSTAINABILITY
MHG's developments are unique in the way they encourage a harmony between humans and nature, both in terms of the setting with most of the houses on the Kidd's Green Estate enjoying sea views, and the way that the company's designs incorporate environmental sustainability.
"We at MHG are serious about developing low carbon footprint sustainable developments," states Van Der Walt.
Both the Kidd's Beach and Balugha River estates stand as testament to this commitment.
"Our layout and house designs are done in such a way for roofs to be north orientated with roof angles of 37 degrees, in order to maximise the utilisation of the sun for the generation of renewable solar energy for warm water heating and the generation of electricity," he explains.
Roofs are designed with an overhang of 700 millimetres to assist with minimum sun on houses to ameliorate insolation, whilst the estates are illuminated by low-energy lights and streetlights.
Clay tiles with a low carbon footprint and good insolation properties are used for roofing, whilst windows with top openers provide added insulation and cross-ventilation.
"This minimises the need and use of air conditioners in the summer whilst containing the heat in the winter months.
"All houses are also sold with gas stoves and hobs as a standard to reduce the use of electricity," Van Der Walt adds.
Rainwater harvesting tanks are installed throughout the estates for gardening and household use, complimented by the landscape vegetation which consists of indigenous plants, scrubsand trees.
"We are also working together with the local authorities to design low impact sewerage processing systems to be able to utilise the sewerage solid waste for electricity generation in future and to clean the sewerage water to a level and standard for re-use and circulation," Van Der Walt explains.
Finally, all houses are provided with warm water that has been heated by solar energy, representing a key step forward and worthy area of investment for MHG.
"The self-generation of renewable energy, specifically solar, is a huge positive development, firstly to become less dependent on ESKOM, but also to lower any development's carbon footprint is a big positive step towards sustainable developments," he explains.
With mention of ESKOM – the South African electricity public utility – talk turns to MHG's innovative pilot project dedicated to reducing grid reliance.
"We have now embarked on a project that will utilise the roofs of the houses and carports to generate electricity with solar panels and only use 25 percent of ESKOM electricity throughout all the developments in future."
Looking to the future, MHG will continue to expand their footprint across South Africa as they continually strive for excellence and the satisfaction of both property owners and investors.
"Our main focus will be on Kidd's Beach Green Estate with 5,000 more houses to be built, as well as all the amenities of this mixed-use development.
"We are also involved and have started with other new developments on the Garden Route in Mossel bay, Stilbaai and Struisbaai," Van Der Walt explains.
With unique residential offerings catering to a wide range of markets, Mission Holding Group will continue to build homes for the future for years to come.