Seddiq Hassani, Group Managing Director at Bamburi Cement, discusses the African cement industry and his company's position as a major player within the space.
INTRODUCTION
Ask Seddiq Hassani what makes Bamburi Cement different from others and you'll get a simple but powerful answer – its people.
"We have some of the best employees in the business – driven by a high-performance culture and passion for the organisation," he says, proudly.
Hassani is the Group Managing Director of Bamburi Cement. The company is a subsidiary of Holcim, the global leader in building materials and solutions, and resides on the Nairobi Securities Exchange. And helping drive the business forward are the talented staff that remain committed to the business.
"Without them, we wouldn't be where we are today," he stresses. "We want to create an environment where everyone can be a problem solver, creative and innovative. Health and safety comes first, but we encourage collaboration, and celebrate diversity," he affirms. "We want people to try, don't blame them if they fail and persevere when things don't go as expected. But, this takes continuous effort and work."
Indeed, Bamburi Cement's people agenda is driven by various HR programmes, from learning and development to its position on the importance of health and safety.
"During the COVID-19 pandemic for instance, we have made sure everyone appreciates how to protect themselves and their families, supported each in various ways, sent non-operational staff to work from home and secured our sites through various preventive protocols," adds Hassani. "During that period, we have celebrated our Covid Heroes who took initiative to improve our COVID-19 protocols.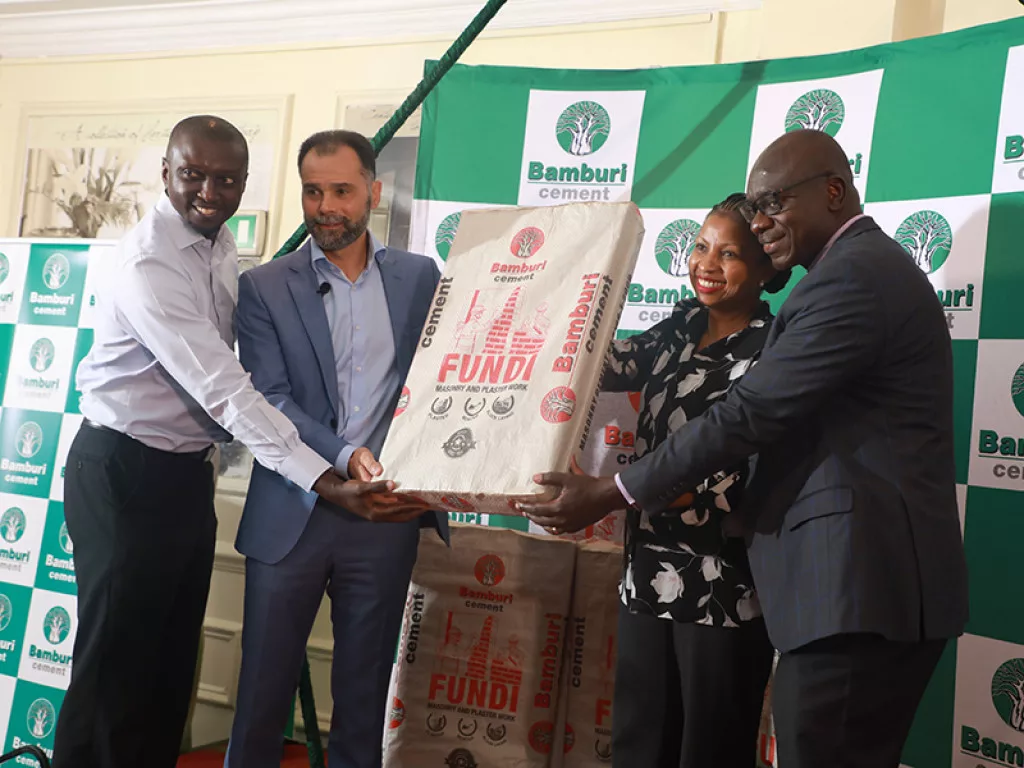 "Our reward and recognition be it through bonus pegged on performance, to various ongoing programmes that recognise performance in different areas of the business, teamwork, customer excellence among others – are about making our employees feel valued and recognising their efforts. Opportunities for growth, as well as an environment where people have space to share ideas and give open and constructive feedback, I believe have also played a big part in empowering our staff."
Since first joining the LafargeHolcim Group in 2000, Hassani initially started working at Lafarge Morroco, serving in various different positions such as Control Manager, CEO of Lafarge Gypsum Morocco, Purchasing and Logistics Director as well as Marketing and Strategy Director.
In 2015, Hassani began work as Holcim's Head of Growth and Innovation for Middle East and Africa, before stepping into his current position as Managing Director at Bamburi Cement in February 2018.
Today, the African cement industry is on an upward trajectory mainly because many African economies continue to register growth in GDP and per capita income which consequently boost investment in the construction industry. And having worked in the construction industry for more than 20 years, Hassani knows first-hand how exciting and dynamic the space is and points to his passion as a key driver for the longevity he has enjoyed in the field.
"It's an exciting space to be in," he affirms. "What's most interesting is the economic transformation we are able to facilitate in terms of infrastructural development that acts as an enabler to many other sectors of the economy. There is a French saying, 'when the construction industry goes well, everything follows!'"
In most countries, as they seek to move to higher development status, there is a plethora of mega construction projects either ongoing or projected in the near future, which includes housing, railway, roads, metro system, ports, water and energy projects, etc., as well as other foreign-funded projects that keep demand for cement growing.
"Demand also continues to be driven by population growth, urbanisation, improved living standards and sustainable construction," adds Hassani. "The African Continental Free Trade Area agreement will also support increase in the pace of economic development and subsequently building infrastructure.
"Indeed, one of the significant changes observed recently is the increase in regional cement production capacity. Going forward, this trend will get more traction, and we expect more capacity additions in the coming years in the region."
For example, in Kenya, the government is prioritising manufacturing and affordable housing and places it among its big four agenda items, which provides opportunities for the industry as it supports the government's intent to deliver 500,000 housing units by 2022 and solve the current two million units housing deficit.
"Bamburi Cement has positioned itself to meet these varying demands by offering application-based products among a wide array of cement and concrete products," explains Hassani. "This is in addition to solutions that solve challenges like affordability, accessibility, and technical expertise in a bid to support middle- and low-income builders as well as projects."
Bamburi Cement sits at the forefront of innovation in construction, driven through high performance, new technologies and sustainable building and construction products and solutions. Its vision? To be the undisputed leader and the partner of choice by providing innovative solutions for nation building.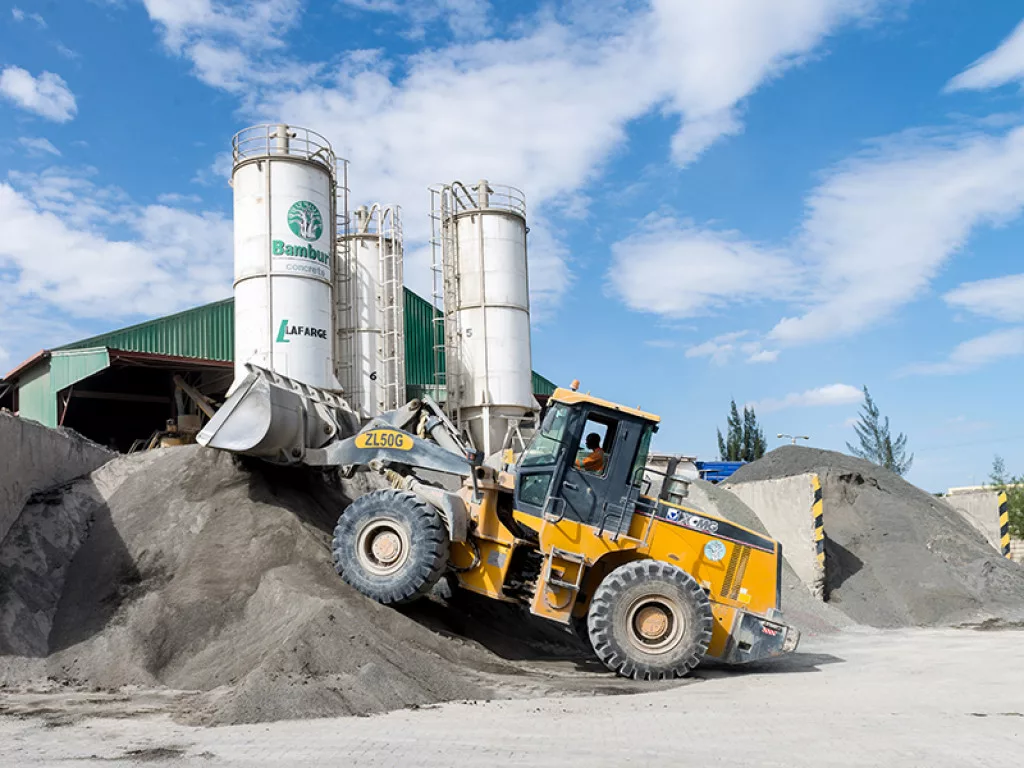 SUSTAINABILITY DRIVE
Bamburi Cement has a rich history of sustainability and has adopted a number of initiatives in a bid to operate with a greener approach. As such, it has launched an innovative construction project named 'Houses of Tomorrow' to fuel its sustainability drive through low-carbon based building solutions.
The project involves careful selection, design and use of materials which leverages low carbon standards in the overall construction, and particularly the application of near zero embodied energy concrete designed to introduce low carbon content cement. In terms of the design, the project utilises the green construction theme, particularly in the applications of materials – water harvesting systems, water reticulation systems, solar panels to cater for lighting and water heating needs, as well as other features such as large windows for maximum natural light and fresh air, among others.
"Net zero is an important goal that every industry needs to support; and for the cement industry, that is where we are all headed with a clarion call to achieve very low embodied CO2 footprint buildings," discusses Hassani. "This can well be done using low carbon cement-based materials and locally available resources.
"Commitment to green construction has long been a goal for the construction industry and therefore the 'Houses of Tomorrow' project is an innovative solution and another step in our transition towards even more sustainable building solutions and towards a more sustainable construction industry overall."
Some of the application based cement products that Bamburi Cement produces are POWERMAX and NGUVU for high and medium strength concrete works respectively. FUNDI masonry cement, a low carbon cement, is used for mortar and plaster works, and it is currently the greenest cements with the lowest CO2 emission level in the market alongside DURACEM. Both limit the carbon emission by between 50 and 65 percent in comparison to commonly used Ordinary Portland Cement products.
Despite considerable success, Bamburi Cement is relentless in its drive to succeed and are displaying no signs of slowing down. Hassani affirms the importance of securing and growing market share, while implementing an aggressive and robust growth strategy that includes expanding capacity across all areas of the business to ensure competitiveness for the long-term.
"Our strategy 'Building for Growth' is based on four pillars: growth (to grow faster than the market by capturing opportunities in the big four agenda), performance (be the best cash cost company in the country through innovation and operational excellence), people (become an agile, lean and performance focused organisation by empowering our people), and sustainability (be the most respected company by all stakeholders by creating shared value with them)."
As a result, Bamburi Cement is now on the way to building a new clinker plant in Kwale (Matuga area) coastal region, which is anticipated to be operational by the end of 2023. This plant will be state-of-the-art in terms of energy consumption and therefore reduced greenhouse gases emissions.
"This project is also expected to meet our growing need for clinker with an estimated 1.6 million tonnes increased annual capacity and support our growth in the region," says Hassani. "New product development to meet various specific needs of the market is something we continue to do, and you will continue to see new developments in this area."
Without partners, achieving long-term success is impossible. A resilient supply chain filled with mutually beneficial and sustained partnerships are key ingredients to prosperity, something Hassani is well aware of.
"No business is an island," he explains. "Success in business is defined by relationships, and at Bamburi we sit in the middle of a chain of relationships formed with suppliers and customers, taking raw materials, products and services from one end, and adding value to generate profit out the other.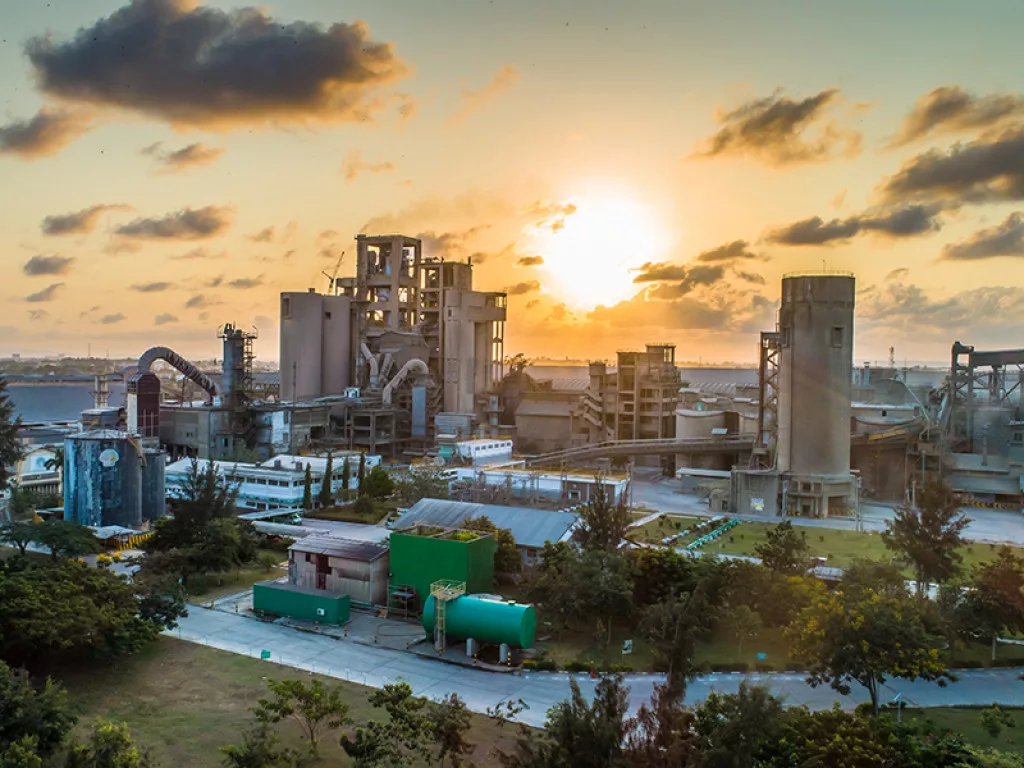 "To meet our customer needs, our route-to-market is very important, to ensure customers receive the products on time and in the required quality. Our suppliers form an integral part of our operations, and so having in place systems that achieve mutually beneficial business goals is very important for Bamburi."
Indeed, good partnerships are formed when both parties are aligned on values and fully trust the other. To Hassani, those partnerships are worth their weight in gold.
"Reliability is key, and we continue to enhance our partnerships with them to meet the needs of our operations efficiently and effectively, while adhering to the highest standards of integrity," he explains. "Following our supplier code of conduct, we also engage in long-term relationships with suppliers who are committed to sustainable development.
"These engagements are ongoing and constant to maintain transparency and understanding, and to firm up these partnerships. Being mutual partners means that they support our high-quality standards, health and safety, sustainability focus and ultimately contributes to our success."
Looking ahead, Bamburi Cement has clear ambitions for the future. In March 2020, the organisation launched its 'health, cost and cash' agenda with an objective to safeguard the health and safety of its people, partners and communities, while also guarding against the financial impact of the COVID-19 pandemic. For Hassani, he expects the plan to remain on saving costs and preserving cash throughout the rest of 2021. "This continues to be our agenda in 2021 as the pandemic is still very much with us; and especially now that we see new waves of the pandemic in Kenya that continue to necessitate containment measures by the government," explains Hassani. "However, I have confidence in the ability of the government to help contain the pandemic, speed up the vaccination and promote a positive economic environment supportive of business growth.
"We want to continue to serve our customers most effectively, both our retail and individual customers, and the various projects that we are supporting. Our customer service application, Lead Retail (Navendor) app, continues to serve our customers with minimal need for physical contact while improving our service level, and we'll continue to reinforce it.
"Thankfully we are able to run our operations with no interruptions during the pandemic, and so our capacity remains unaffected. Our team continues to be busy looking at other offerings we can give to our customers to support them in their construction needs, so this does not stop as well.
"We will also continue to partner with our different stakeholders and our communities to support the fight against this pandemic."