With sustainability at its core, Darling Brew aims to preserve the environment, bring communities together, and generate health-related awareness through good quality beer.
INTRODUCTION
"Long Claw is a personal favourite of mine. We took a traditional recipe, dry-hopped it with Citra hops, and it is exceptionally good. Very tasty, very colourful, smooth, loads of flavours, and a brilliant aroma."
10 years ago, Kevin Wood knew little of the brewing process behind beer, craft or otherwise. So, when he decided to drop his corporate job to open a craft beer brewery, it is fair enough to say that it was an unconventional move.
"My knowledge of a good beer was as bad as everyone else's. But I met this guy while travelling Africa who knew how to make craft beer, and that is pretty much where the story starts," he recalls.
With nothing but a passion for the taste of beer, Wood went on to create Darling Brew – named after the small village outside Cape Town that he currently resides in – alongside his wife and company co-founder Philippa.
"She called me crazy when I came up with the idea, but we both worked hard and we had a company mission in mind, and that is what drove us forward with Darling Brew," Wood tells us.
Now the business stands as a beverage icon in South Africa and sells a wide range of quality beers with striking packaging, brand awareness, and unmatched taste.
The craft brewery was set up with the intention to provide brilliantly tasting beverages at the same time as helping directly promote environmental preservation and spread the awareness of the need for sustainability in business.
As for the South African brewing industry, Darling stands out as one of the first companies to launch a successful craft beer brewery in the country, hitting the market that previously barely consisted of beer brands outside well-known global corporations.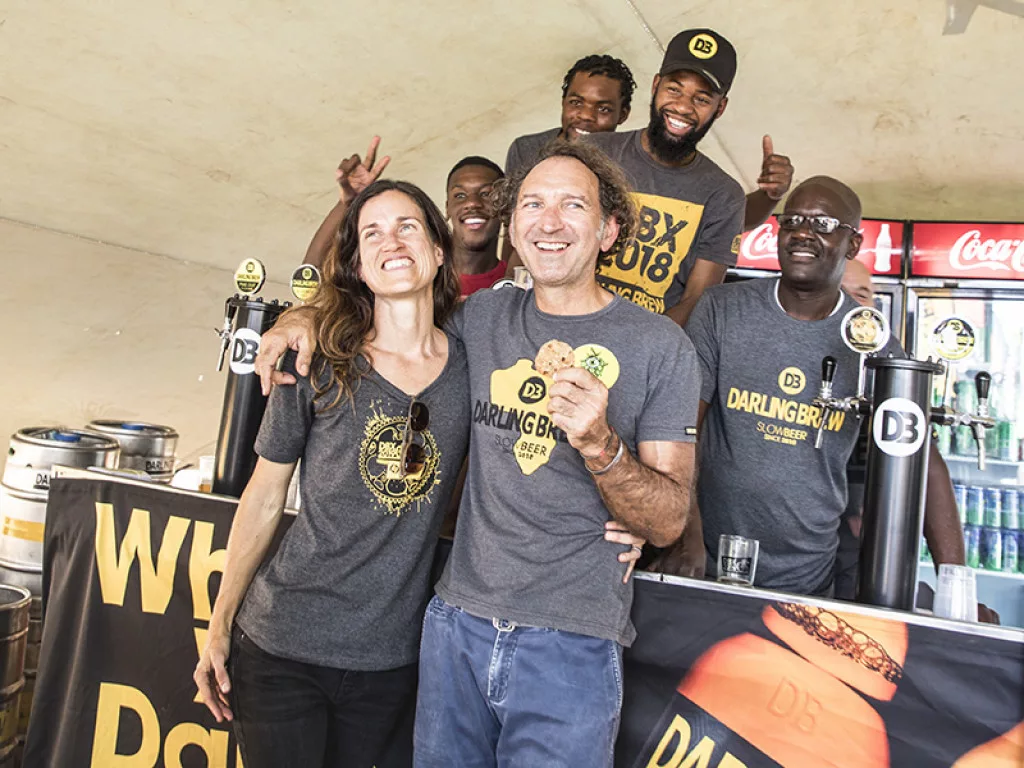 THE SUSTAINABILITY STORY
The company's sustainability journey is the biggest brand factor and differentiator that places Darling Brew above and apart from its competitors in the industry. The brand story behind the brewery envelops issues surrounding the preservation of nature as well as the quality of the beers it produces.
"All of our beer is brewed in Africa, and conservation and environmentally-friendly lifestyle surrounds it," Wood explains. "More people are environmentally conscious and looking after their personal health, and they want beer that can match that.
"I didn't get into the business to take on large scale companies – I got in it to brew great quality beer using great ingredients and not cut corners on quality, and I think that distinguishes our brand in a big way."
Darling focuses heavily on the message behind its brand – a story that customers can get on board with in the knowledge that they are supporting a business making a difference.
This environmentally mindful business focus is no better exemplified than the company's carbon neutral brewery. Claiming the innovative and forward-thinking title of being the first brewery of its kind on the continent, Darling's carbon neutral brewery is set to offset a total of 687.96 tonnes of CO2 over the next year. For comparison, this is akin to having eliminated the same amount of carbon from the environment as 17,829 trees for 10 years.
"Each year we give amounts of money to causes that, for example, re-plant hardwood trees that have been cut down over the years," Wood adds. "There is also a move that we support towards encouraging the locals to increase the growth of gumtrees which, despite being harmful to ecosystems outside Australia when unregulated, when controlled are hugely beneficial for communities due to their quick growth and multiple uses."
2016 saw the release of the company's first ever carbon neutral beer – Blood Serpent – that was seen as a catalyst towards decarbonisation and company-focused carbon neutrality. And Darling has an extended range of these new beers in the works.
The use of recycled materials for canned packaging is an additional aspect of these carbon neutral beers, and this practice continues across the range of beers it produces.
Because when it comes to sustainability and healthy living, Darling Brew does make a difference. Not only does it promote an awareness of environmental issues, and advocate the resolution of such problems, the business veers away from using cheap ingredients (used to mass-brew common beers found all over the globe) so that its customers receive nothing but the best collective quality from its beverages.
Glyphosate, for example, is one ingredient that the company completely excludes from all beer production. The chemical agent is a crop desiccant weedkiller used in the "dry-down" process in crop collection – that of killing crop matter so that it can dry out from its environmental conditions and be collected evenly and efficiently by farming machinery.
The problem with this chemical is that, despite regulated health codes regarding beverage production, residue from this weedkiller remains an element of production even after the long brewing process, which includes the eradication of bacteria or other potentially harmful substances.
The residue of glyphosate remains absorbed into the collected crops and then transferred into the end product. It has been scientifically proven as a carcinogen as well as being harmful to the liver and other organs. As for the amount of this chemical residue in mass-produced beers, the repeated inducing of small amounts of glyphosate causes long-lasting damage to beer lovers, as well as increasing the potential risk of cancer in later life. For Darling Brew, glyphosate is avoided at every turn.
"It should be outlawed full stop," he says. "I will use an example of smoking: if something can cause you potential harm then it should warn you on the label, but glyphosate isn't even shown on beer packaging. Something that sticks to and lines your stomach, linked to causing all sorts of damage: cancers, organ damage, and the list goes on, should be warned against, if not made illegal completely.
"Businesses need to change their practices and put the environment and human health first, before profit. Using the cheapest low-quality methods of food and beverage production causes major problems. Think of mad cow disease in the UK during the 80s for example. Look at the spread of COVID-19 today." Wood explains to us.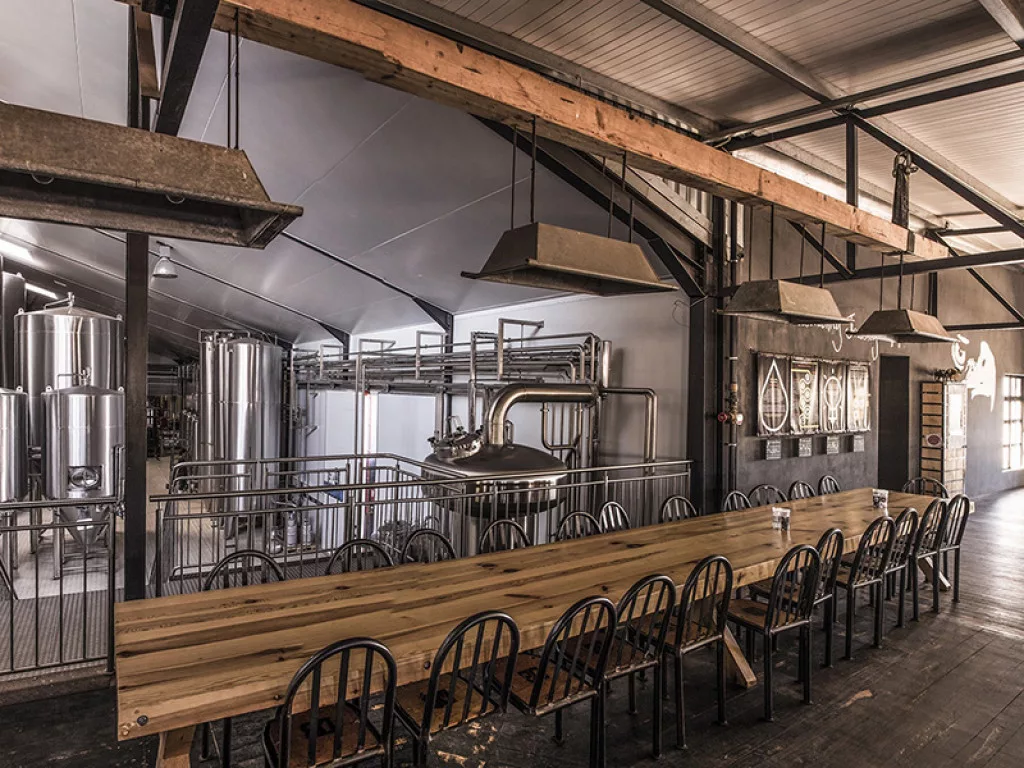 DISRUPTING THE BREWING INDUSTRY
Darling's emergence in the South African market was a welcome difference to the options provided to the consumer at the time.
Craft beer was largely new in the beverage sphere and smaller brewers were in constant competition with the popular large-scale corporations that flooded the market with cheaper options. Darling entered an industry in an un-tapped area of the market, but despite this still faced some obstacles.
"It was an explosive market, but it plateaued quickly," Wood explains to us. "I think there were a few reasons for that. The SA economy is a lot smaller than that of countries such as the US and UK. Another reason is that we have had a lot of start-up brewers who neglected quality, shelf life, and taste, and thought they can produce a beer with a "cool" label and lead the market.
"Because the market is based on the growth of the middle-class, it can be seen that there is still growth to be had. We aren't going to get you 14 percent volume and 18 to 19 percent revenue like in the US, but the market is steadily climbing."
Despite this, Darling's success continues to be linked to its three key company attributes. If the first two sides to the business are sustainability and healthy living, the third is without a doubt community. As a company that serves to promote a healthy environment and individuals, community ties and association is an active and incorporated element of Darling's business.
And the company has maximised this aspect of community through its recent tap room expansions. During the first lockdown period as a result of COVID-19, Darling refused to act like the ostrich – that is to say "stick its head in the sand" – and instead went forward and developed five new beverages – four of which were zero-alcohol, and the other a mainstream lager.
This promoted Darling in parallel markets such as the low-and-no beverage sphere, as well as producing an "all-rounder" beer that appeals to a larger customer base.
And while the COVID-19 pandemic uprooted industries left, right, and centre, the company invested heavily in the amount of, and quality, of its taste room facilities.
These taste rooms are synonymous with Darling Brew all across South Africa. They are places of social gathering where dedicated customers or curious new visitors can socialise, eat great gourmet pub-style food, and taste the various beverages the company has to offer. They have become a very successful aspect of the company's business.
"The taste rooms allow us to expand our own direct serving of our products in a sustainable volume without any financially limiting ties to outside businesses. And that is a massive part of our strategy over the next two years," Wood says.
Since the outbreak of COVID-19 and its effects on the food and drink industry, Darling has resorted to socially distanced dining, drive-through, and locally delivered plans, keeping it well in the game even during such a tumultuous time.
"The revenue produced from our taste rooms generates 30 percent of our turnover, so we have earmarked three or four more for next year, and we have elected high-tourist orientated areas to place them, for example in the heart of Johannesburg, in an area near to the Kruger National Park," Wood says.
"Because of COVID-19, South African people are restricted to in-country locations, and so all domestic events, activities, and places to visit (such as these national parks) are fully booked. People are spending their money inside the country."
In October of 2020 alone, Darling will have grown 100 percent based on the reception of these taste rooms. And due to the new, trendy, and fashionable locations offered up by the company, fewer people are looking to spend their money at traditional venues.
"We also find our business in one of those areas that is not mainstream. For example, standard hotels, they aren't fully booked because people don't want to stay in those kinds of things, and so they look to more interesting activities one of which is our brewery, taste rooms, or events that we hold," Wood says.
On top of this, the community is integrated into the Darling business through public events held by the efforts of Kevin and Phillipa Wood.
"We are one of the biggest tourist attractions in the region, so we are expanding our offerings of entertainment venues," Wood says. "We have got one of the biggest single-day mountain biking races in South Africa starting from the brewery itself – that is the kind of thing we do. There is quite a lot surrounding our sporting events, and we have got more in the works.
"There is a big sporting and community side to the business, that's a big part of our market – offering entertainment for kids, families, and this is the business model we promote around the country."
These events occur on a large scale. One race being introduced in the near future is the Winery to Brewery course (Wood comments on the number of brilliant wineries in the region), where the bicycle track will be anywhere from 30 kilometres to 100 kilometres.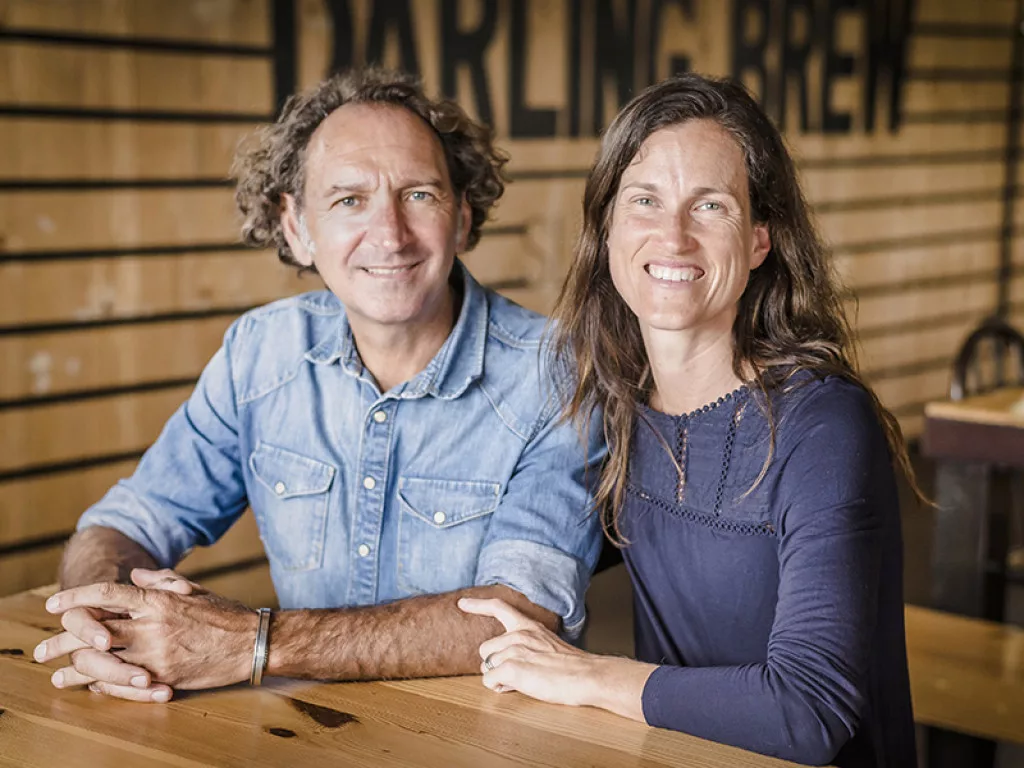 A SUSTAINABLE FUTURE
Darling Brew works alongside many business partners to achieve the production and distribution of brilliant beer in support of environmental sustainability and preservation. In line with these company aims, the brewery deems its partnerships incredibly important, especially as they are a part of what makes them so sustainable.
"Over the years we have built relationships with many of our partners from packaging to equipment, and everybody is on the same page. For example, our partners help us with labels using bamboo, and cans made from recycled materials, as well as beer holders made of cardboard," Wood says.
In the long term this is beneficial for three reasons: it allows Darling to continue promoting environmental stability in its business, helps associate these partner companies with greener methods and, of course, actually benefits the environment through sustainable methods of industry and broader influence and awareness of environmental issues. And this dedication extends to customer and human health as well.
"I refuse to use methods other larger companies use, like spraying their crops with glyphosate. If a country or company can't prove to me that they aren't using harmful chemicals or other substances, I refuse to work with them," Wood tells us.
As the industry speeds through 2020 Kevin and Phillipa Wood view the future with optimism. Darling Brew's sustainability, health, and community goals continue alongside the expansion carbon neutral brewing, new product variations that use only the best quality and healthiest options for brewing, and new taste room locations to bring people together in a globally troubling time.