As the iconic carbonated soft drinks brand continues to expand its presence across the African market, David Chait, General Manager, discusses the operations of Coca-Cola Beverages Botswana.
SHAKING UP THE NON-ALCOHOLIC BEVERAGES INDUSTRY
As the industry's largest non-alcoholic beverage organisation, The Coca-Cola Company's (TCCC) initial purpose was to refresh the world and make a difference. Today, Coca-Cola Beverages Africa (CCBA) is performing the same objectives across the oldest inhabited continent on Earth.
The iconic brand is in large part responsible for the growing beverage industry in Africa and is the only soft drink producer and manufacturer in the landlocked country of Botswana. In 2018, CCBA acquired Beverage Manufacturers (Pty) Limited, which is now trading as Coca-Cola Beverages Botswana (CCBB).
Headquartered in Botswana's capital, Gaborone, CCBB is an end-to-end bottler, whereby the company invests in the production, distribution and selling of the products.
With a current population of over 1.4 billion in Africa, and growing, Coca-Cola has a slogan of, 'one billion reasons to believe in Africa'. Moreover, the team at CCBB has the same belief, as the company is keen to quench the thirst of the population in Botswana while also encouraging economic investment in the country.
"Africa is undoubtedly a continent that requires resilience, positivity, and patience to see through the work you put in, but it also requires a heavy dose of passion and love of the people to be successful," introduces David Chait, General Manager at CCBB.
Chait joined the company at the beginning of 2020, with the task of putting the leadership team together and developing the future strategy for the operation. Coming from an audit and chartered accountant background, he relished the opportunity to work for such a universally recognised company.
"I didn't set out to join the beverage industry, but I consider myself especially lucky to be a part of a company that sells the world's leading brand," he shares.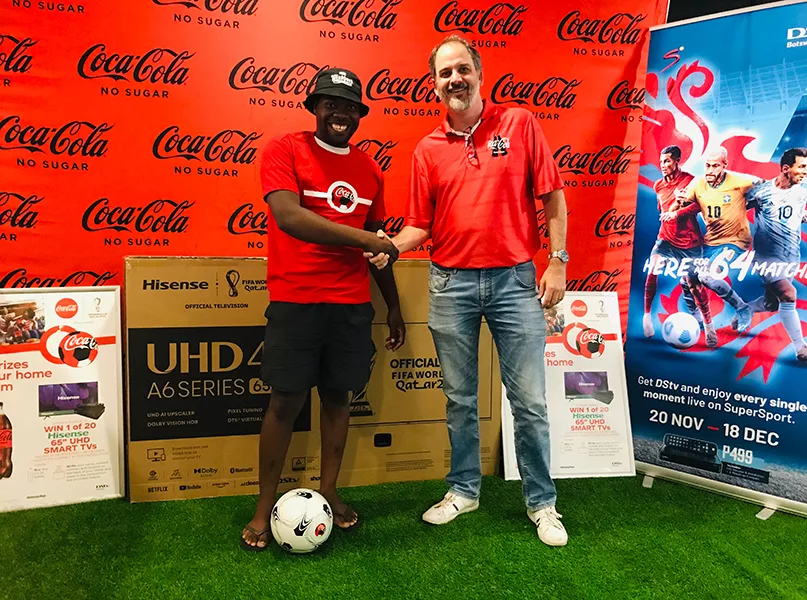 AN AFRICAN ADVENTURE
Coca-Cola was first imported into Africa in 1928 and the bottling of the product began in 1940. Currently, CCBA serves 15 countries on the sub-Saharan continent.
Meanwhile, within Botswana, CCBB has depots in Gaborone and Francistown in the north, and the recently opened Palapye in the central region, in addition to the distributors in the northern town of Kasane, and Maun in the northwest. With a population of just over 2.4 million, CCBB is able to reach consumers through the supermarket channel, and wholesale channel which feeds into general trade.
"We sell directly to 800 outlets, in addition to the 3,200 outlets across Botswana that purchase from the wholesalers or distributors," outlines Chait.
Today, TCCC has a continent-wide presence, operating in all countries and territories across Africa with 46 bottling partners. Hiring locally and sourcing regionally, the company has made an impact on economies and taste buds alike.
Every job created directly generates between 10 and 16 others indirectly. Everyone involved in the Coca-Cola supply chain makes money through the production, distribution, and sales of the brands.
CCBA is the eighth largest bottling partner worldwide by revenue, and the biggest on the continent, serving 15 countries in sub-Saharan Africa. Meanwhile, TCCC itself refreshes consumers and communities in all 54 countries on the continent.
Although it is the only soft drinks manufacturer in Botswana, for Chait, the benefits far outweigh the challenges.
"Being a cornerstone business that contributes to local employment and communities is extremely important for CCBA as a group," he says.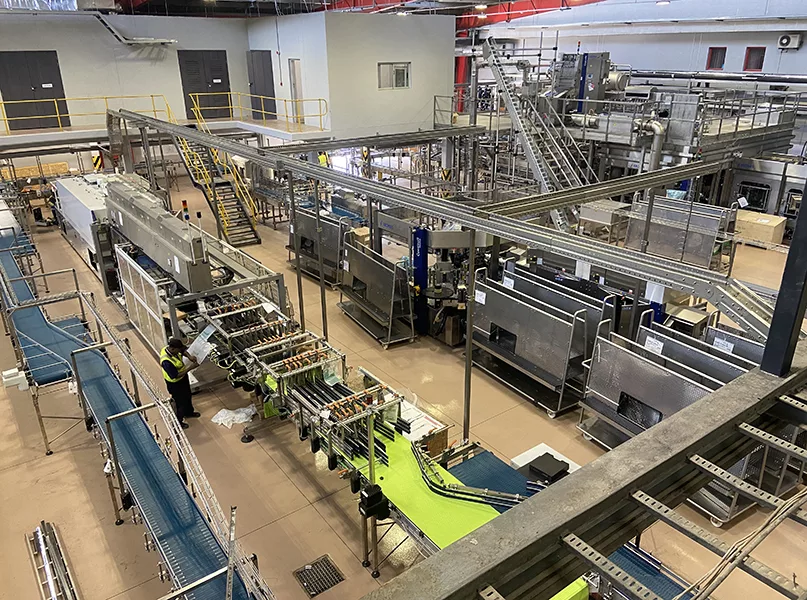 TASTE THE DIFFERENCE
Although TCCC produces over 100 different drinks in Africa, with many tailored to local tastes, the strategy is always the same: the product should always be within reach.
CCBB produces a plethora of colourful flavours from Fanta grape, and pineapple, to Sparletta Pine Nut, and Stoney ginger beer. The company also produces Botswana's legacy brand, Bonaqua Source Water, previously known as Source Water.
"We must forge our own way forward to resonate with consumers, and not just copy and paste what works in other markets around the world. The opportunities to create new ideas and see them to conclusion is what drives the continent as an exciting space to work in," reinforces Chait.
The company has grown significantly since its inception in 2018, when it became a subsidiary of CCBA, and now employs 500 people compared to its original number of 200.
Although CCBB operates out of Gaborone, producing polyethylene terephthalate (PET) packs of 2 litre (L), 1L, and 600 millilitres (ml) across most Coca-Cola brands, with Coca-Cola being the major brand in the market, the company cannot produce everything in-country.
"Where we don't have the capacity, we import additional requirements from South Africa. We also bring in various brands such as Schweppes, Cappy Juice, Monster, Predator Energy, and Mazoe Crush to add to the menu of beverages," he reveals.
The carbonated soft drinks mentioned above sit alongside Fanta, Sprite, Stoney, and the Sparletta range of Creme Soda, Pine Nut, and Iron Brew.
"The group vision is to refresh Africa every day and make the continent a better place. Through our investments in people, networks, and community, we aim to place an ice-cold beverage into their hands wherever they may be. Whether you are living in Gaborone or a small village near Shakawe, the quality and experience will be the same," explains Chait.
Coca-Cola is a heritage brand that has been around for generations, and consumers associate it with quality, consistency, and trust, all of which are traits that resonate with both customers and partners.
"Through our range and our passion, we believe we can offer the customer and consumer what they want, when they want it."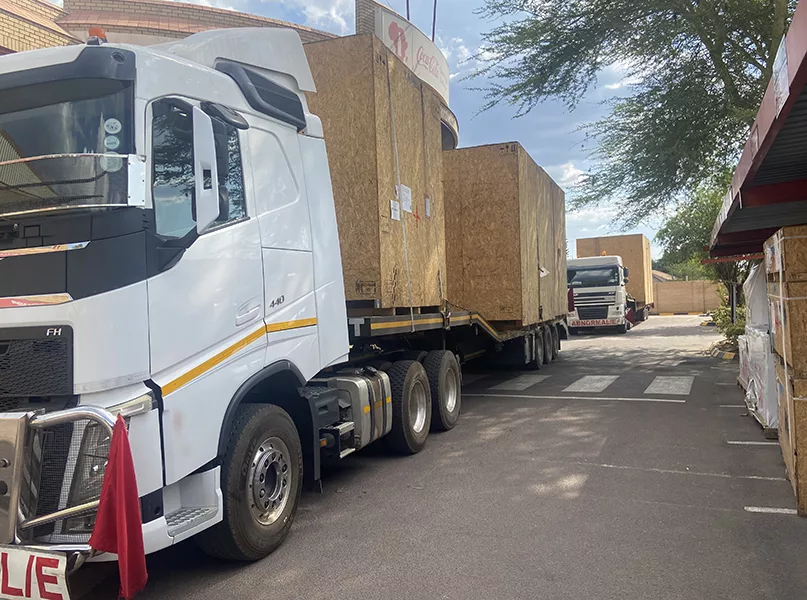 A SUSTAINABLE SOFT-DRINK
CCBA, and its subsidiary CCBB, is prioritising expanding its production in a sustainable way. CCBA is an industry leader in developing sustainable solutions for manufacturing and distribution. The company's mantra of 'People matter. Our planet matters' is evidenced by its sustainable sourcing.
Consumer well-being, water use efficiency, reduction in carbon emissions, efficient energy use, sustainable packaging, waste management, and women, youth and people with disabilities empowerment are all equally important to the company.
"We believe in doing business the right way by following our values and working solutions that benefit us all. Profitability is important, but not at any cost," observes Chait.
CCBB is commissioning a new PET production line in May this year, which will double the PET production capacity in-house.
"The entire project is costing over USD$20 million and will see the local operation self-sufficient on all core brands and able to meet our customer demands for the foreseeable future," Chait informs us.
As the new line can produce a wider range of 2L PET products, it offers greater flexibility when responding to consumer requirements. Designed to be more energy efficient, therefore mitigating the environmental impact and energy costs, it also incorporates improved safety features, reducing the risk of accidents.
"In preparation for the investment, in line with Coca-Cola standards, CCBB recently commissioned a wastewater treatment plant to ensure that clean water is put back into the municipal system after going through the plant," he shares.
This is in line with CCBB's commitment to the environment, and continent, to operate sustainably. Furthermore, the investment will provide employment and open potential export opportunities to neighbouring countries.
"CCBB is acutely aware of the need to look after our environment and the impact plastic has on the world. We have been collaborating with our group, local businesses and communities to help create a sustainable PET recycling supply chain in the country.
"It has been slow, but it remains a key ambition to have 100 percent of the plastic that we give to our customers taken for recycling. We are in the early stages of the process and will witness it ramp up over the next few years," says Chait optimistically.
CCBB has pumped a USD$2 million investment into a new effluent plant to ensure clean water enters the municipal system and take strain off the municipality. CCBB also introduced water recovery within the plant and re-uses water from the production plant for the facility's cooling towers, ablutions and cleaning.
TCCC and its bottlers aim to achieve at least 100 percent water balance globally. The use of water efficiency initiatives and technologies has resulted in water usage decreasing substantially over the past several years.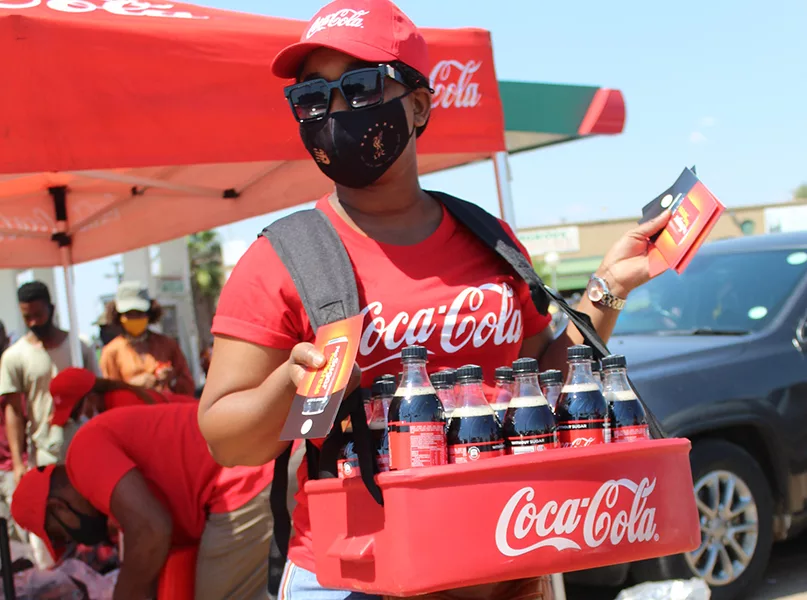 FUTURE COMMITMENTS
Packaging is an important part of modern life, but there is an ongoing issue with waste management. Together with TCCC, CCBB realises it has a responsibility to help solve the problem. By becoming part of the sustainable packaging initiative called World Without Waste, the company has committed to investing in the planet.
This has led to certain goals and priorities for the year ahead, with plans to open a new canning and bottling line and a production facility.
The target is to grow and win the market through execution excellence and customer satisfaction. The company is able to implement innovation, and work with marketing teams to make sure these are visible.
"Our immediate target is to commission the new line and adapt to the new reality of having excess capacity. The business needs to adapt to ensure optimal stock holding across packs and blend it with the most efficient production scheduling," observes Chait.
"We are currently operating out of three rented warehouses in Gaborone. Our long-term vision is to consolidate under one roof to represent the identity of CCBB."
With the installation of the new line, there will be greater availability and diversity of products for the consumers. The line allows for greater innovation in packs and the ability to locally produce what was previously outsourced to another country.
"CCBB will be able to meet consumer demand, which we have struggled to do over peak periods, relying on availability from South Africa to supplement the shortfall. Besides expanding the production and distribution chain in the company, this investment will also promote employment, bringing gains not only for our organisation, but also for the country," he details.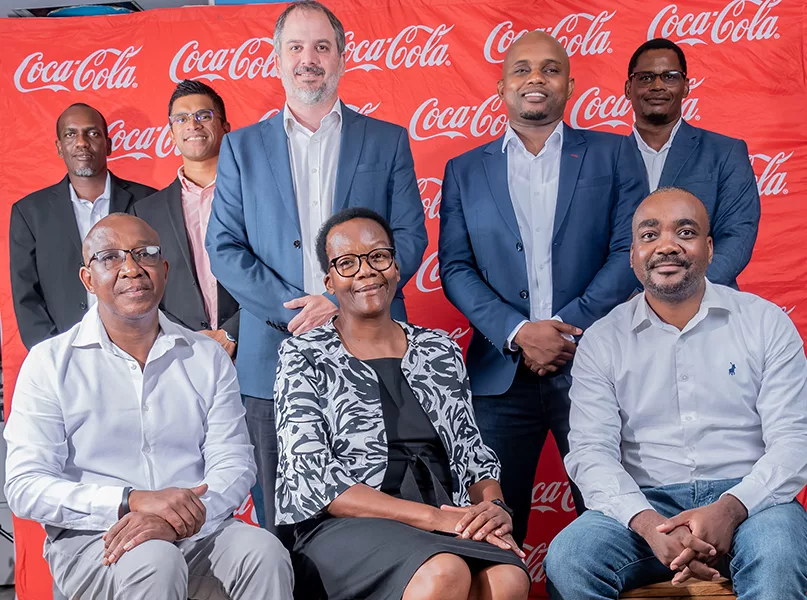 ENCOURAGING EXCELLENCE
Earlier this year, CCBB supported an interactive workshop focused on building and growing sustainable enterprises for informal merchants and traders. The aim was to hone business skills using practical exercises and team competitions.
The company's mission was to create a greater shared opportunity for businesses and communities through economic inclusion initiatives such as entrepreneurial training for the 76 participants.
"Opportunity is more than just money; it is about a better future for people and their communities everywhere in the African continent," says Chait.
It is clear that donating time and expertise is as important as donating money, and CCBB takes community responsibility seriously.
"We aim to create inclusive growth opportunities for women, youth, and people with disabilities by defining a consistent way of implementing economic inclusion programmes drawing on leading practice."
CCBB chooses to deliberately empower women, youth and people with disabilities as traditionally marginalised groups.
"We have an ongoing strategy called Women in Leadership, where our end goal is to train women within the business, so eventually, they can be promoted into leadership roles. Even with our recruitment strategy, we try to encourage women and youth to apply," Chait states proudly.
One of CCBA's values is centred on encouraging excellence through world-class execution, processes, and performance. Its employees are considered valued participants, therefore high performers are always recognised and rewarded.
"We motivate them to continue flourishing by giving them sustainable incentives," affirms Chait.
Along the same lines, CCBB is in open discussions with Botswana Council for the Disabled over ongoing projects for people with disabilities as a means to create job security.
As TCCC and its subsidiaries continue to campaign for an economically fairer and more eco-friendly Africa, all eyes are fixed on what the carbonated drinks manufacturer does next for the continent.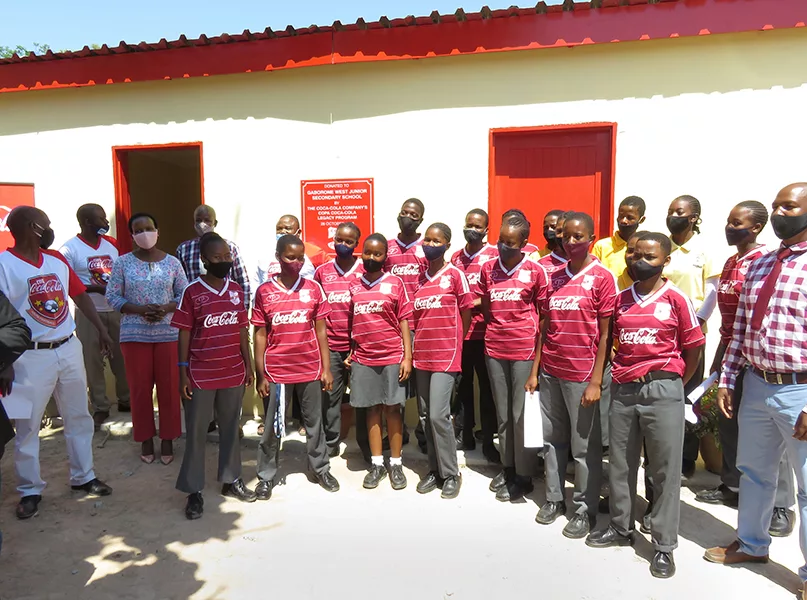 COCA-COLA BEVERAGES BOTSWANA PARTNERS