Western Power Company's Executive Chairman, Sipho Phiri, tells us about its plans for an environmentally friendly run-of-river hydroelectric solution, driven by local developers and with significant funding from InfraCo Africa (part of the PIDG group) and the Development Bank of Southern Africa (DBSA).
THE POWER OF WATER
The electricity sector is undergoing significant changes due to an increasing demand for power, caused by population growth and increasing urbanisation in Zambia including the massive need for copper and other metals required for the global green transition. The need to reduce global greenhouse gas (GHGs) emissions plays a part in the further development of Zambia's renewable hydroelectric power as well as the need to power Zambia's economic growth.
As the Zambian energy sector is primarily state owned, Zambia is transitioning towards private sector renewable energy generation targets, and private sector investments in renewable sources surges, the goal is twofold: to meet the rising demand for electricity while leading the way for further private sector investments.
Zambia, as with most African countries, is in urgent need of electricity generation, and Western Power Company (WPC) is leading the private sector in taking up the challenge to develop renewable energy to fulfil the exceptional demand. Specifically created to implement the Ngonye Falls project, the company is in the final stages of development having completed all technical environmental and permitting obligations for the 180MW Ngonye Falls run-of-river hydroelectricity power station on the Zambezi River. With a total project cost in excess of USD$65 million Western Power Company have commenced with an Engineering, Procurement and Construction (EPC) tender to select a contractor to commence with construction in 2024.  
"The Ngonye Falls project has a world-class Community Participation Agreement (CPA) and WPC believes that this will become a standard for all renewable generation projects in the region," begins Executive Chairman at the company, Sipho Phiri. 
The development of Ngonye Falls, and similar renewable energy projects, is imperative to improve the economic growth of Zambia. The planned operation will not only boost the generation of energy to combat power rationing caused by the power deficit, but it will also boost economic growth which is predicated on the availability of energy, thereby fostering increased employment and reducing rural poverty.
"Only 30 percent of Zambia's population have access to grid electricity and GDP growth is now inextricably linked to the ability to expand electrical generation," outlines Phiri.
THE CHALLENGES OF CHANGE
Phiri is a banker by profession and has 20 years of experience in corporate finance. Today, however, his focus, with his fellow founders who have been friends from childhood, is the renewable energy sector. Not only is he Executive Chairman of WPC (with 180 mega-watts (MW) run-of-river hydro) with InfraCo Africa, but he also Chairs, the 350MW Mphepo Power wind project (a joint development with Total Eren), the 100MW Western Solar Power project (a joint with Buffalo Energy and Serengeti Energy), and a 4MW mini hydro Luano Valley Power Company.
Mphepo Power will be Zambia's first wind project and one of the largest wind projects in sub-Saharan Africa and Western Solar will be one of the first projects in Africa with market offtake by the Southern African Power Pool through Africa GreenCo. This Western Solar offtake arrangement will change the way projects are done throughout Africa, as Africa is currently the only continent where developers cannot finance projects based on market offtake. The legacy methodology of finding state utilities to offtake, usually with a sovereign guarantee, is the primary reason for the shortage of private sector renewable generation projects in the region.
"Zambia requires baseload power to support intermittent renewables like solar and wind and although renewables are abundant, this intermittency makes it very difficult for the grid operators to manage the introduction of intermittent generation on such a large scale as the vast national grid of Zambia. Currently, generation is focused in the central and southern parts of the country and the Ngonye Falls project will add both base load power and grid stability, allowing for a further increase in solar generation." Phiri informs us.
WPC is a Zambian led Independent Power Producer (IPP), which has to date been financed by InfraCo Africa, Development Bank of Southern Africa (DBSA) and the founders through African Power Projects. The Ngonye Falls project will generate enough electricity for 900,000 people and is located in the Western Province of Zambia. The Western Province of Zambia is the largest province by landmass with a population of 1.5 million and is currently very underserved with the province being supplied less than 15MW of power. Whilst there is still a significant need to improve the transmission network in the province, the Ngonye Falls project will be a significant boost to the development of the province. "Currently, the whole of the Western Province consumes approximately – 14MW of power supplied through an ancient 66kV line, which is unsuitable – to put it into context, a large shopping mall uses around 5-7MW of power."
"The old model of state-run utilities monopolising generation activity is not viable for the growth needed in most African countries, and a combination of state utilities and a vibrant private sector will hopefully lead to the electrification of the continent," says Phiri.
Many countries have set ambitious renewable energy targets with investment in the sector increasing steadily in recent years. However, the transition to renewable energy is not without its issues, including inadequate infrastructure, and financing constraints, especially at the development stage, and although Zambia has a good policy environment, policy and regulatory barriers across the continent can be challenging.
"While challenges remain, there is potential for growth and development in the sector and IPPs will play a crucial role in achieving developmental and electrification goals. This will allow Africa to grow its economies and pull the world's most deprived people out of poverty," notes Phiri.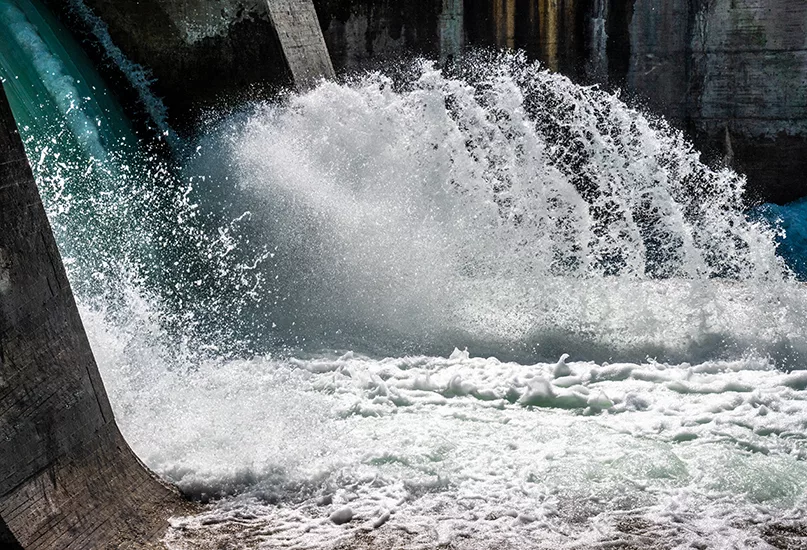 A RENEWABLE RESOURCE
WPC will have close to zero carbon footprint as it has taken considerable strides to ensure minimum environmental impact. It is very unusual for a project of this scale to have such a small environmental impact and WPC take particular pride in this.
There are many advantages to a run-of-river hydroelectric strategy, such as providing significant amounts of reactive power and grid stability, thereby allowing the grid to take on more intermittent power sources, such as solar. Thus, not only are there long-term benefits for the overall system, but also allows for development at very little cost to the environment and is accompanied by a significant positive impact to the local communities.
"We are proud to be able to harness the power of the river for the development of Zambia, with such little environmental impact for such a large infrastructure," Phiri states.
The hydroelectric project also has advantages for the ecosystems of the Zambezi River.
As he explains, "With no dams or water storage, and a weir structure to guide water into our canal and manage environmental flows, it is not harmful to aquatic life and is actually good for the aesthetics of the Ngonye Falls."
Additionally, WPC realises the importance of sustainability across the company, and it has created a sustainable supply chain that is centred on maintaining a good relationship with suppliers.
"Creating a sustainable regional supply chain is important for many reasons: it can help to reduce carbon emissions, support local economies, enhance supply chain resilience and promote social and environmental sustainability.
"By sourcing as many materials, goods, and services locally, companies can reduce their carbon footprint and transportation costs, which can have a significant impact on the environment. It also promotes the development of local businesses, which creates skilled jobs and supports the local economy," explains Phiri.
COMMUNITY IMPACT
The introduction of significant power generation, that is projected to be part of a new gridline by WPC, will have a considerable economic impact in Western Province. Ngonye Falls will have the advantage of operating on one of Africa's largest rivers, which is a great source for economic opportunity, and therefore, by partnering with the local community through the Barotse Royal Establishment, WPC is confident that immediate and long-term benefits will flow to the communities around the falls and the Province as a whole.
The Barotse Royal Establishment (BRE) is instrumental in supporting WPC with construction and has a six percent golden share in the project. Returns from this will have a significant impact on the local community, and the CPA states that the BRE will represent all the communities in the Western Province. Too often Community Participations agreements are in the form of Corporate Social Responsibility programmes which takes control of development away from the communities affected. The Barotse Royal Establishment have established a development trust to utilise the significant inflows from the project into projects that they and the local communities feel are important to them.
"The BRE represents the Kingdom of Barotseland headed by His Majesty the Litunga, who is the traditional leader of the Lozi people. The CPA will bring significant inflows into the community for development projects," Phiri informs us.
The company and the project will boost the local economy by providing 3,000 direct employment opportunities, plus significant indirect and multiplier positions, in addition to many highly skilled operations and maintenance jobs spread over decades of operations. Although WPC generally has a small workforce, it is motivated by the need to develop Zambia and to demonstrate that Zambian developers can lead large infrastructure, alongside their international partners.
"The President of Zambia, His Excellency Mr. Hakainde Hichilema, has publicly committed to massive growth in the electricity generation sector and has committed to private sector participation in achieving these aims."
Alongside local economic gains, the sustainable project will provide significant support to the national transmission grid through voltage support and frequency control. By increasing national capacity, WPC will help Zambia meet the rapidly increasing demand for power, therefore stimulating socio-economic development. Thus, potential customers will not have to wait much longer as the project progresses.
"WPC is an extremely well-developed project, technically and environmentally, and has finalised a Power Purchase Agreement with ZESCO, the state utility. WPC is now proceeding to Financial Close and intends to commence with construction by the middle of next year," outlines Phiri.
As WPC founders operate on an SPV (Special Purposes Vehicle) basis with each standalone project, it will continue to develop renewable energy in Zambia, and look to pursue more regional opportunities in the future. WPC demonstrates that the African energy and utilities industry has a great future and with greater focus on renewable energy and smart grid technology will consequently carve a more sustainable future for the people of this great continent.