With strategic access to the continent and abroad, Togo is a West African maritime and logistics hub. We take a look at Lomé Container Terminal, and speak to executive members of its associated businesses, to learn more about the port, the country and the wider MSC Africa network.
INTRODUCTION
West Africa is one of the continent's primary regions of maritime trade and activity.
With easy access to Europe and a direct path to the Americas, West Africa has grown to develop a multitude of bustling hubs across the many countries that make up its vast coastline.
Among these, Togo has been a rising star. Sitting on the underbelly of the region, Togo's capital city of Lomé is situated in a strategic location that has access to Central and Southern Africa and is able to facilitate the shipping of goods from all over the continent to those abroad, such as East Asia.
With an office based in Lomé, the aptly named Lomé Container Terminal (LCT) is one of the many terminals under the banner of Terminal Investment Limited (TiL).
TiL is the terminals arm of MSC Mediterranean Shipping Company (MSC), a global leader in transportation and logistics. MSC also owns MEDLOG, the inland transport and logistics provider.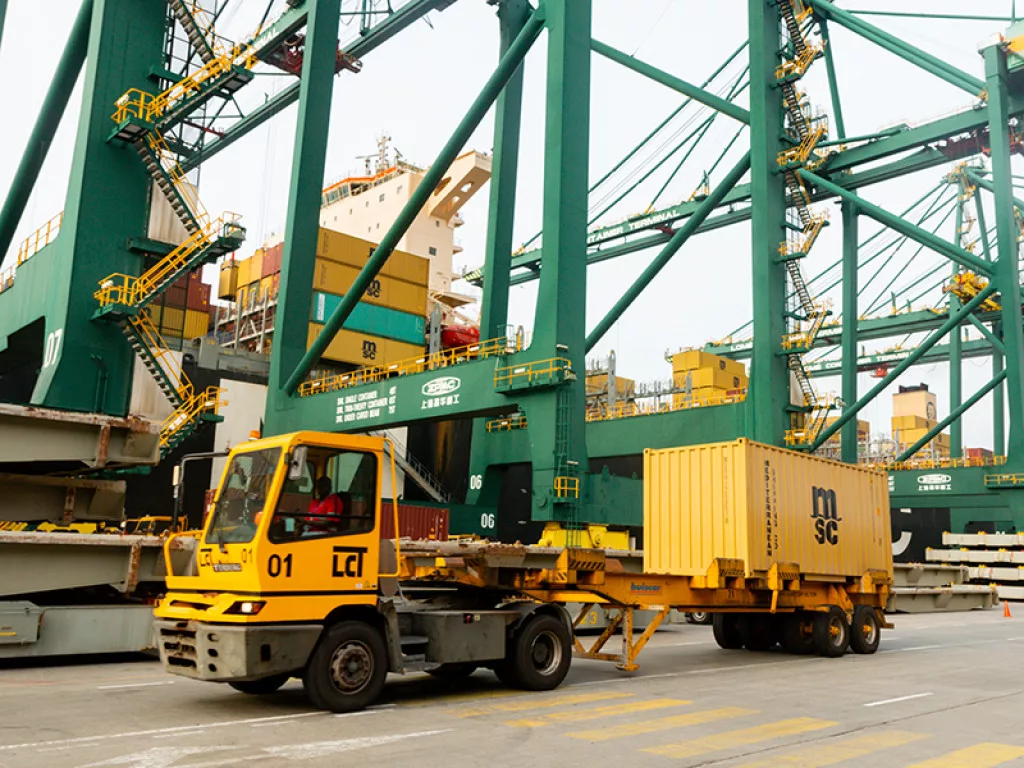 MARITIME WORLDWIDE
Present in 155 countries, MSC facilitates international trade between the world's major economies, and among emerging markets across all continents.
Founded in 1970 and headquartered in Geneva, Switzerland, since 1978, MSC is a privately-owned organisation driven by the Aponte family. As the world's largest container carrier, MSC today is on top of a fascinating growth story. It has evolved from a one vessel operation into a globally reputed business with a fleet of 700 vessels and more than 110,000 people spanning its 155 countries, including 40 African nations.
MSC has also developed over decades a logistics offering that includes the trucking, rail and barge networks operated by MSC and by its subsidiary MEDLOG, as well as essential cargo storage facilities.
MSC created TiL in 2000. That company evolved into one of the world's largest and most geographically diverse container terminal managing investors, handling over 53 million TEUs per year at different locations around the world.
MSC'S COMMITMENT TO AFRICA
"Since the very first MSC 'liner' service arrived in East Africa in 1971, the company has demonstrated a long-term commitment to the continent and it continues to invest in shipping, logistics and infrastructure," begins Giles Broom, a global spokesman for the business. "MSC has, over the years, invested in local teams, inland networks and container terminals to bring international trade opportunities to businesses across the African continent."
Recognised and respected as a global leader in container shipping, the company's roots as a family enterprise set it apart in a competitive marketplace. According to Broom, MSC is a business founded on a genuine passion for the sea, on longstanding nautical heritage, and on a sense of commitment to people and communities.
MSC's consistent growth has also seen it strategically and successfully manoeuvre into an increased portfolio of transportation solutions. This expansion has not only been at sea but also in rail, road and port terminal infrastructure, through subsidiaries MEDLOG and TiL.
Its executives speak of a clear ambition and vision to grow its presence in Africa. Today, MSC operates almost 50 weekly ocean services connecting Africa to the rest of the world. It invests in, and manages, state-of-the-art terminals which, combined with trucking solutions, depots and warehouses, enable the transportation of goods to, from and around the continent.
Every week, MSC's vessels make 123 calls at 60 different African Ports servicing 35 maritime African countries. While the shipping container is MSC's DNA, it also runs a niche operation in Project Cargo where large, heavy pieces of cargo that are too big or bulky for a standard shipping container are carried in an out of Africa. This includes anything from equipment such as pipes to help construct energy installations or electrical transformers to support the development of hydropower.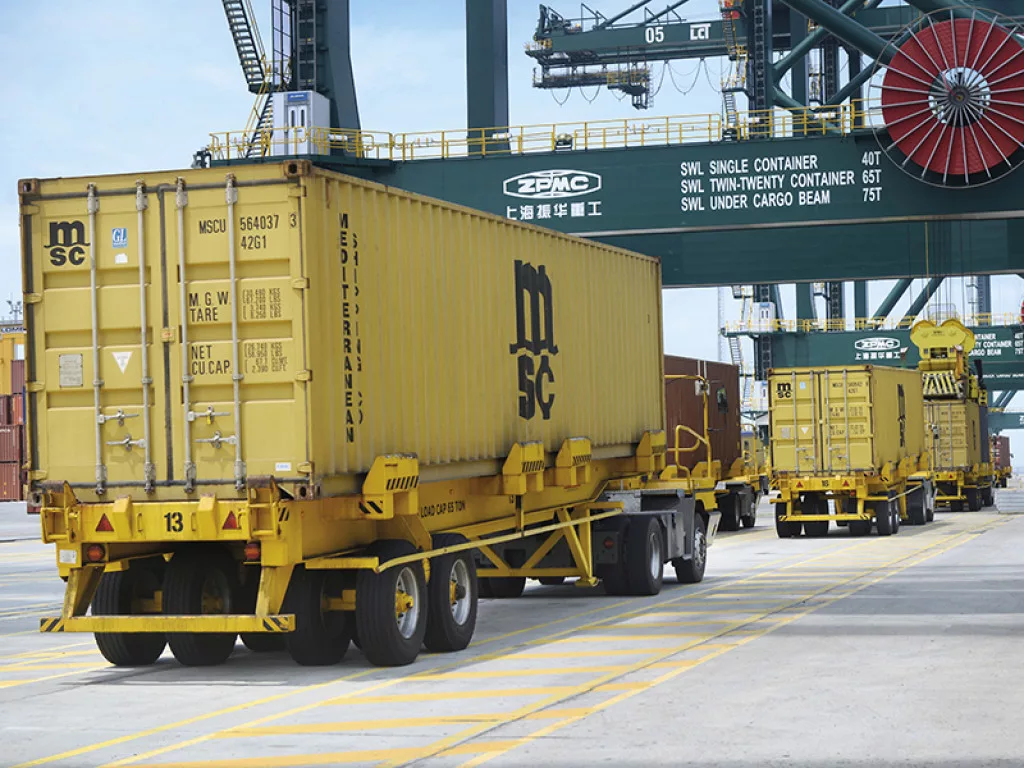 FACILITATING TRADE
With the support of dedicated teams in more than 40 countries in Africa, MSC's global stature is intertwined with its local presence within the heart of African communities and executives across its cargo businesses are excited about being part of the continent's future.
Each of the MSC agencies across the more than 40 countries have responsibility for commercial and operational activities in their respective countries.
"Over the past five decades, local teams have accumulated both experience and expertise in how best to handle any type of goods, along with a comprehensive knowledge of global port operations," Broom says.
"That's why we've become the trusted transportation partner for so many of the world's most prestigious companies, delivering countless cargoes and commodities with the utmost care."
African nations are emerging from the COVID-19 pandemic with renewed focus and drive to achieve the continent's bold vision of a better future built on trade.
Of course, there is still much more to be done. Crucial to delivering on goals to grow intra-African trade will be ongoing investment in infrastructure and transport links, including the construction of new roads, terminals, and multimodal and hinterland networks.
The better the infrastructure on the continent, the more sustainable Africa's industrial growth will be for its nations, economies and the health and well-being of the environment and its people.
Investment in manufacturing capability and establishing more robust supply chains will be important for reducing over-reliance on foreign imports and turning Africa's wealth of resources, and prized commodities and goods, into ever more export opportunities.
At the same time, facilitating the import of essential goods will have a vital role to play in ensuring the free flow of many necessary commodities, such as those that are proving so essential to public health during the pandemic.
Increasing both import and export capacity can also boost employment and local economies.
AFCFTA
Since January 2021 with the establishment of the African Continental Free Trade Area (AfCFTA), which will facilitate trade between 54 of the 55 nations of the African Union, a gigantic market has opened with incredible business opportunities.
Because of this, MSC will have an even more important role to play, not only as a shipping company but also as a provider of logistics and land transport.
The successful launch of AfCFTA shows the ability of the African nations to work together to facilitate smooth movements of goods and people within the continent, from customs cooperation to transit time. This has already proved to be good news for perishable cargo such as fruit and vegetables, which need to be delivered as quickly as possible to ensure freshness and prevent food waste.
Described by the World Economic Forum as "a global game-changer", AfCFTA has the potential to increase intra-continental exports by 81 percent and exports to non-African countries by 19 percent. But AfCFTA could be a step towards a more sustainable future, too; for example, by shifting cargo transportation from road to rail, especially in landlocked countries, to reduce the number of trucks on the road.
For this vision to become a reality, this cross-border collaboration will also need to be extended to infrastructure and transport links. In other words, it is not enough to simply invest in services and logistics in individual countries. MSC says it's important to have a joined-up and intra-continental approach if the company is to help Africa achieve its full potential.
From Senegal to South Africa, MSC's local teams apply their deep understanding of each country's needs and challenges to problem-solve for customers.
The company believes that African businesses should be benefiting from the latest shipping technologies and improved logistics services, particularly in landlocked countries, which is why MSC has been investing in local infrastructure since the very beginning – and continues to do so.
MSC already has more intra-African trade connections than any other carrier and has said it remains committed to future growth both on and beyond the coast.
A bright future for Africa requires investment in its infrastructure, economies and people to help it achieve its potential. International logistics companies have a supportive and enabling role to play in respect of initiatives such as AfCFTA as well as to help deliver the infrastructure needed to facilitate trade between and within African countries to boost the continent's economy as a whole.
For MSC, this includes recruiting local workforces, creating new opportunities for small farmers, and providing access to its wider global network to African businesses. Africa's growth will come from within and this is a time of great promise and excitement.
"We are glad to be already present on the continent and look forward to being part of its future," Broom tells us. "As a world leader in container shipping with strong ties to Africa, MSC is passionate about providing the support businesses need to thrive in this new environment."
CONTAINER TERMINAL INVESTMENT
MSC's unique combination of cargo businesses means it is well positioned to help Africa capture the opportunities posed by AfCFTA, including through its terminals arm.
"Africa has been a beneficiary, whereby a top shipping line has brought private sector investment and best practices into local economies and infrastructure and developed jobs for local people," Broom says.
In Africa, historic investments span Togo, Ivory Coast, Nigeria and Morocco. The project of LCT was created at the end of 2008 following the signature of the concession agreement with the Togolese State.
Lomé Container Terminal (LCT) at the port of Lomé in Togo, facilitates direct services from Asia and Europe, serving also the landlocked countries of Mali, Niger and Burkina Faso and the northern areas of Nigeria.
Along the coast in San Pedro, Ivory Coast, MSC/TiL started to operate the terminal container and developed a hub and the domestics volumes and initiated with the authorities a second phase with a new terminal with a capacity of one million TEU (twenty-foot equivalent units) per year.
In May 2017, MSC and San Pedro Port signed a 35-year concession agreement for the expansion of the San Pedro Container Terminal ("TCSP").
With a total initial investment of near CFA 300 billion (460 million), this ambitious project will allow the Port to handle 14,000 TEU cargo vessels and benefit from new shipping technologies, facilitating transhipment operations and generating vast opportunities to foster development.
The Port of San Pedro will become one of the most competitive ports of the region, the subregions as well as of the West African coast.
LOMÉ CONTAINER TERMINAL
Togo is one of the countries where all the main MSC cargo brands are visible – MSC shipping, MEDLOG and TiL.
The country prides itself on having a stable government and economy, where the maritime sector is a major contributor. It doesn't have as significant a set of security or congestion issues that can be seen in many other African ports and cities.
Local authorities and government are said to be supportive of companies seeking to invest and the country has increasingly marketed Togo as a place to invest and – pre-pandemic – for its tourism and beaches.
Support from the Lomé port authority and Ministry of Maritime Economy was critical for the development of LCT.
TiL, for its part, has developed since 2014 a substantial berth of 1,050 metres that handled 1.64 million TEUs (twenty-foot equivalent unit) of cargo in 2021. Investments were allocated to help develop the terminal towards a total annual capacity of 2.7 million TEUs.
"LCT has accomplished a great deal in its young history and has played a significant role in TiL's Africa portfolio, and in supporting MSC's shipping network," El Bez tells us. "The terminal is continuing to roll out the results of pre-existing investment commitments with a view to growing capacity and always seeking to improve productivity, efficiency and safety."
Two new ship-to-shore (STS) cranes should arrive by the beginning of 2023, on top of five new hybrid rubber-tired gantry (RTG) cranes, new terminal chassis, and container handlers.
In the meantime, the terminal has been making use of two mobile rented harbour cranes, until the STS cranes arrive.
In addition to the physical assets that are already on order to make the terminal even more productive, LCT is investing in data analytics-fed Business Intelligence to enhance engineering, finance, activity-based costing (ABC) and preventive maintenance (PM).
The terminal has 860 employees FTE (full time equivalent), but on a daily basis offers employment to around 1,600 FTEs, and several subcontractors such as security services and maintenance contractors, as well as operators and dockers – the latter of which are employed by the port authority.
Safety is a paramount concern for its local management, as the business continues to expand, reaching a high of 35 gross moves per hour (GMPh) in the second quarter of 2022, thanks to the hard work and dedication of its much-valued workers. Listening to employees' views and ensuring that safety performance metrics are maintained are key priorities.
LCT serves all the countries in West Africa, as well as many in the north, such as Morocco, and a number in the south including Angola and South Africa.
Externally, LCT has connected services reaching as far as South America and India via an Indian Ocean service. For LCT's customers, this not only means that the terminal has open access to multiple African regions, but also an interconnected network spanning many continents across the world.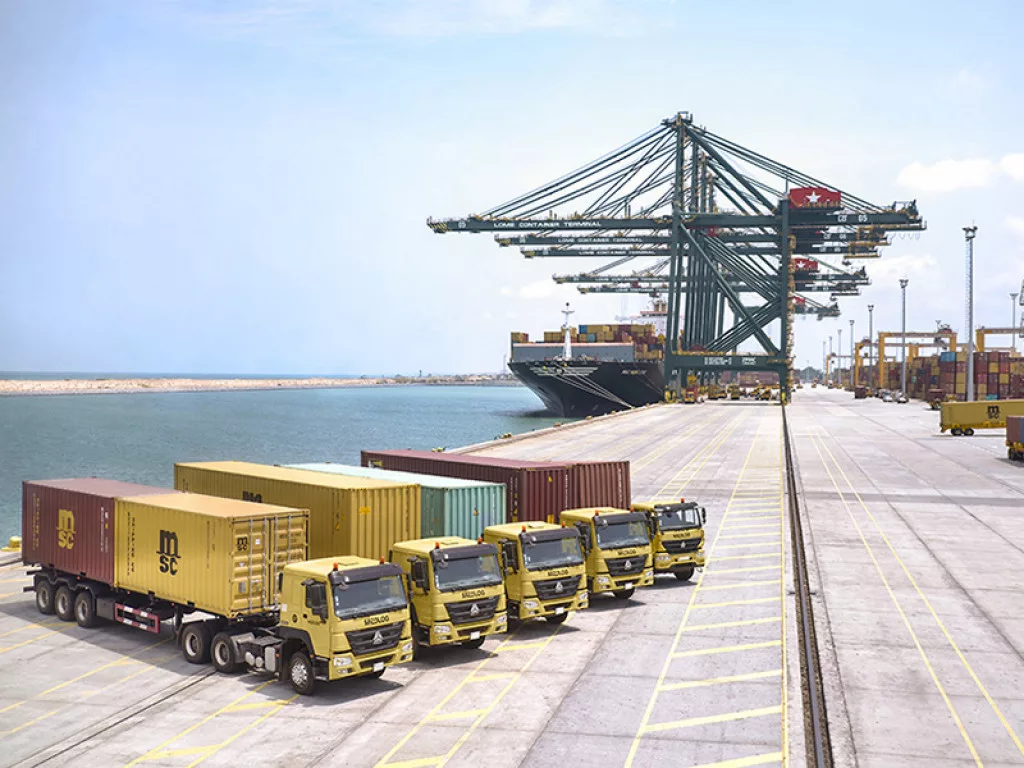 AGRICULTURAL EXPORTS: GHANA
While Lomé is an important hub, MSC ships call along the West African coast, including in Tema, Ghana's leading port. The company was recently recognised as the Outstanding Shipping Company of the Year at the Ghana Agricultural and Agro-Processing Awards.
This is the first time MSC Ghana has received this award. It recognises business excellence and a company that has created significant impact in their industry.
This is an especially noteworthy award for MSC Ghana. Agriculture accounts for 54 percent of the GDP, and over 40 percent of export earnings in the West African nation. MSC was the largest shipping line in the country for 2021.
In the 2020-2021 season, cocoa production was 1.04 million tonnes in Ghana. This is the highest in 10 years for exceeding the one million tonnes target. MSC says it is proud to be the leader in helping the Ghana Cocoa Board attain this level. In 2021, MSC transported 13,000 TEUs of cocoa beans and 4,500 TEUs of other cocoa products.
MSC was also previously awarded Shipping Line of the Year by the Cocoa Board of Ghana. MSC ships the commodity on dedicated weekly vessels in Tema and Takoradi.
MSC works with the Ghana Cocoa Board, as well as its subsidiary the Cocoa Marketing Company (CMC), which is legally authorised to produce, market, sell and regulate cocoa beans in Ghana.
Shared on LinkedIn