Enaex Africa stands as a South African company and subsidiary of the global explosives supplier, Enaex group. CEO Francisco Baudrand lifts the lid on a unique company culture and a tele-operated future.
INTRODUCTION
Enaex has the ambition to be the best company in our industry, both for providing premium blasting solutions, and as the preferred choice for our customers," opens CEO at Enaex Africa, Francisco Baudrand.
The wider Enaex group boasts an esteemed legacy as a world-class explosives leader. With more than 100 years of history, Enaex, a company founded in Chile, is the third largest explosives company in the world and the third largest producer of ammonium nitrate.
"Prillex, our production plant in Chile is the largest complex in the world, producing 850,000 tonnes a year," Baudrand shares.
As one of the group's largest subsidiaries, Enaex Africa shares this ambition as it endeavours to become the preferred company on the continent for the distribution of explosives, blasting services and value-added solutions.
These solutions pertain to the entire blasting process, including bulk emulsions, cartridge emulsions, Anfo, boosters, conventional detonators and other products required to execute opencast and underground mining operations, quarries and civil construction.
But for Enaex Africa, what truly differentiates the company is the entirely people-centric culture that pervades all aspects of operation. Indeed, the company's offering extends beyond its material role in the provision of commodities, with the belief that customer service and innovation make all the difference when it comes to being a supplier of choice.
"We don't believe that commodities and competitive pricing are going to change the industry – we believe in value-added products that can increase the productivity of our customers.
"We focus on our service and partnering with our customers – that is what it means to be the best," he states.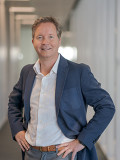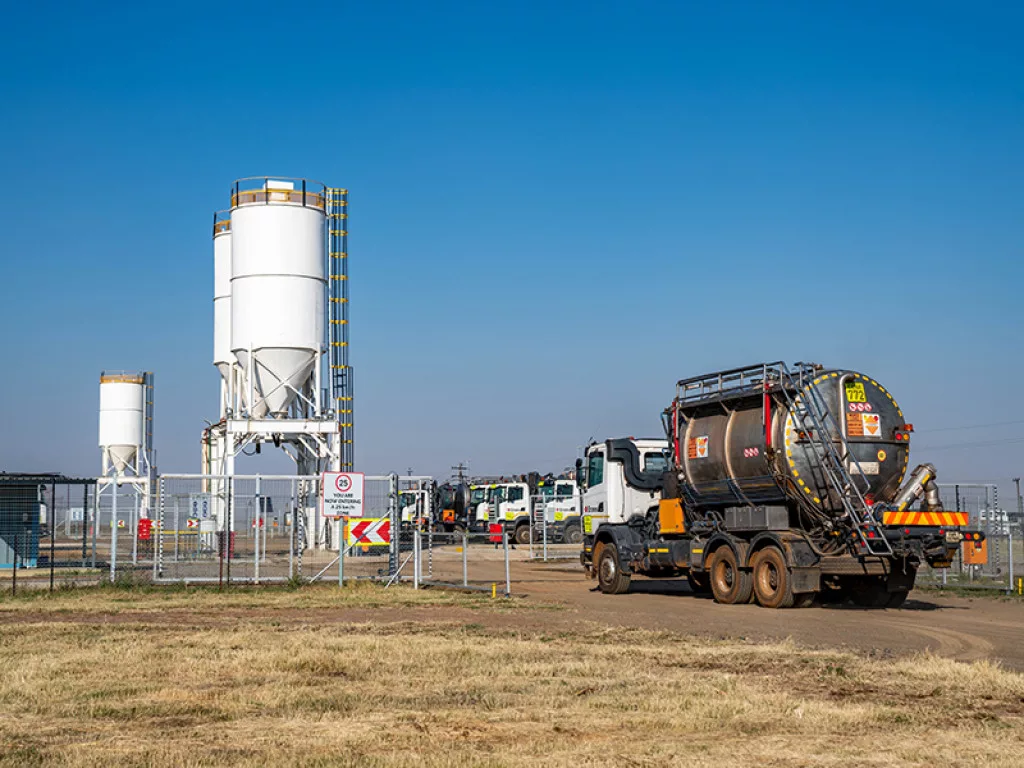 JOINING FORCES
Enaex Africa exploded onto the continental mining stage in July 2020, born from a joint venture between Enaex, and Sasol Explosives Limited (Sasol) – a South African company that has been in operation since 1984. Enaex's ability to secure this partnership amidst steep competition is testament to the company's strengths.
Baudrand himself joined Enaex prior to this in 2011, initially starting in the role of Business Development Director when the company was yet to expand its operations outside of Chile. Leveraging his professional background across the shipping and airline sectors as an industrial engineer, Baudrand's directorial position oversaw Enaex's mergers and acquisitions processes, analysing new projects and guiding the company's wider expansion into South America with the launch of significant subsidiaries in both Brazil and Peru, amongst others.
As such, when the opportunity arose for Enaex to apply as a proponent to join forces with Sasol in South Africa, Baudrand was well equipped to oversee the process.
"My last and most important project in this role was taking the lead on negotiations for our joint venture with Sasol. When Enaex was appointed as the selected partner and we signed the deal, I accepted the position as CEO of Enaex Africa," he recalls.
Today, Enaex stands as the controlling partner of Enaex Africa with a 51 percent share, with an additional 23 percent owned by Sasol and the remaining 26 percent by Africa Rising Explosives Ltd (Afris) – as the company's official broad-based black economic empowerment (BBBEE) partner.
"Enaex Africa is our vehicle of growth not only in South Africa (SA) but also across the continent. We already have a strong presence in SA as a leader in explosive supply for both underground and open cast mining operations.
"We have established customers in Namibia, Lesotho, and not forgetting Botswana," Baudrand comments.
To date, the Enaex Africa enterprise comprises around 1,194 employees, the majority of whom are based in SA. With the entire Enaex Group encompassing over 6,000 staff members, Africa stands as one of its largest subsidiaries, after Chile and Brazil.
As Baudrand affirms, it is the new ways of working that Enaex brings to Sasol that truly differentiates Enaex Africa. Whilst the company has inherited an overriding priority on safety, Enaex has introduced to the joint venture an unprecedented agility, focus on innovation, and a renewed emphasis on company culture.
"Enaex has brought a different philosophy to the Sasol business. Sasol has great people, but Enaex is a smaller group that doesn't care about bureaucracy – we are an agile company that takes decisions locally," he says.
In less than two years of operation, this has translated to heightened levels of productivity, speed and strong financial results, with products brought to market in SA in record time.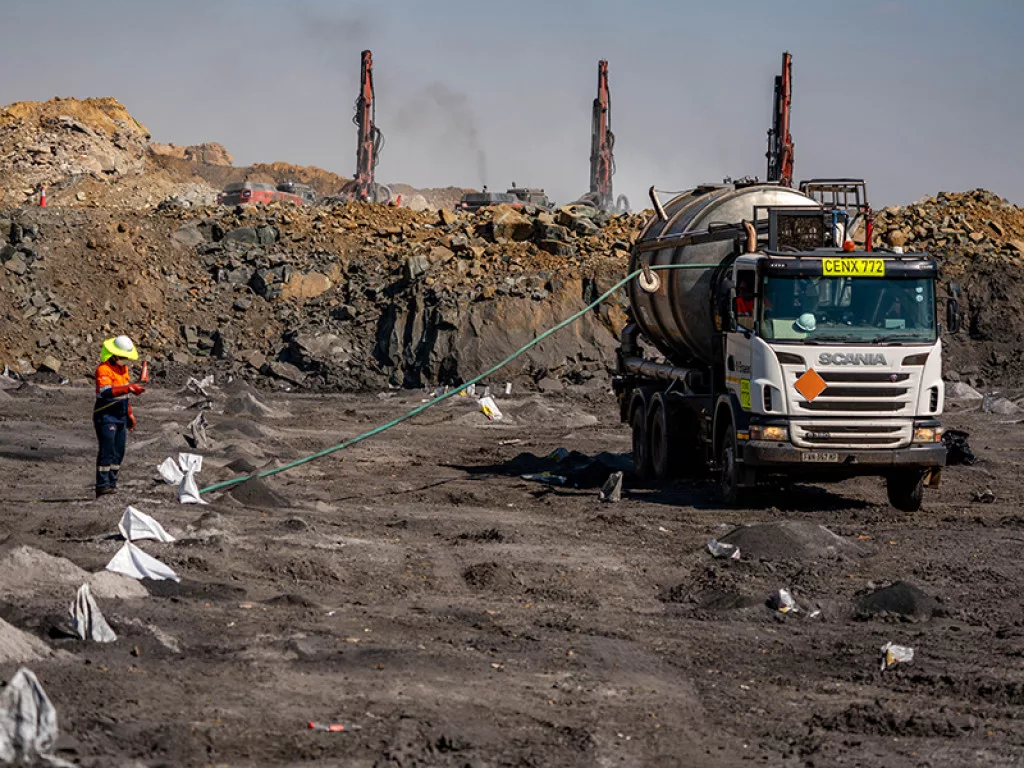 A COMMUNITY-LED COMPANY
The company culture that stands Enaex Africa apart is one centred on the customer, service excellence, and innovation, with safety as a non-negotiable factor throughout.
Enaex Africa stands as a community-led company, and it is this factor that it seeks to emphasise compared to its predecessor in SA. Whilst Enaex has been committed to securing operational safety and excellence in its nascent years of operation, this community focus is being brought to the fore now that its foundation has been stabilised.
"We need to place more visibility and importance on communities compared to our heritage," Baudrand comments.
"As a supplier to the mining industry, we understand that community is very important, and we are committed to the communities around where we operate."
Enaex Africa believes in partaking in meaningful corporate social responsibility (CSR), in that all activities must be aligned with the company's customers and their operations.
Complementary to this, Enaex Africa intends to establish its own brand of CSR, taking the initiative as a leader in implementing beneficial changes in people's lives.
A key tenet of this is improving access to both employment and educational training. This is particularly pertinent in SA, as the country faces record levels of unemployment. Such initiatives have included the Assistant Blast Training Programme, where the company spent over 500,000 ZAR to enrol 20 unemployed youths into its Mpumalanga operations on a Blasting Assistant Training course.
Enaex Africa has also spent over $1.3 million on a Rural Education Access Programme (REAP) designed to assist students from poor rural areas. Similarly, the company invests significant funding into early childhood development, including a national reading for enjoyment campaign to spark children's potential through reading and storytelling.
As a BBBEE compliant company, Enaex Africa is committed to providing employment opportunities for young black people who are unemployed and below the age of 35. The company aims to achieve a 'Level 2' rating in its next verification process in April, after attaining 'Level 3' certification in May last year.
As a major component of the company's strategic plan, BBBEE certification means that Enaex Africa allocates a portion of its profits to local employment opportunities, absorbing new learners in proportion to its headcount.
"To do that, you need to be growing. We have increased at least 180 people in terms of our headcount – a company that is growing is giving opportunities," he tells us.
Alongside creating new opportunities, Baudrand places a huge emphasis on mentorship and empowering employees through giving the necessary training to allow them to progress and succeed.
Enaex Africa implements a Young Professionals programme, whereby young members of staff whose potential has been identified are paired with a member of the executive team for mentorship opportunities.
"I personally mentor these young professionals who show high performance potential. I will meet with such individuals throughout the year to inform them on strategy, or take questions, and I believe it is hugely appreciated," he says.
"I am obsessed with the development of professionals, particularly when so many of these people are the first professionals in their family. It gives people the opportunity to change their lives."
This translates to a sense of empowerment, as staff are trusted with responsibilities and encouraged to take on new opportunities even if it results in failure.
"The empowerment of our employees goes across the company, from the executive team down to the ground. As an independent, agile company, my executive team today has more accountability than they would have in a big corporation.
"By needing to make decisions and having this level of responsibility, each member feels more empowered. When you are accountable, you take decisions. We don't worry about mistakes; we learn from them and prefer to focus on people taking accountability and coming up with solutions."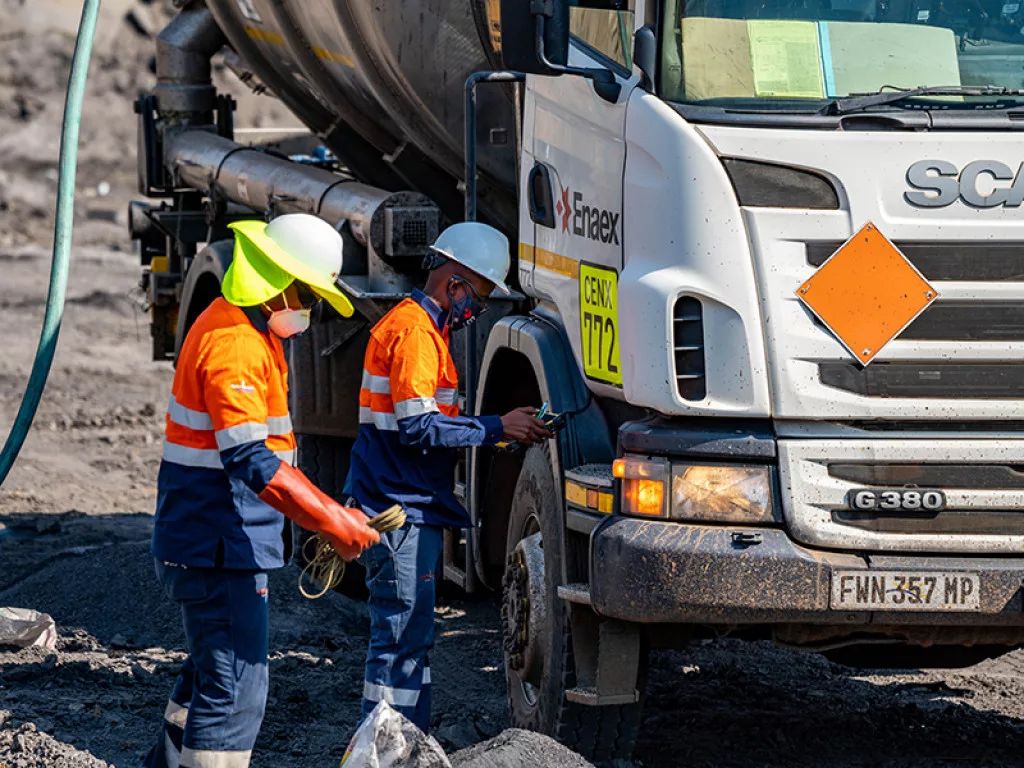 INNOVATING WITH INTENT
As an integral ingredient of the Enaex Africa company culture, innovation is used to both propel the company forwards and improve safety.
"Life is our main value and our number one priority, and we are continuously putting new initiatives in place to improve in this area."
This is best evidenced by Enaex Africa's trailblazing strides in teleoperations – which is not only advancing the mining industry as a whole, but also revolutionising safety by minimising risk through reduced employee exposure.
"Enaex' purpose is to humanise mining and that is part of what differentiates us. We believe in entrepreneurship, and we are one of the few explosives companies in the world that uses tele-operated equipment.
"We already have tele-operated robots priming and loading explosives products in the ground in Chile, and we will be bringing this to SA in the next few years," Baudrand tells us.
For Enaex Africa, this effort in humanised mining concerns the understanding that mining is a high-risk industry where staff are faced with tough working conditions.
"We hope to change this over time through the work that we are doing today. For example, we used to have Mobile Mixing Unit truck drivers on the ground and exposed to unsafe conditions. Now, that driver is 500 metres away in an office teleoperating the truck.
"This new way of working is changing the world."
Whilst Enaex Africa understands that mining is a realm ripe for technological innovation, the company recognises the need to preserve jobs and retrain employees with the necessary skills to remain up to date with such progress.
"Through time as artificial intelligence (AI) and other technology is introduced, you might see people's job roles being replaced. But I believe the skills will change instead, for those already working in programming and computers.
"We will take care to preserve all jobs – we care a lot about them, and we create them. But if we don't take the lead, someone else will," says Baudrand.
In the years to come, Enaex Africa will continue to focus on spreading its footprint across Africa, with Botswana identified as the next key area of growth.
"We entered Botswana in 2021 with local partners – we already have two partners there but now we are really focusing on getting more Botswana business," says Baudrand.
Enaex Africa will also be championing a focus on localised production as it seeks to increase local procurement.
"We are currently in the middle of an important project in establishing an assembly plant that will produce the electronic detonators that we have to import from France. This will create more jobs and means that we will be able to source major components locally."
Aside from this, the company is dedicated to furthering its CSR commitments, with a new CSR Manager having been appointed in February of this year.
"Particularly in 2022, I want to put more focus on CSR. Personally, as the CEO, I intend to oversee the most important initiatives myself," Baudrand concludes.
With such projects and a solid company culture centred on safety empowering the people behind the business, Enaex Africa will continue to humanise mining across the continent.