A market leader in fuel and dry cargo distribution, Strauss Logistics celebrates a decade of keeping businesses, economies and life flowing.
INTRODUCTION
Over 40 percent of African industry relies on petroleum.
Fortunately, Strauss Logistics (Strauss) has specialised in transporting bulk fuel, gas, and general cargo across Southern Africa since 2011.
From humble beginnings, operating out of a Zuva Petroleum depot in the Zimbabwean capital of Harare, Strauss' current premises span approximately seven hectares, comprising workshops, wash bays, fleet parking, stores and offices.
"Strauss celebrated 10 years of operation in May, and we are proud of our achievements in that time," begins COO of Strauss Logistics, Adrian Smuts.
"In those early days of rapid growth, investment was rightly focused on building our asset capacity in order to provide for our customers."
Late loads or lost goods can have far-reaching consequences; hence, for the past decade, the Zimbabwe-based company has worked on creating a logistics system that maintains continuous, efficient deliveries.
The foundation of this system is Strauss' ever-expanding fleet, which now includes over 170 customised fuel tankers and more than 60 flatbed and drop-side trailers for the delivery of dry goods, from crops and chemicals to metals and mining equipment.
With a state-of-the-art workshop, the Strauss fleet is kept on the move by a dedicated in-house team of specialist mechanics and support technicians, who carry out scheduled maintenance and routine vehicle inspections to prevent disruptive breakdowns.
"This diverse range of vehicles comes with its own unique set of challenges, mostly on the maintenance side," Smuts acknowledges.
"Mechanics need to be proficient in different engine and driveline configurations, whilst stores are required to source and stock a wider range of parts from a larger pool of suppliers."
As such, Strauss decided in 2018 to consolidate the fleet into one make of truck, with FAW SA identified as the manufacturer of choice based on carefully considered aspects such as road conditions, technical support, the cost and availability of parts, and asset resale value.
It coincided with Strauss' diversification into bulk cargo which, unlike bulk fuel, is transported by the company all year round.
PEOPLE POWER
When it comes to transporting cargo, the fleet is one thing, but the vital link in the Strauss network is undoubtedly a human one.
It's the people at Strauss who truly make things happen, delivering goods even when regulations change, natural disasters strike, or emergencies happen en route.
"Our diverse and experienced staff are our greatest strength," emphasises Smuts. "They guarantee that the products are in good hands, from loading through to delivery, and our workshops ensure that the trucks keep running to achieve this."
Staff training and development are key to the future success of Strauss, and as workplaces continue to rapidly change, dynamism and versatility are of the essence.
"This year, we have brought in training staff from FAW SA, GRW Tankers and Trailers, Tshwane Tanker Repairs, and HAWEKA to ensure that our employees remain up to date with all aspects of fleet management."
Fuelled by people power, road freight is a cost-effective way for Strauss to move heavy goods, such as fuel, to locations inaccessible by rail, air or sea.
With experienced drivers who take pride in delivering to destinations across Southern Africa, Strauss can accommodate a variety of distances, loads and route changes.
Rail, meanwhile, presents a reliable and efficient transport alternative to Strauss, unhindered by weather or traffic.
Courtesy of public-private partnerships with the National Railways of Zimbabwe (NRZ) and Portos e Caminhos de Ferro de Moçambique (CFM), the company offers backbone rail transport services into countries such as Botswana, South Africa, Mozambique and Zimbabwe.
"Strauss now delivers bulk fuels to Zimbabwe, Zambia and the Democratic Republic of the Congo (DRC), as well as LPG gas, Jet A-1 aviation fuel, and avgas to Zimbabwe – all by road and rail," outlines Smuts.
"Our break bulk deliveries also extend across Central and Southern Africa, from the DRC and Zambia through to Beira, Mozambique and Durban, South Africa."
As a leader in logistics and fuel distribution, it means the engines that power modern life aredependent on the diesel, LPG and other fuels transported and delivered by Strauss' fleet of specialised tankers.
Whether by rail or road, Strauss' transport infrastructure and commercial flexibility, coupled with its emphasis on service, is what makes the company a valued business partner, taking fuel and dry goods to places where other modes of transport cannot reach.
Large retail, industrial and commercial clients are also offered a seamless supply of petroleum products to keep their businesses moving, all sourced from regional supply routes.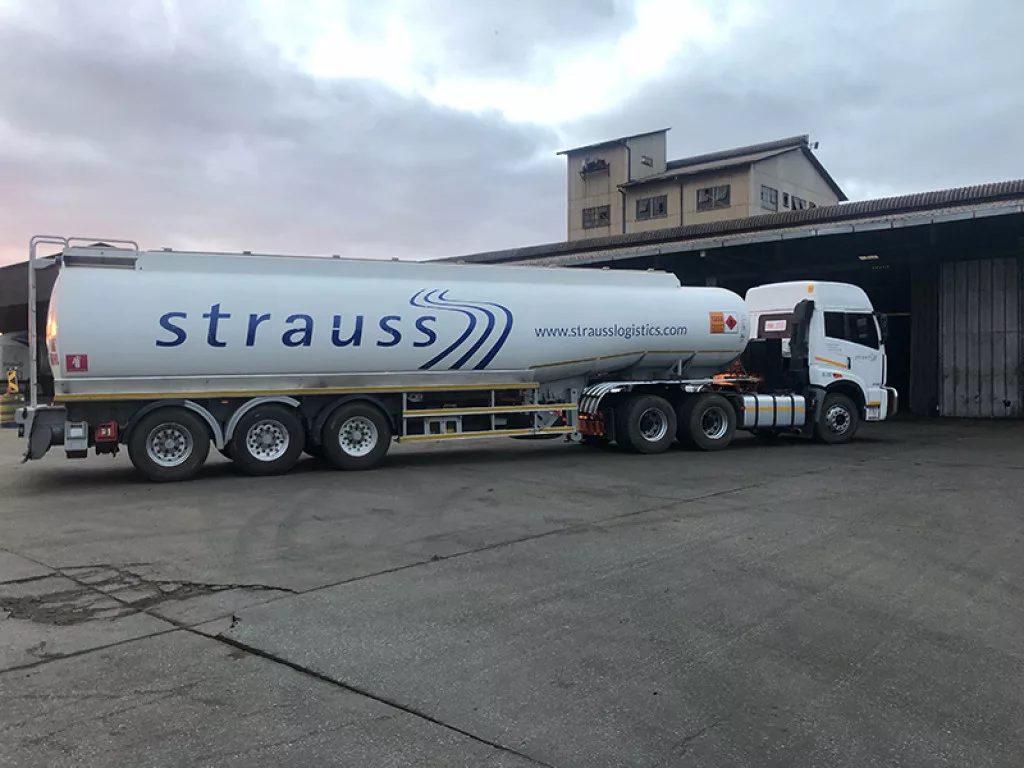 ERP INVESTMENT
What also keeps Southern Africa moving is Strauss' advanced logistics technology, having invested in one of the world's most sophisticated satellite and on-board tracking systems.
With network surveillance that monitors clients' cargo, Strauss always knows the status of deliveries in real time. The company's investment in transport technology offers a number ofother advantages, including better management oversight, close monitoring of vehicle running costs, on-board interactive driver training, compliance with Zimbabwe transport legislation, and more.
In June 2018, Strauss also implemented an Enterprise Resource Planning (ERP) system supplied by SAP, alongside bespoke apps unique to the business, primarily to streamline the daily operations of drivers, workshop mechanics, and managers.
"It was difficult for the rest of the business to keep up in areas such as ERP, accounting systems, operating procedures and inventory management, with many processes completed via handwritten documentation," Smuts shares.
The ERP system is integrated into Strauss' on-board tracking system for the purposes of automated data extraction, as well as other purpose-built applications to address mobility needs.
"The ERP system allows drivers to electronically load their delivery documents at the point of delivery, and our workshop staff to request parts on handheld tablets, on which they receive notifications when they are ready for collection.
"We are grateful to our IT Manager, Trenna Lunga, and our Business Analyst who successfully managed the project," acknowledges Smuts.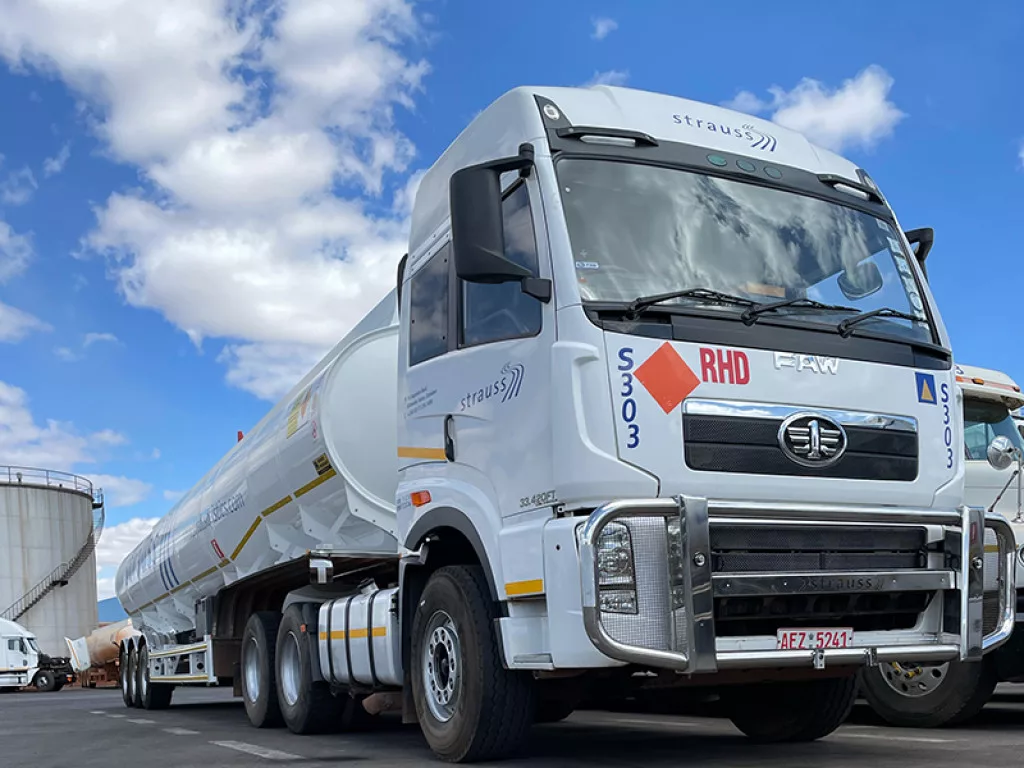 CONTINUOUS IMPROVEMENT
The work Strauss does is dangerous, so the wellbeing of its people and the environment are fundamental to the business.
There is an ongoing, dedicated adherence to Safety, Health, Environment and Quality (SHEQ) at Strauss, whose SHEQ policy evolves together with industry experiences, trends, regulatory changes, and client requirements.
With all systems and processes integrated into a single, comprehensive SHEQ framework, Strauss has been ISO certified in quality, environmental, and occupational health and safety management.
"It helps to set our vision and goals, not only as an organisation, but as individuals all contributing to a common standard," notes Smuts. "Through the application of these standards, we strive for continuous improvement in all our undertakings."
In a climate of increasing costs for the transport and logistics industry, continuous improvement together with partners remains steadfast for Strauss.
"Transport is in a difficult place at the moment, faced with rising wages, fuel prices and part costs, all set against a backdrop of increasing pressure from customers for lower rates as well as delays reducing our turnover," Smuts admits.
"It is only through working closely with our partners that we can find innovative strategies to manage our way through this challenging period."
On the continued road to excellence, it's clear that Strauss remains unwavering in its commitment to keep businesses, economies and life itself moving.