At the epicentre of Nigeria's thriving technology sector and led by award-winning CEO Ayo Adegboye, Arravo Global Services are spearheading innovation across the continent.
INTRODUCTION
Lagos – the megacity that has become the technological hub of an entire continent.
With Africa in general widely tipped by analysts to become the technological success story of the 21st century, Nigeria is regarded as the continent's answer to Silicon Valley.
It is against this dynamic backdrop that leading ICT solutions provider Arravo Global Services are strategically headquartered. At the very epicentre of the continent's largest technological market, Lagos itself has an ever-growing population that is tipped to reach 80 million people by the end of the century, making it the biggest city in the world. This can only contribute to the number of internet users and mobile subscriptions that make Nigeria Africa's biggest tech market.
Arravo itself can be seen as a direct microcosm of this booming sector. Born in 2008 under the original title of BCX, Arravo in its current incarnation is a relatively new player on the market, poised for growth.
"Arravo started operation in Nigeria and environs in 2008 as BCX Nigeria, a member of the BCX Group based in South Africa until ownership changed hands in a management buyout and the new brand name Arravo was launched in November 2020," explains Ayo Adegboye, Group CEO of Arravo Global Services.
Guided by the tenets, 'Engage, Disrupt, and Deliver', Arravo are a leading global systems integrator and managed services provider, offering a fully integrated service for their customers whilst managing their partners' data remotely. Their continental footprint extends to Nigeria, Kenya, Ghana and Cote d'Ivoire, with an additional presence comprising operational support facilities.
Offering an extensive roster of services and solutions, Arravo's vast portfolio comprises business consulting and professional services, enterprise information and business continuity management, ICT governance, and digital transformation services. Their technological prowess spans unified communications and collaboration, network management and monitoring, and managed services infrastructure.
ENGAGE
Although a technological enterprise, people have always been at the heart of Arravo, as the company takes immense pride in affecting the lives of everyday individuals for the better. Geographical expansion is therefore a key pillar of Arravo's agenda, as they seek to increase the pool of customers who engage with their technological solutions.
"Our target is to expand our operations across West and East Africa within the next four quarters. This has been slowed down due to the pandemic but as economies begin to revive again, we will continue to drive our regional expansion plan," Adegboye comments.
As the backbone of the operations that will ultimately deliver this goal, Arravo considers their staff to be their greatest asset. As such, the company seeks to continually empower their workforce through rewards and a pioneering shareholding scheme that will bring a more active participation within the company structure.
"Apart from the frequent open recognition of individuals' efforts towards the success of projects etc, we have the annual CEO award for excellence where individuals who have performed outstandingly are recognised and rewarded.
"Besides this, we are also commencing a shareholding scheme whereby all employees of the company will be allotted shares in Arravo so they can also benefit and see themselves as stakeholders in the success of the company," Adegboye explains.
Technological solutions are not the only means through which Arravo actively engage with the community, as the same democratic, altruistic vision that fuels their technological innovations is also mirrored by the corporate responsibility practices they undertake.
In recent years, this has included the donation of educational materials to students from four primary schools spread across Lagos and the donation of essential consumables and clothes to a children's hospice in Surulere. Most recently, the company allocated funds to the 'Famacare charity' – an organisation that seeks to establish an integrated chain of clinics across the country, providing primary healthcare services to residents of densely populated areas.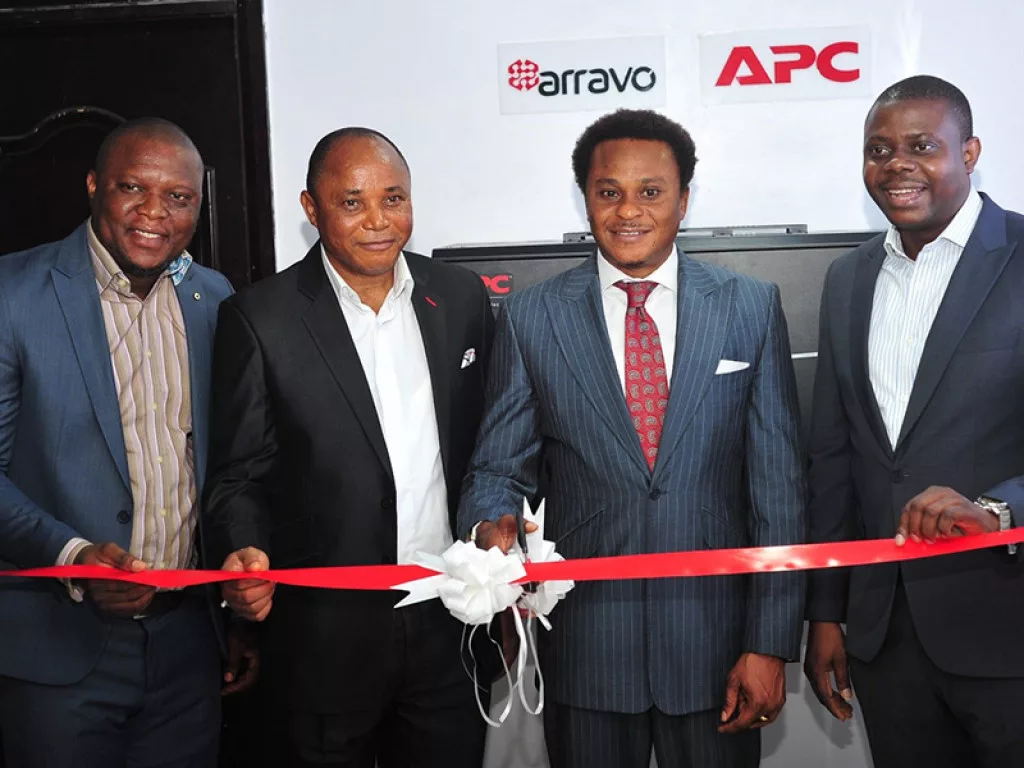 DISRUPT
As perpetual innovators, a degree of disruption is naturally incorporated into Arravo's operations. Indeed, it is their altruistic, people-centric ethos that best embodies the differences that Arravo are imprinting on Nigeria's technological landscape.
As Adegboye observes, an industry-wide focus has historically been centred on business customers.
"At Arravo, we want to disrupt this. For us, the question is how we touch the lives of the average individual and improve their quality of life and daily activities through technology," he explains.
"This is not to say that we are moving away from enterprise business, but in addition we will also give major attention to the informal sector. As a matter of fact, we recently helped a financial institution to achieve a robotics process automation, making their operations more agile and efficient."
Returning to the importance of staff, Adegboye is cognisant of the general trend in Nigeria's talent pool to migrate to other flourishing economies.
"Nigeria is blessed with incredible talent as evidenced by the fact that Nigerians can be found at the top of their various fields globally although I am aware there has been an exodus of bright, young minds to North America and Europe in recent times."
This is something that Arravo also seek to change, by implementing in-country training to promote the retention of Nigeria's native talent, gathering some of the finest ICT minds in West Africa.
"At Arravo, we have a strong human resources strategy and policies that help us attract and retain some of the best talents in the industry.
"We have recently launched our Arravo Academy, a training programme that helps us give back to the community by training and developing young IT graduates, offering internships, and of course hiring the best minds."
On a wider level, feeding into the development of the sector, Adegboye recognises that change on a governmental level is instrumental. It is with this in mind that he reflects on the country wide changes necessary to drive real change.
"I would like to encourage our government to focus on a knowledge-based economy.
"Our government is talking about digital transformation but currently at least 70 percent of the technology that we consume in our neck of the woods is imported from other parts of the world. There is a need for policies that will encourage home grown technology and reduce our forex exposure to foster the growth of our technology sector."
DELIVER
With a loyal client base spanning both the public and private sectors, Nigeria's vibrant economy provides ample opportunities for Arravo to deliver their world class Information and Communication Technology solutions.
This spans multiple verticals, from financial institutions to the hospitality industry with projects including Cloud Solutions, Intelligent Infrastructure Management, and IT Managed Services amidst a whole gamut of elegant technological solutions to deliver to their esteemed clients.
At the heart of Arravo's operations is their goal; to become Africa's leading IOT enabler for human-to-human interaction by 2025, delivering to both the business community and the wide population.
"The future lies in IOT and this will be powered by LTE (long-term evolution)," states Adegboye.
Turning to how Arravo intend to deliver this vision, Adegboye briefly outlines the strategy to drive this ambitious achievement.
"We will leverage on Cloud and devise economies of scale whilst innovating simple solutions that will enhance day to day lives and activities," he surmises.
With the backing of a stable network of partners and with a strict 'Centre of Excellence' in place, under Adegboye's helm, the infrastructure is in place to ensure that Arravo can deliver.
"Internally, we strive to maintain a robust customer support system managed by our Centre of Excellence team who ensure a seamless supply chain with the result of consistently delighting our customers, as this is key to our operations.
"Externally, we partner with best-in-class OEMs such as HP, Dell, Cisco, Oracle, Checkpoint, and Vocalcom just to mention a few, to deliver solutions to our customers. We strive to maintain the highest level of partnerships with these OEMs which means continuous training and improvement as well as keeping our certifications up to date," he explains.
Enabling the continual delivery of their projects and visions is Arravo's commitment to a sustainable model of business that benefits both communities and stakeholders. This centres on a multi-disciplinary approach, strong corporate governance, sound risk and stakeholder management, combined with corporate social investment.
A BRIGHT FUTURE
Poised for an exciting year, Arravo are currently working on plans to get listed on the Nigerian NASD, so that their shares can be made available to the public.
Adegboye's closing sentiment is one of sheer optimism, as he forecasts what is to come in the aftermath of significant challenges.
"We will witness businesses migrating into the cloud leveraging on IOT for a responsive and agile organisation like ours, we are well positioned to take full advantage of these opportunities.
"The terrain is harsh at the moment as the world struggles to overcome the negative effects the pandemic had on the economy, but we foresee that in a couple of years, this space would be a gold mine."