Addis Ababa University President Tassew Woldehanna explains how the institution is intertwined with Ethiopian society, no better shown than by its response to the COVID-19 pandemic.
INTRODUCTION
Addis Ababa University (AAU) is a major hub for research and development within Ethiopia and the whole of East Africa.
From humble beginnings and only 33 students at the time of its founding in 1950, AAU has risen to be the most prominent research university in the country, with sights set on the top 10 within the entire African continent.
"AAU takes learning and research conducting to a higher level and increases community engagement in order to record and attempt to answer the problems of wider society," says Professor Tassew Woldehanna, introducing the remit of the organisation, of which he is President.
The university stands out as an exceptional academic institution and promotes its mission of producing competent and learned graduates, need-based community services and problem solving through innovative education, as well as a research focus to foster socioeconomic development within the country.
Woldehanna has spent his working life growing the capability of industry and academic institutions. With his beginnings as an agronomist, he intended to work for the Ministry of Agriculture for many years. However, autonomy had always been an aspect of work that Woldehanna deemed very important, and it had not been necessarily available in his earlier career.
"I began working for higher education so that I could research and teach subjects that are deemed important for the country," he says.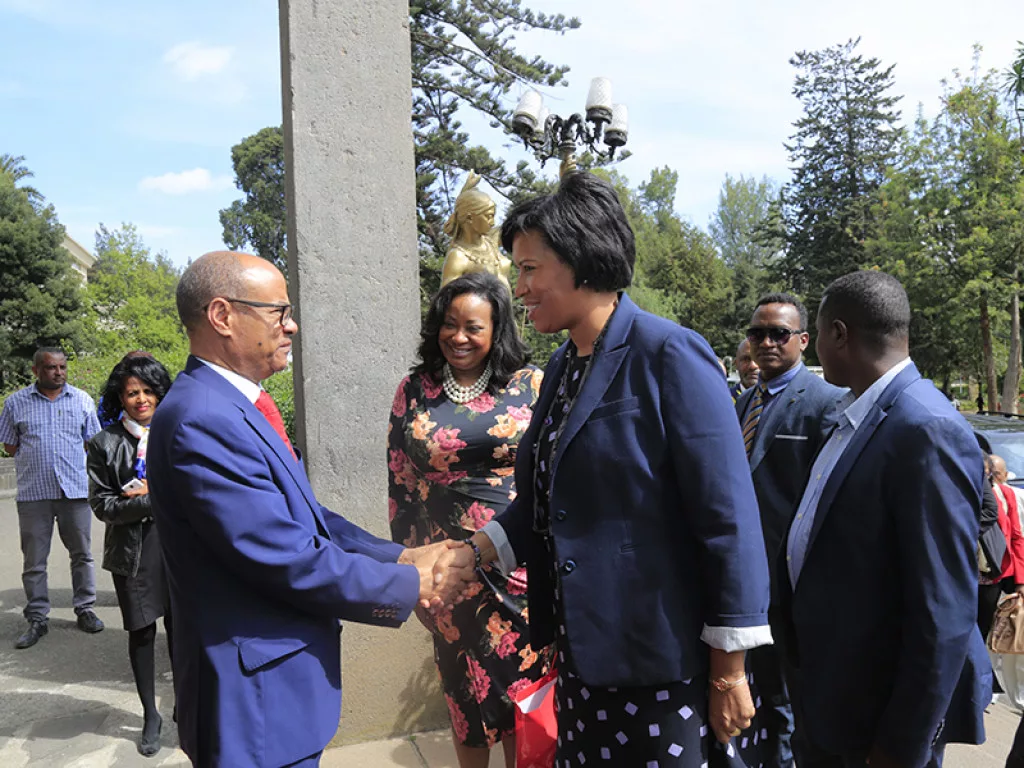 To Woldehanna, a role that dealt with the development of an industry or the wider society required autonomy. He believed that the freedom of working methods and lack of time restrictions provided the opportunity to work harder and convey proper ideas and research.
He knew that the freedom to work as he wished would lead to greater industry accomplishments through uninterrupted study. With that in mind he left the ministry of agriculture and joined a university where he achieved many personal accolades and graduated in agricultural economics in 1994. However, he was not finished with institutions of higher education.
An MA and PhD later, Woldehanna branched into a career path that represented the values and potential for societal change he had always strived for. He went from working as a visiting professor and research assistant to a fully-fledged professor of economics.
To this day Woldehanna works under the AAU's research influence representing the university's aims of developing wider society through the education system.
"There is no development without the input of education," he adds. "Universities are able to change the lives of people in developing countries through research-backed governmental policies. Innovative new ideas, technology and general societal development arise from the effects of education."
AAU provides a major support to other important societal bodies. The university has formed asymbiotic relationship with other government agencies that rely on AAU's research capacity, and that provide the university the opportunities and authority to develop aspects of Ethiopian society and inform government policy.
"It adds a lot to the social, economic and political development of the country," Woldehanna continues. "Any government policies, or technological developments, utilise the involvement of the university. These include manufacturing, agricultural, and the healthcare industry."
In this way, AAU is ingrained into Ethiopian society as an institution that binds the many important government agencies together through the vision of academic achievement and planning. The university is tied to these industries, agencies, and governing bodies through a progressive and developmental attitude that stems from the influence of higher education.
"More than 70 percent of ministers, the majority of business leaders, and all of the bank CEOs are graduates of the university," Woldehanna says.
Because of this, many different and important industries can improve and innovate in conjunction with academic research, ending in well thought out and educated plans.
"The university is one of the key factors towards the development of Ethiopia and its wider society, and so gains a lot of respect from the Ethiopian people," Woldehanna continues.
"It is a pioneering university and contributes towards multiple spheres of development. It also supplies many individuals to the HR sector all over various institutions, including all government ministries, manufacturing industry, the private sector, and named government organisations."
RESPONDING TO A CRISIS
Ethiopian society has, as with almost every country around the world, had to face numerous health and socioeconomic challenges in 2020 brought about by the coronavirus pandemic.
COVID-19 has affected a multitude of industries and systems negatively, and the education system is without a doubt one of those hit the hardest. Universities across the globe have had to shift from tightly packed lecture halls and close-knit team seminars to distanced digital learning, hindering the social and academic learning of students.
Like other universities, AAU had to adjust to virtual tuition and introduce lockdown measures across its multiple campuses.
"The virus caused shock and disruption to the efficient system of the university and highly affected the way the university worked," Woldehanna says.
"It has been very challenging to limit the spread on the campuses, so our undergraduate students were sent home and the university was closed."
For AAU and the associated agencies, the virus has slowed everything in the works. The intertwined innovative research and culminating projects were brought to a near-pause causing a slower period of development, with research resources being channelled into COVID-19 research. Meanwhile, both undergraduates and postgraduates faced their own problems away from campus.
"Students began living in the city, where they had access to tools that allowed us to switch from face-to-face teaching to virtual teaching," Woldehanna says. "It compromises quality, but it was important to remain teaching because otherwise the damage to learning would be very high. This has not occurred without frequent challenges though – there has often been failure of electricity, and internet speed or accessibility problems."
AAU took multiple precautions to deal with the potential spread of the virus throughout its university network.
"During the onset, we prevented all face-to-face interactions, made use of email over alternative options, and provided handouts to undergraduates and post-graduates further limit the spread of COVID-19," Woldehanna continues.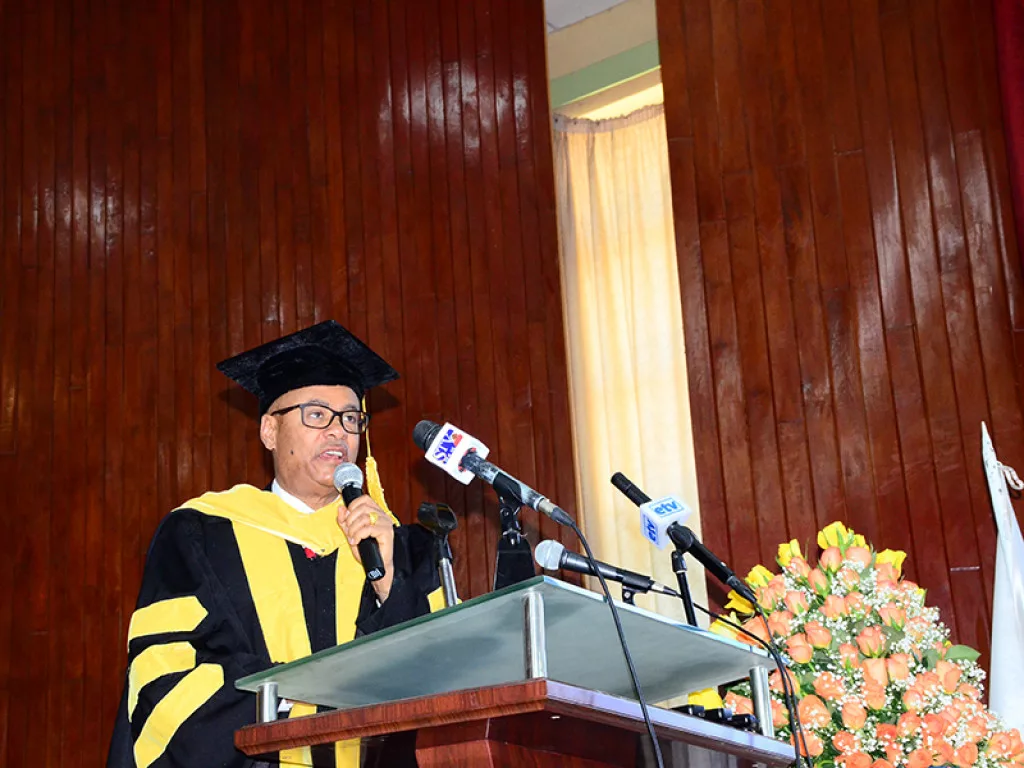 "On top of this, we doubled our internet speed at the university and prioritised internet speed and access to academic staff from home. We made various other improvements, like giving our staff the training required to provide digital teaching. For example, via Google and Zoom, so that they could reach out to students and focus on major aspects of their courses."
When it came down to the end of the academic year, despite the obstacles yet holding true to the university's values, AAU maintained a culture of teamwork and mutual support.
"We were able to complete the yearly academic calendar of the post-graduate programme, including a virtual graduation in which the Ethiopian president gave a personal message. In total we managed to graduate 7,000 students this year," Woldehanna says.
"Usually we would graduate 10,000, but the undergraduate programme was utterly disrupted due to the students having to move off campus. Many of them live in rural areas that do not have access or the financial ability for the internet or mobile data.
"To continue in this way would break into an inequality whereby students in the city could access the internet yet rural based students could not."
Additionally, on the other side of this challenge, the necessity to adapt has provided its own opportunities within the education system.
"In the face of this challenge, we have been presented with an opportunity to open up new ways of conducting lessons and learning," the President continues. "On top of this, there has been major funding and developments in the Ethiopian healthcare industry to which the university plays a part."
Thankfully, with methods of combatting COVID-19 currently a global effort, AAU has been able to adapt to the change and maintain its previous teaching capabilities.
On top of this, with its continued partnerships with multiple entities the university is able to continue its important academic research towards Ethiopian development.
"We have international partners that work with academic staff and student-based exchange, as well as joint research and community exchange with foreign universities and institutes. Together we publish a large amount of academic and research articles and international journals," Woldehanna says.
"We also work alongside local organisations, either public or private, who work with us on university research and public engagement. On top of this we work with government organisations such as ministries, bureaus, and international organisations."
The university's partners are profoundly important to the interconnectivity and collaborative work of research backed Ethiopian development. These partners help with practical, social, financial, and digital aspects of AAU's functionality.
"There are university partners that provide us services on a contracted and financial basis, and companies providing various software services such as those which help identify plagiarism. Additionally, there are companies that provide construction, sanitary and security services.
"Because of this collaborative work we are one of the top universities in Africa," Woldehanna says.
As for the future, AAU's plans are understandably bold.
"Our priority for the next five to 10 years is to enhance the status of our university among the top 10 research universities in Africa. We are currently the second best in East Africa at the moment, and we want to be the leading university, as well as among the top research universities in the world," Woldehanna says, bringing the conversation to a close.
"We want to provide more high impact output in our science publications that are highly respected in the academic community and contribute more to the development of innovative technologies in our local sphere of industry.
"Lastly, we want to increase the quality of our education, employability of our students, and increase the quality of our undergraduate and post-graduate courses. These will improve prospects for students and the university within the institution echelon."