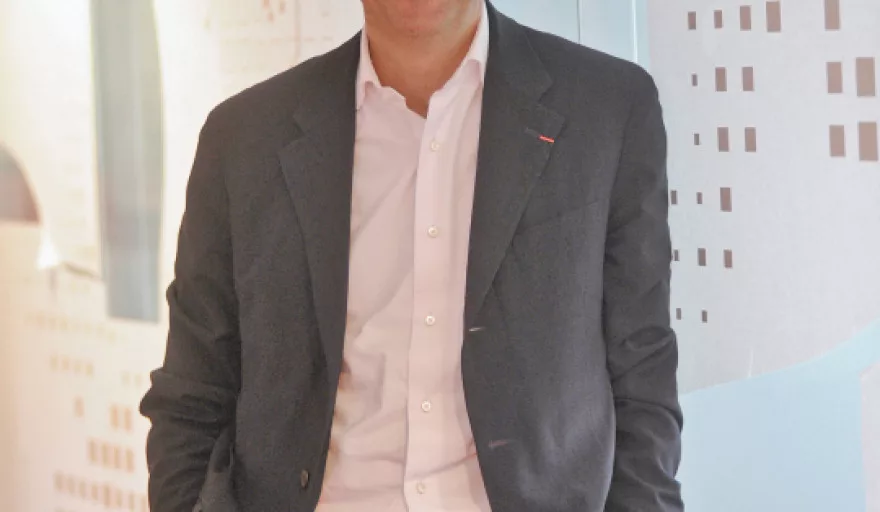 For me Africa is at the heart of tomorrow, it is an important region in the world, it is definitely a growing region and a clear focus market for us. In the big picture, Africa is among Alcatel-Lucent's most promising markets – with ultra-broadband access and IP networking becoming even more important for the development of the continent.
These technologies are what the African market needs in the years to come and also what service providers and operators in Africa are already requesting from us. Our global "shift plan" strategy perfectly focuses on those technologies that meet the connectivity challenges of the African continent.
We see that the continent has various connectivity needs, crucial for its social and economic development. Increasing the availability of ultra-broadband services is essential for Africa's future development. Becoming digital is an important catalyst for change, for development and innovation. The content's infrastructure will need greater capacity to deliver high-quality ultra-broadband connectivity to support added-value services for end users in both urban and remote areas.
Universal access for all
Thanks to the investments over the last years and also thanks to Alcatel-Lucent's submarine technology, Africa is now connected to the rest of the world through thousands of kilometres of submarine networks systems (indeed, most of them deployed by Alcatel-Lucent). Many African countries are connected to the terrestrial backbones and to the regional hubs, but still rural areas lack connectivity. The focus of development and Alcatel-Lucent's strategy for Africa will continue to be the accelerated development of ultra-broadband access networks in Africa, bringing connectivity to users with technologies including LTE, DSL, GPON, small cells and Wi-Fi.
In today's world, innovation has no borders and as a result, African countries cannot remain locked out. The globalisation of the economy and the growth of the digital world have enhanced worldwide communications. In Africa and around the world, Alcatel-Lucent collaborates with governments, regulators, operators, but also with investors to promote investment in the telecommunications sector and in particular for the development of the Internet and ultra-broadband technologies.
This collaborative work allows us to identify different models of implementation of national plans, putting in place public-private projects and sharing our leadership, experience and best practices from around the world. We believe that the mobilisation of a strong eco system of public and private stakeholders is essential for the success of both the implementation and the execution of a government's broadband strategy. Broadband for all is not only a nice marketing motto but every network has its success is the reality. I strongly believe that universal access for all will break network barriers to improve the end user mobile broadband experience and that is the only economical way to meet the increasing demand for mobile broadband. Industry and service providers are changing and they need more than a traditional technology vendor but an innovative partner who will accompany them in the race of shaping the future – going forward from breakthrough innovation to proven and excellent operational capabilities in order to meet network requirements.
Growth trends in Africa
What makes Africa very special for me is that this region is very rich in history, its diversity, different cultures and environments, many strong developments in so many countries, all not at the same speed, a lot of creativity and innovation, but at the same time still plenty of challenges and local issues but with one strong asset who are full of energy: the people of Africa. And Africa's success and prosperity relies on its people.
At Alcatel-Lucent in the past year, we have seen tremendous growth in FTTX, VDSL, IP, DWDM technologies as well as several LTE networks with established mobile and fixed wireless broadband operators. LTE is becoming increasingly popular in Africa as this technology offers an excellent alternative to fixed broadband (which is not widely available in this region, overall, with some exceptions). Service providers in Africa are eager to tap into the newest generation of technologies like 4G LTE to begin to reap the benefits of today's ultra-broadband networks. In Cote d'Ivoire, Ghana, Somalia, Tanzania, Uganda and Nigeria – they have chosen Alcatel-Lucent as their partner for rolling out their LTE networks and some of them also have asked us to manage their entire networks in a managed services contract.
Increased responsibility
Managed services are an important part of our business in Africa. More and more customers ask us not only to build the networks for them, but also to take responsibility for the network operations, on their behalf – for example in Nigeria, Ghana and in South Africa. Our managed services solution is a combination of the advantages of our local presence and the use of global standardised best practices and tools; relying on our global Network Operations Centres, combined with our team's experience on the ground.
Professional services are also in high demand by service providers in Africa. Alcatel-Lucent is not just selling and installing networks for our customers, in many cases we also work closely on business cases together, through our Bell Labs consulting team, which uniquely combines technical and commercial expertise.
We see Africa as a tremendous market in the next years and beyond. Currently transport networks and ultra-broadband access networks are being deployed. In the next two years we expect even more LTE/4G projects as well as IMS and IP core transformation projects.
"Alcatel-Lucent's history in Africa is also about people"
Across the African continent we have strong teams with excellent local knowledge specialised in a wide array of technologies for both fixed and mobile communications, including fixed and wireless ultra-broadband access, optics and IP technologies as well as services, including deployment services as well as professional and managed services. Our experts on the ground are working with the African ecosystem to introduce new technologies and solutions that will help in developing and creating social and economic value.
The network is the foundation of our ultra-connected world. But it can become so much more. Leveraging our expertise in IP networking, ultra-broadband access and cloud technologies, our aim is to work with operators in Africa, give them support and be their partners to invent and deliver tomorrow's trusted networks, enabling them to achieve their potential and unleash their value.
This enables us to create networks at scale that adapt to our customers' needs, to earn our customers' trust by delivering networks and services that anticipate their demands, remove constraints, and create new business solutions while sustainably growing their value. We also innovate for our customers, inventing the future through open collaboration that pushes the limits of communications and shapes the digital world. Alcatel-Lucent is a major player in Africa, and we have been heavily growing in Africa over the last years, and this is a very important market for us. Now is the time to bring this broadband revolution closer to the people. There is a very strong demand for both wireless and fixed ultra-broadband.
We are here, committed and delighted to be part of this big project and working with local, regional and international players, we will literally help 'connect' the African people.