Enhanced by technology and real time reporting, Fargo Group's full end-to-end supply chain solutions now cover every corner of Kenya, the Ugandan capital of Kampala, with a focus on the greater East Africa region as the senior team tells us.
SUPPLY CHAIN EXCELLENCE IN EAST AFRICA
To meet current and future shipping needs, transport and logistics are continuously bridging the gap between people, processes and technology.
In Kenya, as the latter changes the way people shop and many businesses embrace digitalisation and e-commerce, the number of courier service providers in the country is subsequently growing.
"E-commerce and the courier industry as a whole has grown tremendously in Kenya, which is very impressive, and with that we've also seen ourselves grow," opens Barrack Oyugi, Client Relations Manager at Fargo Group (Fargo).
It's a stark contrast to 15 years ago when Gray Cullen, Group Operations Director of Fargo, first joined the company in May 2008 having identified exciting opportunities in
the Kenyan courier services space from abroad.
"After studying at Loughborough University in the UK, and working in Australia and Northern Ireland, I realised that home has always been Kenya," he recalls.
"It's the place that I understood the most, and I quickly saw the opportunities and total lack of competition there at the time. A lot of the solutions that you find in the first world are lacking in Africa."
The group's courier division, Fargo Courier, was established in 2003 as a sister company to the leading corporate security and protection service provider, Wells Fargo, which has been operating since 1977.
In the two decades since, Fargo Courier has become Kenya's foremost independent national courier with a fleet of 600 vehicles in operation.
"A significant proportion of our transportation business is made up by Fargo Courier. I think most people know of us as a courier company that will distribute anywhere across Kenya; there are no bounds," Cullen acknowledges.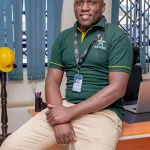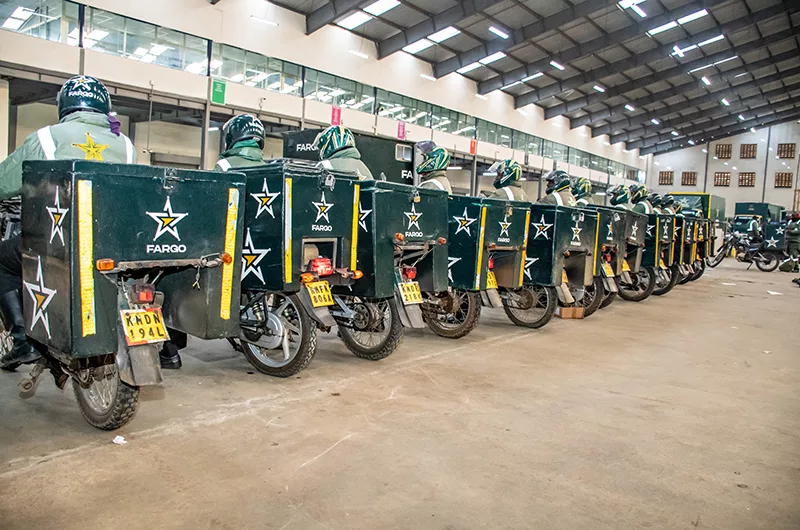 TRANSFORMATIONAL PROJECT
Focused on implementing technology, Fargo took advantage of the COVID-19 pandemic to roll out a brand new enterprise resource planning (ERP) system across its courier division.
SAP's S/4HANA ERP software was at the core of this landmark business transformation project, which has unlocked greater integration, improved controls, and established a strong platform for Fargo's ambitious growth and expansion plans.
The initial need for an advanced warehouse management solution quickly morphed into a complete business solution with real time reporting across the entire group and a system that could be easily adopted in other countries, allowing the business to realise its expansion goals and scale much quicker than the competition.
"Fargo has built a huge dependency on SAP, and we've invested a huge amount of money into their latest offering. It's real time reporting, so at any point in time we can look at reports internally within the company, whether they're financial or operational, and instantly see exactly what's going on in the business," Cullen informs us.
The senior management at Fargo required access to real time reports to enable improved forecasting, KPI tracking, and other metrics to drive better business performance through the courier side of the business.
Fully integrated with client systems, SAP S/4HANA has been implemented across Fargo Courier to tighten and improve controls in warehousing, clearing, and forwarding operations while bringing immediate improvements to critical financial processes.
"To give you an example, Stihl, a German manufacturer of chainsaws and other handheld power equipment, has recently started operations in East Africa and is fully integrated with our SAP S/4HANA system," shares Cullen.
"As orders get pushed out of Stihl for anything to do with East Africa, that automatically creates a pick list in our SAP S/4HANA in Kenya. Stihl gets real time updates so they can see exactly what's happening in our warehouses from Germany, which hugely cuts down communication because there is no need for manual follow-ups and so on.
"Everything is real time and remote, so you can be anywhere in the world and see your operations in Kenya or East Africa through Fargo," he continues.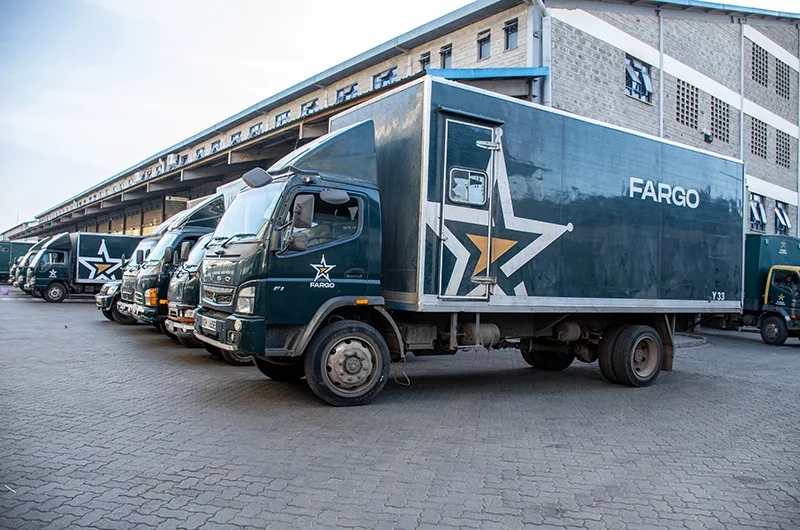 NEW SYSTEMS AND PROCESSES
More than 30,000 transactions are processed every day by Fargo Courier, a number that is growing year-on-year.
However, newly implemented requirements in Kenya for businesses to create a real time link between their electronic tax invoice system and the revenue authorities have created a need for new systems and processes.
As such, Fargo is leveraging SAP S/4HANA to develop a real time interface between each transaction, the relevant tax management system, and ultimately the local revenue authority.
"Kenya is upgrading its iTax and VAT requirements to the point of instant communication with the Kenya Revenue Authority's (KRA) servers, which was never the case in the past," details Cullen.
"We've had to create our own application that integrates with SAP, M-Pesa, and KRA software systems so that we can process thousands of transactions a day across the country. I don't think any competitor anywhere in the East African market has a solution like that.
"As far as what's involved in that mobile application to make it work, what's great is the ability to add modules internally to talk to SAP and the team of developers that we have at A-SofTech, with whom we have a very close partnership."
There is a huge focus towards mobile phone technology in East Africa, where around 80 percent of the world's volume of mobile transactions occurs.
The Kenyan economy is "run off smartphones" according to Cullen, who notes that Fargo's transport and warehouse management solutions are based around mobile technology that circumnavigates infrastructure challenges in the country.
"If you have a branch in the middle of nowhere, power outages can last for days at a time, let alone hours," he tells us.
"We are very dependent on mobile and use solar technology to charge the devices; it's a combination of what works given the infrastructure, and that's why I think we're one of the leaders in rolling out mobile technology to run a lot of our internal operations."
COVERING KENYA
Fargo, whose retail footprint of 120 office locations is currently the biggest in Kenya, is today the only supply chain company that provides end-to-end solutions to every corner of the East African country, a one stop shop that envelops everything from clearing and forwarding to warehousing and last mile distribution.
"We've covered the entirety of Kenya, which is important for a courier entity such as Fargo in that it enables us to deliver to all locations and brings us closer to our market and clients, especially those who are retail based and want to penetrate remote locations they otherwise wouldn't be present in," Oyugi explains.
A focused approach to how Fargo interacts with each of its clients allows the company to develop closer and more personal engagement, to ensure quicker turnaround times and resolve issues as they arise.
More than 1,000 corporate accounts are signed up with Fargo, each of which is allocated a dedicated account manager.
"We are proactive on the client side and able to design and tailor solutions that fit them," outlines Oyugi.
"That has enabled us to deliver a unique customer experience, better understand the expectations of our clients, and go above and beyond to meet and deliver on those expectations."
With more and more courier service providers entering the space, it is this tailored service and customer experience that stands Fargo out from a growing and increasingly competitive crowd.
"Our board members are also directly involved in our operations, so decisions are made very quickly in terms of the opportunities that we see and how fast we move to take advantage of them," Oyugi adds.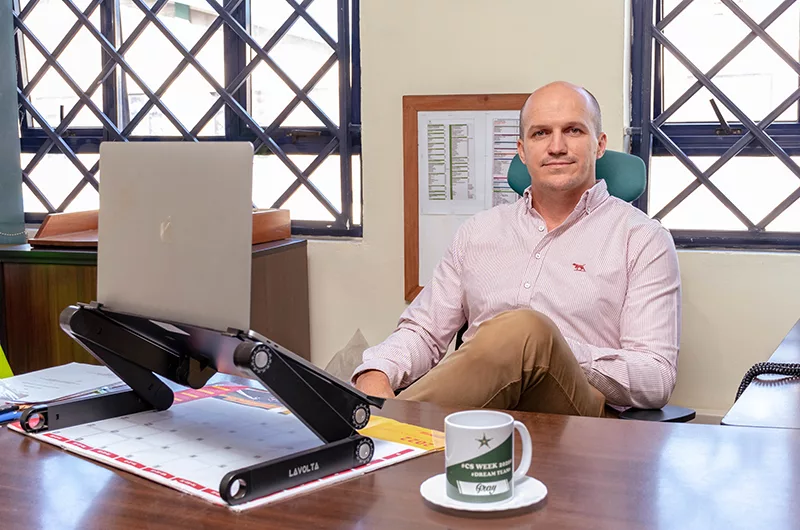 WELL-ESTABLISHED WORKFORCE
Around 3,800 members of staff are employed by Fargo, who tries to be one of the top employers in Kenya when it comes to wages, conditions, and recruitment.
There is unfortunately still a very high level of unemployment in East Africa, where a huge amount of talented, well educated people are without work.
"For the last five years, Fargo has been employing a lot of people that have IT diplomas and understand business systems and management, supply chain services and logistics," Cullen reveals.
"The majority of our senior management today started out as junior employees and have grown with Fargo, which we very much try and encourage. We're quite proud of that and want to maintain that sort
of mentality."
With a well-established workforce in Kenya, Fargo is now also expanding into Uganda and considering growth opportunities in the rest of East and Central Africa.
Indeed, there is promising growth in the logistics and supply chain space, and even some interesting new security projects in cash management.
"More short term, there are still some optimisations and improvements to the made on the digital side, which will give us a huge competitive advantage and take our services well beyond what you can find in the market," Cullen concludes.