East Africa holds a rich coffee culture. We speak to Priscilla Gathungu, CEO of Java House, about the company at the forefront of the market, brewing better beans and social dining with customers in mind.
KENYA'S CAFÉ
Coffee is synonymous with specific countries around the world, such as Colombia, Brazil, Guatemala, and Ethiopia, but the one that stands out most is Kenya.
It is the mixture of the acidic soil of the Kenyan highlands, combined with the perfect level of rainfall and sunlight, that makes for such excellent growing conditions for coffee plants. Consequently, the country boasts beans that are some of the most sought-after across the globe.
Of course, Kenyans are able to enjoy the rich, aromatic and full-bodied flavour of the coffee locally from national outlets, as it fuels the dawns of days for the national population. As a drink ingrained in the country's identity, the retail coffee space is forever growing and evolving to suit the needs of coffee lovers in the region.
"Kenya has always been an exciting market. Kenyans are hardworking people, and the country really is an innovation hub in the region that boasts some of the best fresh produce and coffee in the world – what's not to like?" begins Priscilla Gathungu, CEO of Java House (Java).
Java opened its first store in 1999 at Adam's Arcade in the Kenyan capital of Nairobi, with the original aim of introducing a gourmet coffee drinking culture in the nation. The company's first outlet was a coffee shop, and the brand later evolved from an American-style diner restaurant to its present-day status as a three-day casual dining concept, which is partially coffee-led.
Now one of the leading coffee brands on the continent, Java has grown its presence to outlets in 14 cities across three countries in East Africa (Kenya, Uganda and Rwanda). This substantial growth has also birthed three sister brands: Planet Yoghurt, a healthy, tasty and fun frozen yoghurt store; Kukito, which offers fast-food chicken and chips; and 360 Degrees Pizza, a casual dining restaurant.
"Java really is a home away from home," Gathungu tells us proudly. "We have a lot of passionate people working for our business who are constantly looking to meet consumer expectations in a competitive market. Granted we are facing a number of macro issues with climate problems affecting supply, input pressure on cost, suppressed spending power and increased competition. However, we continue to be nimble and agile, innovating and adapting to the changing needs of the consumer while also staying true to our brand to ensure we remain the market leader."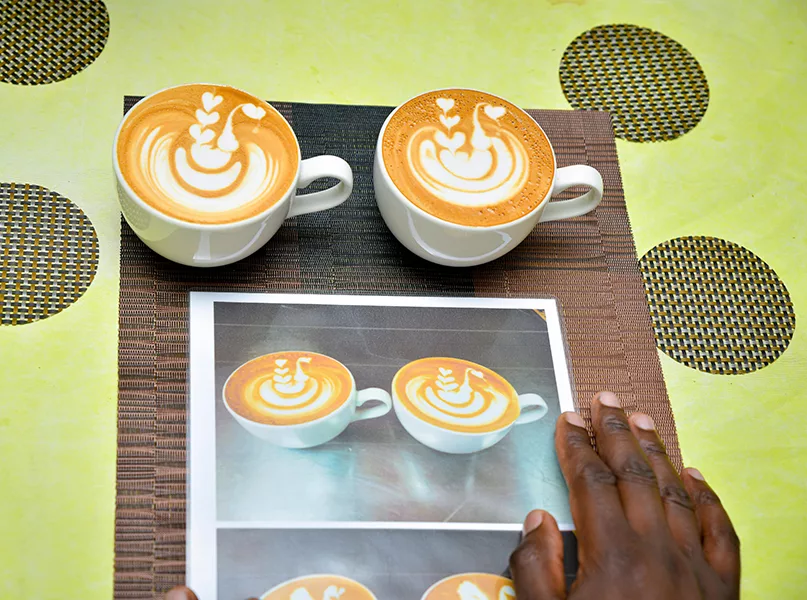 MAKING AN IMPACT
Gathungu has worked at Java for almost 10 years, and in that time has had first-hand experience in the expansion and change in the company, as well as having worked in its various departments and helped the company maintain its people-centric mission.
"The beauty of my career at Java is that I have worked in virtually all areas of the company during my tenure," she elaborates. "This has allowed me the privilege of not only understanding our business and brands, but also our people, the driving force behind Java."
Born and raised in Kenya, Gathungu moved to the US to study at college and thereafter remained in America to begin her career. Upon returning home, her interest turned to contributing to a Kenyan home-grown business.
"When Java came calling, I answered," she says. "In the restaurant business, Java was and remains the crown jewel of the industry. I enjoy this sector because in very few other businesses do you receive instant feedback – good or bad. When we do a good job or mess up, our guests are quick to be our biggest cheerleaders or our harshest critics. We love them!
"I am passionate about this space because no day is the same, and we drive the business with a very entrepreneurial spirit. We are fortunate to have supportive shareholders who essentially allow us to run the business unconstrained."
This level of passion and energy flows through Java and has been a significant contributor to the company's expansive growth.
The Java restaurant brand is the flagship of the company and its most famous offering, with 72 restaurants across the East Africa region, yet with its alternative offerings such as Planet Yogurt, the company sees a total footprint of 85 sites.
Java's retail focus has also made a substantial impact in Kenya and beyond. The company's coffee products are currently present in many homes, alongside other items such as cookies and breakfast granola. Subsequently, Java continues to innovate into new segments in the coffee and retail space with a desire to maintain its market leading position.
"You can't talk about coffee in East Africa without talking about Java. We entered this market when drinking coffee wasn't as much of a thing, and now coffee is part of many dating and connecting experiences across the region," Gathungu explains.
On top of this, Java operates Foodscape, the manufacturing arm of the business. Through Foodscape, the company roasts all its own coffee – approximately 25 tonnes each month – as well as baking all of its own bread and cakes, while also producing marinated meats and vegetable products. Foodscape acts as Java's engine that, fuelled by its dedicated workforce, pushes the company and its many branches forwards.
In addition, Java boasts a B2B segment that serves a growing number of corporate spaces and events. Each of these offerings and markets continue to be an expression of the company's mission 'to share the Java experience with the rest of the world' powered by an employee base of 2,100 people.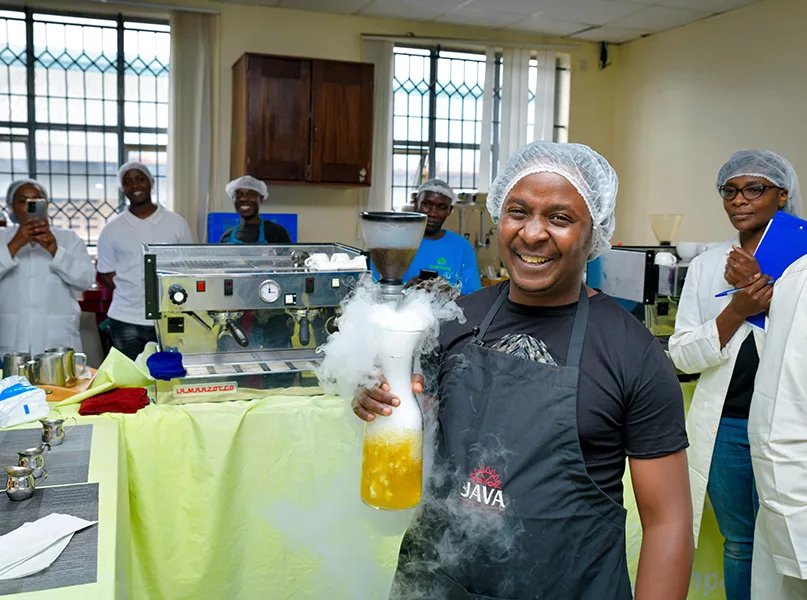 ESPRESSO EXPANSION
Java continues to follow market trends and people's preferences, continually evolving with the customer in mind. A part of this involves honing its focus on different formats regarding the easy and convenient coffee experience for customers.
"In light of this, we are innovating in areas such as express and grab-and-go products that fit our consumers' need for good and convenient coffee on the go, and looking into areas such as Eastleigh, our newest location," Gathungu continues. "We are also expanding into more locations outside of Nairobi, making this a truly Kenyan brand. We are constantly getting feedback about our menu! More variety, more sharing options, more innovation.
"The Java management are invested! Java Pizza is the result of one of those conversations around any opportunity areas we are missing, and we are continually acting on this feedback and conversation to keep the brand growing."
According to Gathungu, with the devolution of public services in Kenya, there has been re-energised urbanisation efforts across the country involving more people moving to and investing in other towns and areas outside the major cities. This has seen an increased appetite for hospitality brands such as Java with increased travel, employment, the relocation of people across the country. This desire for quality and convenient coffee and dining experiences is no longer reserved for city dwellers, and increased technological advancement means that consumers are connected to current food and beverage trends globally and want to experience it as well.
"Our consumer is also evolving," she continues. "Physical meetings and connecting moments have changed. While in the past food was often had around the table, now it's also enjoyed on the move. There is a demand for more convenience which means we've had to adapt and continue to evolve our traditional casual dining channels to fit into consumer lifestyles."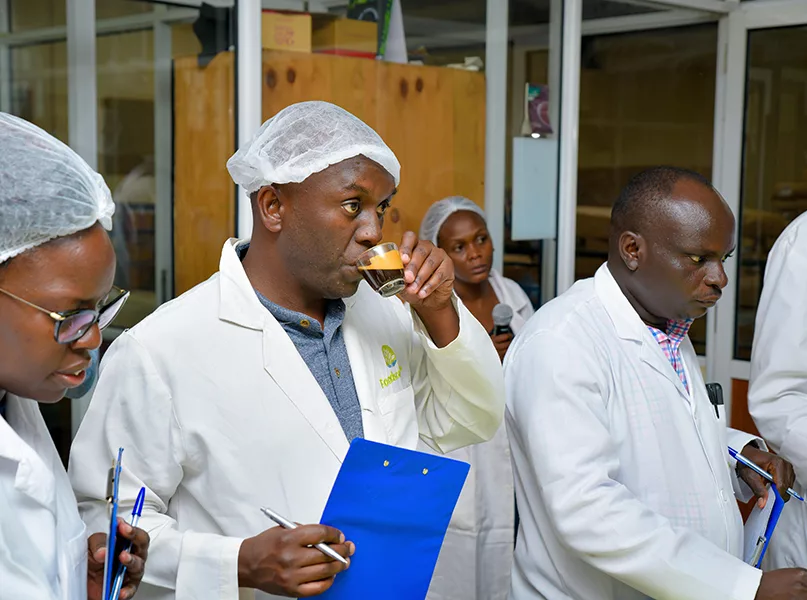 AGILE, PROFITABLE, RESPONSIBLE
Part of this adaptation is Java's acknowledgement of the importance of technology and its continual advancement; keeping up with the latest technological and digital tools is paramount to securing growth into the future.
"The last couple of years have seen us evolve into a more data driven organisation," Gathungu comments. "We've made significant investments in technology that will help us better understand our consumers and increase our internal efficiencies to help us cater to their needs, while making us more savvy and more profitable as a business in the long run.
"Currently, we run Microsoft Dynamics 365 for Finance and Operations with supply chain management regarding our enterprise resource planning (ERP), which covers the core financials, budgeting, asset management, inventory and production (manufacturing) and purchasing modules."
This system enables Java to wholly manage its business, with tight integration with its selling systems, such as the point of sale at the restaurant, B2B and external entities like revenue authorities. This system is a cloud based, software as a service (SaaS) tool that is highly optimised for Java's fast-moving consumer goods (FMCG) and hospitality use while enabling complex functions required for the company's operations.
Other systems Java uses for its digital transformation include data analytics tools, QR codes, net promoter score (NPS) surveys, digital media and its newly launched Loyalty App, the latter of which provides frequent customers with additional and accumulative benefits.
"I'd say our biggest aspiration is to build an agile, profitable business that engages responsibly with its community, is well known, respected and loved for its hospitality, and provides good food and an unrivalled customer experience. In short, to be the undisputed market leader," says Gathungu.
To this end, Java's focus has always been and will always be people. Concentrating on individual needs, the company is able to make every customer feel at home when they visit a Java outlet, and ensure that each one leaves full, fuelled and feeling better to start or end their day.
"We want our consumers to know that when they come to Java, they can have it their way," Gathungu adds. "Coffee with a little butter? That's okay. A little extra chilli in your chicken curry? That's fine too. We are in business to create a great experience for our customers, and we hope that this intention comes through in all that we are doing across all our brands.
"We want people to begin their day with us over a business breakfast with Java coffee, enjoy chicken and chips for lunch at Kukito, some frozen yoghurt at Planet Yogurt to give that extra kick in the afternoon, and to top it all off, a glass of wine with friends at the end of a long day at 360 Degrees Pizza."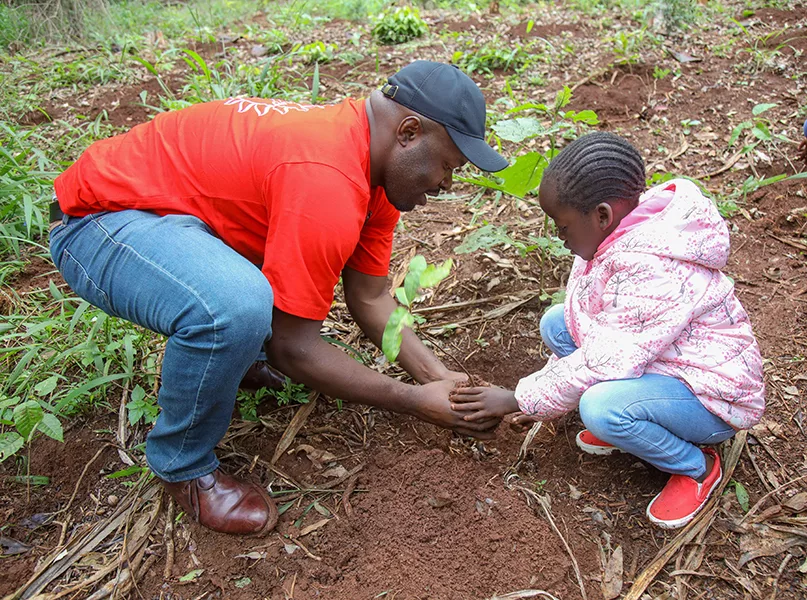 JAVA HOUSE PARTNER