Time Projects has been developing Botswana for the last 37 years, becoming a household name in property development. We discuss this vastly transformative journey with Managing Director, Brett Marlin.
IT'S ABOUT TIME
Our core competency is expert project management, which is then applied to every single aspect of our business."
For more than three and a half decades, Time Projects (Time) has employed this self-declared competency in delivering world-class construction projects to enable the company to both flourish and simultaneously enhance Botswana's infrastructure, across areas of project management, property management, property development and asset management.
Now synonymous with quality home, industrial, and commercial development, Time has catered for an impressive swathe of residential, office and commercial properties over its highly experienced tenure. The company has meticulously added to a portfolio of projects that are now widely regarded as the pinnacle of what Botswana can offer within the construction space.
Established in 1986, Time's ever-expanding team now boasts some of the top project managers, property developers and asset managers from both Botswana and Zambia, a country in which the company has also undertaken countless impressive projects.
"Now that we've got business across Zambia and in Botswana, we just seem to be getting more and more jobs coming our way," opens Brett Marlin, Managing Director of Time.
Some of these "jobs" include completed projects ranging from low-cost housing to executive residential complexes, multi-million-pula commercial office blocks, restoration and enhancement of golf courses, shopping centres and assorted industrial developments.
All buildings that Time develops and oversees are noted for the added value they subsequently create for the overall surrounding environment by virtue of the immaculate architectural styling, attractive aesthetics, high-quality standards and excellent investment value.
"These standards of excellence are especially prominent at Time's premium grade offices, where we have all the bells and whistles, the green star environmental rating, and all of the other beneficial eco-friendly practices," acclaims Marlin.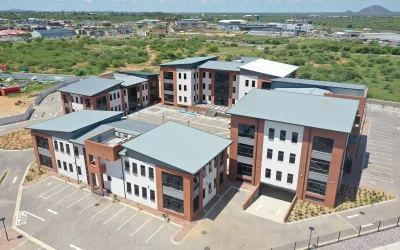 COMMERCIAL AND RESIDENTIAL DEVELOPMENT
Time has carved out a reputation across Botswana for overseeing and delivering quality, affordable commercial developments which include offices, retail hubs, industrial factories, warehouses and speciality projects such as hotels, banks, hospitals and educational facilities.
This is in addition to providing its expert development and project management services to clients who do not require turnkey development.
"Over the last 20 years, we've become more and more involved in the commercial, retail and industrial development space, but there is also still such a huge demand for residential projects," Marlin explains.
With vast experience in the development of residential suburbs and estates from raw land to completion, Time's service offering includes the installation of utilities such as water, power, sewers and road networks and the subsequent implementation of housing on the fully serviced residential stands.
These houses are then usually sold on the open market to institutions, investors and owner occupiers with the different types of offerings being market driven. Alongside this, Time also provides construction and project management services to other entities wanting to build residential developments.
Each bespoke project that Time undertakes is unique in terms of location, funding, deal structure and design. The company remains highly flexible, which has allowed Time to react effectively to industry trends and developments.
"The work that we're doing in the commercial office space and building shopping centres displays how we've tried to adapt to the times, and that is probably the main reason why Time has succeeded because we saw the development of low-rise, low-density office buildings as the route to go rather than trying to do several 20- storey offices with large corporate tenants."
Details are vital in this form of management, even down to the size of an office parking lot.
"Too little parking is catastrophic for a new project and securing enough space is critical to the success of an office building and any other development, so that is one of the first principles that you need to secure, with no detail being too small or insignificant in this business," Marlin reiterates.
Subsequently, as a direct consequence of having to maintain and ensure tenancy and rental collection of its own properties, Time established a property management division.
The company offers this service as value-added when developing a property for a client, especially for its customers who are investing in property and don't want the day-to-day responsibility of managing the buildings.
Currently, in addition to managing its own buildings, Time is now the property manager for PrimeTime Property Holdings Ltd, a BSE-listed company with a portfolio of over 25 properties throughout Botswana and Zambia.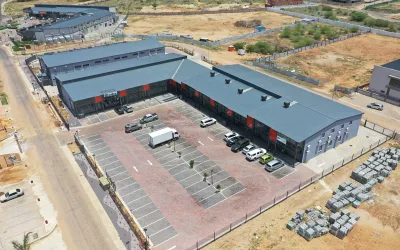 BENEFITTING BOTSWANA
Enhancing Botswana as a nation and helping its people remains paramount to the overarching company mission.
Time has committed to supporting several of Botswana's top athletes over the last few decades, most memorably Tiyapo Maso, who previously led the Olympic marathon for more than half the race at the Sydney Olympics.
Time has for the last six years held a corporate relay event called the Time Challenge, which is held in the Mokolodi Nature reserve and is a four-man relay event with two running legs and two cycling legs. All proceeds from the event are used for charity. The funds from the last three events have been used to construct outdoor exercise facilities within the residential areas in Gaborone. In the past, they have constructed a disabled basketball court and a Futsal pitch.
Elsewhere, internally, Time aims to fill as many of its positions as possible with Botswanan citizens.
"Since the early 1990s when the company became firmly established, we have consistently employed between 500 and 1,000 Botswanans on our projects," Marlin adds.
Time is also wholly owned by its senior management, all of whom live in Botswana. This senior management group is therefore exceptionally stable as is shown by their years of service.
Large quantities of small and medium-sized citizen contractors, subcontractors and suppliers have been nurtured and developed under Time's guidance and training, many of whom have gone on to greater levels within the industry. The company's policy is to support any member of staff in further education.
"Honestly, our biggest problem is that nobody wants to leave us as we have a really good family culture here. As a company, we often have a Friday afternoon off where one of our staff members hosts a BBQ or dinner for everyone and we just all sit together outside the office, have some drinks and enjoy a good time."
This perfectly illustrates the immense level of family-oriented team spirit and collective connection that bonds Time together as a company.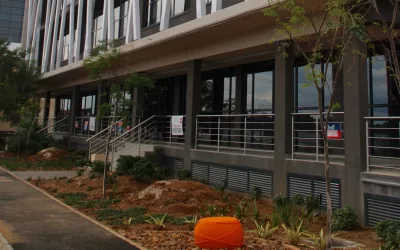 OVERCOMING ECONOMIC EXERTION
Despite the company's ongoing prosperity, the construction industry continues to consistently throw up challenges for all companies to contend with, and Time has encountered some difficult obstacles and turbulent times to navigate like all others.
"Our office in Zambia has been a challenge over the last few years where the national currency, the Kwacha, has devalued so badly against the dollar that at one stage a few years ago there was almost daily load shedding, where the nation would only have power for four to six hours a day," recalls Marlin.
"That was really difficult to deal with and certainly put a lot of pressure on the company and the nation as a whole, but we've seen a favourable upturn recently and signs that the Zambian economy is gradually returning to full strength as the banks are showing more confidence in giving funding, whereas the previous five years were a real battle," he continues.
The Botswana office helps support the Zambian arm of the business, with Marlin himself travelling between offices every six weeks to provide support to what is more of a small skeleton office and team at present.
Having mastered the ability to reinvent itself and consistently add strings to its bow, Time continues to secure new development work across Botswana and Zambia, placing it in an optimal position to continue thriving and providing premium infrastructural development and elite management services.
"Every year we say surely there's got to be a downturn and yet it just doesn't seem to come," Marlin proudly finishes.
"We've seen a favourable upturn recently and signs that the Zambian economy is
gradually returning to full strength"

Brett Marlin, Managing Director, Time Projects
TIME PROJECTS PARTNER