Backed by over 50 years of expertise, Cerba Lancet Africa is pioneering a pan-African diagnostics network to better lives across the continent. We speak to CEO Stéphane Carré, to learn more.
INTRODUCTION
"We acted promptly in 2020, despite the many pressures and bottlenecks induced by the COVID-19 pandemic on the supply chain worldwide. We mobilised a lot of capital to setup and deploy more than 10 PCR platforms by creating laboratories dedicated to combatting COVID-19."
The words of Stéphane Carré, CEO of Cerba Lancet Africa and Vice President International for Cerba Healthcare lay bare both the international challenges of the past two years, as well as the company's ability to adapt and operate all over Africa, in light of the COVID-19 pandemic.
Cerba Lancet Africa is a clinical pathology and medical imaging laboratory service provider serving over three million patients per year. The company has the largest amount of diagnostics equipment in Africa, as a private operator, with laboratory facilities ranging from basic level to the most advanced across the continent. On top of this, Cerba Lancet Africa provides medical logistics and regulatory services to ensure the provision of high-quality equipment and services supported to African communities in a multitude of different countries.
"Cerba Lancet Africa is the leading network of clinical pathology and medical diagnosis in Africa, with the ambition to become the leading diagnostic services provider offering world-class standards of pathology services to patients and medical communities across the continent," S. Carré tells us.
Cerba Lancet Africa operates a network of 170 sites, across Botswana, Gabon, Ghana, Kenya, Mozambique, Nigeria, Rwanda, Eswatini, Tanzania, Uganda, Zambia and Zimbabwe, ensuring each facility is conveniently located for the communities.
The company offers a portfolio of over 4,000 pathology testing services ranging from routine screening tests to highly specialised clinical testing for research, screening, industrial, and occupational health, under the direction of more than 20 pathologists. Cerba Lancet Africa's pathologists assist doctors in making diagnoses and taking informed decisions, and this allows doctors to tailor appropriate treatments about their patients' health or any medical conditions.
"In response to the COVID-19 pandemic, we trained our staff and passed the audit and health regulations, imposed by the governments and installed a global logistical eco-system to guarantee a turnaround time of less than 24 hours," he elaborates. "The technique we selected was and remains one of the most reliable and accurate available in the world. It also allows the detection of new and different variants.
"All our laboratories have played a key role in their respective countries when responding to the COVID-19 spread, in collaboration with the local authorities. Our goal was to enable the health system to be as effective as possible in combatting this pandemic and facilitating economic recovery. Thus, we were one of the first partners of the Africa Centres for Disease Control and Prevention (CDC) to set up the Panabios Trusted Travel platform to increase the security on the validity of COVID-19 tests in Africa and the rest of the world."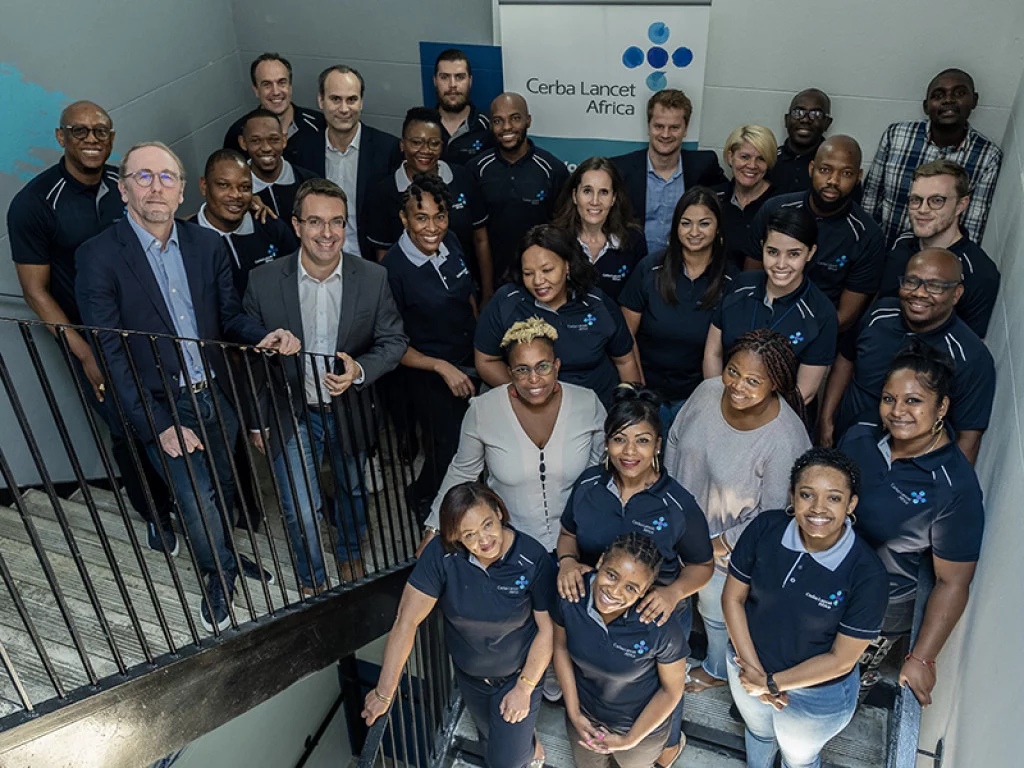 BORN FROM COLLABORATION
Cerba Lancet Africa's mission is to support the evolution from curative health systems towards a more preventive system, drawing on more than 50 years of expertise in clinical pathology to reveal the full potential of diagnosis.
"Cerba Lancet Africa is a joint venture created in 2019 by the French group Cerba HealthCare, a leading international player in medical diagnosis, and Lancet Laboratories, the foremost name in clinical pathology in sub-Saharan Africa.
"Having known of each other for many years, the first partnership was formed in South Africa in the field of clinical trials, in association with Bio Analytical Research Corporation (BARC) South Africa. This long history between Cerba Healthcare and Lancet Laboratories allowed each company to check essential alignments between themselves and other necessary partners when embarking on such endeavours. Both companies already had a long history and experience on the continent as well. Lancet Laboratories, as a native company to sub-Saharan Africa, and Cerba Healthcare have been serving the Maghreb and West Africa with specialty testing for decades. Discussions about co-developing the pan-African network for the first intention testing, initiated by Lancet Laboratories 10 years before, started in 2016."
This partnership and collaboration between Cerba Healthcare and Lancet Laboratories had the betterment of African communities in mind.
"The vision was, and remains, that of two leading companies joining forces, resulting in making first-class clinical pathology available to people across Africa," S. Carré continues. "It is a vision which is supported by medical excellence, innovation and patient-centric services. Beyond this alignment, both companies are incredibly complementary and Cerba Lancet Africa brings the best of both to the African continent.
"From a medical standpoint, our African operations could receive help and support from both Cerba Healthcare in France and Lancet Laboratories in South Africa. Both companies have played a key role in their respective countries for the COVID-19 response, in collaboration with the authorities. The initial wave of COVID-19 hit Europe earlier than it did across Africa, and because of this, we were able to benefit from Cerba Healthcare studies to test and identify the best products and protocols available."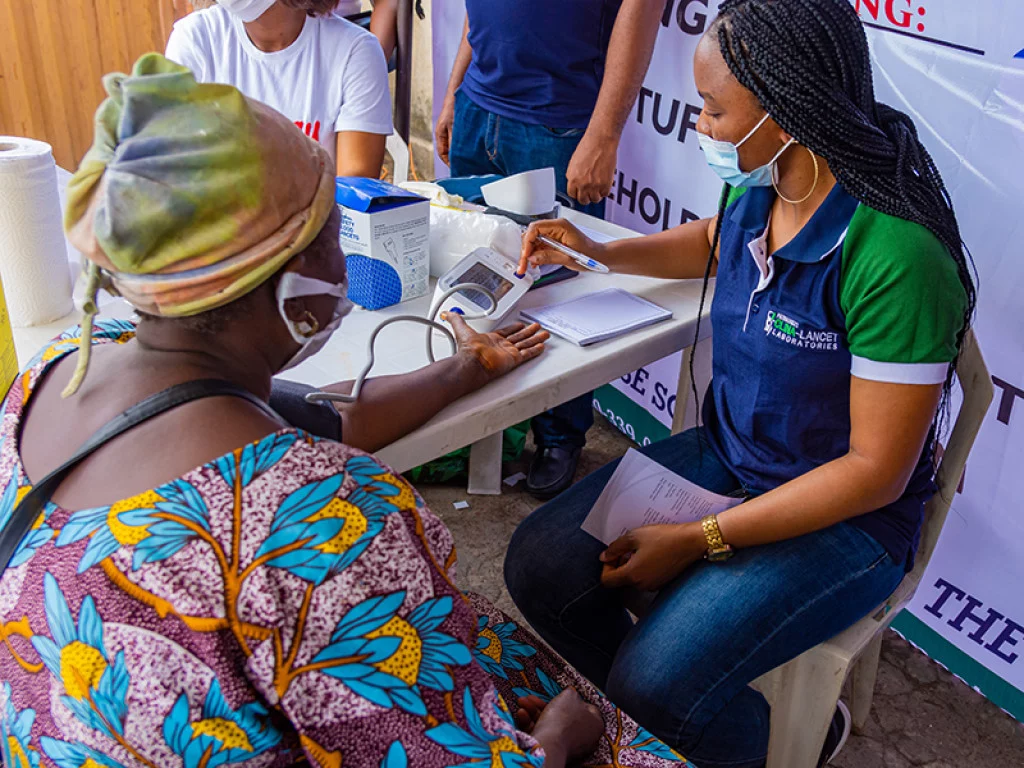 AT THE HEART OF CERBA LANCET AFRICA
Clinical pathology is at the heart of diagnosis and health progress at Cerba Lancet Africa. The company's ambition is to support the evolution of its health system, which is currently essentially curative, towards a more preventive system.
"Based on this belief, we are developing the tools of tomorrow's medicine, focused on diagnosis, prevention, precision and personalised treatment," he says. "Supporting the transformation of medicine and the evolution of the healthcare system is a subject of serious interest at Cerba Lancet Africa, and is one that motivates each of our employees, underpinning each of our strategic choices. We rely on 50 years of expertise in clinical pathology and mastery of the entire diagnostic value chain: routine clinical pathology, specialised clinical pathology, clinical pathology for clinical trials, veterinary clinical pathology, anatomo-cytopathology and medical imaging, to support this evolution.
"Our employees, their qualifications, knowledge, motivation and commitment are the cornerstone of our service quality. They are dedicated to our mission of providing Africa with world-class diagnostic solutions. To maximise this capital, we are this year strengthening our existing internal training platform to provide numerous, targeted and varied training courses (technical as well as soft skills). We are not only improving internally the skills of our teams, but we have also partnered with international leading schools to stay abreast of the changing landscapes of business and management. We have a close and long-term partnership with our suppliers, they help us to be more efficient and more autonomous."
In Ghana, for example, Cerba Lancet Africa worked on a complete transfer of competence so that its team can carry out maintenance operations of the lab equipment by themselves.
"We also have an important digital transformation project in which our selected partners will train us, allowing us to implement the deployment ourselves and offer patients, doctors and hospitals a faster and customised solution adapted to the different local needs."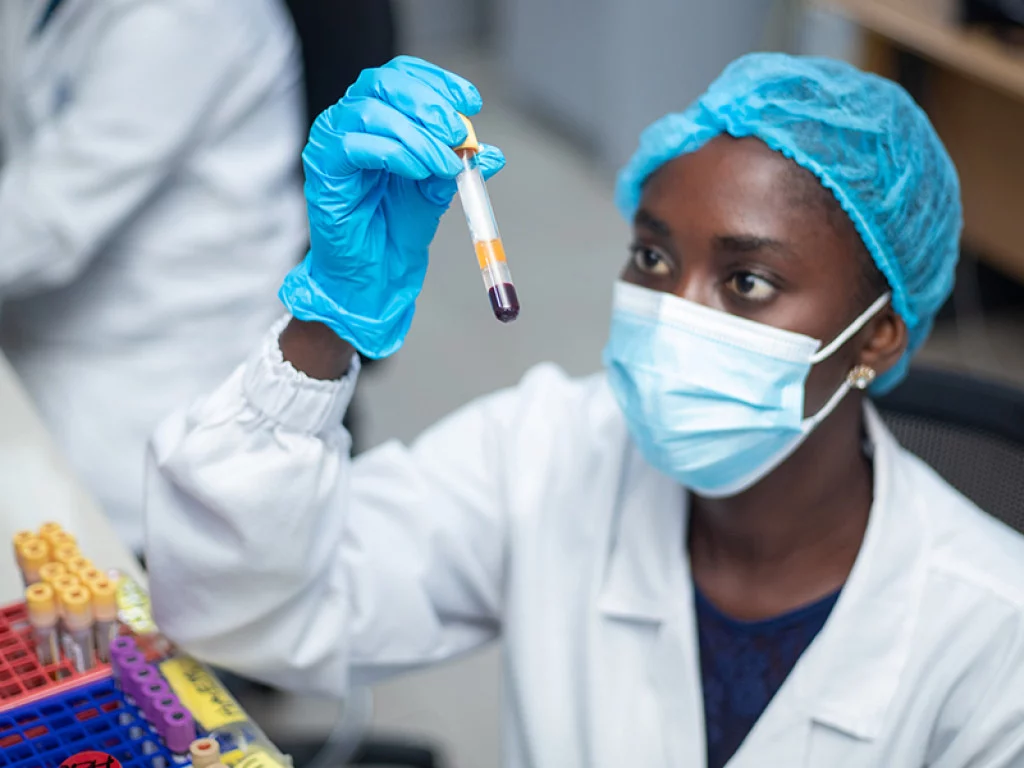 DIGITAL TRANSFORMATION
Cerba Lancet Africa is on an ongoing journey towards digitalisation. The company's goals are to improve the delivery of its service, to facilitate access to quality diagnostics and to improve efficiencies of the key processes.
"We shall launch this year a new Omnichannel & CRM (customer relationship management) platform to facilitate our interaction with patients, doctors, hospitals and corporates.
"We are also rolling out a digital Pathology project. This is the next generation scanner network that will allow us to share slide images to work with the best pathologist specialists within our network. This means that samples no longer will have to travel from one lab to another, and the turnaround time will be shortened."
In this sphere, Cerba Lancet Africa is deploying and adapting in-house applications that have already been tested and used in alternative regions. Some of these will help the clinicians in establishing quality diagnostics, others will help Cerba Lancet Africa's prescribers and clients to follow samples and gain results in the shortest time possible when needed.
"Digitalisation is a key pillar of our Access strategy. This complementary expertise obviously enables health professionals to make a diagnosis, but it also contributes more broadly to the effectiveness of public health policies by better assessing the risk of developing diseases, detecting pathologies earlier, personalising treatments to optimise their effectiveness and by monitoring these treatments to ensure their effectiveness over time," S. Carré explains.
"Driven by a deep-rooted belief of advancing diagnostics to advance health, Cerba Lancet Africa is moving forward with a clear focus around incorporating the latest and best technology to best serve communities across Africa.
"Corporate health has also become an essential part of all corporate policy. From duty of care, which is a legal obligation in many geographies, to HR policies. Our Corporate Health Services (CHS) is providing our clients with an integrated approach to healthcare care services dedicated to the corporate environment. Whether teams are deployed in an urban or remote environment, we can propose a tailored range of medical services from primary care and diagnostics to occupational health, screening campaigns and wellness. Those services can be delivered on location, at our dedicated stand-alone facilities or through our mobile set-up of equipment. The best options are studied along with our clients and deployed in the best interest of the company and their staff, for the betterment and future growth of the business and all involved."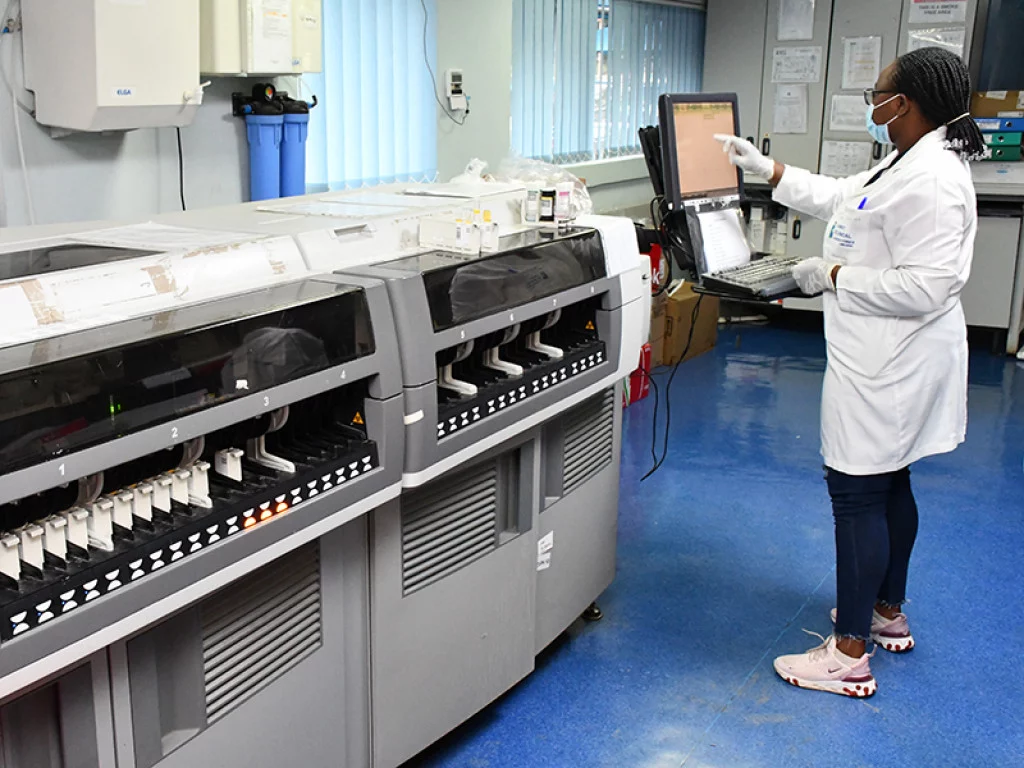 PAN-AFRICAN SUPPORT
Another major focus for Cerba Lancet Africa is the notion of education throughout African communities. In each of the company's countries of operation, Cerba Lancet Africa has a strong tie to institutions such as teaching hospitals and universities, through which the company supports students studying in medical fields.
"Continuous education is an important part of who we are and what we want to provide to our teams across the continent," states the company's CEO. "Beyond a virtual university that provides continual and accessible medical education, we have tailored programmes for all the range of expertise we need, from management to operations and finance, with leading schools and universities. Some of those programmes are being delivered and allow our staff to embark on an 18-month learning journey towards certification. These sessions take place in Africa and in Europe, digitally or physically. We are very proud of these, and over time we aim at onboarding the majority of our staff through these programmes.
"Along with our steady programme towards hospitals and academics, we also are very much involved in the local communities through our Cerba Institut. The Cerba HealthCare group endowment fund has closely worked with AMREF, the leading public health NGO in Africa with nearly 10 million people helped through 159 programmes in 35 African countries. Our three-year partnership has gathered our respective teams and expertise in Africa to improve people's health. Among our contribution, the Stand Up for African Mothers programme has trained 15,000 midwives on the continent."
The Cerba Institut's endowment fund regularly helps projects that are aligned with its purpose. Just last year, the Insitut supported a dozen projects across Africa. Regularly, Group employees can pitch for their project and obtain some help from the fund to develop their activities – https://www.cerbahealthcare.com/en/institut-cerba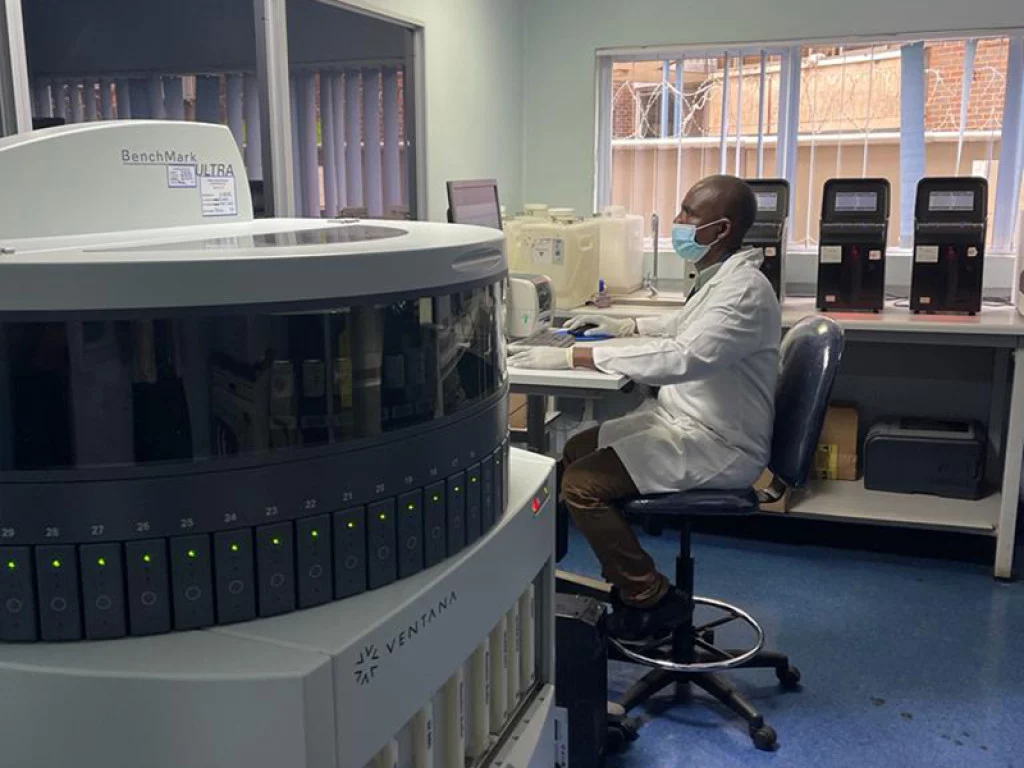 THE FUTURE OF DIAGNOSTICS
Moving ahead, Cerba Lancet Africa's key priority has been the very same from the start: to offer the highest standards of pathology services to patients and medical communities over the continent, to sustain the evolution of diagnosis services toward better access and quality for the world's fastest growing population, and to provide the medical community with an unmatched wealth of knowledge and expertise, paving the way for better quality and access of diagnosis services.
Cerba Lancet Africa today is present in 13 countries through its network of laboratories. Thanks to the global reach of its founding parents, it delivers diagnostic expertise in more than 30 countries across Africa, enabling more and more patients to access quality healthcare services.
"In the coming 18 months, Cerba Lancet Africa will announce the extension of its network in several countries on the continent," S. Carré concludes. "Before the end of this year, we should share big news which features entering new markets. Future release ahead, stay tuned!"