We speak to Emmy Hashakimana, Marketing and Innovations Director at Uganda Breweries, who raises a toast to the premium alcoholic beverage company's focus on developing great brands and great people.
INTRODUCTION
Formed in July 1946, Uganda Breweries Limited (UBL) has positioned itself as one of Uganda's most important, iconic and well-respected entities.
A subsidiary of East African Breweries Limited (EABL), which is under the stewardship of drinks giant Diageo, the origins of UBL came as EABL began to moot the idea of industrially produced beer being introduced to the Ugandan market. Just over 75 years on, UBL continues to celebrate and transform lives in Uganda, East Africa and beyond, with the delivery of high-quality brands to consumers and long-term value to investors.
"As a consumer-driven business, UBL takes the time to study the market, understand consumer wants and needs, and how best to satisfy them," opens Emmy Hashakimana, Marketing and Innovations Director at UBL.
Refreshing, high quality products brought to life by UBL include those of the company's highly celebrated flagship brand, Bell Lager, which to this day continues to win prestigious international Monde Selection awards in recognition of its excellence.
UBL brands play a leading role in redefining the industrial landscape in Uganda, with an offering that meets varying alcoholic or non-alcoholic taste preferences and levels of affordability. The UBL portfolio has a strong presence in the country and boasts more than 50 products, all expertly brewed to international standards and includes some of the world's leading whiskies, stouts, beers and gins.
Custodians of the two largest spirits brands in the world, Johnnie Walker and Smirnoff, as well as the likes of Guinness, Baileys, Pilsner Lager, and Tusker Cider to name a few, UBL's broad range of renowned international and local brands have a truly global reach. Now, UBL is tasked with continuing to leverage such strengths and building an even stronger position for its brands in the market, by focusing on their strategic imperatives.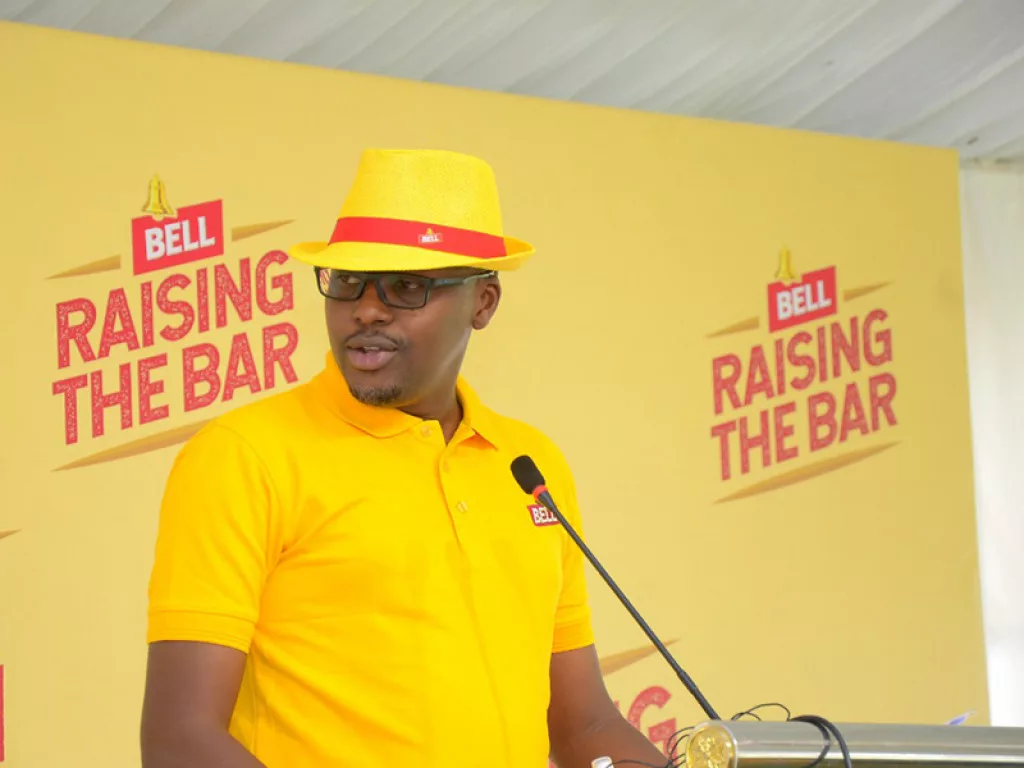 DIVERSITY AND INCLUSION
UBL was founded and is sustained by people of extraordinary character, whose calibre ensures that the company is respected as a leading enterprise in Uganda.
The staff at UBL are determined to perform and passionate about achievement, the latter of which is measured through the awards and positive reviews bestowed upon the company by Ugandan communities, in recognition of the role it plays in society.
With an employee base of more than 1,000 direct and indirect staff, UBL's focus on diversity and inclusion has enabled it to achieve the richest mix of top Ugandan talent.
"We believe that we can only guarantee our plans if we have the right people and capabilities. Once we source top talent, we have a mix of structured and ad-hoc training programmes to develop our people; our goal is to prepare them to truly embody our purpose, values, and demonstrate the highest standards of integrity," Hashakimana affirms.
UBL's robust brand portfolio, coupled with its talented, hardworking and resilient personnel, gives the company a huge competitive advantage in the market, built to succeed in the short and long term.
Being part of EABL and Diageo enables the people at UBL to gain international experience in East Africa and globally, helping them to develop professionally and promote an inclusive mindset.
"Within the business, we also have structured schemes to develop senior leaders. All in all, we offer exceptional opportunities for people to experience and grow beyond where they thought possible."
Supplementary to UBL's inclusive recruitment is Hashakimana's passion for inclusive marketing. He notes that culture is shaped by the stories that we tell, and that as one of the largest advertisers in Uganda, UBL has the power to shape society.
The success of UBL is therefore determined by how the company's brands are marketed, to lead the way and keep up with societal change.
"I'm really proud of what we are doing in this space at UBL and excited to be able to enact change, by ensuring that marketing is inclusive of everyone and empowered to address social issues and shape culture in a positive way," he states.
"We live in times of great change; our communities, consumers and customers are experiencing change at an accelerated rate. It is affecting how and where people celebrate and socialise, as well as the environment and communities in which we live."
UBL's Society 2030: Spirit of Progress sustainability action plan, meanwhile, offers a 10-year roadmap towards an inclusive, sustainable world. It comes as the company integrates environmental, social and governance (ESG) aspects into its business strategy to support the global sustainable development agenda, ensuring that the iconic brands are made and marketed sustainably.
"Through Society 2030, we seek to create an inclusive and sustainable world by championing inclusion and diversity, positive drinking, and grain-to-glass sustainability.
"We want to change the way people in Uganda drink for the better. We celebrate moderate drinking and seek to reach over 10 million people with moderation messaging by 2030," outlines Hashakimana.
As a brewer and distiller, UBL also promotes responsible consumption with highly successful initiatives such as the Red Card campaign against underage drinking and driving under the influence.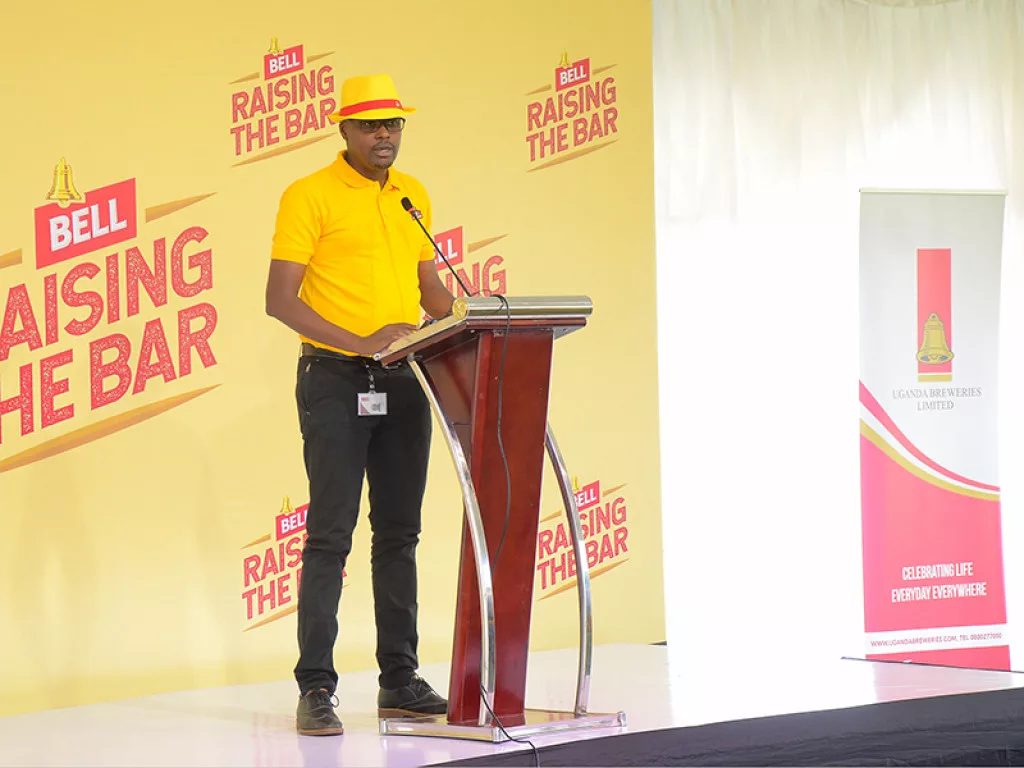 INNOVATING AT SCALE
A business that is sustained by innovation, UBL invests in marketing research and leverages the insights generated to respond to shifting consumer demands, develop vibrant innovation pipelines, and study purchasing behaviours in order to enhance brand distribution.
The company constantly invests to innovate and renovate its brands, to stay on par with dynamic consumer trends. For instance, in the last 12 months it has launched new innovations such as Baileys Delight and Gordon's Pink Gin, despite COVID-19 restrictions.
"We remain agile to respond to these changing dynamics, focused mainly on meeting new consumer demands. This is aligned with our ambition to be the best performing, most trusted and most celebrated business in Uganda," Hashakimana says.
"UBL will continue to innovate at scale to meet new and evolving consumer demands. The innovations we have lined up to disrupt the traditional beer and spirits categories really excite me."
Tusker Premium Cider, for instance, was also recently launched by UBL and has been well received in the Ugandan market. The rollout of this product perfectly exemplifies how the company harnessed customer feedback to cater to their tastes and preferences, and Hashakimana is excited about the prospect of producing Tusker Premium Cider using locally grown apples.
"This will create an explosive new value chain that will earn our farmers a new income stream and develop the agricultural sector. It demonstrates our endeavour to grow the business, whilst at the same time growing Uganda," he tells us.
"The success of UBL and the growth of Uganda as a nation go hand in hand. Owing to that, we seek to deliver value for our shareholders as well as government and society."
UBL's value chain is long and complex; it requires raw materials to be sourced upstream, processed, and ultimately conveyed to consumers downstream. With the specialisation of different players in the value chain, there is an immense opportunity to grow its various actors, from the farmers who provide the raw materials to the distributors and service providers.
For example, UBL currently offers a ready market to 25,000 sorghum and barley farmers, directly and indirectly creating value for 40,000 households in Uganda.
"We value the relationships with our partners and the rest of the supply chain. To deepen these relationships, we have created various policies to promote our values and encourage integrity.
"UBL has adopted the United Nations Guiding Principles on Business and Human Rights (UNGPs), and made commitments to embed human rights into our value chain. Through these principles and other governance standards, we ensure that all players in our value chain are treated fairly and with respect," says Hashakimana.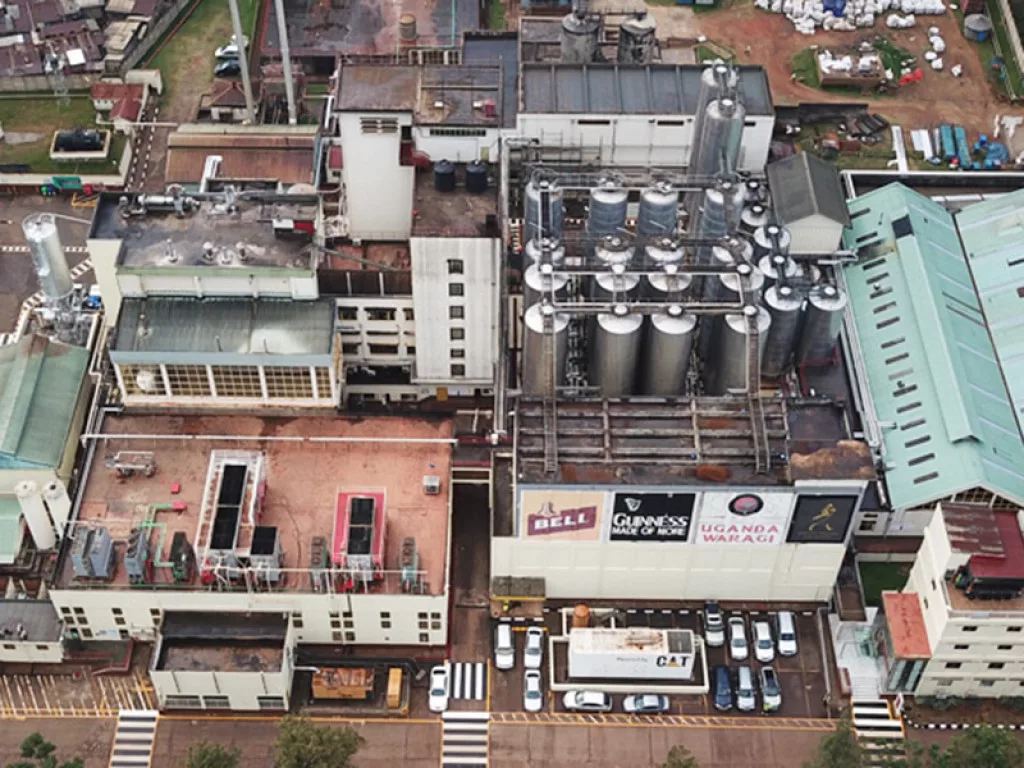 UNMATCHED RESILIENCE
During the height of the COVID-19 pandemic, UBL reviewed its business plans and adapted them to the realities of the situation. It offered consumers more convenient means of accessing its brands, for example by partnering with e-commerce companies such as Jumia and SafeBoda to facilitate home delivery. UBL also created its own 'Party Central' online purchasing platform, and increasingly leveraged the likes of supermarkets and convenience stores.
In its efforts to help the hospitality sector build back better from the pandemic, UBL rolled out its Raise the Bar initiative under the flagship Bell Lager brand. A charitable fund has supported more than 1,600 bars in Uganda, donating equipment and PPE to optimise safety at their premises.
"The service package includes training and re-training in health and safety protocols, as well as targeted vaccination campaigns for bar staff and owners. Through this programme, we led the private sector to deliver a successful, commendable vaccination drive that has inoculated over 7.8 million Ugandans," Hashakimana acclaims.
Throughout the pandemic, UBL demonstrated unmatched resilience and determination to emerge stronger, and the company is now in a great position to take advantage of the recovery.
"Owing to the economic recovery in Uganda this year, we are very optimistic about the future of UBL. Our focus will be on growing our portfolio and upskilling our people, while at the same time remaining a responsible and sustainable business," Hashakimana concludes.
"Our people are very determined, consistent, and have clarity on what to deliver. We have a broad portfolio of great brands that we can leverage, and an excellent route to market to reach our consumers wherever they are."