With a reputation as the innovators of IoT, Macrocomm dominate the Southern African Smart Solutions space. CEO Sivi Moodley discusses delivering a smarter tomorrow, today.
INTRODUCTION
South Africa is in the thralls of digital adoption, as the rapidly increasing deployment of technologies propels the country, and indeed, the continent, forward.
With an ever-growing number of people enjoying connectivity through smart devices, communication is evolving and the smart phone has become a symbol of new age communication.
"The smart phone has changed the lives of people and how businesses and individuals interact and communicate, both with each other and the world around us.
"We are the leading smart solutions and technology provider in Southern Africa," Moodley states. "We currently supply solutions to customers in Europe, Mauritius, Botswana, Kenya, Uganda and Egypt." At the very nexus of this dynamic digital arena, telecommunications, and the unlimited potential of the Internet of Things (IoT) has only recently begun to be exploited. Technology is redefining not only the communications space, but industries across the board through innovation, Artificial Intelligence (AI) and IoT solutions.
As Moodley attests, "when focusing on traditional cellular operation, this space is quite saturated in terms of growth and expansion.
"The real opportunity lies in smart solutions, not just connecting people, but connecting devices. Living in a connected and digitised world is where I see the future leading to, where all devices speak to each other, utilising the capabilities of artificial intelligence (AI), machine learning (ML) and predictive analytics," he observes.
Indeed, in 2019, in terms of hardware, the connectivity segment held the largest share of the South African IoT market.
It is Moodley's aptitude for acute observations, identifying behaviours and gaps in the market that ultimately translate to growth (as with the above statement), that paved his entrance into the industry, leading to his current tenure at the helm of Africa's number one provider of IoT solutions.
"I would describe myself as someone who is intrinsically an entrepreneur with an interest in building and growing businesses. 16 years ago, I identified the opportunity and potential in the technology sector and communications industry," he tells us.
Subsequently, Macrocomm was conceived, establishing partnerships with mobile network operators (MNOs) and reselling their products on the market. "We later evolved to selling smart solutions to both the network providers and their customers," Moodley explains.
The company first began to pursue the fruitful avenue of smart solutions after Moodley's entrepreneurial interest was piqued by a global sector event. An agile redirection of Macrocomm's business model ensued.
"Upon attending the World IoT and World Mobile conferences about five years ago, I saw the potential and therefore decided to pivot Macrocomm's core business towards smart IoT solutions," he comments.
It was an apt move, as Macrocomm cottoned on to a blossoming market that is forecast to reach a global valuation of $561 billion by 2022, earning Southern Africa a position within that sector.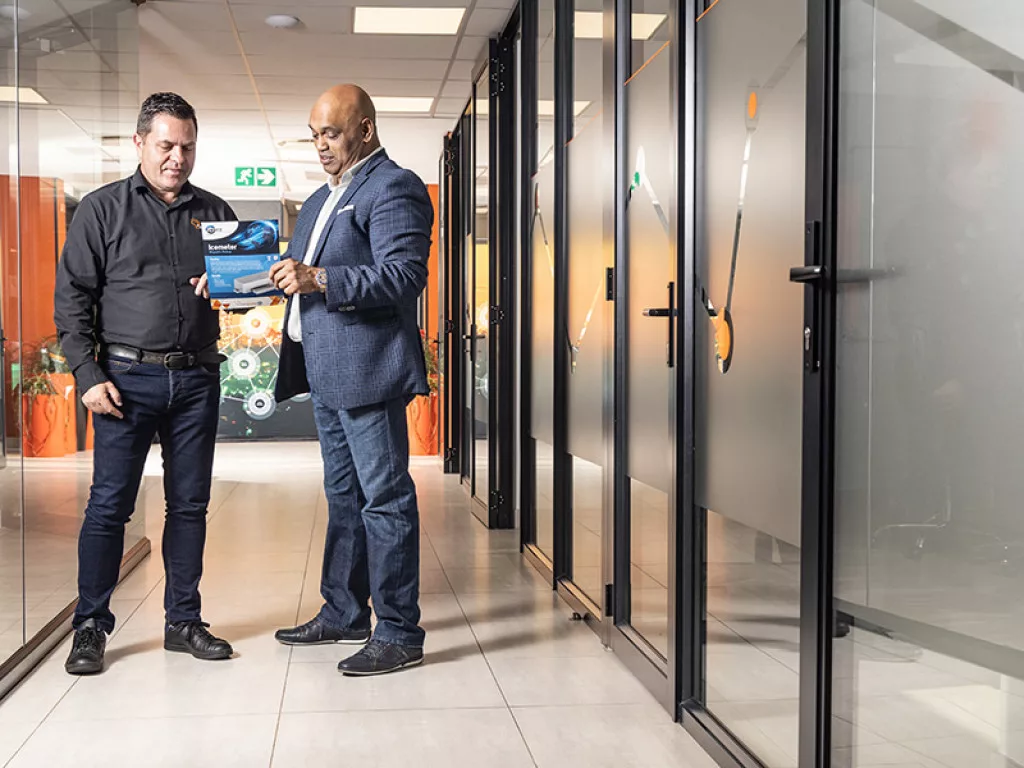 TECHNOLOGICAL SOLUTIONS FOR SOCIETAL PROBLEMS
Established in 2005, on the foundational values of integrity and professionalism, Macrocomm has since expanded its national footprint with over 400 employees spread across 12 hubs in South Africa.
Headquartered in Johannesburg, in their very own smart building, Macrocomm has additional offices in East London, Buffalo City, Cape Town, Bloemfontein, Limpopo and the Northern Cape. Macrocomm's uniquely South African devices and IoT solutions are manufactured by Macrocomm RTS, one of the companies that for part of the Macrocomm Group, in KwaZulu-Natal.
"All our solutions are proudly South African and our devices are used globally," Moodley comments.
Macrocomm's focus on turnkey solutions extends to five core sectors, namely, energy management, water management, food security, personal safety, and health.
"These five core pillars are of paramount value in our entire Macrocomm ecosystem, not only in how we grow the company but also how we are able to enhance and provide value to the environment we live in – in essence, improving the lives of people with smart solutions," he states.
Moodley's statement reinforces the humane aspect that is truly foundational to the development of Macrocomm's technological solutions.
"At Macrocomm, we do not focus on selling technology solutions – our solutions are created to address and solve problems experienced in society.
"We focus on providing solutions to problems by using technology, deploying the right devices, gathering accurate data, and transporting that data using our agnostic telecommunication networks best suited to the customer's needs," he surmises.
The customer becomes the focal point of Macrocomm's operations, as the information detailed above is subsequently stored, protected, and analysed to provide "usable and actionable" insights centred around the individual problem statement of the customer.
"All solutions are bespoke and tailor made to the customer's needs," Moodley comments. Macrocomm ensure that the customer's best interests are at heart by making these tailored solutions as affordable as possible and guaranteeing cost-efficiency by integrating solutions into existing systems.
"We are able to integrate into existing legacy systems from our Big Data analytics platform, thus providing cost effective solutions to the customer," he explains.
"We also provide training on these platforms for both the private and public sectors, ensuring the end-user is equipped to deploy these solutions effectively."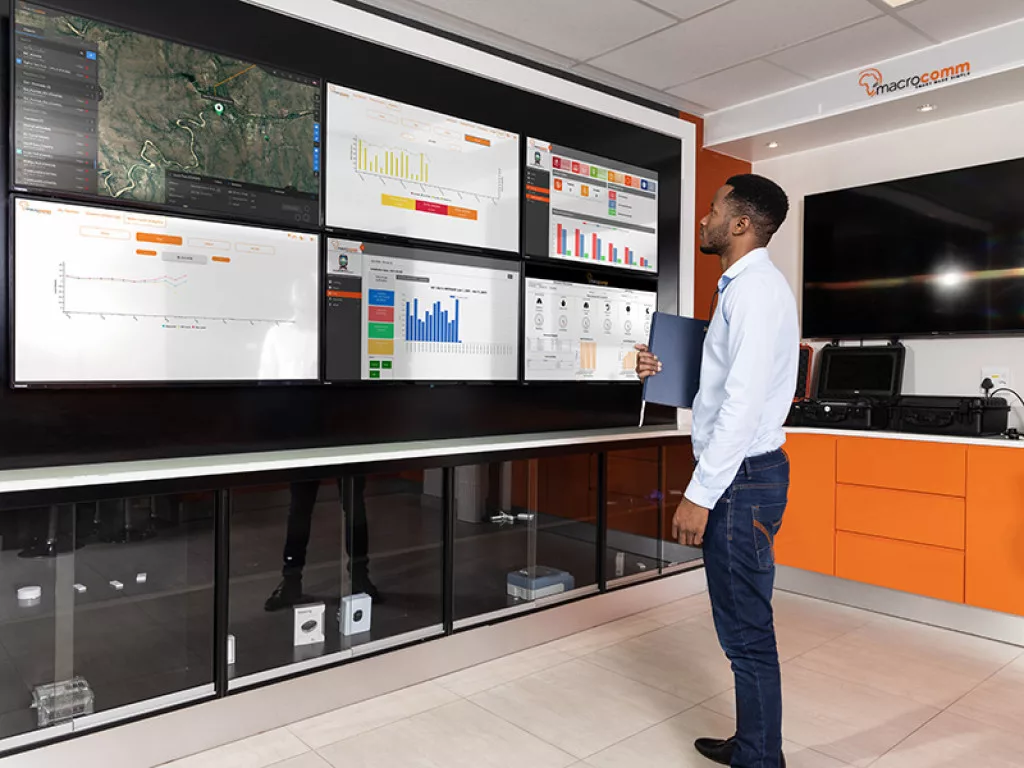 ESTABLISHING THE ECOSYSTEM
Reflective of both Macrocomm's humanistic concern in tackling society's greatest problems, and their commitment to training to ensure customer confidence, is the company's treatment of their workforce.
Here, education and training are equally prioritised and individual employees valued in the same manner as the customer.
"Training and development are a core focus for our internal team; therefore, we have a group structure that allows staff to not only grow within Macrocomm but also within the group.
"We believe that by investing in Marcocomm and growing the company, you are controlling your own destiny and cultivating your own growth as an employee of the group. If the company grows, so do the employees' careers," Moodley states.
Thereby, Macrocomm ensure that staff feel empowered and valued – a sentiment that is firmly entrenched in the company's vision.
"Macrocomm's vision is to be a corporation that not only focusses on delivering profits but also conveying an environment that is conducive to a healthy work-life balance and ensuring that we continuously grow and up skill our staff and partners."
Macrocomm mirrors this commitment through corporate social investments; investing a significant amount into technological training and development. Such initiatives are designed to promote and encourage a symbiosis between humans and technology, fostering an advantageous relationship through job creation and economic empowerment.
"We do not believe that technology will replace the workforce, but rather that it will empower, enable and uplift people to continue developing and establishing new solutions that will not only create more jobs, but also keep the industry fluid and continuously improving," Moodley comments.
Macrocomm's sponsorship of 'Project Liberate' perfectly elucidates this commitment to accessibility.
"This is an initiative that is aimed at providing training to the disadvantaged youth on technology.
This is done by providing the devices (laptops, connectivity and a technology programmes to learn from) as well as a facilitator for the entire year to ensure these delegates are educated and computer literate.
"The delegates have excelled in their learnings from these classes and managed to win a robotics contest in 2020. Not only are we sculpting the next generation but we are giving these kids something to look forward to. They have an eagerness and motivation to attend these classes every week and learn as much as they can," Moodley tells us proudly.
Partnerships are an integral component to establishing the technological ecosystem that Macrocomm envisions. Here, training is equally important. All Macrocomm partners are provided with NQF Level Four training across all solutions and platforms.
As with the growing number of partnerships outlined above, the Macrocomm ecosystem is an ever expanding entity, both in the virtual world and the physical.
"We are in the process of opening an office in the US. In addition, office expansions in Canada and Australia are in progress," Moodley tells us.
"Macrocomm believes that our solutions can be applied and used throughout the world and therefore consult problems that are faced by many countries around the globe," Moodley concludes.
With a business model that caters to universal problems, Macrocomm is ensured a global future.