Landmark Africa has executed mixed-use developments in Africa, creating a unique set of business, leisure and lifestyle destinations across the continent.
Paul Onwuanibe grew up between two cultures.
"I had an interesting start to life in that my parents were diplomats in the UK; although I maintain dual citizenship, I see myself as a fully-fledged Nigerian even though I was born and grew up in London. At the age of 10 my father decided to send me to boarding school in Nigeria because he wanted me to have that Nigerian experience. With hindsight, it was an excellent decision. A lot of my early influences and relationships came from there," he recalls.
Onwuanibe studied architecture to degree level in University of Nigeria, but after he achieved the prestigious RIBA certification in the UK, concluded it was not where his long-term interests lay.
"I realised I didn't really like the detail of architecture, although I enjoyed the imagination and creation of it," he explains.
Following three years working in an architectural practice in the UK, he joined a property management and construction company, a position that took him to over 60 countries, opening over 200 offices. He also worked with the founder of Regus, who inspired with his entrepreneurial journey of turning a €200,000 company into a multibillion-dollar investment in eight years.
"I learnt a lot about property, human behaviour, city infrastructure, finances, supply chain, and about the commercial needs of businesses in the global marketplace. I also appreciated the importance of having a good office services platform within a certain sector," Onwuanibe says. "I eventually decided it was time to embark upon my own entrepreneurial journey. And that's when I thought of Landmark."
He started Landmark in 1997 in London. The aim? To help smaller businesses access well-located, high-end office spaces at a reasonable cost, thereby enhancing their brand's image. The name Landmark, he explains, epitomises 'image, 'destination' and 'location'.
Before long, Landmark was operating across seven different European countries as well as the city of New York in America.
"I then thought to myself, 'we must really do this in Africa, because Africa is so undersupplied; very virgin and very new and in dire need of an office network platform,'" its founder explains.
In 2003 Landmark Africa was born. It opened offices across four different locations on the continent over the period: Johannesburg, in the south; Lagos, in the west; Nairobi, in the east, and Cairo, in the north. At the time, big international players such as Dell, Siemens, Google and Microsoft had recently moved into Africa – many of these companies became Landmark Africa's clients.
Fast forward to the present day and Landmark Africa has transformed from solely being a property development company to creating a set of business, leisure and lifestyle destinations that are unique to Africa.
"We have every sector and every service within our ecosystem. Health facilities, education facilities, offices, business facilities, F&B outlets, hospitality, sports and retail. We even have the only in-city private beach on the West African coastline, so we believe we have developed a vastly different and unique live, work and play platform," Onwuanibe says.
PIONEERING MIXED-USE DESTINATIONS
It is not just Landmark Africa that has changed, but also the sector it works in.
"The property development industry is changing dramatically in Nigeria," Onwuanibe explains. "It's a lot more mature and evolving; there's a big increase in institutional developers and it's a lot more diversified than it used to be. There's a larger view of property as an economic driver. Before, developers literally used to just develop properties for their own wealth store, and pass it onto their children and grandchildren, but property is now being used as an economic tool."
He proceeds to outline further benefits, such as improved transparency within the sector, more financial opportunities, and businesses beginning to embrace technology and sustainability. But there are challenges too.
"There's a commodity collapse from time to time, which is a key risk for investors, and fiscal slippage, as a result of things like this. Sometimes there's a big disruption from the reform agenda the government have set up – the state and geopolitical environment is important to property. Developers are still trying to grapple with the bureaucratic nature of the regulatory environment and the multiplicity of taxes.
"We're not in a continent where infrastructure development appears to be a priority to the government, so a lot of private organisations have to create their own infrastructure at great expense and pain" the CEO says.
Against this geopolitical and economic backdrop, it is easy to see why mixed-use developments are popular. For a start, they help combat the efficiency, security, traffic and infrastructural challenges, as they involve the juxtaposition of multiple facilities in one place.
The 'walkability' of mixed-use developments not only enhances quality of life for residents, but can also help revitalise an area, increasing private investment, creating efficiencies, promoting tourism, and supporting the development of a good business climate.
"We are proud of our mixed-use platform, which has changed the lives of a lot of people and organisations; just in the way they see real-estate and how offices and homes compliment the leisure and entertainment platform in Africa," Onwuanibe explains.
LANDMARK PROJECTS
One of the company's flagship projects is Landmark Village, a four-hectare mixed-use site along an eight-hectare private beachfront in Victoria Island, Lagos.
There are various amenities available, including restaurants, cinemas, apartments and hotels, retail units and office spaces. The development also boasts the only in-city beach on the West African coastline, which offers leisure activities such as quad biking, paintball, AstroTurf football, mini golf, volleyball, basketball, and water sports. It is bordered by the 1.6 kilometre Boardwalk, West Africa's first pedestrian and cycle path along the Atlantic Ocean.
"It's one of the most visited destinations on the West African coastline – we had 2.6 million visitors in 2019 alone. Our destination encourages people to come together and on average our visitors probably spend about $10 per head, a number which will significantly increase as we execute the next phase of our hotel and residential development. Our whole mixed-use live, work and play philosophy is unique," Onwuanibe comments.
The company will continue to develop Landmark Village by adding a four-star hotel and tailormade affordable luxury apartments that will give its residents access to all the facilities of Landmark Village. It recently added an open-air retail boulevard to the Village, inspired by City Walk in Dubai.
"I'm excited about creating something called the Landmark Dream Theatre, which will be like the O2 in Greenwich, London or Maddison Square Gardens in New York City. It will have an indoor arena for events, sporting activities, concerts and exhibitions – there's nothing like that in West Africa," Onwuanibe proclaims.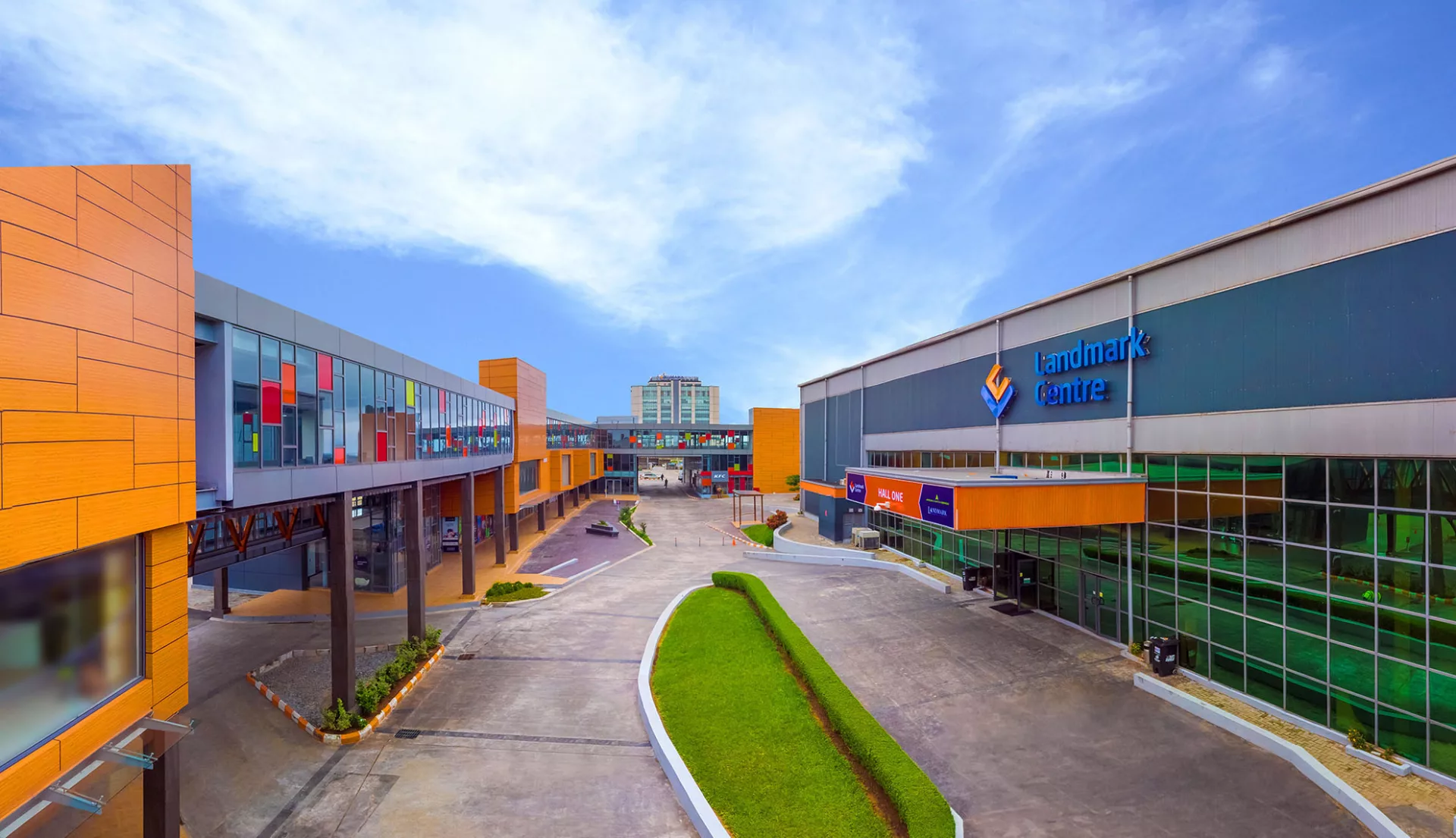 RELATIONSHIP-BUILDING
The CEO believes that one reason for Landmark Africa's success is the positive relationships it has built over the years with businesses, clients and suppliers.
"We basically built our business on trust and partnerships," Onwuanibe says. "The property market is all about the value chain, and the supply chain is a significant part of that chain – power, facilities management, mechanical engineering, structural and all the fittings/furnishings.
"You're dealing with different industries, different suppliers, different investors and different clients whilst you continue to build those relationships with your stakeholders. They say, 'if you want to build fast, go alone; if you want to build far, go together'."
Undertaking construction projects in Nigeria can be challenging, as around 60 percent of building products come from outside the country, necessitating the establishment of cross-border supply chains. Landmark Africa therefore must import products and transport them to its construction sites, a process Onwuanibe describes as interesting, but incredibly challenging.
The company builds positive relationships with banks and other financial institutions to stay in business, something the CEO explains that Landmark Africa has done to great effect.
"I'm proud of the way we've dealt with financial institutions," Onwuanibe adds. "We've worked with Standard Bank, Diamond Bank (now Access Bank), who have financed us across several projects over the last decade. To date we have received over $100 million of finance and have paid every penny back, mostly ahead of schedule.
"It's important to keep your word, and it's important to treat loans with the respect that they were given to you. It also ensures people come back and continue to finance you."
LOOKING FORWARD, GIVING BACK
But Landmark Africa's meteoric rise has been temporarily slowed down by COVID-19.
"From a real estate point of view, obviously the pandemic hurt. In December, we had more than 350,000 people visit Landmark. In June, at the height of the pandemic, we had less than 600," Onwuanibe says.
He describes the pandemic as a 'black swan event', meaning it is characterised by extreme rarity and enormous impact.
"There are several things you have to pay attention to during a black swan event. One of these is the supply chain. Another is to ensure that people remain economically active, and three is to think about welfare, making sure people have access to essentials," the CEO says.
With so much mixed-use space going idle, Landmark Africa used the opportunity to give back to its community.
It partnered with YPO and the Lagos state government to develop a temporary field hospital on its property to help flatten the coronavirus curve in the country. The 80 beds hospital had 10 critical care beds, and world-class facilities. Around 400 patients passed through its doors, and there was an extremely low mortality rate. One of the highlights was treating and discharging a 98-year-old woman.
This caring ethos is not new – Onwuanibe has long believed in the importance of giving back. He is the past President and Founder of The Human Race Foundation – a diaspora-led philanthropic, charitable, and commercial network – and the Board Chairman of the Lakeshore Cancer Centre, the first operational facility dedicated to cancer prevention and treatment in Nigeria.
Landmark Africa is also committed to the welfare of its clients and visitors. It is working hard to COVID-proof its developments by re-engineering its spaces.
"It has been difficult – we preach social inclusion, while the pandemic preaches social distancing," the CEO says.
He explains that buildings developed in the future will have to take into account social distancing measures: corridors and bathrooms will need to be larger; there will need to be an increase in open-air areas; the number of touchpoints will need to be reduced; and much more. But despite this need for futureproofing, and the financial hit caused by the pandemic, Onwuanibe remains resolutely optimistic about the future.
"The first goal is to get through this pandemic and come out of it not just surviving but thriving," he says. "We're creating a whole new system for access to our busines ecosystem. Landmark Online will ensure the ecosystem patrons and partners can take advantage of most of our services and offerings remotely.
"Secondly is to focus on creating destinations in more African countries, changing the way people think about leisure, hospitality and entertainment in a residential and commercial setting. We want to create new bubbles where you can live, work and play in the same environment and you feel safe and secure; you don't have to deal with traffic, you have all the infrastructure and all the services, overlaid with a customer service experience previously unknown in this part of the world.
"That's a big priority for us – to strengthen our brand and improve the way people think about our industry, our continent and our country."
With its unique philosophy and ethos of transparency and trust, we are in no doubt that Landmark Africa will succeed in its mission.