Sowing the seeds of a more sustainable future, OCP Africa is transforming the agriculture industry one crop at a time. We dig through the company's inspirational story with Country Manager, Oluwatoba Asana, and Chief Operating Officer and Senior Vice President (East Africa), Mohamed Hettiti.
COMMITTED TO THE CONTINENT
Africa is the land where life began.
The continent possesses the unique potential to feed the entire world, but to do so, it requires fertile land and rich soil to produce the right products at the right time.
Today, African agriculture is at a transformational moment in its history and finds itself at a time of incredible possibility and promise for farmers and industry players alike.
The question of whether Africa can become a world leader in sustainable farming, using local resources to realise the continent's vast agricultural potential and help feed its growing population, is one which continues to surface year after year.
OCP Africa believes that the answer to this question is a resounding yes.
"We are committed to working hand-in-hand with the people who will make this a reality, notably the African smallholder farmers, and enabling them to move from subsistence to a more modern way of farming," opens Oluwatoba Asana, Country Manager of OCP Africa.
As a subsidiary of OCP Group – a leader in plant nutrition and the world's largest producer of phosphate-based fertilizers – OCP Africa was created in 2016 to contribute to the sustainable development of African agriculture.
"We develop fertiliser solutions customised to local conditions, soil and crop needs, and we also work with partners in many different African governments, non-profits, and private enterprises to connect farmers to the agricultural services, knowledge, and resources they need in order to prosper," he sets out.
Based in Morocco and now boasting a presence in more than 35 countries, as well as 12 subsidiaries and employees representing 17 nationalities, OCP Africa is proud to be a multicultural African company working together with farmers and partners across the continent.
"At OCP Africa, we understand the diverse and complex needs of Africa's soils, and we are committed to offering the right fertiliser products at the right time, in the right place, at the right price," says Asana.
It remains entrenched in the company's DNA to support smallholder farmers to thrive. As such, OCP Africa has invested heavily in developing strategic partnerships with governments, institutions, experts, and other players in the agricultural field to provide the full range of support farmers need to prosper.
"I am very passionate about developing the agricultural sector in Africa and committed to making a positive impact on the continent," outlines Mohamed Hettiti, Chief Operating Officer and Senior Vice President (East Africa) of OCP Africa and Managing Director of OCP Africa Fertilisers Nigeria Limited.
"Agriculture provides us with food, fuel, and fibre, and it plays a vital role in the global economy," he adds.
OCP Africa provides a comprehensive range of services to farmers and supports the robust development of the African agricultural sector.
It has been proven throughout history that one-size-fits-all farming processes and fertiliser systems do not work. It is for this exact reason that OCP Africa is aiming to contribute to the transformation of the agriculture industry.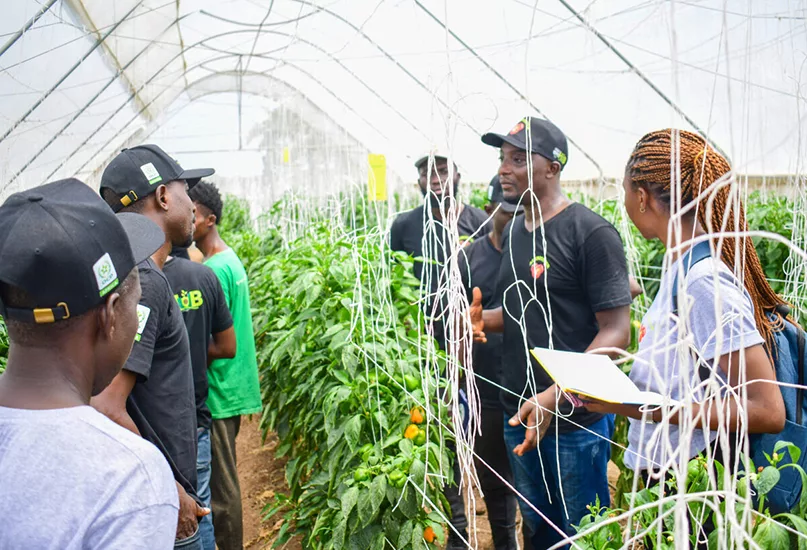 ---
HOW DID YOU FIRST BECOME INTERESTED IN THE AGRICULTURE INDUSTRY?
Mohamed Hettiti, Chief Operating Officer and Senior Vice President (East Africa): "I became interested in the agricultural industry because I believe it is essential to our survival and well-being. I am also interested in finding solutions to the challenges and opportunities facing the industry today, such as climate change, food security, sustainable agriculture, and turning subsistence farmers into commercial farmers.
"I am a seasoned leader with 25 years of experience in the mining and engineering, procurement, and construction (EPC) industries. I have a track record in delivering complex projects, driving growth, and leading teams towards success.
"I joined OCP Africa in 2001 and in 2008 I became a Project Manager, responsible for the group's development programme in the mines before being promoted to Project Director in charge of the slurry pipeline downstream facilities.
"In 2018, I was appointed Managing Director of OCP Africa's subsidiary in Nigeria before being named Senior Vice President for West Africa in 2021.
"In September 2023, I was appointed the Chief Operating Officer of OCP Africa and Senior Vice President (East Africa)."
---
PUTTING SMALLHOLDER FARMERS FIRST
OCP Africa takes an end-to-end ecosystem approach that starts and finishes with the smallholder farmer, whom the company always puts first.
"We develop fertiliser solutions customised to local conditions, soil and crop needs," Hettiti divulges.
Smallholder farmers make up 70 percent of sub-Saharan Africa, and the company believes that empowering this population is key to improving agriculture yields and producing enough food to feed the constantly growing population.
OCP Africa does this by focusing on four main areas, the first of which is using customised fertilisers, soil nutrient mapping, and agronomic testing.
"We invest in soil nutrient mapping and soil and crop management testing, and we develop new customised fertiliser formulas to increase crop yield," Asana elaborates.
So far, more than two and a half million farmers have benefitted from OCP Africa's programmes and initiatives.
Elsewhere, in terms of holistic, farmer-centric support, OCP Africa brings together partners throughout the value chain to provide the full range of support that farmers need to thrive – from skills training and soil testing to accessing financing and insurance.
"Regarding AgriTech innovation, we are exploring digital agriculture and other innovations that can increase crop yield and assist farmers with other necessary inputs, services, and marketing tools."
Finally, concerning infrastructure and logistics, OCP Africa is investing heavily in production and logistics, including fertiliser blending and storage facilities in many countries.
"We are tremendously excited about what digital agriculture could mean for Africa. We have developed a digital platform, UDONGO, to meet the needs of all stakeholders in the agricultural value chain, hosting many value-added solutions," Hettiti acclaims enthusiastically.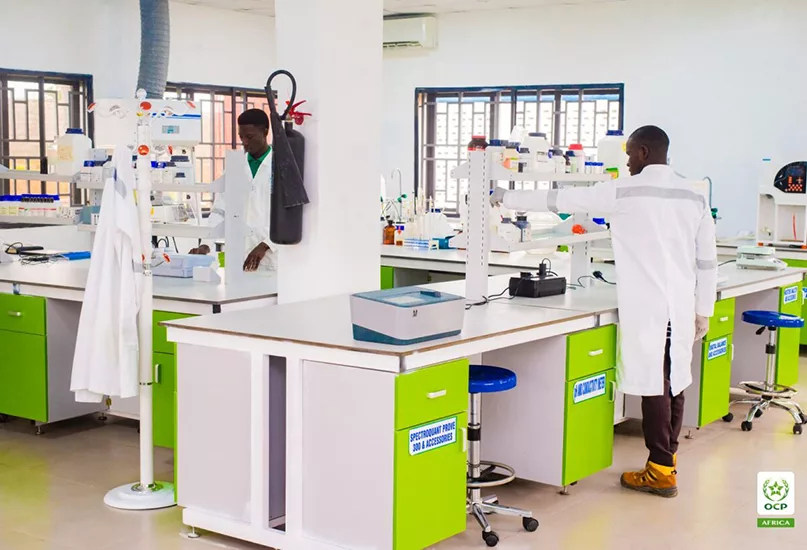 INVESTING IN THE FUTURE
One crucial development for the company arrived when Trade Hub recently awarded a USD$1.4 million co-investment grant to OCP Africa.
The hub, funded by the United States Agency for International Development (USAID), aims to help boost specialised fertiliser production in Nigeria to help farmers grow crops on a commercial scale and support food security in the country.
"The co-investment grant has also helped in supporting the installation of modern equipment within the Kaduna fertiliser blending plant facility. The best-in-class blending equipment produces specialised fertilisers that will guarantee bumper harvests for farmers and support food security in the country," explains Hettiti.
"This facility and range of equipment produces various fertiliser blends customised to the needs of rice, maize, soybean, cassava, tomato, and other staple crops grown in Nigeria," he continues.
These specialty blends of fertilisers have been proven to increase farmers' yields by 50 to 85 percent per hectare depending on the crop, and complement the Nigerian government's policy to leverage locally available resources in the expansion of food production capabilities. The grant was given in furtherance of USAID's Feed the Future initiative and its objective to ensure food security in Nigeria.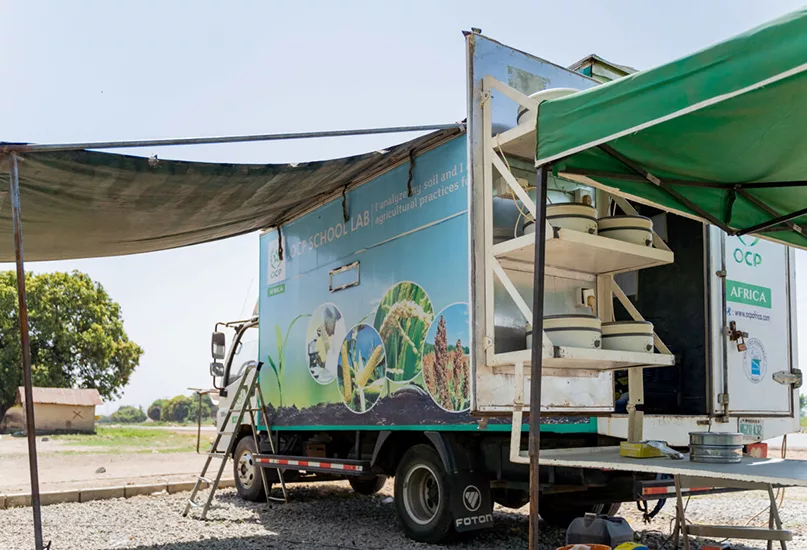 INNOVATIVE VENTURES
Agribooster is a flagship programme for OCP Africa that aims to support smallholder farmers across the continent increase their productivity and incomes. The programme provides farmers with access to affordable and appropriate fertilisers, as well as training and support on best practices for crop management and soil conservation.
The programme is currently operating in 10 African countries and has benefitted over one million farmers since its launch in 2017. The project is important to OCP Africa because it is a key part of the company's mission to contribute to the sustainable development of African agriculture.
Elsewhere, the Women in Agribooster programme is a targeted initiative within the broader Agribooster programme that aims to empower and support female farmers.
"The Women in Agribooster programme is important to OCP Africa because we recognise the important role that women play in African agriculture. It has been established that about half of smallholder farmers are women and they produce 70 percent of Africa's food, but they do not have access to resources like their male counterparts," Hettiti outlines.
The initiative intends to address the gender gap in agriculture and promote gender equality in the African food system.
"The Women in Agribooster programme is important to OCP Africa because we recognise the important role that women play in African agriculture"

Oluwatoba Asana, Country Manager, OCP Africa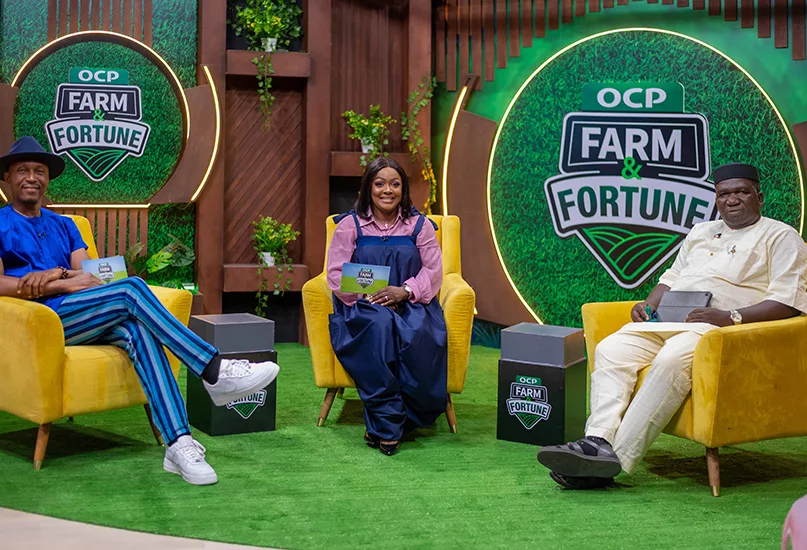 FARM AND FORTUNE
Farm and Fortune is a Nigerian agricultural talk show that was launched in 2020 by OCP Africa at the height of the COVID-19 pandemic. The show is currently in its fourth season and is hosted by Helen Paul and Frank Donga.
"The show features interviews with farmers, entrepreneurs, experts, and other stakeholders in the agricultural sector. Farm and Fortune aims to promote agriculture as a viable business and inspire young people to become farmers and agripreneurs," Hettiti reveals.
"It also features segments on the latest agricultural technologies and innovations. The show is a valuable resource for anyone interested in learning more about agriculture in Nigeria."
This year, OCP Africa has introduced a new bootcamp segment –#NextGenFarmers – aimed at engaging students who are agriculture enthusiasts and their teachers from secondary schools across Nigeria in an interactive programme that promotes innovation, problem-solving, and critical thinking. The bootcamp has allowed students to showcase their ideas, propose solutions to real-world challenges, and collaborate on agricultural advancements.
OCP SCHOOL LAB
Across the continent, OCP Africa is working relentlessly to bring together partners throughout the value chain to provide the full range of support that farmers need to thrive.
"One prime example is our School Lab programme. The school lab is a mobile soil laboratory that travels to meet the farmers, helps them test their soil, then makes fertiliser application recommendations for their soil and crop mix for free," Asana explains.
The school lab has already helped more than 650,000 farmers across Kenya, Nigeria, Togo, Burkina Faso, Ghana, Tanzania, Senegal, Rwanda, and Ivory Coast, and OCP Africa hopes to reach half a million within the next three years.
In cooperation with the International Center for Research in Agroforestry and CGIAR, OCP Africa's School Lab programme also helps raise awareness of the importance of soil testing by providing demonstrations with SoilCares technology.
The mobile laboratory goes to most remote areas during two to three defined campaigns, each lasting from six to 10 weeks when the vehicle is continuously on the road.
"Every day, the project stops in a new village to meet with smallholder farmers. The programme offers free live soil testing to between 30 and 50 key opinion leaders who have been pre-identified with the help of local institutions, but also from live training sessions for farmers from the surrounding area," he maps out.
This innovative programme aims to increase the strategic crop yields and incomes of smallholder farmers by offering interactive training sessions with live demos on good agricultural practices (GAP) and animated videos for higher impact.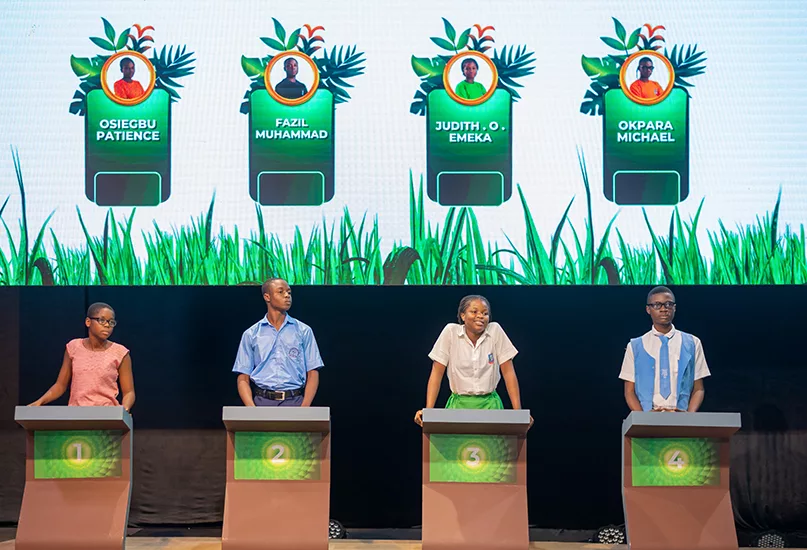 UTILISING A FERTILE ENVIRONMENT
Today, fertiliser use in Africa is much lower than it should be – the average amount used in sub-Saharan Africa is only 16 kilogrammes per hectare (kg/ha), compared to the global average of 138 kg/ha.
The logical and measured use of fertilisers is the only way to substantially increase crop yields per ha, thus limiting the expansion of agricultural land at the expense of already depleted forests. When applied correctly by OCP Africa, fertiliser helps to maximise short-term land use and, even more importantly, preserve it in the long term.
Developing customised products requires a deep understanding of the soil, crops, and the farmer's practices; in this way, OCP Africa's approach is based on several detailed levels of information.
"Firstly, we carry out an in-depth assessment of soil and crop response, which includes soil analysis to get fertility data of strategical and targeted regions, on-site field trials testing the crop response of developed fertilisers, and partnerships with local research and agronomy institutes to facilitate the dissemination of our results," details Asana.
Using an in-depth assessment of current agronomic practices, the company also engages in several partnerships to collect macro information on individual farmers and their environment. The aim is to develop adaptable, affordable, and scalable solutions for farmers.
Additionally, OCP Africa utilises geospatial technologies for developing nutrient management platforms. The company frequently deploys satellite imagery and geospatial data to enhance the quality of its results and help make decisions about the development of new formulas.
"The geospatial tools are important for developing digital soil mapping (DSM) related to soil fertility and yield forecasts," Asana acclaims.
Finally, OCP Africa carries out field trial programmes in Africa to address crop production issues that limit increased and sustained crop yields and smallholder farmers' income.
These field trials are designed and implemented to determine the best inputs that can be offered to smallholder farmers depending on their country, crops, and agroecological specificities. It is this level of care and attention that OCP Africa prioritises giving towards critical industry players, such as the continent's farmers, that will prove most crucial in helping Africa reach its agricultural potential.
OCP AFRICA PARTNER