Supplying the globe with summer flowers all year round, we speak with Richard Fernandes, more commonly known as 'Kiki' Fernandes, CEO of Marginpar Group, to discuss the company's sustainable and people-centric business of making the world more colourful.
INTRODUCTION
"There is enormous potential within Kenya. From a cut flower perspective, the country has a unique global advantage being placed on the equator. This means that flowers can be grown year-round and, with the geographic variation in altitudes, a wide range of flower products can be produced in the country."
For Marginpar Group (Marginpar), this climate is most advantageous for a company that specialises in the growing, harvesting and supplying unique summer flowers to a global market. According to Richard, aka 'Kiki' Fernandes, CEO of the company and orator of the opening statement, Kenya is one of few places where such an operation can be based.
"Kenya shares this unique position in Africa with Ethiopia, and in South America with Ecuador and Colombia," he tells us. "There is nowhere else in the world where you find altitude on the equator!"
Marginpar grows more than 100 varieties of summer flowers across 16 different geographical locations and altitudes. This makes it possible for the company to grow every flower in its ideal habitat from the range of places available.
"We hold seven locations in Kenya, three locations in Ethiopia, cooperate with three partner farms in Tanzania and three partner farms in Zimbabwe," Fernandes elaborates. "In the Netherlands we have our sales and marketing operation where our flowers destined for the worldwide markets arrive to be checked, cut and prepared for distribution to various flower auctions and sales partners. The sales team also coordinates our global sales which go direct from Africa to the various global destinations such as Japan, China and North America.
"We employ almost 4,000 people across our operations in Kenya, Ethiopia and the Netherlands. Our partner farms employ another 1,000 people in total."
MARGINPAR MODEL AND CULTURE
The Marginpar business model is built around strategic partnerships at the core of which lay the relationships with company flower breeders, with whom the company has a special partnership. This enables the breeders to focus on the flower breeding process and the development of unique summer flowers that, after substantial testing, Marginpar then grows on both its farms and those of its partner farms across Africa. This partnership is built around exclusivity for the benefit of the breeder, Marginpar and its partner farms.
"The Marginpar culture motto: 'We grow our people, our people grow unique flowers', says it all," Fernandes tells us proudly. "Our culture is one of value, respect and empowerment of our people."
Marginpar believes that great things are never achieved by just one person; they are always achieved by teams that aim for collective goals and the collectively shared ownership on how to reach them. This collaboration makes use of thoughtful guidance that is given through 'servant leadership'; a leadership style by which one balances the two qualities of direction and service to support teams to perform. Another vital skill Marginpar trains its employees to apply is that of creating a collective focus; connecting all individual ideas and opinions into one shared vision on how to work on a topic or project as a team. Second to this, the company strives to communicate in an appreciative way to enable introvert and extravert personalities to provide input equally. In this way Marginpar tries to bring together the diversity of personalities, ideas and viewpoints and to forge them into a collective voice.
"Most people come in to do a good day of honest work. Servant Leadership, appreciative communication, are both ways to show respect for the contribution people bring," Fernandes explains. "This is so important because it leads to unlocking the hidden potential that lies within each and every one of us. Thanks to this attitude people can grow; from flower harvester to farm manager, if you unlock people's potential, great things are possible."
Consequently, Marginpar has a very low staff turnover of less than two percent. Showing respect, friendliness and solidarity, in which everyone's input is valued, largely contributes to this. Encouraged to be creative and open, no idea is a bad idea for the company, and it supports its employees in climbing the corporate ladder. This effect has not gone unnoticed, and even crosses international borders. Recently, Marginpar Ethiopia kicked off with Hamuka and soon partner farms in Tanzania will follow suit.
"We are all about creating a better place for people in the world we live in," Fernandes reinforces. "The beauty of it is that our Marginpar culture has a ripple effect in everyone's families, it acts as a multiplier. Everyone took the philosophy home and taught their children the good practices. The effect is huge because up to six (and in some cases even more) people benefit from, or are supported by, a single person at work."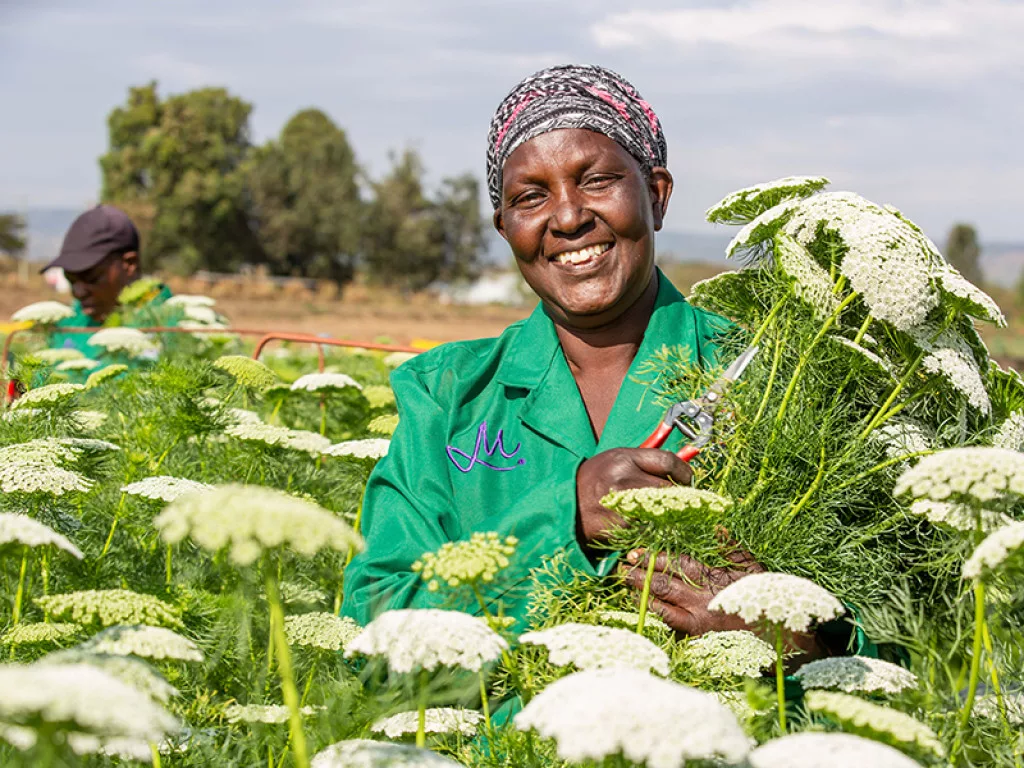 AUCTIONS AND STRATEGIC PARTNERSHIPS
Marginpar is a market leader in several product categories, and customers can find the company's flowers from New York to Beijing. The company currently produces around 300 million stems per year and is growing toward a production of 360 million stems annually.
Marginpar is strongly auction oriented. The majority of the company's flowers – around 75 percent – are sold directly at the Dutch flower auctions to wholesalers and exporters who trade them all over the world. Another part is sold to the company's strategic sales partners who offer the flowers in their web shops as well as cash and carries.
"We choose our strategic partners with care as they should fit into our vision, and we seek partners with whom we become stronger together, for the long term," Fernandes tells us. "We mainly focus on the European market, but our flowers are in demand worldwide. There are a few markets that we serve directly from our production locations: Japan, China and the US. Here too, we aim for strategic partnerships. For example, we have been working for many years with Classic Japan, our sole partner in Japan relating to direct shipments from Africa."
Additionally, Marginpar works together with Royal FloraHolland China to achieve an efficient logistic flow and facilitate settlements with Chinese wholesalers. Regarding North America, the company's preference lies with Miami as the entry point. Flowers from South America also arrive there, creating a logistics hub in the region.
FLOWER BREEDERS
"Marginpar maintains a very close, strategic relationship with its partner flower breeders – that's where innovation begins," says Fernandes. "We work together with both large and small international and Dutch breeders and apply the 'Marginpar model'; an exclusivity agreement where breeders and Marginpar jointly develop a variety and share in the success."
Marginpar also makes agreements on exclusivity, meaning that the breeders do not offer their plants to other growers in Africa as well as preventing the company from sourcing flowers from alternative breeders. This enables the business to supply exclusively grown flower offers in the market.
"The breeders cross-breed plants until a product emerges that fits within our range," Fernandes continues. "Subsequently, this crop is sent to our test fields in Kenya, Tanzania and Ethiopia to find the right breeding recipe. The trial process is very extensive; before a new product is approved, it is important to test whether the crop is susceptible to certain diseases and whether its shelf life meets our high standards. We also assess the ornamental value; we want to offer the customer the most beautiful product possible. It is a process of years until it is absolutely right, and the product can be offered on the market.
"We are constantly looking for new, special varieties to surprise the florist with, like the Talinum 'Long John' that won a Glass Tulip award last year. This award is given to the best novelty by Royal FloraHolland."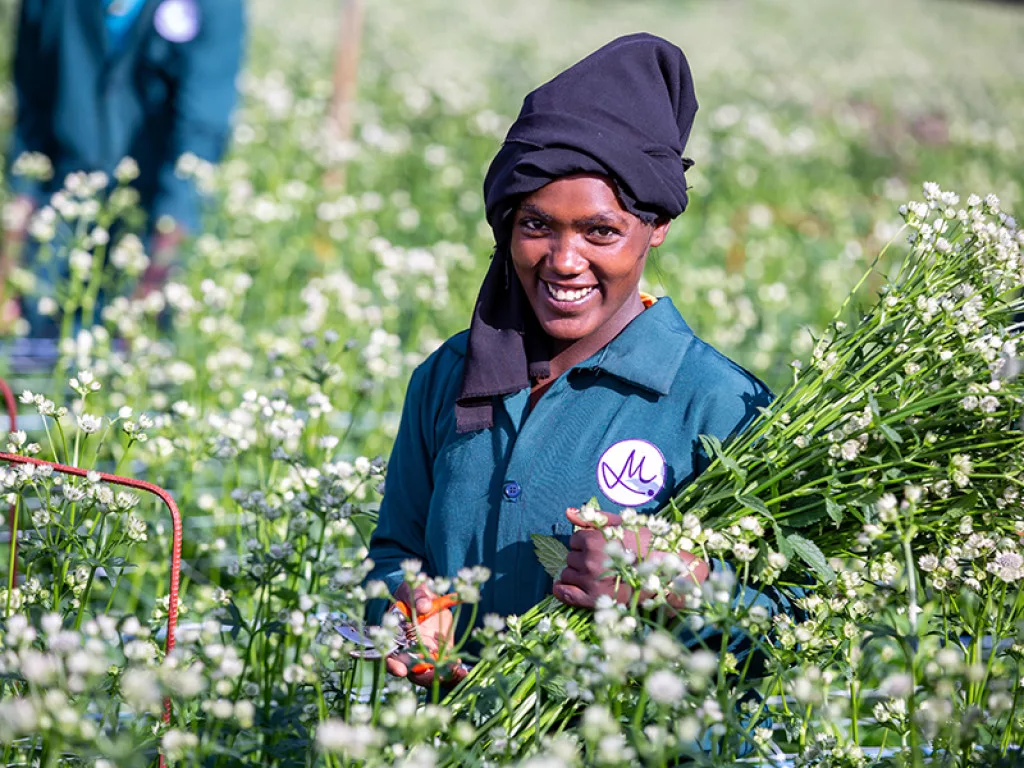 AGRICULTURE SINCE THE START
Having been born and brought up on a farm in Kenya, Fernandes has always been closely tied to the agricultural sector.
"My father began by farming sheep, cattle and cereals," he tells us. "From a young age I knew I wanted to be a small-scale farmer on the slopes of Mount Kenya. I studied agricultural management and after leaving university I worked as a freelance agricultural consultant.
"This took me across eastern and southern Africa from Ethiopia to Zimbabwe, but in the early 90's the opportunity arose to buy a farm on the slopes of Mt Kenya with my father.
We grew vegetables exporting them to the UK and European retail. When my father retired in 2001, after we sold the vegetable business, I bought another, greenfield site farm, again on the slopes of Mt Kenya. This time I was looking to grow something different, not vegetables nor roses because the margin had gone from growing vegetables, so I was looking for a crop to grow that was unique, different, even difficult to grow. But something that we could scale up."
Despite his peers moving onward into the rose business, Fernandes was looking for something different and special. The Dutch company Marginpar was set up in the late 80's as an agency for vegetable farmers in Zimbabwe and moved forward from Europe to provide new and unique flowers to Zimbabwean farmers, those including Hypericum and Eryngium, with Astrantia following later.
"I met Bate and Rob Koning, founders of Marginpar Netherlands, on a trip to Zimbabwe around the turn of the century," Fernandes elaborates. "They were looking for someone to grow Eryngium and Hypericum on the equator in Kenya for Marginpar, in order for stable production throughout the year. The timing was great; I was looking for exactly what they had, and the farm that I had bought – now our Kariki farm in Nanyuki – was perfect for the job they needed help with.
"We started growing Eryngium and Hypericum and quickly expanded our portfolio. By 2010 we set up four units in Kenya, one in Ethiopia and with six partner farms: three in Tanzania and three in Zimbabwe."
In 2018 the company acquired three other farms in Kenya, that were then followed by Kariki Kenya, Marginpar Netherlands and Marginpar Ethiopia merging into a single entity, giving Marginpar a unique place in the chain having expanded both vertically and horizontally.
"At present we are currently active in working closely with breeders, developing new products so that we can offer a very broad package," Fernandes tells us. "Our focus is on summer flowers that we supply all year round. Our flowers are unique and special-we aim to give the florist something different, to add a special touch to their designs.
"Our overall mission is trendsetting the market by empowering dedicated people who create the world's most unique summer flowers."
THE MARGINPAR FOUNDATION
Next year, Marginpar will be combining its community projects into its very own Marginpar Foundation. This foundation will focus on providing practical support, with each farm setting up a special team to identify projects in the areas that the company can help with.
"We don't just hand out funds, but also assist with the work. This includes education, health care, security, water, and more," Fernandes elaborates. "Our purpose is to create a better place for people in the workplace, but also in the world we live in. You spend so many hours at work; it should be a good environment and you should enjoy yourself, not just showing up because it pays the bills.
"We have a social responsibility. Everyone gets a good meal in our canteens, cooked by our own people, with vegetables grown on our farms. Each farm also has a medical clinic, which not only provides medical care when needed, but also a lot of health education. Our responsibility doesn't stop at the farm gate. We help build schools and extra classrooms, we improve roads, and we make free water points near our farms for the community."
Part of the funding comes from 'the Marginpar mix'. At the Dutch distribution centre, the company prepares auction trolleys with a fixed number of flower bunches per bucket.
"What happens next is that a few bunches of flowers are 'left over' because, for example, they put 80 bunches in flower buckets on an auction trolley and number 81 does not fit in," Fernandes tells us. "All these extra bunches are collected and mixed, so that florists can buy mixed flower buckets instead of the mono buckets that Marginpar normally supplies. This is especially interesting for the smaller florist, who does not need 50 stems of the same product. All breeders have generously donated their royalties from the mix.
"All proceeds of the mix go to the Marginpar Foundation. We are still working on setting it up, but we are passionate about the potential of the project to better our customers, partners and the company."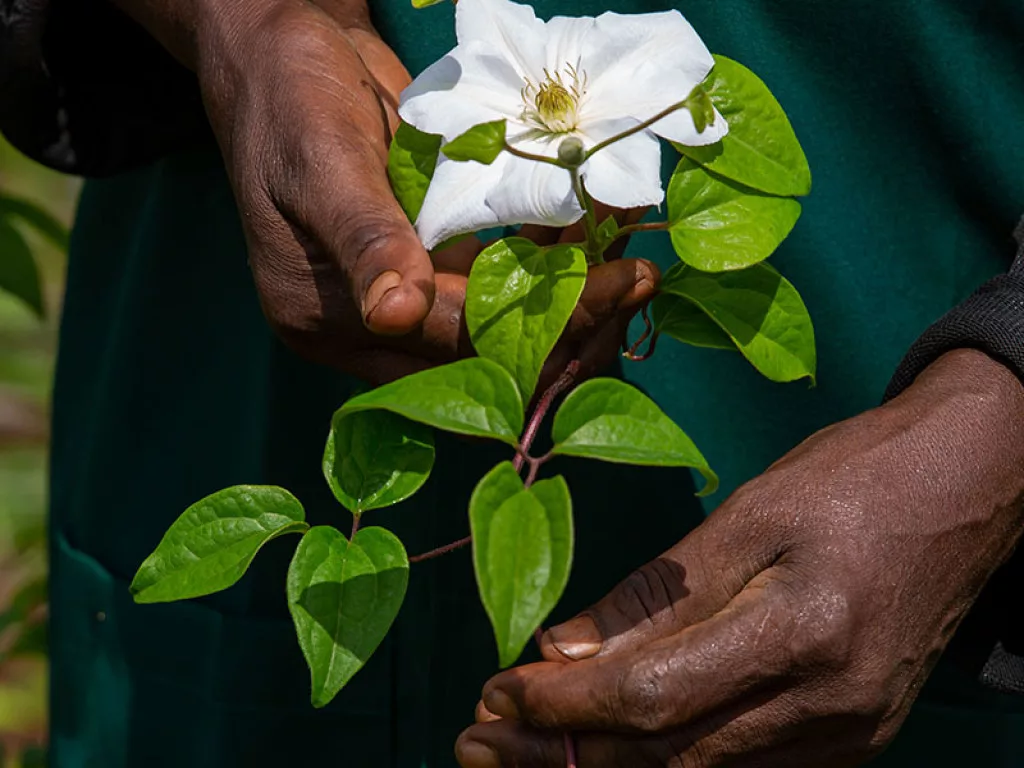 SUSTAINABILITY AND CERTIFICATION
When it comes to the topic of environmental welfare, Marginpar is serious about sustainability, with the company acknowledging its impact on the environment at all times.
"Sustainability is important for everyone; we should leave the world better than where we started," Fernandes reflects. "In addition to this intrinsic motivation to do better, we expect the market to demand more sustainable practices in the near future.
"Certification is becoming increasingly important. Consumers want to know where flowers come from, and how far they have travelled. Marginpar fully endorses this and supports, as a member, the sustainability initiative FSI2025. FSI stands for Floriculture Sustainability Initiative, which aims for 90 percent sustainable production for all plants and flowers."
Marginpar aims for a 100 percent sustainable production for all flowers, and certification exists as an important step in achieving this. All Marginpar farms are certified; Marginpar Ethiopia holds the MPS certificate, and each of the company's Kenyan flower farms have obtained the KFC Silver certificate and GLOBALG.A.P. The company's partner farms in Tanzania are also MPS-ABC and MPS-SQ certified, and partner farms in Zimbabwe are in the process of MPS certification, with the expectation to follow soon.
LONG-TERM SUSTAINABILITY
"Marginpar employs many people in rural African communities, and as such, we tick a lot of boxes already, but there are always ways to improve long-term sustainability, for example in the areas of water, energy and pest control," Fernandes elaborates.
"In terms of energy consumption, we are looking for ways to reduce consumption and generate our own energy. Solar energy is especially useful for pumping and cooling, as this is mainly done during the day when the sun is shining. Currently, many farms depend on boreholes for irrigation – we want to reduce that. To save the energy currently used to pump this water out of the ground, we need to collect more rainwater. This is also good practice for the earth in general, as it can prevent flooding and puts less pressure on aquifers. We store the water in lagoons so that we do not obstruct the flow or the rivers."
Marginpar also look for ways to reduce water consumption during business processes overall. A prime example of this is the use of Aquachecks; a probe goes approximately 40cm into the ground and measures the depth of irrigation water. In this way, the company can keep the water focused in the root zone by knowing when to stop watering. This has been shown to reduce water use by up to 40 percent on some farms.
"We are also concerned about preserving ecosystems and look for ways to reduce our use of pesticides," Fernandes informs us. "We practice 'spot spraying'; only spraying the specific areas that are as small as one metre-squared that are actually affected by a pest. We also use pest-specific and organic products and insects as natural enemies of certain pests. In addition, we are testing something new: a drone that detects and identifies pests and kill the bad ones without any chemicals, while harmless insects – such as bees that we need for pollination – are left alone."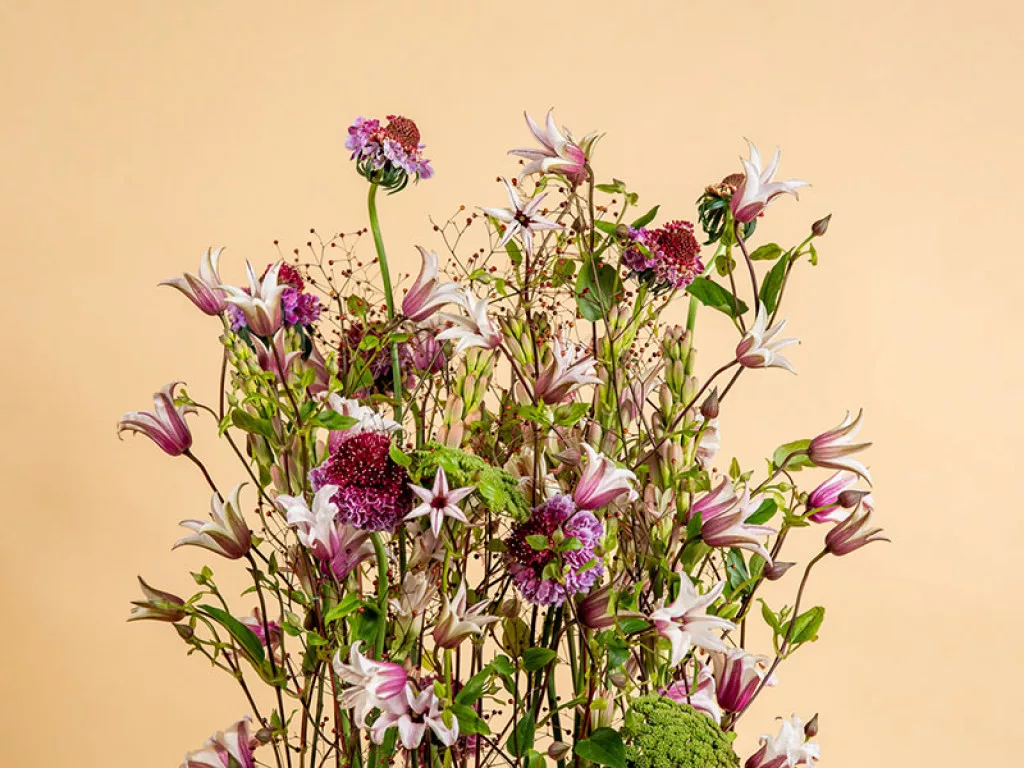 BEHIND MARGINPAR GROUP
For Marginpar, its international success comes down to the employees and partners that drive the company to new horizons. Forming one of key strategic pillars alongside strong branding, a unique product range, consistent quality and empowered employees, Marginpar takes care in identifying who to build strategic partnerships with, whether they are breeders, suppliers of goods and services, equity partners or others.
"A successful business cannot operate in isolation, so the relationship with strategic partners is of paramount importance," Fernandes affirms. "Our rule of thumb is that the partnership has to be good from both sides, there needs to be a common aim, if it's only good from one side it is not a true partnership. This is key for example when negotiating prices for goods and services – the price should be a fair price."
And when it comes to employees, Marginpar's motto: "We grow people, our people grow unique flowers", is a testament to the company's people-centric method of operation.
TRUST IN MANAGEMENT
"If you involve people in teams, and more specifically into natural self-managing teams, then you are on the road to unlocking the potential that lies within your people," Fernandes says. "The more that you can involve your people, the more you can empower them and the better you can work on reaching collective focus on what needs to be done, the more you will get back.
"Over the past 10 years we laid a foundation of Kaizen (Japanese for 'change for better'). With 'Hamuka', as we call Kaizen, we standardised our work processes. This has made a big impact on our organisation and is now fully embedded in the way of life of many of our employees."
Hamuka provides clarity and uniformity to the work processes and encourages people to engage their ideas to continuously improve these processes.
"This means we involve our people to understand the process flow from start to end and to learn how to talk with data," Fernandes explains. "And we empower the teams to not only carry out the right process every time, but to also continuously look at how they can improve them. The starting point is to roll out each step of the process in the right way, to have a checklist for each phase, from beginning to end. These teams drive continuous improvement and by doing so improve the end result. They understand every detail of every step in the process and see best what needs to be improved.
"The implementation of Hamuka changed the way people work. They saw people becoming happier and more confident in their work. Ideas are appreciated, people take more responsibility."
For Marginpar, Hamuka also regards moving away from the traditional 'top down' business management approach and embracing the servant leadership approach as a key element of company culture and organisation. In this way management does not entail those in positions of power exerting pressure to motivate and get things done, often with employees left in the dark about why they are undertaking such instructions, but instead improving each step of the management process so that it leads to individual employee empowerment and responsibility. And with a continually sustainable approach to every aspect of the business, Marginpar exists as a leading and progressive company in the agricultural sector, driven by values centred around its staff and the mission to bring more colour to the world through beautiful and unique flowers.
For more information regarding Marginpar Group, take a look at Linkedin for corporate and ESG information, and Instagram for flower inspiration and assortment.