Launched by MANERGY at the beginning of this year, IROKO Africa is enabling the development of eco-resilient and competitive industry in Africa. With Managing Director, Emilie Delevallee, we learn more about the group's first international subsidiary and how it is tackling the challenge of sustainable industrialisation in Africa in line with the Paris Agreement.
INDUSTRIALISATION CHALLENGE IN AFRICA
As agriculture, commerce, and industry expand in Africa, the demand for energy in the continent is set to grow by 30 percent by 2030. This emerging market and its development will lead to a significant increase of additional greenhouse gas (GHG) emissions in Africa by 2050. Minimising the impact of such growth on the environment is a key priority.
The rapid industrialisation expected on the continent over the next decade, if combined with energy efficiency measures and low-carbon energy technologies, could enable Africa to contribute to the global goal of reducing GHG emissions and thus mitigate the challenge of global warming.
"I believe Africa can shape a path for sustainable industrialisation, from which the developed world can learn a lot, through combining sobriety, low-carbon energy technologies, and the circular industry," outlines Emilie Delevallee, Managing Director of IROKO Africa.
Dedicated to low-carbon and climate resilient industries, IROKO Africa was launched in January 2023 as the first international subsidiary of MANERGY, a fast-growing consulting and engineering company specialising in energy and environmental transformation.
With 350 consultants and engineers and 40 years of expertise, MANERGY operates in France, South Africa, and Ivory Coast.
Its clients include Invivo, Corteva, Boortmalt, L'Oreal, Chanel, Novartis, Safran, Continental, Arcelor Mittal, Pesca Atlantic, Engie, Mitsubishi, Novakamp, and many small and medium-sized enterprises (SMEs).
"Our multidisciplinary team brings to life over 40 years of global technical expertise through emerging African talents, adopting a holistic and comprehensive approach that integrates all the technical, financial, and regulatory aspects of a project," Delevallee states.
ADDRESSING SIMULTANEOUS CHALLENGES
IROKO Africa is where Delevallee has found her purpose, driven by Africa's deep well of opportunities and resilience in the face of Earth's limited resources, climate change, and the need for industrialisation.
"While there may be material poverty here, I see a wealth of determination, grit, and an abundance of hope that should call the global community to action," she mentions.
To help African industries reach net zero emissions while being resilient, IROKO Africa's strategy is based on four interconnected pillars:
Energy efficiency (energy audits, digital EMS solutions).
Off-grid hybrid energy (power, heat, cooling) systems (production, storage, digital EPS solutions).
Carbon management (carbon auditing, carbon finance, carbon reporting).
Climate adaptation (physical risks, transition risks, scenario analysis).
When it comes to industrial transformation and decarbonisation, there is still very little attention paid to heating and cooling processes, despite it representing more than half of industrial energy consumption and GHG emissions.
However, with the emergence of new technologies such as waste heat recovery, thermal solar, high temperature heat pumps, heat batteries, district heating and cooling, and ocean thermal heat conversion just to name a few, it is now possible to address the energy challenge more holistically. That is IROKO Africa's main focus.
"This is complex, as designing such hybrid energy systems requires a very good understanding of how energy is consumed in various manufacturing processes. It is all about technologies and systems integration," says Delevallee.
As well as having more than four decades of expertise in heating and cooling technologies, another of IROKO Africa's competitive edges is the services it offers through the entire low-carbon and climate resilient industry value chain, with the end purpose in mind.
Over the next 30 years, value hot spots are going to migrate as new low-carbon technologies reach maturity, climate change impacts key industrial processes and supply chains, and consumer behaviour disrupts traditional business models.
Progressively moving from an energy-efficient industry to a circular industry is a complex, transformative journey, but an equally interesting and fulfilling one.
"We have decided to be a partner in the long run, addressing systemic, multi-disciplinary, and interrelated challenges. This is the result of our core values, as well as our ability to connect the dots and unpack complex issues into manageable pieces," Delevallee tells us.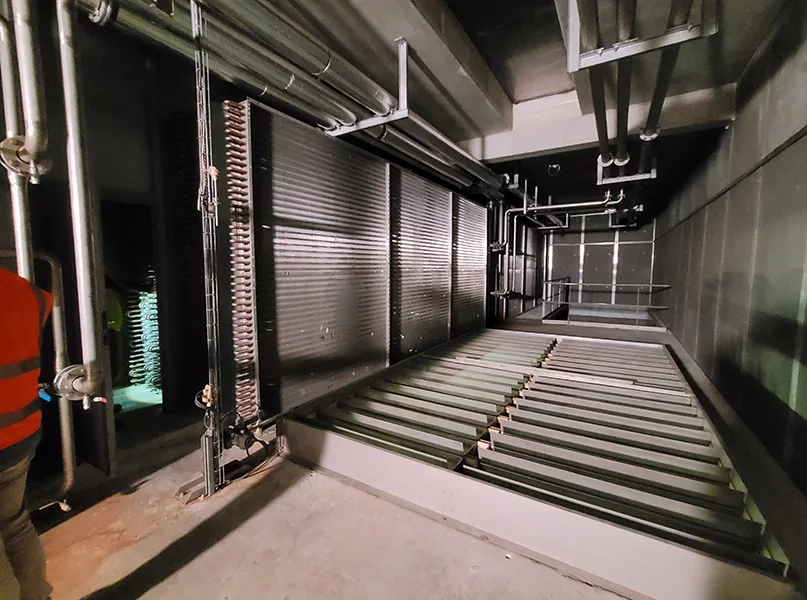 ENGAGING WITH TECHNOLOGY INNOVATION
IROKO Africa is technology agnostic, whose mission is to screen and integrate different technologies to provide industries with tailor-made energy solutions that guarantee maximum energy and GHG savings.
"One of our strengths is technology screening. We constantly look for new technologies on the market; some of them are real game changers," says Delevallee.
As the climate change challenge has no frontier, IROKO Africa engages with technology providers across the world, from Africa to Western Europe, North America, Israel, Japan, and Australia.
SUCCESS STORIES
Cold Storage Facility in South Africa
Through the implementation of a hybrid system comprising 270 kilowatt peaks (kWp) of rooftop solar PV, 400 kilowatt hours (kWh) of lithium-ion batteries, as well as a new cold storage technology, IROKO Africa has allowed its client to save 65 percent on the cost of electricity while reducing its Scope 1 and Scope 2 GHG emissions by 35 percent.
Greenfield Malt Factory in South Africa
The company has also carried out a concept and feasibility study for an off-grid hybrid energy system at a greenfield malt factory in South Africa, that is able to produce about 40 megawatt hours (MWh) of electricity and 225 MWh of heat a day on a 24/7 basis.
These projects are great examples of how IROKO Africa is simultaneously tackling power supply security and low-carbon industries in South Africa.
"Designing the most appropriate energy system can only be achieved through an in-depth understanding of the manufacturing process as both systems interact simultaneously, particularly when it comes to heating and cooling," explains Delevallee.
As a result of these two projects, IROKO Africa reduced GHG emissions by 25,000 tonnes a year, the equivalent of around 25,000 flights from Paris to New York.
CLIMATE CHANGE ADAPTATION
On climate adaptation, meanwhile, Delevallee notes that Africa is the most vulnerable continent to the impact of climate change.
The emissions trajectory for Africa in the Sustainable Africa Scenario (SAS), combined with that of the Stated Policies Scenario (SPS) across the rest of the world, would lead to a substantial rise in the average global surface temperature, reaching 2.6°C in 2100.
But if emissions in the rest of the world were to follow the trajectory described in the Net Zero Emissions by 2050 Scenario, with Africa following the SAS pathway, the temperature rise would be limited to just over 1.5°C in 2050, falling to around 1.4°C by 2100.
In both cases, far more needs to be done to adapt to climate risks, and the industrial sector has a key role to play.
Industrial sectors will face two types of risk – physical risk, such as rising sea levels, extreme weather events, droughts, and flooding; and transition risk, which includes compliance with new export regulation.
"IROKO Africa helps industries to anticipate such risks using international and national frameworks to carry out climate resilience diagnosis and launch adaptation plans," Delevallee informs us.
2024 PLAN AND PRIORITIES
Looking ahead, IROKO Africa has three main priorities for the coming year.
The first priority is to consolidate its low-carbon and climate resilient industry offer in South Africa and Ivory Coast, with a particularly strong focus on the agro-processing and food and beverage industries.
Secondly, IROKO Africa will develop a compelling value proposition on geothermal energy for new industrial eco-parks for the East African Rift (EAR), which is endowed with significant geothermal potential for electricity production, as well as the direct application of heat.
Indeed, the group's core business has been geothermal energy, with more than 100 geothermal projects executed from concept study to operation.
"A great illustration is the 2024 Olympic Games where MANERGY has contributed to the design and implementation of a geothermal energy system (20 MW of heat and 15 MW of cooling) that will supply energy to the Olympic and Paralympic Villages," Delevallee said.
Thirdly, in partnership with Energy Pool, IROKO Africa is preparing to enter hard-to-abate industries, starting with cement.
"The cement industry alone accounts for seven percent of the world's carbon dioxide equivalent (CO2e) emissions and 45 percent of industrial CO2e emissions. Cement production is expected to increase by 25 percent by 2050, with most of the growth expected in Africa and India," Delevallee concludes.