Boogertman + Partners is an ambitious and innovative player in South Africa's architectural scene. We take a look at the firm and its people-centric projects impacting lives for the better.
DEDICATED TO DESIGN DEVELOPMENT
With a rich history spanning 41 years, Boogertman + Partners (B+P) has flourished into a prominent architectural firm renowned for its remarkable design capabilities, and creative presentation methods and process. Fostering its reputation further, the firm strategically recruited a team of partners who bring specialised knowledge in technical project delivery across the continent as well as contract administration. This deliberate approach has propelled B+P to be the go-to destination for aspiring young professionals and designers seeking architectural services. 
At the core of B+P is a dynamic team of directors who share a vision for design that is both innovative and contextually responsible. With a dedicated commitment to the entire building process, from project inception to execution, the team is complemented by talented professionals in various disciplines including urban designers, interior designers, architects and landscape architects. Boasting a total of 144 staff members and professionals, the firm also benefits from the expertise of in-house graphic design and marketing personnel, along with administrative staff, all of whom collaborate to make B+P what it is.
B+P is a Gold Founding Member of the Green Building Council South Africa (GBCSA). With increasing concerns over global warming and the pressures of growing urbanism, the practice fully supports the sustainable transformation of the built environment. Through an integrated design approach, B+P's project solutions create environments that are low in energy consumption, efficient and flexible, and encourage optimal healthy lifestyles.
Led by people-centric and green goals, B+P has garnered widespread acclaim for successfully delivering numerous iconic structures, such as RMB Merchant Place, Soccer City, Discovery Health Head Office, Department of Environmental Affairs, and many others. These architectural achievements have earned the firm significant recognition and accolades throughout Africa, cementing B+P's position as the most awarded practice on the continent.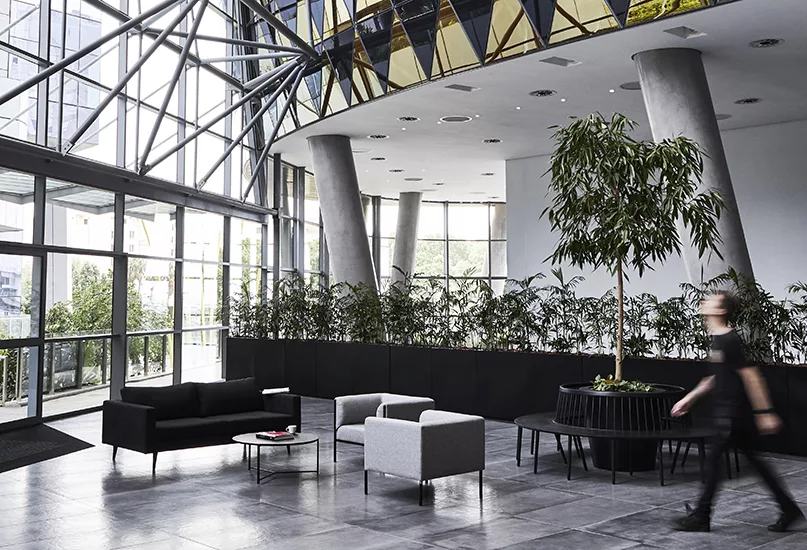 HEADING UP HEAVY INDUSTRY
It's certainly an exciting time for B+P; post-COVID-19, architecture in Africa has undergone a transformative journey. The company has encountered challenges along the way, but now there is a renewed interest in revitalising sectors that experienced a lull during the two-year period. Surprisingly, B+P is witnessing a surge in industrial spaces, office designs, and retail projects, which were initially expected to decline following the pandemic. The emphasis has shifted towards developing versatile mixed-use spaces that combine multiple functions within a single programme.
Designing for heavy industries like mining needs a distinct approach and a specialised skill set. Functionality, safety, robustness, affordability, and sustainability are all crucial factors that must be considered. In a recent project called The Village Masterplan, the design of the accommodation was primarily driven by construction methodology constraints and project timeline limitations.
The unit designs were determined by the housing categories specified by the client, which formed the foundation of the design brief and outlined the occupancy requirements and finishes for each unit. Due to the inaccessibility of the site, conventional construction techniques in the area, and project timeline constraints, the units featured simple forms and finishes, and the strategy involved arranging them in a way that prioritised the shared public space rather than emphasising architectural features.
One of the main design principles underlying The Village Masterplan was the creation of a "collective living environment" that harmoniously blended with the surrounding landscape. The housing buildings are grouped into clusters, arranged organically, and interconnected by winding walkways and communal entertainment areas. This configuration fosters a sense of collective social interaction, which holds significant importance for the client and the users.
Despite encountering limitations in B+P's designs across different industries, the company's primary goal is to consistently create spaces that uphold dignity for those who will inhabit them.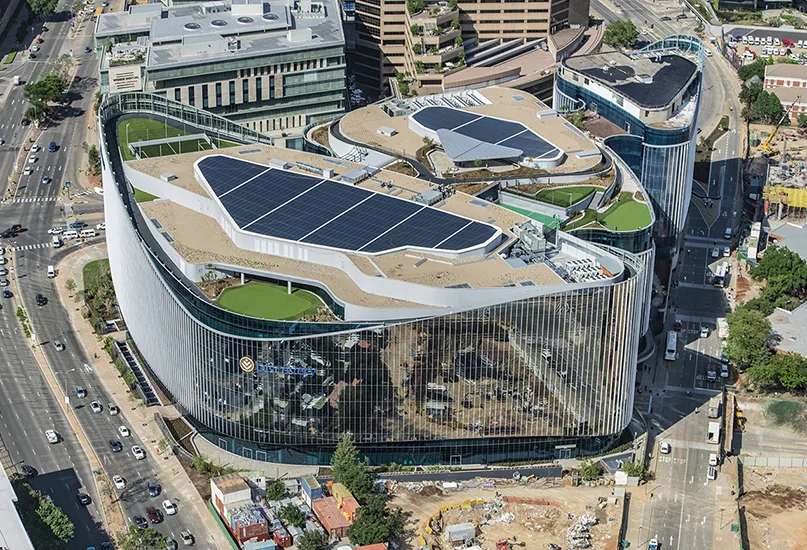 BUILDING COMMUNITY
Throughout the years, B+P has had the privilege of participating in several noteworthy retail projects across the continent, particularly in the last five to 10 years having successfully completed The Marc, Fourways Mall, Castle Gate, and The Neighbourhood Square. The firm has been at the forefront of introducing retail centres in small towns, recognising their significance as central meeting places for the communities they serve. Recently, the company concluded projects such as the Stimela Crossing Mall (Barberton) and Masingita Mall in SA, further exemplifying its commitment to local communities.
It is B+P's mission to lead the way in redefining collaborative retail design in SA and beyond. The company strives to involve the client, residents, business owners, and community leaders in the process, as their input provides valuable insights into the community's history.
Whether embarking on ground-up developments or engaging in exciting refurbishments, B+P's unwavering dedication remains the same — to prioritise the community. This communal element of operation envelopes the company's work in the education sector as well, driven by a deep focus on researching and designing spaces that facilitate learning and cater to various modalities of knowledge absorption. This approach is clearly demonstrated in projects like the Steyn City School in Johannesburg, where B+P collaborated with SCAD in a joint venture and incorporated design methods tailored to various age groups. The project encompasses thoughtfully designed interactive play areas for pre-schoolers, a state of the art library equipped with cutting-edge technology, and a science laboratory for older students. Every aspect has been meticulously planned and executed, reflecting a commitment to excellence. Insights gained through the company's research in education are exemplified in the award-winning Crawford International School in Nairobi. This school embodies the concept of communal interaction, with a central square serving as a hub for connectivity and learning. Furthermore, its modular design structure allows for flexible adaptation based on the specific climatic conditions of each school's location.
B+P recently concluded the construction of two notable educational centres, namely the crèche which is part of 8 Merchant Place and Thaba Eco Montessori. Situated on the second floor of a lifestyle centre within 8 Merchant Place, the creche provides a facility that opens up to a secure open-air playground exclusively accessible from the creche. This arrangement allows for the accommodation of babies, toddlers, and pre-schoolers, specifically catering to the employees of Rand Merchant Bank. As a result, parents benefit from the flexibility of being able to visit their children during lunch breaks and remain readily available in case of any emergencies.
Similarly, the Montessori school at Thaba Eco is conveniently located within the complex, making it easily accessible for the residents residing there. Such integration of educational institutions with other building programmes as an added service is becoming increasingly prevalent and advantageous.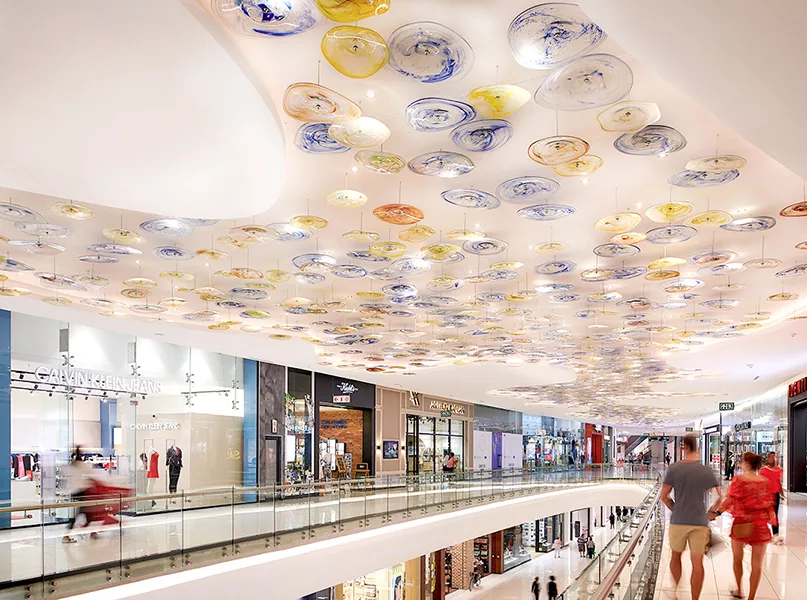 SHAPING FUTURES
B+P has been recognised as the leading architectural firm operating in Africa for 2023, according to Building Design's annual survey of World Architects. Presently, B+P has multiple offices in South Africa, an established office in Nairobi and is in the process of expanding its presence to other regions in East and West Africa.
B+P has successfully delivered a wide range of projects in 10 countries beyond South Africa. Additionally, the company has provided design and concept work in 24 countries, showcasing its understanding of the complexities and challenges within the architecture industry across Africa.
To effectively navigate diverse markets, B+P collaborates with local architects and maintains structured alliances with consulting professionals. This approach enables the company to drive projects from inception to completion in different countries. B+P acknowledges the obstacles it may encounter, such as limited infrastructure and technology, but as a firm born and operating in Africa, it possesses the necessary qualifications to overcome these challenges. If one thing is certain, the future holds exciting prospects for B+P as it looks ahead to the coming years.