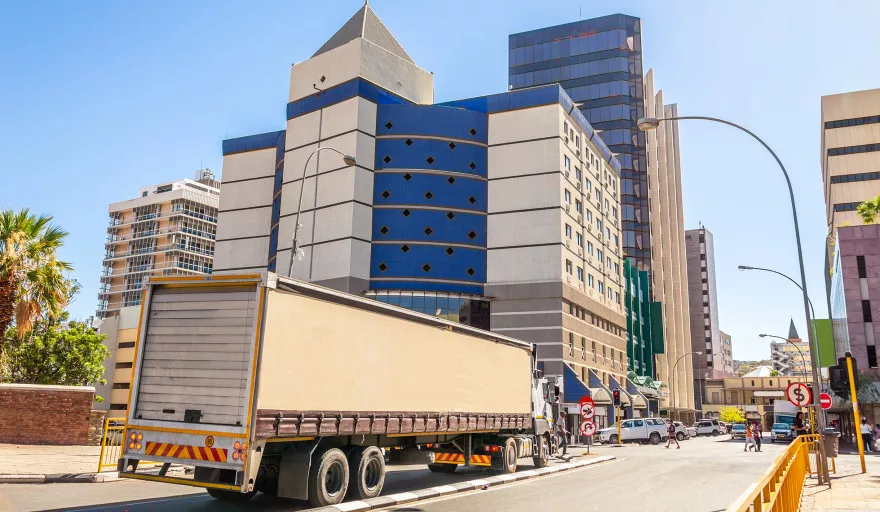 Business in Namibia
We explore Namibia and take a look at the most prominent sectors contributing to the country's economic growth
Writer: Marcus Kääpä
Neighbouring Angola to the north, Botswana to the east, South Africa to the south and with the Atlantic Ocean to its west, Namibia is a unique country.
Sometimes known to locals as the 'Land of Many Faces' due to its iconic and varied terrain, Namibia is notable for being both arid, and yet strangely beautiful as a result of its diverse geography, and is widely regarded as a gem in the African tourism space.
With a population of approximately 2.4 million, Namibia does not share the same size or scale of industries in larger countries, such as its neighbours, however, has in recent years completed the expansion of its port at Walvis Bay. This $300 million project is a key development in the country's aim to move forward and grow, with the intention of turning the port into a logistical hub for southern Africa that aims to answer the increasing demand for freight and maritime access for landlocked countries in the region; the port represents a gateway for more than 240 million people in the region's market.
On top of enjoying one of the most stable political environments on the continent, Namibian infrastructure is relatively modern and developed, while its economy is largely driven by various exports as well as its tourism industry. Of its trading partners, the US exists as one of the top 10. Despite this however, Namibian trade is led by internal African activity, such as trade with South Africa which accounts for a substantial 45 percent of Namibia's imports, while the countries also share an equally valued currency.
Tourism in Namibia
The tourism industry is a major contributor to Namibia's economy, providing around 14.5 percent of the country's overall GDP. Consequently, the industry is also a large source of employment, creating tens of thousands of jobs both directly and indirectly.
Prior to the COVID-19 pandemic, Namibia's tourism space would answer the demand of roughly a million visitors each year; people drawn to the unique country by its beauty, identity, diversity and ecotourism – a rich subsector involving Namibia's varied wildlife. Extreme sports are part of this sector, with activities such as skydiving, sandboarding and 4x4ing being among them, while city visits are also a popular attraction.
However, the impact of the COVID-19 pandemic has stumped this. The lack of travellers has broken the back of international tourism and every country has been affected. As with many countries, Namibian tourism has suffered substantially due to government-imposed restrictions internally and abroad, with around 70 percent of businesses in the industry recording below 10 percent of the pre-COVID standard number of bookings.
Mining
Namibia holds a great reliance on exports to fuel its economy, and a large chunk of these exports lie in the realm of mining extraction. Both taxes and royalties stemming from the mining sphere make up around 25 percent of the sector's revenue, with the bulk of income being produced by diamond mining. Home to a wealth of alluvial diamond deposits, Namibia is a primary source of gem-quality diamonds, and is famously known for its government restricted diamond beaches where the gems can be found among the sands.
Namibia is also a large exporter of uranium to both the US and countries in East Asia such as China and Japan, while being within the top five producers of it in the world. Its two uranium mines collectively provide around 10 percent of the globe's uranium mining output. On top of this, it is a major producer of copper, lead, zinc, gold, silver, tin and tungsten.
Despite the mining sector's activity and contribution towards national GDP, it employs only three percent of Namibia's population, with around half of the population depending on a livelihood derived from agriculture.
Agriculture
Standing as one of the country's most important sectors, the majority of Namibia's population is either directly or indirectly dependant on agriculture. Livestock farming continues to contribute two-thirds of agricultural production, with the rest consisting of forestry and crop farming.
Due to its arid climate, Namibia often suffers major problems in rural areas during drought seasons. The majority of people live in such regions, and although so many survive and make a living from the agricultural sector, only one percent of the country's land is considered arable.
In stark contrast to this, Namibia's fishing industry is rich and plentiful. The South Atlantic waters off the country's western coast are home to some of the richest fishing grounds on the planet, and commercial fishing exists as one of the fastest growing sectors in the country.
Manufacturing
Namibian manufacturing is dependent on imported goods and a small skilled labour force that keeps the industry turning. The primary operation within the manufacturing sphere is linked to the agricultural sector in the form of light industry-based activities such as meatpacking, fish processing, and dairy processing, at the same time as being linked heavily to Walvis Bay, the commercial gateway to the region, and a promising centre of connection and trade for Namibia's future.