At the forefront of energy facility solutions, Lesedi's engineering, procurement and construction (EPC) projects help develop plants across Africa and maximise energy advancement. We speak to Business Development Executive, Shane Pereira, about the company's services and sustainable edge.
INTRODUCTION
At present, the world is recognising the critical need for smarter energy practices to increase efficiency to maximise yield, and within the industry, there are multiple players facilitating this.
Lesedi is one such company. Originally evolved from Intens Engineering, founded in the 1980s, Lesedi has since diversified into a major engineering, procurement and construction (EPC) company, having successfully completed numerous key projects in the nuclear field, as well as in the company's three major markets: industrial power generation, mining, and oil and gas.
"There is a lot of opportunity in the energy industry at the moment," begins Shane Pereira, Business Development Executive (BDE) at Lesedi. "This is due to the embedded generation of hybrid energy project opportunities available, as well as the nature of load-shedding in South Africa (SA), including the reduction and interruption of the electricity supply to ease the load on energy generation plants and avoid national shortages."
With its head office in Cape Town, and other offices including Centurion (Gauteng) in Johannesburg, Lesedi is made up of approximately 330 employees dedicated to clients across the continent, and works with major players in the energy industry, as well as independent power producers (IPPs).
Eskom, the SA government-owned national power utility and primary power generator, is one of Lesedi's most significant long-standing clients, and the company undertakes major contracts with Eskom to carry out modifications on existing plants and increase their performance and efficiency.
"We are providing new solutions in the sector on multiple sides, whether that is for state-owned entities like Eskom, or in the private sector where we have projects under development," Pereira continues. "These range from waste-to-energy to biomass projects and hybrid systems for private clients, such as a combination of solar, batteries, and diesel.
"It is an exciting landscape when it comes to opportunities, but at the same time the market is immature and has a lot of room to develop, which means that there is a lot to navigate in the industry."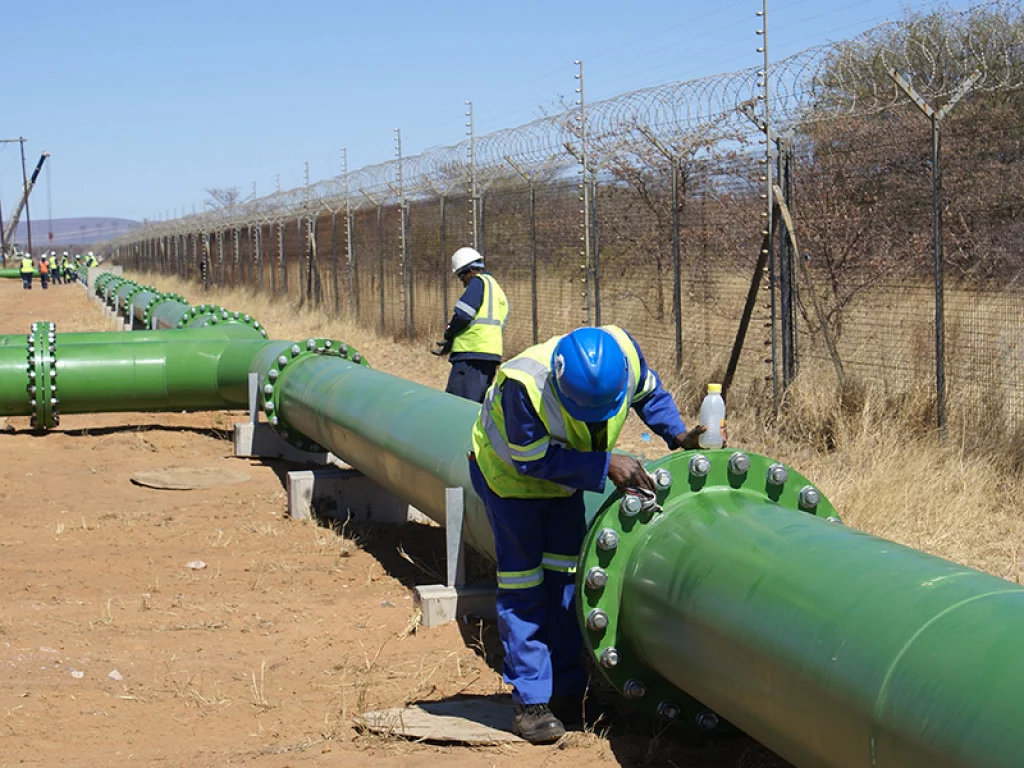 HYBRID SOLUTIONS FOR LESEDI
Lesedi's roots originally stem from the nuclear energy field, however the homegrown South African company has adapted and evolved to reflect its purpose and vision for the future. In this sense, Lesedi is on a journey of transformation, and has changed its company definition from 'nuclear services' to 'power generation, mining, oil and gas' to reflect its extended offering. Nevertheless, it has kept nuclear intertwined as a key part of this.
"50 percent of our business is in the industrial power generation sector," Pereira explains. "In terms of our products, we specialise in bringing forward any particular technology that we feel is appropriate for a specific client, and we have very strong relationships with original equipment manufacturers (OEMs) locally and abroad. This comes in useful to provide clients with suitable products and solutions. Compliance is key to us, as is remaining competitive."
When it comes to the market, Lesedi operates in the power generation sector. This includes modifications, upgrades and maintenance services in the nuclear market in Africa and internationally. The company also delivers its services abroad, such as valve and pump fitting and maintenance, and refuelling onsite.
An example of this is Lesedi's American projects. Across the US, the company has undertaken over 75 interventions since 2006 by sending teams abroad to get involved in maintenance activities on around 15 different nuclear stations.
"We have done similar work in Brazil, Spain, China, and the UK on the services side," Pereira continues. "In the other power generation areas, gas-to-power is another market of ours, as is thermal, and renewables including hybrid systems – solar, wind, batteries, biomass, waste-to-energy. These consist of building bespoke energy projects as an EPC contractor."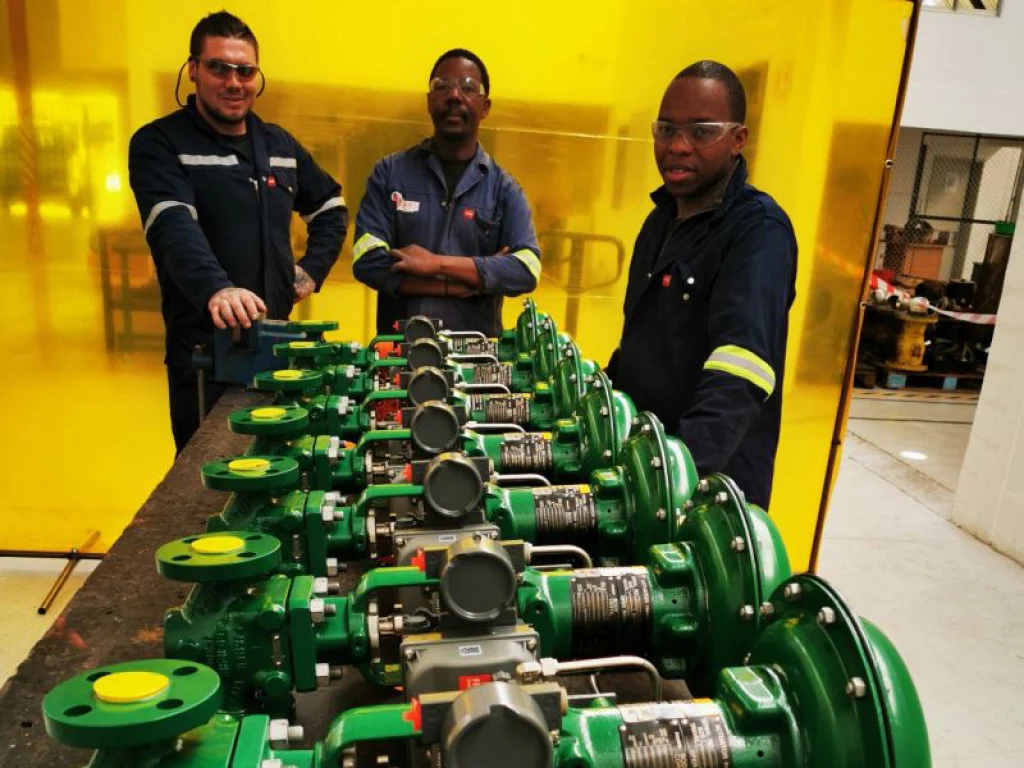 ENVIRONMENTAL ENERGY EFFORTS
Lesedi's activities in the mining sector typically surround the integration of solutions to reduce emissions, for example, within South Africa's platinum mining industry. Emissions such as nitrogen oxides (NOx) and carbon dioxide (CO2) are two kinds that the company aims to limit to lower the sector's environmental impact.
"Another aspect of our business is technology integration," Pereira says. "Lesedi carries this out for existing clients on existing facilities with the aim to improve performance. In Mozambique for example, we undertook a project for Mozal Aluminium, where we upgraded their compressed air energy storage expansion.
"We also get involved with integrating solar to improve the performance of clients when it comes to emission reduction."
In the oil and gas sector, Lesedi's activities centre around tank refurbishment projects for clients across the African continent, and the company has plans to build strategic fuel assets such as tank storage facilities in South Africa and alternative regions.
"Furthermore, we have biomass projects in Ghana, oil and gas operations in Angola and Mozambique, and in Uganda we are looking at nuclear-related operations," Pereira explains. "It is quite a diversified business for sure. Lesedi undertakes various operations across different markets. We are specialists in EPC with our construction often being subcontracted or through one of our many partners."
"We are providing new solutions in the sector on multiple sides"

Shane Pereira, Business Development Director, Lesedi
LESEDI AS A STANDOUT SUCCESS
Lesedi's environmental efforts are not limited to external clients. Within the company itself, sustainability is a core pillar of Lesedi's mission and for Pereira, this is one of the many factors that makes Lesedi stand out from its competition in the energy industry.
"A key thing for Lesedi is sustainability. We are in it for the long haul, and this is also needed for our clients," Pereira tells us. "Often, we are not the cheapest option in the market, and that is because we are providing a solution that we feel is sustainable, so I think that the level of quality that we put in and our ability to honour the client for the long term is what differentiates us."
As an integrator, Lesedi is able to carry out the engineering and procurement of equipment to a greater standard than many alternative options in the market.
"The fact that we have grown out of the nuclear business has given us a greater appreciation for doing things right – I think that's key for us," Pereira continues. "Whatever we commit to, we want to get it right the first time. We have a real appreciation for EPC."
Moving ahead, Lesedi has some serious ambitions to increase its resource pool, including a successful skills academy based in Cape Town that doubled in size during COVID-19 when it came to artisan training and training courses in different disciplines, including mechanical fitting, boiler making, hydraulics, and welding.
"We are also looking at some engineering resources for the future by developing a pipeline of engineering graduates that we are feeding into our system in resource pools," Pereira concludes.
Lesedi's success in the energy sector can be seen in both the company's organic growth, its expansion into other markets, and the establishment of additional locations. On top of this, 2022 is seeing Lesedi perform its highest revenue year in the history of the company, bringing its innovative and sustainable energy solutions to the wider African continent and beyond.