Zamseed is a leading company in the African agriculture sphere, supplying a variety of seed products to farmers across the continent. We speak to executive members of the business to learn more.
INTRODUCTION
Africa. Agriculture.
These two words are synonymous with a vast and growing industry. Agriculture itself remains one of the most prominent economic sectors for Africa, with the continent being home to 60 percent of the globe's arable land and providing a living for around 50 percent of the working population in many countries.
"When we go back to basics, agriculture, food, security, and access to water play a key role in feeding and growing mankind, in Africa and around the world," begins Artur Miranda, Group CEO of Zambia Seed Company Limited (Zamseed). "Once we reach around a 10 billion global population by 2050, the best agricultural practices are, and will always be, necessary to maintain numbers of people and continued growth. The most efficient technology, best seed strains and financial support will be core components of this."
Zamseed has been operating in Zambia for over four decades, and now stands as a key player and facilitator of the country's agricultural sector, as well as successfully operating across 10 other countries. Its original mission was to produce high quality certified seeds for a variety of crops for individual farmers country wide. The company has upheld its mission and continues to build upon it as the business that it is today.
With over forty years of experience, Zamseed is backed by R&D and is well positioned to meet the growing expectations of the farmers in Zambia and even those beyond.
"We are doing amazing things in Africa at the moment," Miranda says. "A lot of people reference Africa as the 'barn of the world', and I think that we need institutions and politicians, not just the private sector, to really support the continent in developing the best practices in a sustainable way that benefits not just Africa, but the rest of the globe."
The company is defined in the agricultural sphere by its quality, modern techniques, and active marketing, each of which help it establish a presence in Zambia and across the continent.
"The vision is to make Zamseed the seed company of choice in Zambia and the region," says William Rutherford-Smith, Group Commercial Director of the company. "We are constantly working towards this goal by supplying the highest quality seed that is adapted for each climatic region.
"These levels of quality have been achieved by constant monitoring of our seed production ensuring genetic purity and seed that is true to type, and the installation of state-of-the-art processing equipment which cleans, grades and sorts seed to very high specifications.
Quality checks at each step from planting to harvest of the certified seed guarantees the farmer that the seed they acquire has the potential to give them the maximum yield under their circumstances. This, coupled with the wide range of products Zamseed supplies, allows the farmer to practice crop rotation and choose a crop that best suits their environment which assures them of sustainability even under harsh conditions."
A portion of this achievement can be attributed to the strong sense of environmental welfare present throughout the company, an aspect of business that is healthy, popular, and driven forward by both Zamseed's management and progressive practices.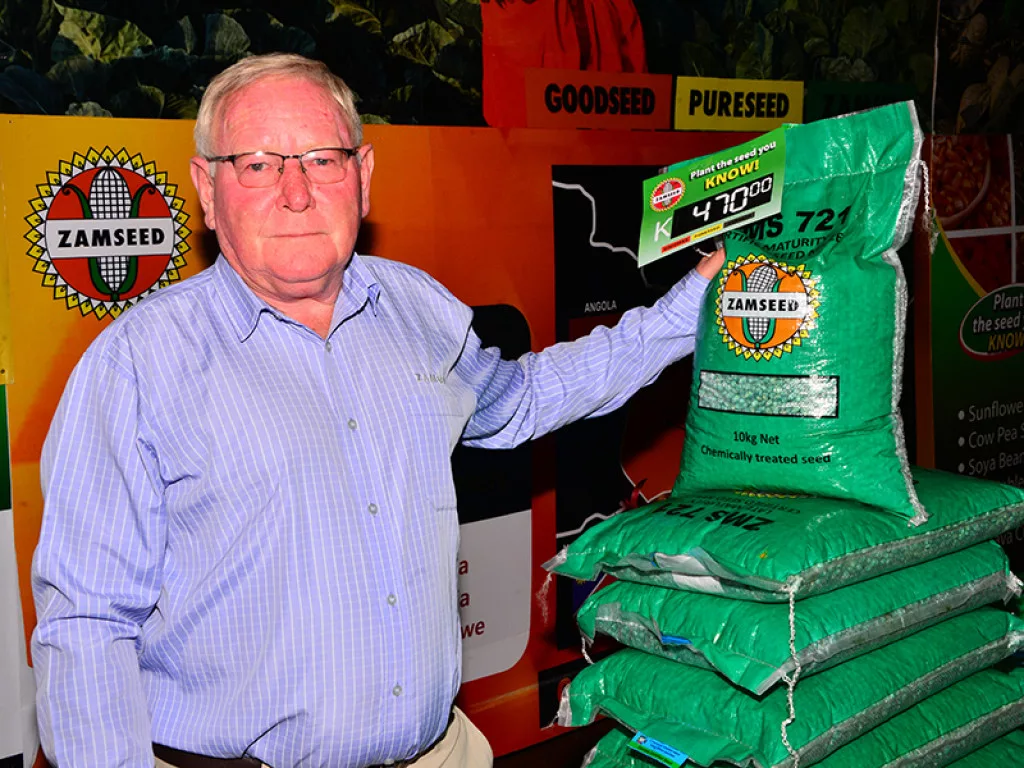 SMART CROP
At a base and obvious level, farming and agriculture necessitate vast amounts of land space. When the time scale of farming is taken into account, as well as the reusing of land masses, it is not hard to see why the topic of sustainability becomes such an important part of agricultural practice.
"When we talk about sustainability as a practice, we are talking about producing more efficient and higher yield solutions for the farming land being used," Miranda tells us. "We are constantly developing and bringing to market seed varieties that allow farmers to not have to increase the amount of land used to increase crop growth, but instead use smarter crops with higher yield.
"Take the average Zambian farmer for example, they will make use of a 'basic seed' with less quality that gives them around two tonnes of crop per hectare. Meanwhile, many of the hybrid options we provide never yield less than four or five tonnes per hectare, and some breeds even yield six, 10 or even 15 per hectare! Can you imagine what it is like for the farmer moving from a yield of one or two tonnes to over six in the same amount of time?"
This reality is a multi-faceted benefit for both the farmers and wider community as a whole.
Where the output of crop is substantially increased while using the same amount of farmland, the surrounding environment is preserved from agricultural development, and the community can thrive through greater profits.
"While using hybrid seeds, we also improve the agricultural practices on the whole," Miranda adds. "Farming is conducted in a more robust and efficient way, using and damaging less of the environment because of the combination of these high yield crop options and smarter techniques and methods.
"This not only makes Zamseed a sustainable company financially but also makes land use much more sustainable for the planet. That's the purpose of using high quality smart seed."
There is no doubt that land space is a finite resource across the world; the planet is not getting any bigger. Because of this, smart agricultural practices are needed to improve the way current land is used, making it more productive and efficient without removing more of nature. This is applicable across a multitude of industries; there is a notion that we must build up instead of out, and the same rule applies to agriculture, where we must grow up rather than outgrow.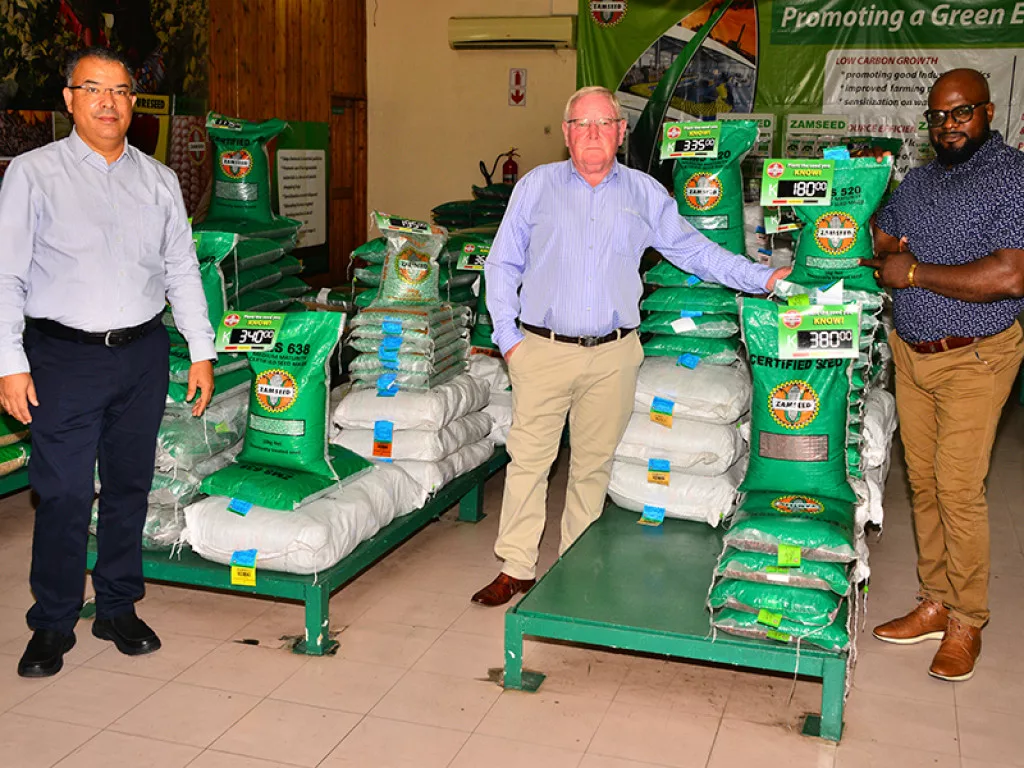 GROWTH AND DEVELOPMENT
In order to reach this gradual goal, Zamseed constantly improves upon its farming techniques, development and agricultural training company and community wide. There is, by the hard-working nature of the company, a dedicated search for betterment in everything that Zamseed does, to achieve an overall smarter agricultural future.
"We have a fully-fledged R&D team made up of three very highly qualified breeders who operate in the realms of wheat, soya bean, sunflower oil peas and sorghum," Rutherford-Smith explains. "We are also currently introducing a new range of sunflower hybrid and sorghum hybrid seeds that will represent a quantum leap in the market."
Zamseed's R&D team operates across a 400-500 hectare stretch of arable land, which is where they conduct all company research to maximise seed varieties for domestic market demand as well as those growing in neighbouring countries.
"We have also started on a path towards producing seeds outside of Zambia," Miranda continues. "Next year, we will be establishing a sizable volume of seed in Tanzania and Zimbabwe, however Zambia will always remain the hub of our activities.
"The seed industry is – as you can imagine – very labour intensive, so ensuring that we uplift the communities that are involved with labour is a must for us. By paying our farmers, we are uplifting the lives of a lot of people, providing a positive and stable living for working family members, and allowing them to gain the income to see their individual families thrive. It is a point of pride for Zamseed to see that we are actually impacting the livelihoods of the community directly in multiple ways."
And this value of benefitting the community is at the heart of the company's future plans. Moving forward into 2022 and beyond, Zamseed's priorities lie with the expansion of agricultural coverage in five additional countries within the continent.
"This registration process is our core focus of the next three years," Rutherford-Smith says. "It is the key to sharing Zamseed's high quality, beneficial and sustainable seed products across multiple regions to better food growth and development of communities across Africa."