Graham Wright, Managing Director of Quattro Zambia, discusses expansion and employee empowerment within the country's leading personnel transport service provider.
INTRODUCTION
Zambia is a wonderful country with many resources, one of which is the good nature of its people, as well as the stable working environment," opens Graham Wright, Managing Director of Quattro Zambia.
Indeed, it is Zambia's wealth of resources that accounts for the dominance of the country's mining sector as a pillar of the national economy, contributing around 12 percent and 75 percent of GDP and exports respectively. Zambia is the seventh largest producer of copper in the world, and is home to the world's largest emerald mine, producing around 20 percent of the world's emeralds. Mining contributes to 77 percent of total export value, and 27 percent of government revenues within the country.
The very backbone of these extractive industries is the stable network of personnel and transport required in order to service the mines. This is where Quattro Zambia come to the fore as a leading personnel transport provider.
With over 27 years of experience in the field, Quattro has grown simultaneously with the advent of Zambia's mining industry.
"We incorporated Quattro Company Limited, a family business, in 1991 with a view to expand our existing motor vehicle spares market and adding on product lines. Amongst others, these included associated hardware items, domestic refrigeration spares, and to a greater degree, motor vehicle spares and accessories," Wright explains.
From these humble beginnings, Quattro focused their energies on procuring a fleet of vehicles to enable them to secure and fulfil various contracts with the country's leading mines.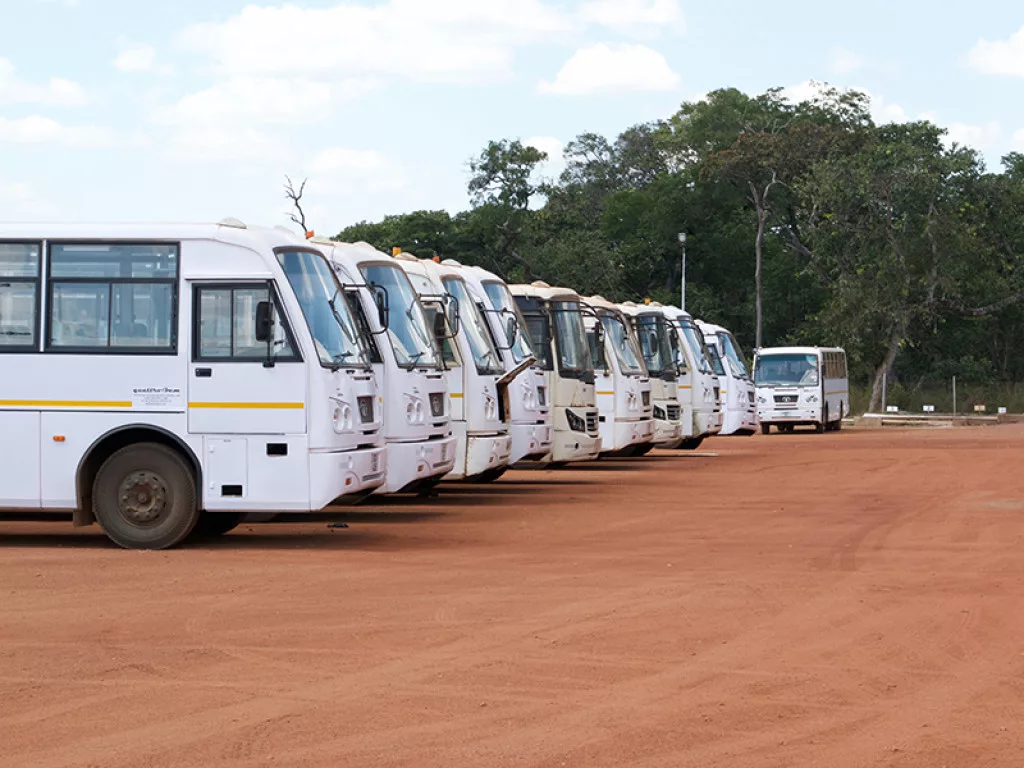 "In 1995 we expanded our business to import used motor vehicles from Japan and Dubai. In 1998, Quattro had a small stock of Hiace minibuses and was approached to subcontract on partial personnel transport at Chambeshi Metals. As time went by, Quattro was allocated more and more routes, purchasing bigger and newer buses," Wright explains.
What followed was a succession of ever-increasing contracts with some of Zambia's biggest producers of minerals. Chambeshi Metals Plc, a copper and cobalt metal producer, went on to give Quattro complete control for the running of their personnel transport contract as a sub-contractor to Truckmed Ltd.
"At the time, 15 vehicles were allocated to this contract and 400 personnel transported daily," he adds.
This number ballooned significantly with Quattro's subsequent contract in 2002, servicing the Mopani Mines in Kitwe by transporting 1,000 staff a day. This personnel transport contract was renewed every two years until 2014. To this day, Quattro still fulfil their contract with the Kansanshi Mine PLC and First Quantum Mining Zambia in Solwezi, which was initially agreed in 2005. Currently, this contract necessitates a significant 162 vehicles to transport a workforce of 5,000 every day.
"Kalumbila Minerals Ltd, a subsidiary of FQMZ, signed Quattro on to service personnel transport contracts in 2012, drawing on the strong performance by Quattro at their Kansanshi mine business. Current vehicles allocated to this contract total 218, transporting 4,250 staff daily," Wright informs us.
This marked Quattro's largest contract yet. Consequently, Quattro has amassed an impressive roster of clients, representing the best names across Zambia's mining industry.
These include Barrick, First Quantum Minerals Ltd, AEL Mining Services and the Konkola Copper Mines (KCM) to name a few. Presently, Quattro are serving a contract with KCM with an allocation of 35 vehicles and 2,000 personnel transported daily. They also continue to serve a contract which commenced in 2006 with Equinox (Exploration), and Lumwana Mining.
Quattro serviced all mine and sub-contractor personnel transport requirements. Since Equinox sold the mine to Barrick/Lumwana, the contract has continued with 118 buses transporting 1,250 personnel a day.
Now, with seven fully equipped branches strategically located, spanning the central African Copperbelt, Quattro have transported over 28 million people since inception.
This growth has enabled Quattro to divert and expand its areas of service into the private sector, extending essential transport services to the communities surrounding the mines where they operate.
"We provide free bus services for outlying schools in the Kalumbila mining area," Wright explains. Quattro has also donated buses to various organisations, mainly orphanages and schools in the Kalumbila-Solwezi areas.
Aside from this, in April 2011, Quattro were contracted to transport explosives for AEL across the county and to the Democratic Republic of Congo.
The fleet itself has also diversified to include a successful trucking and haulage division, launched in 2010. This division of the company transports both locally and internationally. Enjoying significant growth over the past decade, the trucking services now has an excess of 75 units serving a wide range of requirements.
The majority of Quattro's fleet is composed of 65-seater buses, followed by smaller 38-seater buses, ambulances, recovery trucks and skip and refuse vehicles. Quattro have also since acquired 40-foot refrigerated trailers, tipper trailers and low-bed trailers amongst others. Highly trained mechanics are essential to the fleet's upkeep and smooth operation.
One of the attributes that are central to Quattro's success is their supply chain operations, all of which are managed in house. Wright believes this to be nothing but advantageous for the company.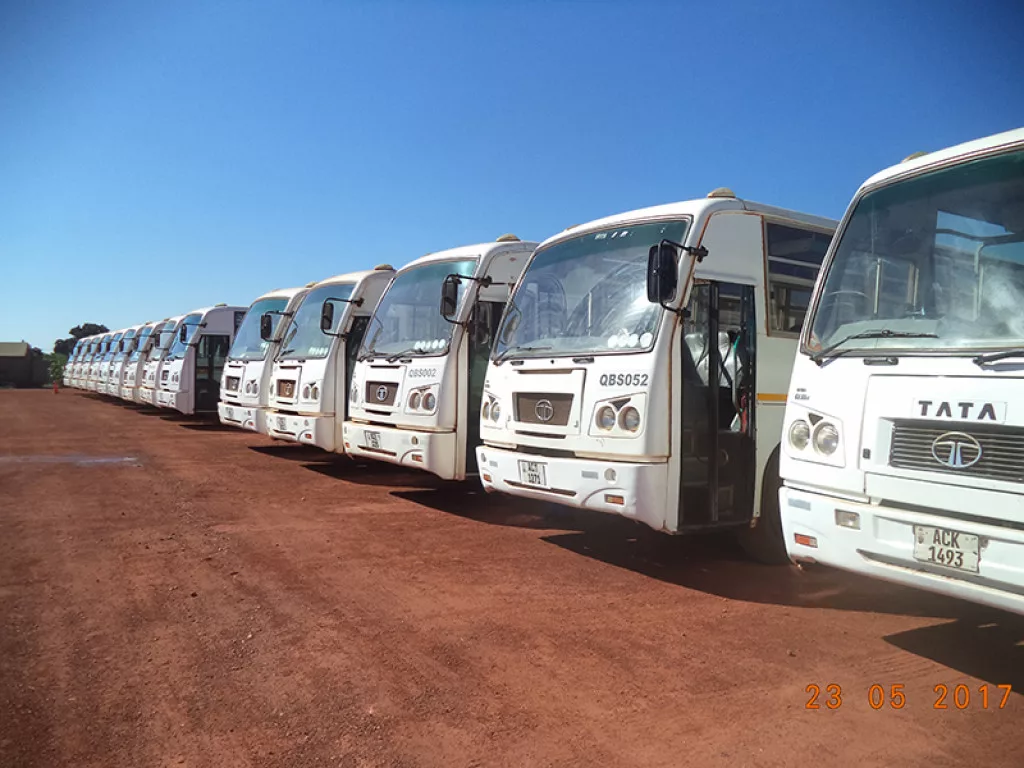 "The advantage is that we are in control of stock levels, not usually maintained in Zambia due to various economic factors. We procure our spares and materials from Dubai, UK, Japan, India, South Africa, and to a greater degree from local suppliers," he informs us.
Expansion has also enabled Quattro to invest in the welfare of their staff, with significant investments being made in recent years into staff accommodation. At Quattro's Kalumbila workshop, which currently houses 200 employees, expansion has been implemented to increase facilities to accommodate 300 people as part of their programme for 2021. By building facilities that give staff the ability to reside closer to the mines, Quattro increases the efficiency to and from these locations. This in turn translates to savings across the cost of fuel, repairs and vehicle maintenance.
This 2021 programme will also entail construction of a new trucking workshop and facilities and expansion of the Kalumbila workshop. All projects for expansion are subject to the tenure of Quattro's contract renewals.
Quattro are explicit about the value they place on their sizeable workforce and individual employees – whether that's managers, drivers, mechanics, security or the administration team. Indeed, Wright describes his employees as, "the pride of our company."
"We have great management teams across all of our branches,"
he adds.
Indeed, excellence is a key criterion for recruitment and many staff members have been head-hunted as experts in their domain. This is crucial in an industry where safety and reliability are paramount to Quattro's reputation.
Quattro endeavour to empower their staff through regular training programmes and certification upgrades. They also offer company loans and vehicle upgrades, whilst monthly 'lucky draw' incentives and KPI achievement bonuses provide extra motivation.
This same humanitarian outlook extends to Quattro's place within the local communities where they operate, hearkening back to Wright's opening sentiment regarding the good-natured people of the country he loves. The company demonstrates laudable social responsibility.
"Quattro has a proud record of supporting various orphanages," Wright informs us. This has included regular support for the blind, handicapped, widows, orphans and albino organisations. The company also promote football and sport across communities as benefactors to local groups and tournaments, alongside the aforementioned school transport and donations of vehicles for essential services.
When the pandemic struck the continent early in 2020, Quattro immediately sought to protect the wellbeing of their workforce and the workforce of their mining principals. This also extended to the local community, whereby Quattro organised a monthly oxygen tank donation to Kitwe Central Hospital for COVID-19 support.
"We have implemented all control measures as per Quattro and mine regulations.
Obviously, this all comes at a cost in terms of material and time," Wright adds.
Sanitisation control, digital temperature readings before boarding a vehicle and regular fumigation and stringent sanitary cleaning on board, does not come cheap, alongside acquiring the necessary PPE for staff and drivers. Of course, this also meant minimising passenger numbers.
Nevertheless, Wright's general outlook on the state of the industry within the context of the pandemic is optimistic, describing it as 'promising'.
"Although business is down, we see many opportunities as most businesses gear-up for a return to normality. The nature of work is exciting and personally fulfilling," he muses.
By fulfilling the essential need for safe and efficient transportation, Quattro guarantees its future in Zambia, with a prevailing reputation for consistency and excellence.