As a pan-African company that puts the continent at the fore, executives from Haussmann Africa discuss the company's diversification towards hospitality on the back of a disruptive 2020.
INTRODUCTION
"We understand Africa."
Haussmann Africa is a leader in real-estate services across the continent. The company advises occupiers, investors and landlords to acquire, design, build and manage real-estate assets across Africa. Haussmann Africa offers a turnkey solution for companies that need office fit-out from space planning to full construction design and execution. Its product covers architectural services, project management, interior design, cost management and consulting.
Maxime Chauvelot is the Chief Operating Officer, while Merry Luzolo serves as Director of Design and Country Director at Haussmann Africa. Between the two men, they possess a deep passion for Africa and the clients they serve. "Whenever we design something in Africa, our attitude is always that it's for Africa," discusses Luzolo. "We know how best to handle problems because we're pan-African. For us, we believe that to understand customers, you have to understand the space they operate in. It's about investing in talents, building up local knowledge and then it puts us in a better place to respond to our client's needs."
A big competitive advantage for the organisation is that Haussmann is pan-African. It is something that Luzolo believes sets his company apart from competitors. "Our general attitude whenever we design something in Africa is that it is for Africa," he discusses.
Like many other industries across the globe, Africa's construction industry took a hit during 2020 because of COVID-19. However, unlike all sectors, the space is in the midst of recovery quicker than most expected. "It's still at a lower point than usual but is certainly climbing back," explains Chauvelot. "Although quick to stop when COVID first hit, it was also one of the first industries to recommence and get back on its feet.
"Investment from international companies remains on the low end, however, the success of the vaccination in Europe and the United States and the fact that Africa has been much less impacted by the sanitary crisis than other continents is giving a positive signal to investors."
One of the most important areas of any business is talent management. Without quality staff, success is impossible. For Chauvelot, the key is to find people that place value on the most important cause of all – Africa. "When you consider how large and diverse this continent is, it is not too difficult to find these people," he discusses. "There are so many young talents out there that really want to contribute and want to be part of the solution.
Once that is done, we try to create a platform that will allow our employees to grow together. This is by training, growing talents, and then promoting and recharging from the bottom up."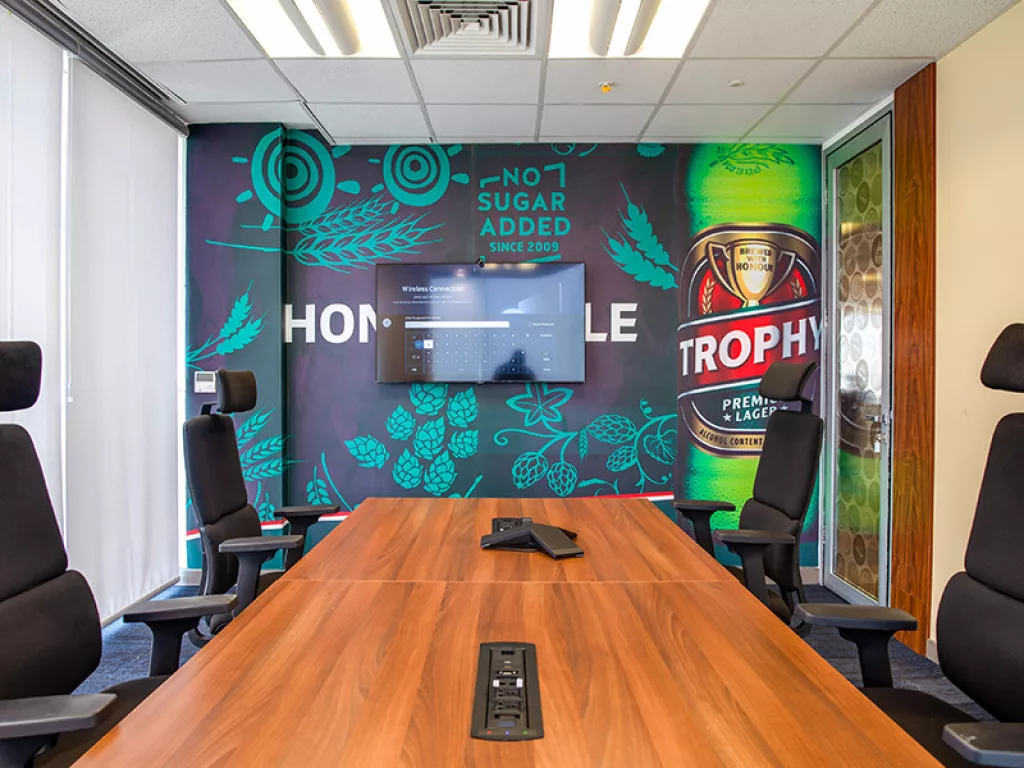 STRATEGIC PARTNERSHIPS
Hausmann prides itself on fostering a positive culture and strives to operate with a customer-centric mindset. As such, Chauvelot has formed key, strategic partnerships that are truly mutually beneficial. "We pride ourselves in the community and relationships we are able to foster," he explains. "We see our customers first and foremost as partners, but we also learn from them. This then means that design becomes a shared process rather than a unilateral endeavour.
"While the general attitude when designing in and for Africa has often been patriarchal, the office space in Africa is still very compartmented as opposed to the open space trend in Europe. The corner office of the Director is still a reality and a need for some local businesses. We don't pretend to know best upfront; we listen lots and respond."
And Chauvelot acknowledges that Haussmann can't achieve their goals without forming those sustainable partnerships that are built to last. "The trust we have with our suppliers is what makes us successful in the industry," he explains. "Without the relationship that we've developed with them, we can't tender accurately and win new projects. It's in our interest to keep our subcontractors and partners happy and keep working with them. We know their strengths and challenges so we can anticipate the client's needs at the beginning of the project and lean the design one way or another because we know we have the solution that the client is asking. These relationships are the only reason we can do the projects."
With this in mind, Chauvelot believes it is important to be mindful when it comes to cost. In his mind, although making a profit is important, being unreasonable in terms of pricing won't work long-term. According to Chauvelot, understanding is the key. "Squeezing the prices of a good subcontractor for a one-time job is not sustainable," he discusses.
"Establishing a fair and trustworthy relationship will always be worthwhile in the end, and it has been proven during the COVID crisis."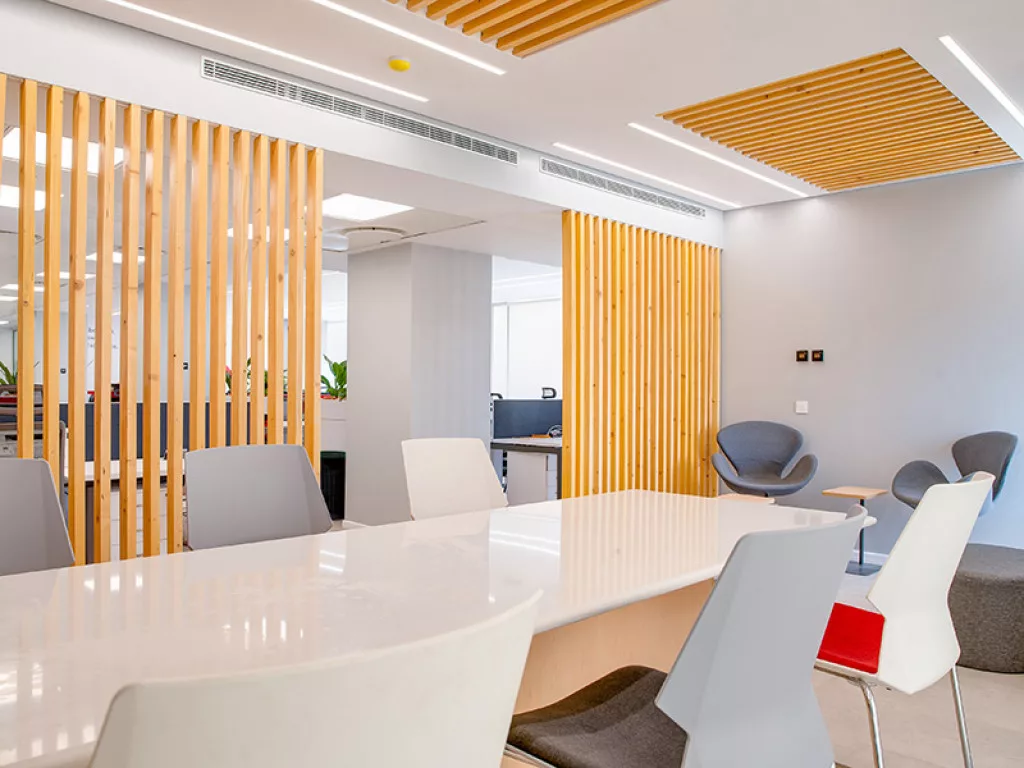 BROADENING HORIZONS
Uber contacted Haussmann Africa to advise, design and fit out its headquarters in Nigeria and began working on Uber projects in 2019. "Uber had an aggressive development in Africa, with our Nigerian team the first to work with them," explains Chauvelot.
"Subsequently, we expanded that partnership into Ivory Coast and Ghana too. The approach is to follow your clients. We have one point of contact and have developed in several countries. This was value-added for them because instead of having three different companies, with three different designers and contractors, they only had one email address and that was a massive advantage for our clients."
Despite the challenge of COVID-19, Luzolo admits how challenging keeping the same team is. "It is always difficult to try and keep the same team. We wanted to come out the other end of the pandemic with the same staff we entered it with. This was because we saw the opportunities we'd be able to explore coming out of the crisis with the same team. It was a tough time, but I think we're stronger for it. It showed that we had to do quite a lot of internal cost reduction to be able to keep the team operating even when there were no projects coming in and today, we are seeing a brighter outlook."
Indeed, on the back of the pandemic, Haussmann has started to diversify its operations and expand into the hospitality space. "We started an internal exercise of rethinking how the company will continue to grow, what the core values of the company are and where do we want to go in the next few years," says Chauvelot. "One of the outcomes from that was the realisation that we needed to diversify our model. We've started to reach out to developers and operate in a different way. We haven't yet started a project because it's a very tough sector to break into and a lot of trust has to be established."
Moving forward, the plan for Haussmann, like many organisations, is to bounce back from the disruption of COVID-19 and grow thereafter. "We're going to expand into hospitality and plan to launch our first project later this year," he says. "Once we break out into the space properly, it will trigger a reorganisation around hospitality and will mean we will introduce dedicated management for these kind of projects. While we have Haussmann Africa that does office fit out which is our core industry, we will be splitting the way we manage our staff, but for that to happen we need to have several projects underway and begin to build a track record. The rest of 2021 is about getting back on our feet in terms of office fit out, we've had a good start and hopefully that continues."