"We remain market leaders with a clear focus on product quality and a mission to better the world." David Valencia, Country Director at Nile Breweries Limited, discusses the company's efforts to provide opportunity and community benefit throughout Uganda and the continent.
INTRODUCTION
The last 18 months have been challenging for the food and beverage industry across the globe.
It is safe to say that COVID-19 has had a dramatic effect on the sector as it has been forced to adapt to the pandemic, with almost all companies and employees within the industry altering the way they work and function to weather this unique and challenging period.
For Nile Breweries, the pandemic has revealed the enduring spirit of the company despite the challenges posed.
"In Uganda, we have focused on playing to our strengths to build a stronger and more sustainable business in a post pandemic reality," begins David Valencia, Country Director at Nile Breweries. "We remain market leaders with a clear focus on product quality and a mission to better the world. The Ugandan beer industry has been resilient despite continued Covid-19 trade and mobility restrictions."
"The level of informality in the alcoholic beverages sector however remains a large concern. Last year, electronic tax stamps were implemented in the country, and we applaud the government's decision to increase efforts towards formalising the industry. However, we must continue to work towards effective methods which do not increase the cost burden to the formal sector whilst achieving this objective."
Nile Breweries has been operational in the food and beverage industry for almost 70 years. The company works every day to offer great quality products to its customers and has two production facilities employing a total of 650 members of staff. The Mbarara brewery is consistently recognised as among the best in Africa and is highly regarded internationally. From facilities such as these, Nile Breweries products are also exported into the Democratic Republic of Congo and South Sudan, adding to the overall Ugandan economy.
Through the decades, the company has also played an important role in contributing to the livelihoods and progress of Uganda and its people, as Valencia explains.
"Our contribution to our ABInBev business in Africa is considerable and we are very proud of this," he elaborates. "As part of ABInBev we work on several initiatives to positively impact communities where we operate. Examples of these include the deployment of the 'No Excuse Campaign' which sought to create awareness and mobilise against gender-based violence. The company has worked hard to advocate responsible drinking because we believe that beer is a social catalyst and every experience with beer should be a positive one. These initiatives have led Ugandans to recognise Nile Special as the most admired brand in the country.
"We have moved forward in our Global Smart Drinking Goals which contributes to the WHO target of reducing the harmful use of alcohol. We have supported the government efforts of revenue collection and reducing illicit alcohol yet lots of work still needs to be done on this front. We have continued to develop our value chain to support Ugandan farmers and we continue to evolve our programmes. For example, we have recently deployed a crop insurance pilot."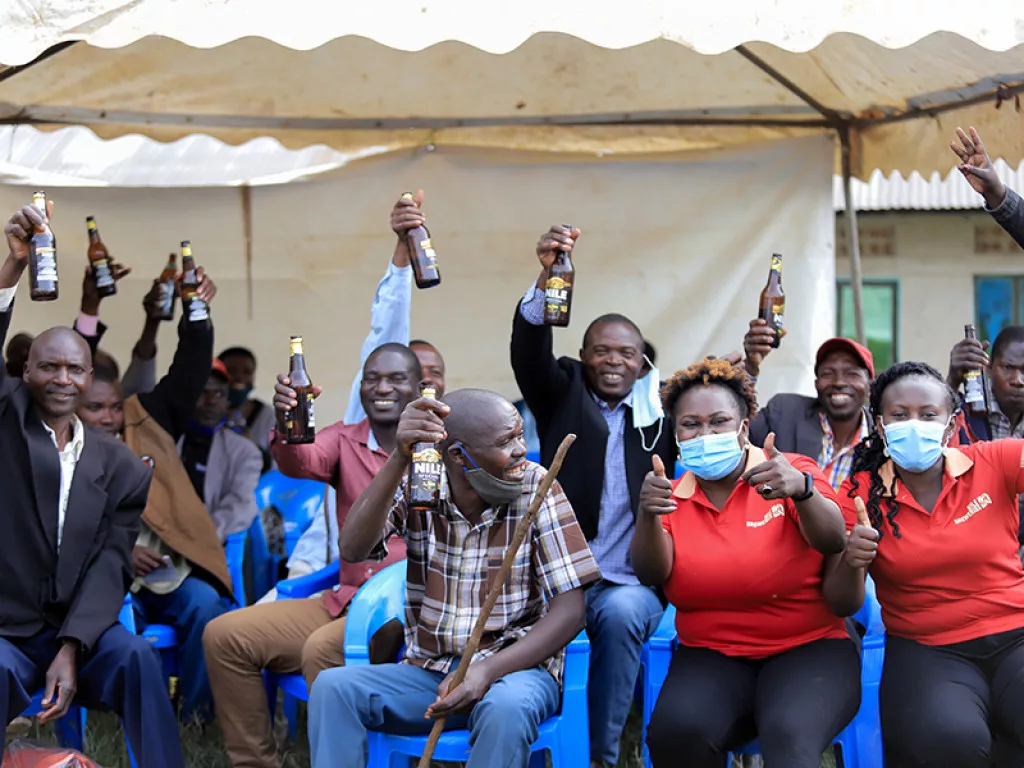 PEOPLE-CENTRIC FOCUS
Nile Breweries consistently operates with people, both its customers and the surrounding society, in mind. This is exemplified by the company's efforts to alleviate Uganda's level of unemployment. Recent data reveals that the nation's unemployment rate is hovering at around 9.2 percent, with the younger population between 18 and 30 years old at 13.3 percent; an age group that makes up 78 percent of the national population.
According to a governmental revelation in April, this rate is likely to have risen with the closure of over 4,000 companies during the first month of the COVID-19 pandemic. To contribute towards tackling unemployment, Nile Breweries has undertaken multiple initiatives over the years.
"In 2014, Nile Breweries launched a youth entrepreneurship programme called Kickstart, to provide intensive business skills for start-ups," Valencia says. "The programme targeted young entrepreneurs between the ages of 18 and 35, with a focus on bringing good ideas to life, through provision of training, mentorship and grants of up to $20,000 to grow them."
"The most critical aspect of the Kickstart programme was that winners were challenged to formulate innovative ideas that solved problems in the communities and created jobs. Kickstart has attracted over 5,000 people since it started. Initial competitions narrow down participants to 50 during each season, and eventually the top three winners are picked. The winners have gone on to become successful in their businesses. Experts in the field put the job creation ratio at a successful two to one."
Last year, in light of the economic devastation suffered by most in this age bracket in the wake of the COVID-19 pandemic, Nile Breweries repackaged Kickstart as 'Be A Millionaire' (BAM); a competition in which 100 finalists whose ideas met the criteria set by the brewery's partners, Enterprise Uganda, were to be chosen from different parts of Uganda to win one million Ugandan-shillings each.
To participate in the campaign, aspiring entrepreneurs within the bracket across the country were required to draft a brief plan on how they would use one million Ugandan-shillings to start their businesses. Over 500 individuals shared their ideas with hopes of being selected among the 100 winners. The winners were mentored by Enterprise Uganda.
"This was a gesture that we believe will go a long way in reviving and keeping afloat 'Small Business' (SMEs) which employ the majority of the youth in the country," Valencia says. "We launched the new season of BAM in July this year."
COMMUNITY AND CULTURE
Farmers are a critical part of the Nile Breweries value chain and are key for the sustainability of the business. The company has been uplifting the livelihoods of farmers through different programmes over the years, encompassing training, mechanisation and information.
With the current local sourcing at 98 percent, on average, Nile Breweries spends 52 billion Ugandan-shillings on Ugandan farmers (NKC African Economics report 2020). According to the report, 89 percent of Nile Breweries supplying farmers reported that their quality of life had improved and indeed Sorghum farming households supplying the company reported to have doubled their income.
"Nile Breweries' agriculture sustainability goal is to have 100 percent of its direct farmers skilled, connected and financially empowered by 2025, and all engagements with farmers are geared towards those three aspects," Valencia informs us.
"In 2018, ABInBev, Nile Breweries' parent company, set aspiring 2025 Sustainability Goals to drive progress across our fully integrated supply chain – from the farms that supply our ingredients to the packaging that delivers our beer. We believe that companies have an important role to play in achieving the United Nations' Sustainable Development Goals, which is why we have aligned our own goals with them, so we make a valuable contribution."
Nile Breweries is a company driven by a culture of dreaming big. The company has a clear focus to build profitable growth and bring people together for a better world, and this vision remains stronger than ever, despite COVID-19.
"Fundamentally, our business can cope with volatility," Valencia says. "This is possible because we manage our costs tightly in order to free up resources to drive top line growth. This also is extremely useful in tough times. We have a strong business which is being built for the next 100 years."
"Locally we have the most powerful brands in the country, and this is truly what makes our portfolio special. Our Nile Special beer is unmatched in gold awards, receiving a total of 22 Mondes Gold Awards. Our Club Pilsner brand represents the future of Uganda while our Eagle Portfolio speaks to the pride in origin from seed to sip. In the future our portfolio will be complemented with our global brands reinforcing our market leadership as we bring in the true premium to Uganda."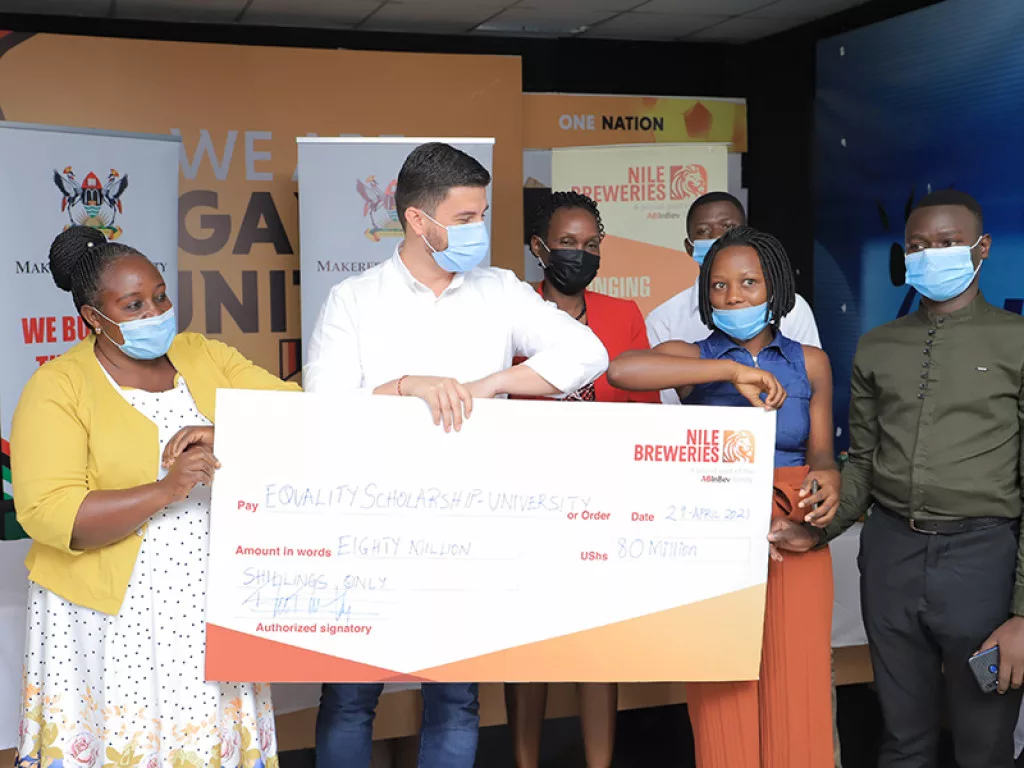 MOVING FORWARD
Despite the challenges posed by COVID-19 in these past 18 months, Valencia is optimistic about the years ahead.
"The future of Uganda is mighty – mighty like the Nile!" he tells us proudly. "It is very exciting to be in this industry and the moment. Beer per capita in Uganda is low and there is massive opportunity in accelerating consumer entry into clear beer from one of the largest informal alcohol pools in Africa."
According to Valencia, at the same time Uganda's middle class is rising fast, coinciding with the country's workforce which is set to double by 2030. The well-known core brands that Nile Breweries owns, in line with the rising investment, will help the company capture critical trading opportunities and open its doors to an increasing consumer base. On top of this, with around half of the Ugandan population approaching drinking age, Nile Breweries is presented with unparalleled opportunities and consumer connection in the years ahead.
"I'm very excited in connecting our consumer centric mentality and the evolution of our portfolio to cater for the growing market," Valencia says. "Our expectation in the upcoming year is for double-digit growth as we continue to be part of the solution in post pandemic recovery. Our aim will be to become more consumer centric as we accelerate our innovation agenda with people at the heart of Nile Breweries."
VIEW THE NILE BREWERIES BROCHURE