Madagascar has great potential for broadband development. We speak to executive members at Blueline, and discuss the company's significant fibre optic cable project that will facilitate internet connection across the country.
INTRODUCTION
Madagascar is home to around 25 million people.
Separated from the mainland continent by the Mozambique Channel, the island nation also boasts a unique environment and iconic wildlife, of which towering baobab trees and lemurs spring to mind.
However, this stretch of water can sometimes buffer Madagascar's progress when it comes to developing infrastructure and integrating technological networks that are far more common across the rest of Africa.
"Despite the number of inhabitants, less than five percent of Malagasy households are connected to broadband," begins Mohib Pirbay, founder and Chairman of Blueline, the telecommunications and service provider based in Antananarivo, Madagascar. "However, there is also enormous potential for broadband development to catch up with the pan-African average and increase broadband penetration to around 40 percent."
One obstacle that stands in the way of Blueline is the current higher prices for broadband internet subscriptions (around 60 USD), which exceed that of the country's minimum wage, therefore making broadband connectivity inaccessible for the majority of Malagasy people.
"We have the ambition to change this state of affairs through our ongoing achievements and our plans for the coming years," Pirbay says. "Our vision is to make information technologies, including the internet, videoconferencing, online streaming services and digital education, accessible to the majority of households and companies in the country to help them develop, grow and open themselves up to the global community and international markets."
BLUELINE
Blueline (www.blueline.mg) offers individuals and companies internet, TV and voice services throughout Madagascar. For large accounts, Blueline provides tailor-made services of international broadband access, international private links and voice over internet protocol (VoIP) solutions.
Blueline supplies its managed services to companies (www.blueline-business.mg) to support them with their IT development, whether this is outsourcing, auditing and consulting, IT security, or tailor-made solutions regarding WiFi, mail, online hosting or digital calling software.
"We constantly seek to provide the best of the most accessible services possible for the Malagasy people," Pirbay continues. "Blueline was the first operator to democratise high-speed internet access at home and to offer TV content for Malagasy households when there was only one very expensive satellite TV option on offer.
"On the business side, we stand out across the country for offering the best value for money, with customer service recognised for its professionalism. We are offering a complete range of services (Blueline Business Services) to support our customers in the management of their networks and in their development."
From now on, Blueline will offer in addition to its broadband wireless network, the first alternative fibre optic offer in order to provide even more content while maintaining a high quality of service.
With more than 40,000 customers, Blueline is made up of 400 employees spread over Madagascar's main cities, able to help customers out all over the country at short notice.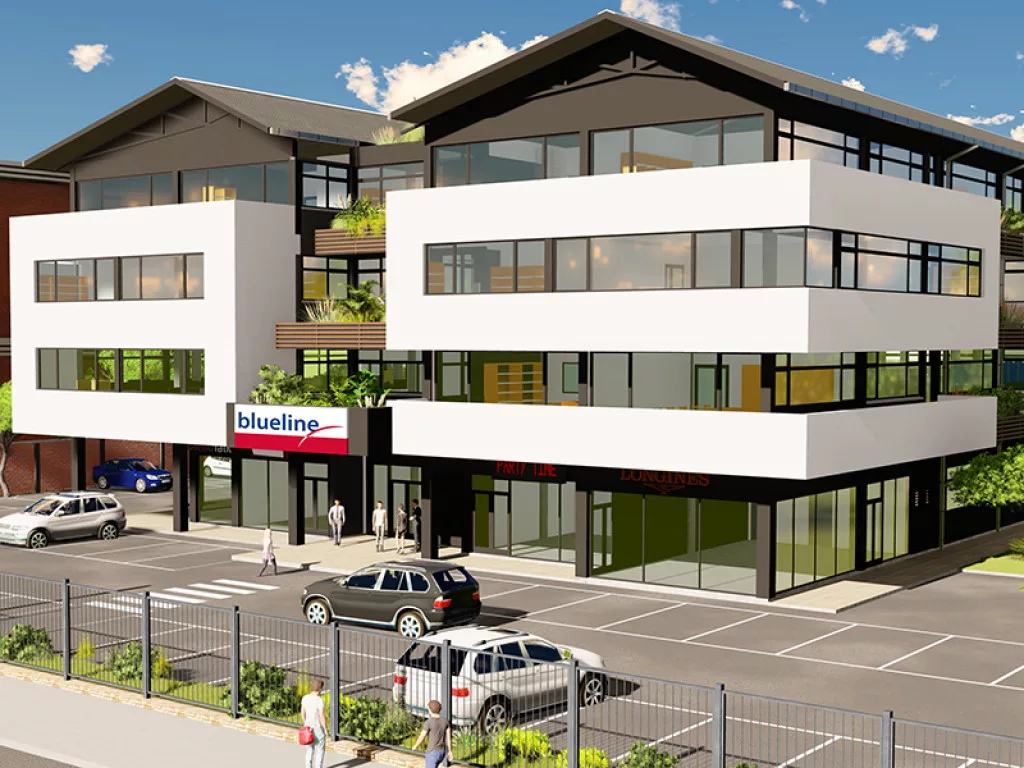 HELPING MADAGASCAR THRIVE
One of the most significant projects that Blueline is currently undertaking is the first phase of development for a 400 kilometre fibre optic cable valued at $12 million, that will immediately be put into service.
"The cable will have the capacity of 115 terabits a second, which will address the country's growing consumer demands," explains Damien de Lamberterie, General Manager of Blueline. "This investment represents the promise that Blueline will continue to meet and exceed the demands of its client base today, tomorrow, and for years to come.
"From a technical standpoint, fibre optic connectivity remarkably increases our capacity to move data while ensuring greater reliability of our services. Our client base is growing, and with it, so does its consumption of online content. The explosive popularity of video streaming, online gaming platforms, e-education, the ability to work from home and more, have put greater demands on bandwidth capacity that can be adequately met with fibre optic throughput."
According to Lamberterie, since this cable is open to all operators, it will also lower the cost of internet access for the general Malagasy public by enabling all the existing access networks. The companies on the Blueline network will additionally benefit from heightened security and reliability as the fibre optic connectivity will serve as a parallel to Blueline's existing infrastructure, ensuring appropriate recourse in case of outages.
"This security of reliability in particular will be fundamental for all companies, especially those that cannot allow interrupted service," Lamberterie continues. "The increased capacity available has the potential to create thousands of jobs in the growing business process outsourcing (BPO) sector and other services based on connectivity such as disruptive financial services and online education.
"Completing this deployment on time in spite of the pandemic and its disturbances presented a significant challenge for our contractors and our technical teams, whose amazing efforts and hard work deserve to be recognised and have a special mention here."
INTERNATIONAL COLLABORATION
As a service provider, Blueline's partners and suppliers are essential for the proper facilitation of company services and the satisfaction of its customers, and Blueline pays particular attention to its after-sales customer service with a team available to help 24/7.
"For this fibre optic project, we called on partners of international renown in the supply and deployment of such systems, including Nexans and Sogetrel, two French companies operating in the telecoms and fibre optic space, and Israeli company Ribbon Communications, to name a few," Pirbay tells us.
"We made the resolute decision to install the cable in order to guarantee our clients the best service available. It's a complex challenge given the topology of the land, but our partners have done a remarkable job. When it comes to wireless, we have also been working with strategic partners such as Huawei (China), Radwin (Israel) or Ceragon (Israel) for over 10 years. We selected these suppliers mainly on the dependability of their solutions in a complex climatic and energy context."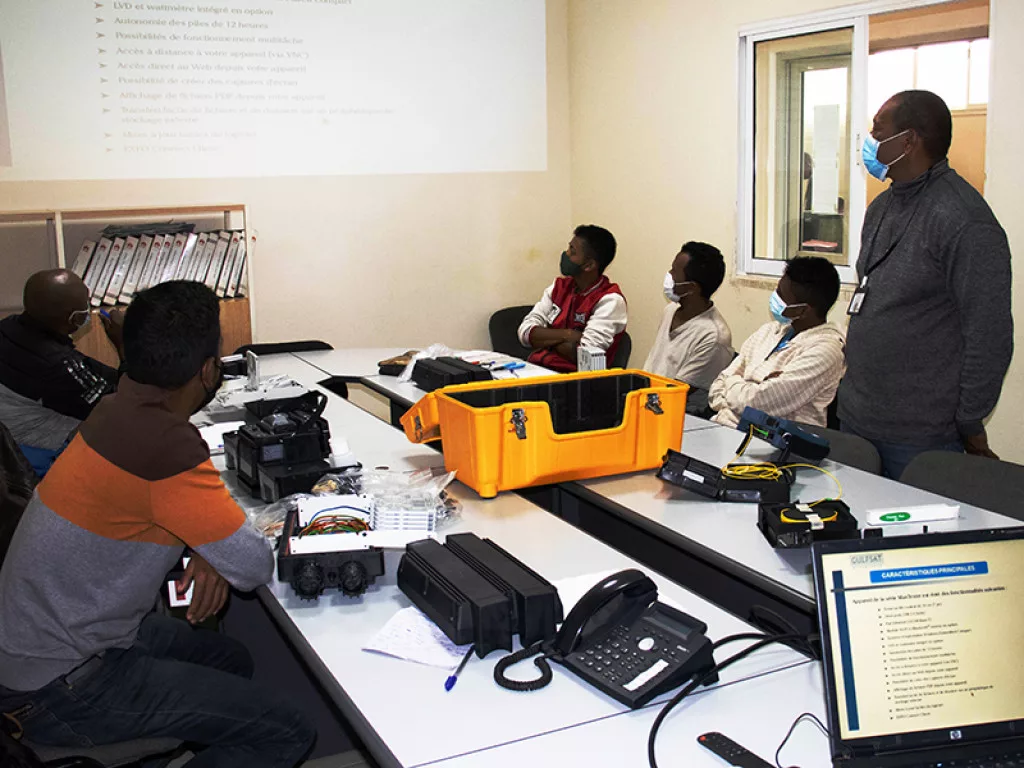 MOVING FORWARD
For the rest of 2022, Blueline's primary objective is to prioritise the new fibre optic cable to ensure that it can offer the Malagasy people new, faster and more accessible services.
"The stakes are high and we must live up to expectations," concludes Lamberterie. "Furthermore, we are already working with other operators to allow fair and non-discriminatory access to this national asset. We are therefore aiming for strong growth in 2022 and feel confident in our capacity to achieve it.
"Our next objective is to prepare the survey of the groundwork for the second fibre optic cable, which will connect Antananarivo and Majunga to the rest of the globe. This is another project scheduled for 2023 that will represent a new investment of USD $20 million."
For Blueline, 2022 is a crucial step in company development. Given the stakes, the development potential remains significant, and it is a formidable challenge for Blueline and its teams. Therefore, Blueline will need to recruit new talent and train these employees in order for the company to create what will be the internet of tomorrow in Madagascar.