Ivory Coast construction is a competitive industry. We spoke to LafargeHolcim Ivory Coast about the company's various products, services, and its place in the sector.
Africa's construction industry is substantial.
Despite much downturn in other nations, Ivory Coast has been enjoying a decade of high GDP growth resulting in tangible and visible changes throughout the sectors, including construction. This period of high growth has paved the way for the construction of numerous buildings, both for housing and infrastructure, and therefore increased the demand for cement continually.
Although, this demand has been revealed as a double-edged sword. The rise in consumer purchasing and resulting attraction in Ivory Coast's construction industry has caused the arrival of numerous cement plants across the nation. As a consequence, the sector has a major over capacity causing prices to deteriorate.
"Despite this, it is exciting to contribute to the positive changes such as the increased provision of housing," begins Xavier Saint-Martin-Tillet, Head of West Africa Cluster at LafargeHolcim.
An internationally spanning construction company, LafargeHolcim is a worldwide provider of a multitude of construction materials including cement, aggregates, ready-mix concrete and a variety of building solutions.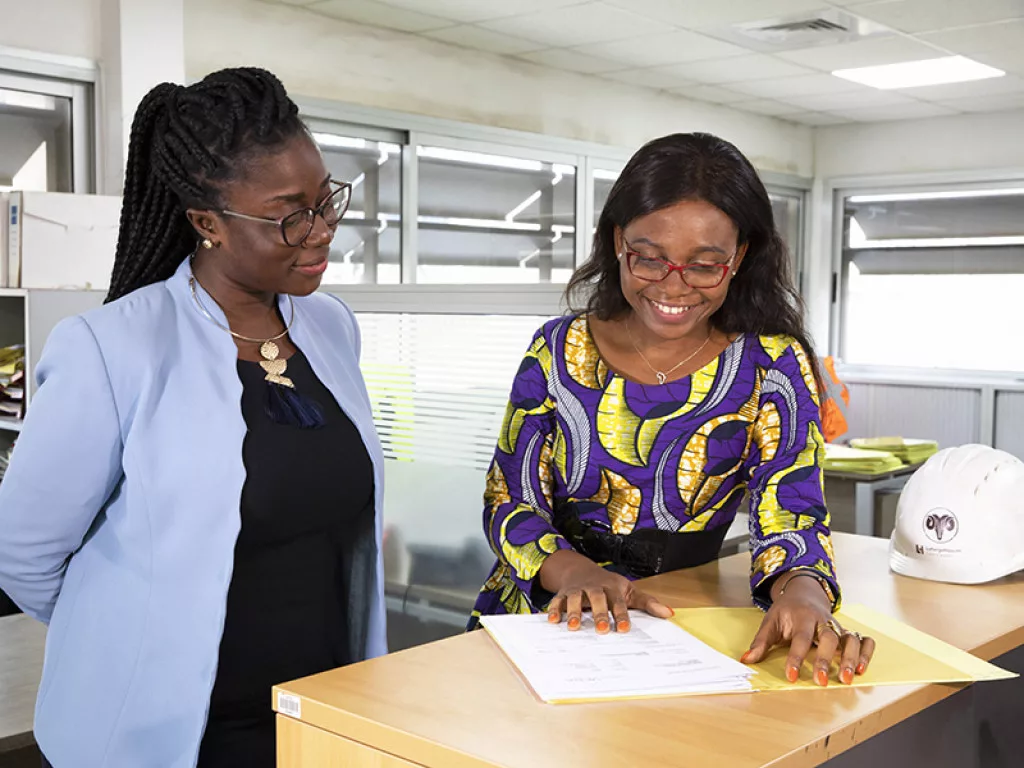 LafargeHolcim Ivory Coast is one of the many African continental branches that provide such products and services throughout the country. With its factory based in the economic capital of Abidjan, LafargeHolcim Ivory Coast has been operating since 1952, proudly contributing to the development of the country through its brand Ciment Belier – one used for the construction of major infrastructure and buildings nation-wide.
"Over the years, we have developed a wide range of products to offer an efficient solution to main cement applications," Xavier elaborates.
"We believe that we must contribute to the improvement of the construction industry by offering products with a positive impact on quality and productivity. As an example, our last product Superbric is designed to build more robust and cheaper bricks."
Superbric is the most resistant product within the range of those from LafargeHolcim Ivory Coast, it hardens in 24 hours, and is multi-purpose with regard to construction uses.
Amongst its services, LafargeHolcim Ivory Coast can also list the palletisation of cement bags which protects them from humidity during transportation in rainy seasons, and the company's unique mobile concrete laboratory that brings assistance to customers regarding their use of company products directly on-site.
"Our client base embraces all types of clients in the construction industry, from major international companies doing business across Ivory Coast, to any individual citizen that is looking for quality, fit-for-purpose and affordable cement," Xavier explains.
Serving its customers to a higher standard consequently made LafargeHolcim Ivory Coast's products available everywhere in the country. This has been realised through the development of a franchise network called Binastore; one of the largest networks in the building materials retail sector in the Middle East and Africa, bringing added value to customer construction projects. LafargeHolcim Ivory Coast has more than 150 franchisees in all the regions, which brings its cement closer to the end users, alongside other construction products available in those shops.
"Our ambition cannot become a reality without the commitment of a competent and devoted team delivering at its best. We count more than 350 permanent and subcontracted staff working on our facilities," Xavier tells us.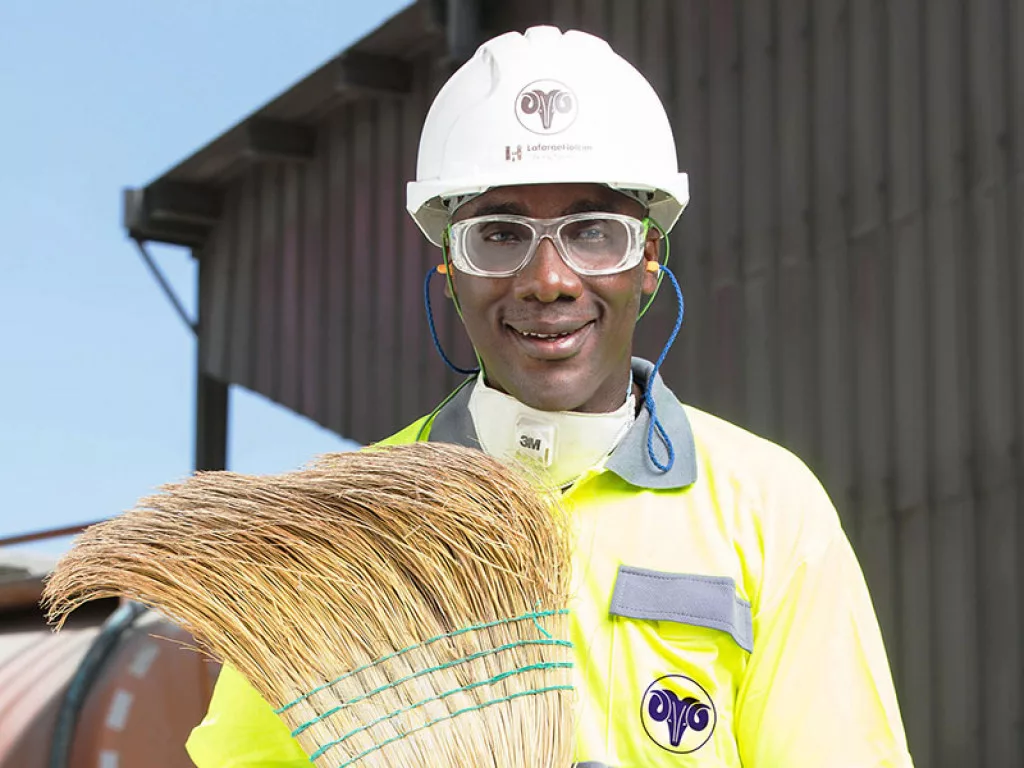 "People are at the heart of our strategy; as part of a global group, LafargeHolcim Côte d'Ivoire is benefitting from the expertise of an international company to develop world-class competencies amongst its employees."
LafargeHolcim is a key player in the international construction sector, yet it maintains its position as a professional and quality provider of products and services through its subsidiaries throughout the world.
LafargeHolcim Ivory Coast boasts a unique range of such products and services, and its ability to innovate allows the company to lead the way in the cement production industry.
"Our brand Ciment Belier has a strong connection to our customers," Xavier tells us proudly.
"It is part of Côte d'Ivoire history as it is also the nickname of the first President of the Republic, Felix Houphouët-Boigny.
"As a company we differentiate ourselves through our employees; a young and knowledgeable Ivorian team dedicated to serving our customers. We believe that we need to differentiate our offers in the context of severe competition. This is why, over the past five years, we have designed specific services to enable our customers to be efficient in their active ordering and purchasing."
LafargeHolcim Ivory Coast's product delivery is a key component of what its customers expect. The company needs to be efficient in its cost management, scheduling, and with safety performance.
Digital tools offer solutions to organise journeys, monitor their activities, and provide transporters and drivers with feedbacks on their performance and behaviours. In light of this, innovation will enable the company to improve its services to customers.
This is no better exemplified than LafargeHolcim Ivory Coast's exclusive mobile app eBelier, which allows the company's customers to order cement directly from their mobile phones and follow that order up until its delivery. Presently, 70 percent of the company's orders are done so digitally; a welcome surprise that has exceeded expectations.
On top of this, LafargeHolcim Ivory Coast has made significant investments towards its industrial equipment in the last few years. The company installed a new cement mill in 2017 that increased its production capacity from 1.5 to 2.5 metric-tonnes per year.
"In addition, we are currently commissioning a clinker silo with a capacity of 70,000 tonnes," Xavier informs us.
"The clinker will be conveyed directly from the port to the silo through systems of elevators and bands. This will result in large decrease the traffic of trucks dedicated to the transportation of raw materials into the warehouses. We have also added local raw materials into the production process, thus creating more value locally, and creating new jobs."
LafargeHolcim Ivory Coast is planning to launch a white cement during the course of 2021; the first locally produced in the whole of the West African region.
As a socially responsible company, LafargeHolcim Ivory Coast aims to give back to the environment and local communities. The company strives to connect itself with the communities that it interacts with, and empowers them through mutually beneficial relationships.
"In line with this, we have deployed several projects that focus on the areas of education, employability, health, environment, and infrastructures," Xavier states proudly.
"An example on the topic of health, during the COVID-19 outbreak we have delivered various materials to communities living around our facilities including hospitals. This includes protection equipment, cleaning materials and a respirator.
"We are also helping to improve the employability of young people in ways such as the financing of professional training for non-qualified young men and women or offering of internships to young graduates."
And when it comes to developing infrastructure to benefit communities, LafargeHolcim Ivory Coast has recently installed a water pumping station in Sokouamekro village (at the centre of the country), providing drinking water to a population of 1,500 people.
"Into the future, we want to harvest of all the investments and innovations that we have developed over the last years," Xavier tells us. "It will result in an improved market share and higher volumes.
"We also want to keep innovating to offer better and more numerous solutions to our customers. Next to come will be our white cement."
LafargeHolcim Ivory Coast is moving into the future with innovation, communities and customers at the heart of its company operations. With a set plan for the years ahead, it is safe to say that the company is one to watch in the market.