As 2020 continues to be defined by the coronavirus pandemic, South Africa's Pindulo VDM has realigned its business with a greater focus on safety, sustainability and diversification.
INTRODUCTION
There is no denying that 2020 will be remembered as the year of coronavirus.
When China reported the first outbreak in the province of Wuhan towards the end of 2019, few anticipated that it would cause the health and socioeconomic hardship that has swept its way across the world.
In South Africa, a country already in the grips of an unemployment crisis, COVID-19 has only exacerbated the problem, and for multimodal logistics firms such as Pindulo VDM, the need to adapt, innovate and diversify has never been greater.
"Coronavirus has dominated every conversation as the world wrestles with the magnitude of the pandemic, and we are still experiencing the economic impact due to the sudden imbalance of supply-demand dynamics," comments Co-CEO Kevin Changoo, who last spoke with Africa Outlook in June 2019.
"Statistics for a less than three month period between April and June show that there has been an increase in unemployment of 156 percent when compared to the full 2019 year, with a forecast of more than 14,747 private transport workers potentially being affected."
Indeed, economists believe it will take between two and three years for the nation's economy to return to a state seen before COVID-19 arrived.
Sudden, sharp shutdowns initiated in order to protect public health have had a devastating impact on economic activity – at the height of lockdown in April 2020, Pindulo could only operate 10 percent of its road services, the remaining 90 percent not classified
as essential.
This caused the vast majority of company assets and all warehousing activity to be brought to, in Changoo's own words, a screeching halt.
However, as restrictions were lifted activity started to pick up, and priority number one for the company was to ensure the safety of its employees.
"Pindulo VDM operates in all provinces in South Africa with our operational depots and employees working in noted hotspot areas," the Co-CEO adds. "In order to ensure the health and safety of our employees, we established a Pindulo VDM COVID-19 Management Team which created and implemented policies and procedures in alignment with the South African legislation as well as with recommendations in terms of international best practices.
"The change engagement process included training and continuous communication regarding the mandatory use of face masks, hand washing, and social distancing. In addition, the business had to adapt to the new environment and implemented systems for the remote working of office-based support staff."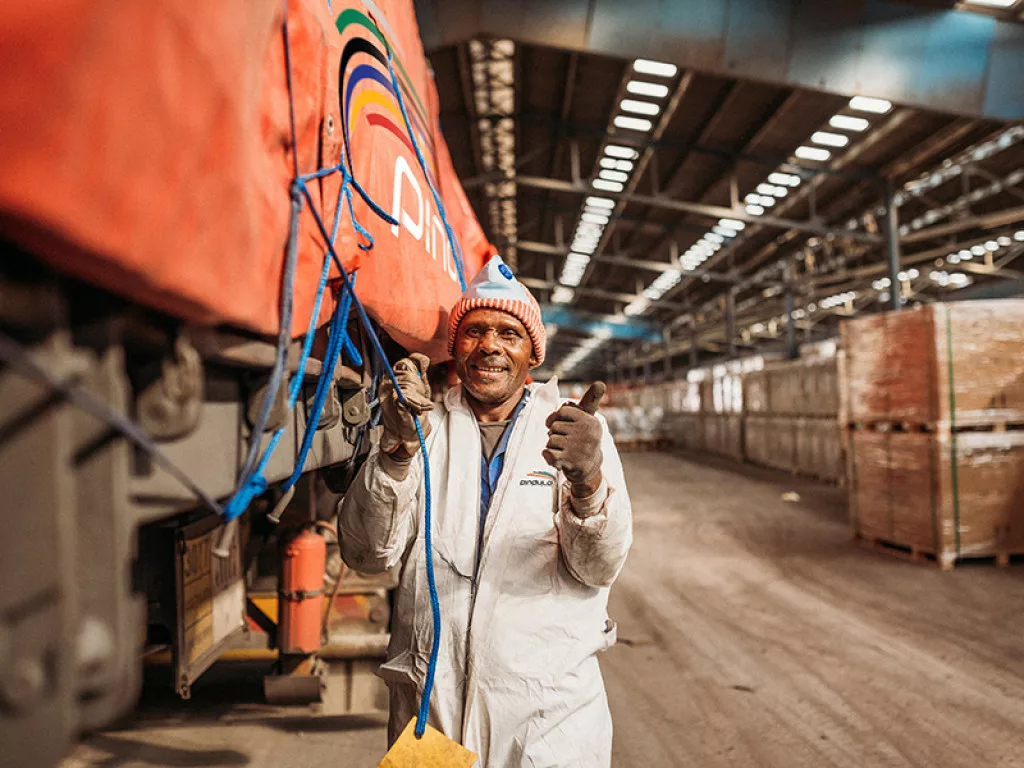 SAFE AND SUSTAINABLE
The response has also led to unforeseen benefits – remote working has resulted in heightened and more frequent communication between different teams in the business, part of a wider cultural move which has seen the firm rally round to support each other like a close-knit family.
And from a business perspective, Pindulo VDM has also made some marked strides forward despite operating against a severely challenging backdrop.
Two major priorities have been to promote safety and sustainability within the organisation, both now among the firm's set of core values.
In the realm of safety, this stretches far beyond what Changoo has already described in relation to the COVID-19 pandemic, covering all aspects of road and land operations.
"The focus on safety was demonstrated by our Road Transport Management System (RTMS) certification in February 2020," he says. "RTMS is an industry-led, government-supported, voluntary, self-regulation management system that has resulted in measurable key performance indicators and demonstrated compliance with road traffic regulations, improved road safety, increased efficiencies and productivity, and enables us to strive for continuous improvement."
The introduction of RTMS, a process which took 18 months, has also carried sizable sustainability benefits.
These include a reduction and minimisation of overloading, traffics and speeding transgressions, as well as a more proactive and preventative maintenance system which has led to a reduced amount of unanticipated vehicle downtime.
Further, the system has enabled Pindulo VDM to prioritise the wellbeing of truck drivers and overall promotion of skills development within the sector.
"The COVID-19 pandemic has catalysed us to review our strategy and to investigate initiatives to improve our efficiencies by optimising the use of our assets," Changoo adds. "The introspective look into the business has resulted in us experiencing an 18 percent increase in measured efficiencies, an improvement in fuel consumption, and a consequent reduction of our carbon footprint."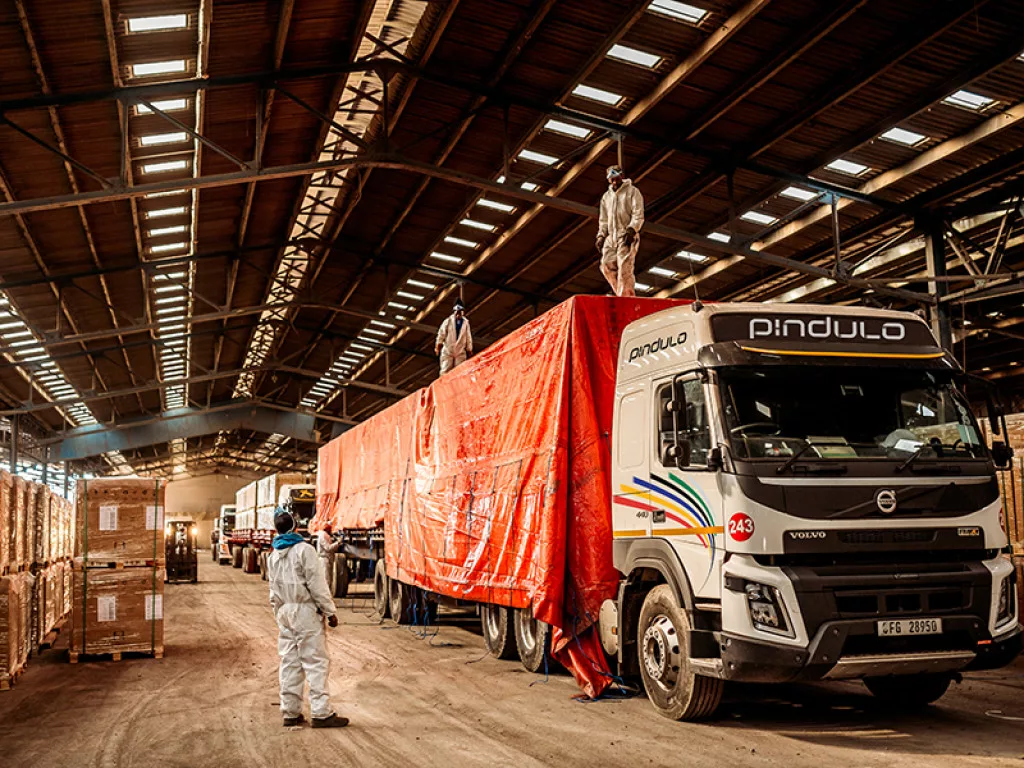 DIVERSIFYING
Prior to the pandemic, the company was also deeply engaged in a root and branch rebranding and diversification exercise, a series of activities which continues to shape the organisation through 2020.
For instance, its internal leadership structure has evolved – Pindulo VDM is now 30 percent black female owned as it seeks to improve its black economic empowerment credentials, the new shareholder also being appointed to the executive management committee.
The firm's divisions have also been expanded and added to. There are now six units, each representing a colour of the South African flag.
"We have made excellent progress with our diversification strategy which includes mineral mining commodities, steel, and industrial and fast-moving consumer goods," says Changoo. "In addition, we have also grown our fuel and chemicals division and increased the number of our fuelling stations to better align with our country-wide operations."
Prior to the onset of COVID-19, much of the company's diversification was aimed at the mining sphere and transport, warehousing and export of various mineral commodities. However, Pindulo VDM adapted to the ever-evolving situation and has since heightened its focus on the movement of essential goods such as food, farming products and medicine.
And it is extremely well-positioned to play its part.
Pindulo VDM's operations are based around strategically located back-of-port hubs which offer in excess of 136,000 square metres of storage. In addition, with more than 400 vehicle combinations at its disposal, the company can provide truly innovative and intelligent logistical solutions, including dry bulk, breakbulk, container and abnormal transport.
It also utilises a private haul road from port to intermediate facilities nearby, the fleet consisting of drop sides, side tippers, flatbeds, tautliners and back tippers, with all trailers fitted with air suspension. The firm also owns more than 2,000 containers.
Changoo also highlights the expansion of its Technical Consulting Division as an important development. This unit of the business analyses data and operations of its partners to ensure it can provide leading solutions for the entire value chain.
"A key example of this was our analysis of one of the key steel manufacturing plants in South Africa, where we reviewed their production, warehouse management, loading, and transportation systems," the Co-CEO says.
"In addition, the project included meeting with our customers' key customers in order to understand the full value chain. Post review of these processes, we were able to formulate a comprehensive solution which has resulted in an annual saving in excess of R80 million to our customer. This in turn has resulted in a strategic and long-term partnership with Pindulo VDM, who is now a primary transporter in the long steel industry of South Africa."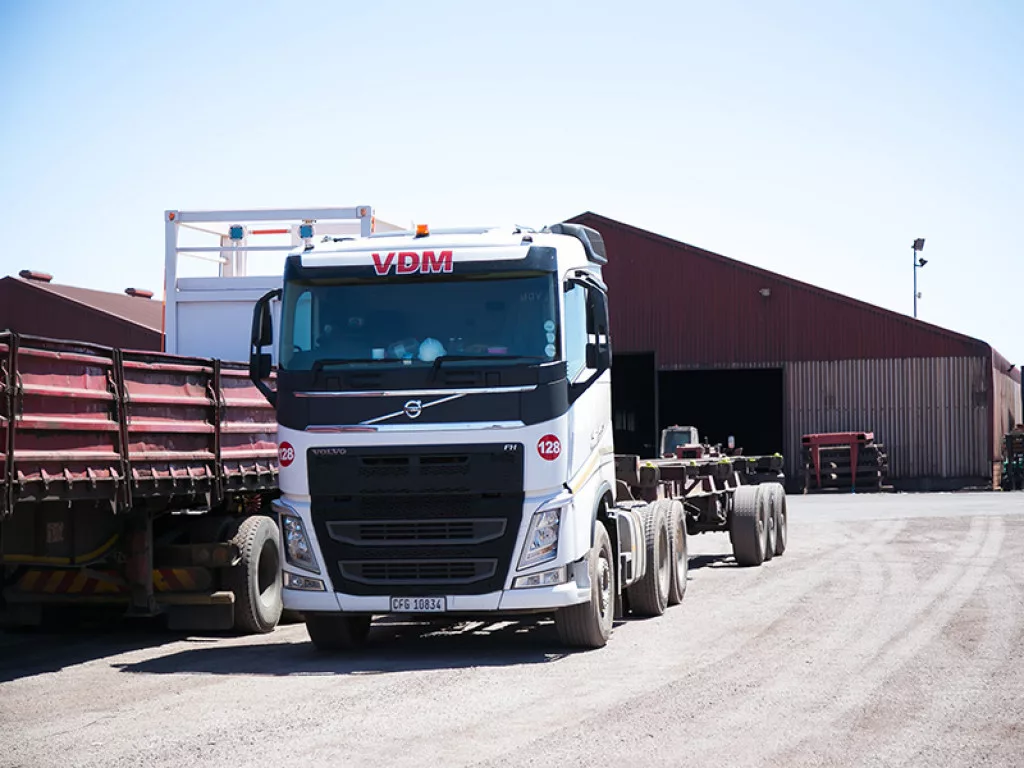 BROADENING HORIZONS
The Technical Consulting Division is part of a formidable setup and network, one which Changoo is determined to expand across borders in the future.
The firm is already truly pan-South African after opening operational depots in Mpumalanga and KwaZulu Natal in 2019, and while 2020 has witnessed some disruption to further national growth, Changoo is pleased with how the firm's footprint has expanded in the likes of Western Cape, Northern Cape, Gauteng, and the Eastern Cape.
However, the Co-CEO wants to venture even further afield.
"In terms of the scope of our operations in South Africa, we already travel more than 36 million kilometres per annum which equates to driving more than two and a half times around the circumference of the earth every day.
"Over the next 24 months, our ambition is to boost this key performance indicator by incrementally increasing operations within the South African Development Community (SADC) which includes Zimbabwe, Mozambique, Botswana, Tanzania, Angola, Zambia, Malawi, Lesotho, and Eswatini."
And the ambitions do not stop here. As well as growing geographically, Changoo identifies three key focus areas for the rest of 2020 and into 2021.
First is to further integrate information systems to ensure superior analysis of data which in turn will facilitate operational efficiencies and superior decision making. Second is an expansion of Pindulo VDM's patented trailer designs and material loading and management – this will lead to increased payloads and reduce the firm's environmental footprint.
The third objective centres on people though the growth of the company's Logistics Academy.
"This will include the training of our land-based operational staff as well as our drivers, with us identifying key areas for empowerment through education, counselling, and the provision of tools to ensure continuous improvement," Changoo reveals.
"To date we have in excess of 200 graduates who have completed the learnership programme and our strategy going forward is to increase the geographical reach and target unemployed youth from previously disadvantaged groups in the different provinces that we operate."
It is here, the importance of building relations with people, where Changoo draws the conversation to close.
He highlights the ongoing partnership between himself and fellow Co-CEO Deon van der Merwe as one which has facilitated successful leadership of the business, a friendship which he hopes and expects will continue long into the future.
Changoo concludes: "Collectively Deon and I form a unit which, with the aid of constant communication, can concentrate on different elements of the business.
"This is one of the best collaborations of my working career. Deon has a background in finance and economics while I have one in process engineering. The combination is therefore extremely complementary and value-adding to our internal and external partners. We act as coaches to the one other and this allows for a soundboard for brainstorming of strategy, critical projects, and essential decision making.
"It is a pleasure to work with a friend, collectively sharing the weighted responsibility of leadership and accountability to our employees."