Linked to multiple African regions, Mozambique is situated in a strategic location for shipping. Justin Jahme, Director of Transcom Sharaf, discusses the company connecting East and Southern Africa via water access ways, and the innovation required to keep freight moving forward.
INTRODUCTION
Mozambique is known for many things; myriad wildlife, a rich culture and heritage, and beautiful stretches of white beaches that look out over the Mozambique Channel, the swathe of sea that separates the country from its island neighbour Madagascar.
With such strategic access to Madagascar, the Southern African coast, the Indian Ocean beyond and a network of inland African waterways, it comes as no surprise that Mozambique is home to a large freight shipping and logistics sector, one that acts as a gateway to East and Southern Africa.
"There is a constant buzz and energy in the space to be sure," introduces Justin Jahme, Director of Transcom Sharaf (Transcom), one of the leading players of the shipping industry in Mozambique. "It is a busy and extremely positive sector to be working in, and new projects, developments and the economic environment are improving in leaps and bounds year by year."
Transcom is a specialised freight forwarding and logistics service company which operates in Mozambique and the Southern African region, providing fast, secure, and reliable shipping, clearance, transport and warehousing services to cater to all of its customers' logistics requirements, while supporting services with a drive towards global competitiveness and sustainability.
"In the logistics sector there has been exponential growth in both exports and imports, with Beira Port, based in Mozambique, servicing not only the country, but also Zimbabwe, Zambia, Malawi and the Democratic Republic of Congo (DRC)," Jahme continues. "This can be attributed to the port improvements made by the port authority, Cornelder, but also the Beira corridor (one of Southern Africa's main transport routes) initiatives supported by government that include the road improvements.
"Since the start of the COVID-19 pandemic, and with the resulting border and country restrictions to South Africa, Beira Port saw a 40 percent increase in cargo volumes. This swing of new customers away from their traditional South African routes allowed suppliers to try the Beira corridor, and most have been impressed by the cost savings, improved efficiencies, and improved service offerings."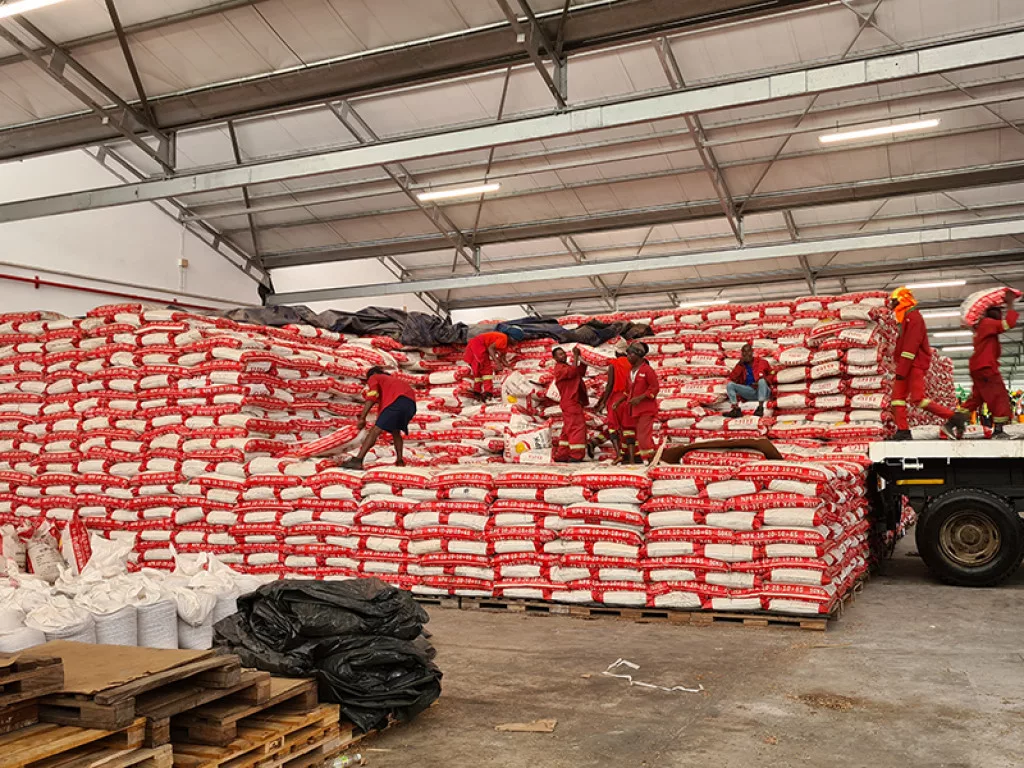 TRANSCOM SHARAF
Transcom is part of the Dubai-based Sharaf Group, one of the biggest privately-owned companies in the UAE, with global offices allowing the business to offer its clients international logistics solutions efficiently and affordably.
Transcom commenced operations in Lilongwe, Malawi in July 2003. Since its inception, it has grown from a transporting company to one of the more dynamic freight forwarders in the region, providing total logistics solutions to its customers with its own resources and infrastructure that have been developed and designed with its clients' needs and cargo requirements in mind throughout every phase of growth.
"Our CEO's vision was always to facilitate tobacco exports through Beira which is strategically situated much closer than the traditional Durban (South Africa) route," Jahme tells us. "Initially, even trucks were not readily available in large enough quantities to support this, hence we invested in around 350 trucks to facilitate these movements.
"As Mozambique developed and further investment flooded into the country following the end of the long civil war, more transporters started up. This allowed us to move out of the transport space and focus more on our core business of freight forwarding. However, the experiences gained through running our own transport fleet is still invaluable and give us a competitive edge in the sector."
In Beira alone, the company has 280 employees and over 300 throughout the region. Transcom prides itself on creating a family orientated environment where employees can thrive and has managed to cultivate an experienced team of service focused individuals who all work together to satisfy customer needs.
"Our staff are our greatest asset, and this translates to a multicultural, positive, passionate, driven and competitive staff compliment," Jahme says proudly. "We have a very high comparative staff retention rate which means we have a wealth of experienced employees who are constantly improving and thriving in a favourable work environment. Dedicated personnel per client provide a personal touch where we strive to build long term and lasting relationships.
"We are a proud company with a family-like work environment. We are always excited to look for the best solution to any challenges our customers may need solutions to. Our close proximity to the port and our healthy relationship with the port authority and shipping lines allow us a lot more flexibility than other companies. We are continuously looking for ways to improve and having the right people in place and to manage the business is critical to this."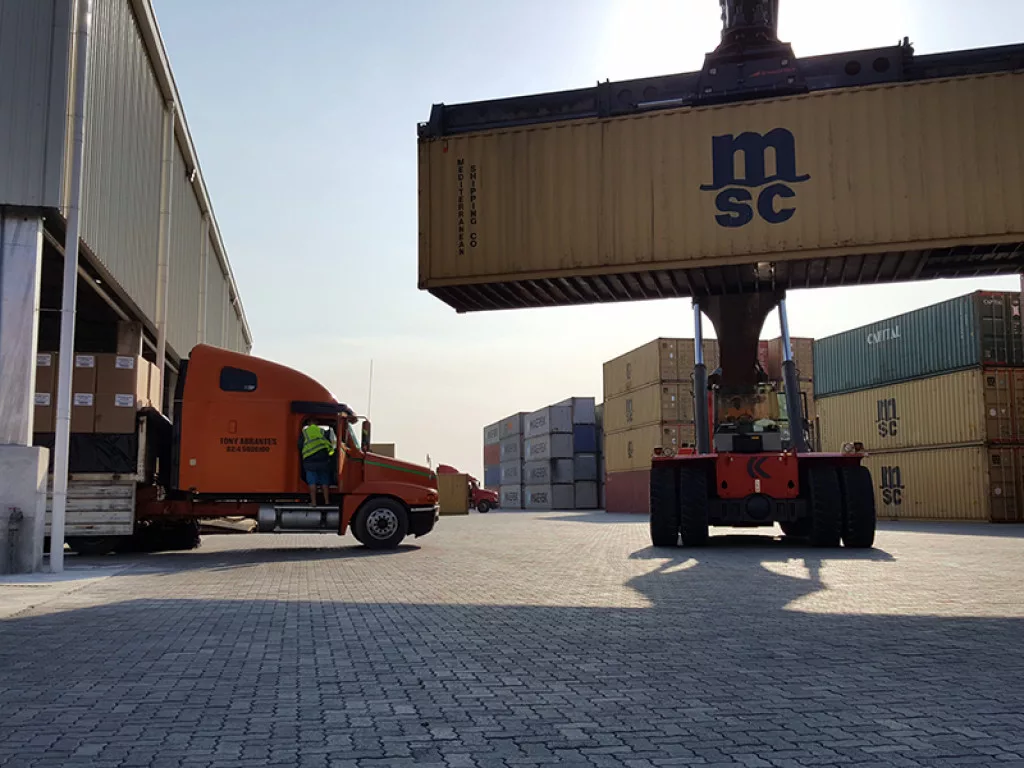 INDUSTRY RECOGNITION
This dedication towards clients and employees alike has manifested in Transcom being voted and awarded the position of Best Container Freight Forwarder of the Year for Beira in 2021, awarded by the aforementioned port authority Cornelder.
"2021 was the first time Cornelder presented these awards. We are very proud to have been successful and hope to retain this title for the years to come," Jahme tells us. "It is extremely gratifying to be recognised for all the hard work, and most importantly to see how much it means to the whole Transcom team.
"It is also a great reminder that in order to retain it, we need to continue being as dynamic and creative every day and always put our clients' needs first. Without the support of our clients, we would never have achieved the volumes to be a contender for the award. I personally believe that again it is our employees and the relationships they have created with our client base that allow us to be successful."
According to Jahme, this client support has allowed Transcom to invest in the best infrastructure and show continuous improvement, and the company's satellite offices are a further reason for the swift communication and smooth transition of its customers' goods.
"There is a confidence in every one of our investments and developments that these tools will allow our staff to further improve our service delivery efficiently," Jahme continues. "We have also invested in a strong IT backbone to ensure multiple forms of communication are always available and we are not restricted by Africa's relatively weak communication infrastructure.
"We are fortunate to have Innovate IT Africa, the best IT contractor in the region, working with us to constantly provide the best solutions. This allows time for planning and co-ordination in a controlled and organised fashion. Our long-term relationships with our transporters and the other critical entities such as port authorities also allow for smoother operations, and these are based on trust-based relationships built over many years.
"This trust allows us greater flexibility than many other operators in the region."
On top of this, it is Transcom's unique management structure that allows company decisions to be made instantly. For Jahme, this is an extremely important factor within the region as numerous levels of corporate approval lead to slow decision making and poor flexibility, that can cause delays and unnecessary costs at the expense of clients. Transcom's trust in its management structure filters out these issues and allows independence, responsibility and accountability when it comes to forwarding operations.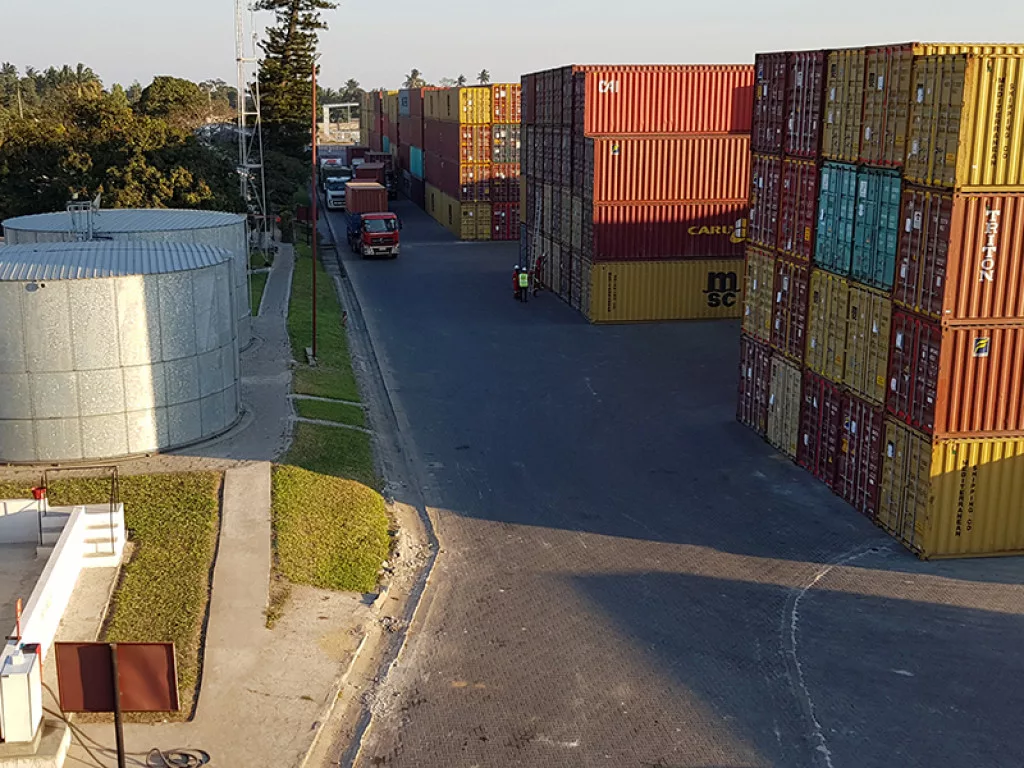 HISTORY IN BEIRA
Transcom was the first company to have tobacco standard warehousing in Beira. The first company facility was purchased in 2005 and following this, due to increased demand, a new site was purchased in 2008, from which Transcom has grown substantially over the last 14 years.
"This facility started with a 15,000 metre-squared (m2) area of warehousing on an 84,000m2 footprint and is now the biggest privately owned single site in Beira, with 126,000m2 of handling area and 35,000m2 of warehousing in total," Jahme explains. "We have recently purchased another 165,000m2 of adjacent land for further development.
"Beira is our head office, and this shows the confidence we have that the Beira corridor is the most important port for the flow of goods in and out of the hinterlands of Malawi, Zimbabwe and Zambia. The facility is state of the art and has been developed initially to exceed the requirements of high value and more sensitive commodities such as tobacco. We have taken the view that in order to provide the best platform for our staff to provide the best services we have to back it with infrastructure that lends the best confidence."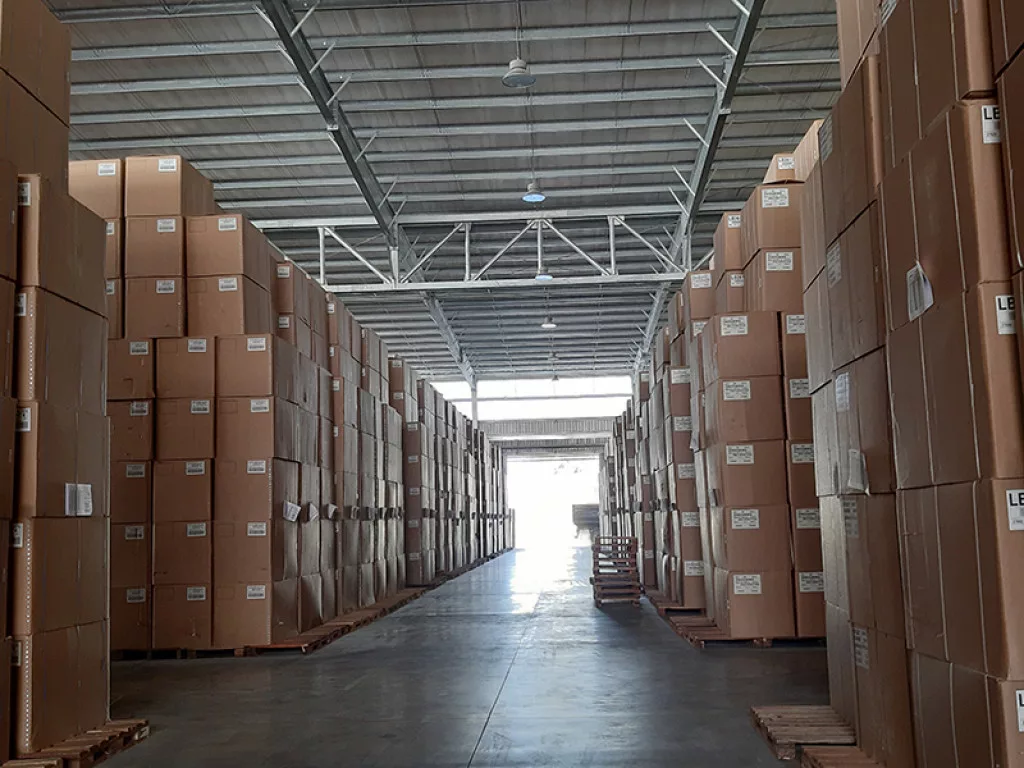 HIGH QUALITY SYSTEMS
Transcom's high standard of systems, processes, fire systems, security, capacity, flexibility and infrastructure mean that lower value commodities that are shipped indirectly gain such benefits without the additional costs that would be associated if such benefits were added on.
"The majority of commodities imported and exported through the corridor can be split into two main groups: minerals and agricultural commodities," Jahme elaborates. "Most are low value, high volume goods. It would be difficult to invest at our level with only these goods in the portfolio, however our core business of tobacco shipping has assisted in these improvements. Off the back of this we then facilitate our export clients with their import needs. For mining this may be project cargo, machinery or other raw materials for processing, but for our agricultural clients, it may be fertiliser, chemicals or packaging.
"These additional systems then lend confidence to our clients. For example, our auto upload photo system files photographs of our clients' cargo into date folders, allowing us to respond to queries or potential claims in under 15 minutes with photographic evidence. On average you can expect a minimum of 35 photos per load throughout the handling process. Our processes are all documented with strict standard operating procedures (SOPs) per client, end customer and commodity. This ensures that through our shared regional server system, all origins have the correct information available at their fingertips. It is important to mention though, again, that the best systems in the world still require an excellent team of personnel to operate them and continuously improve on them."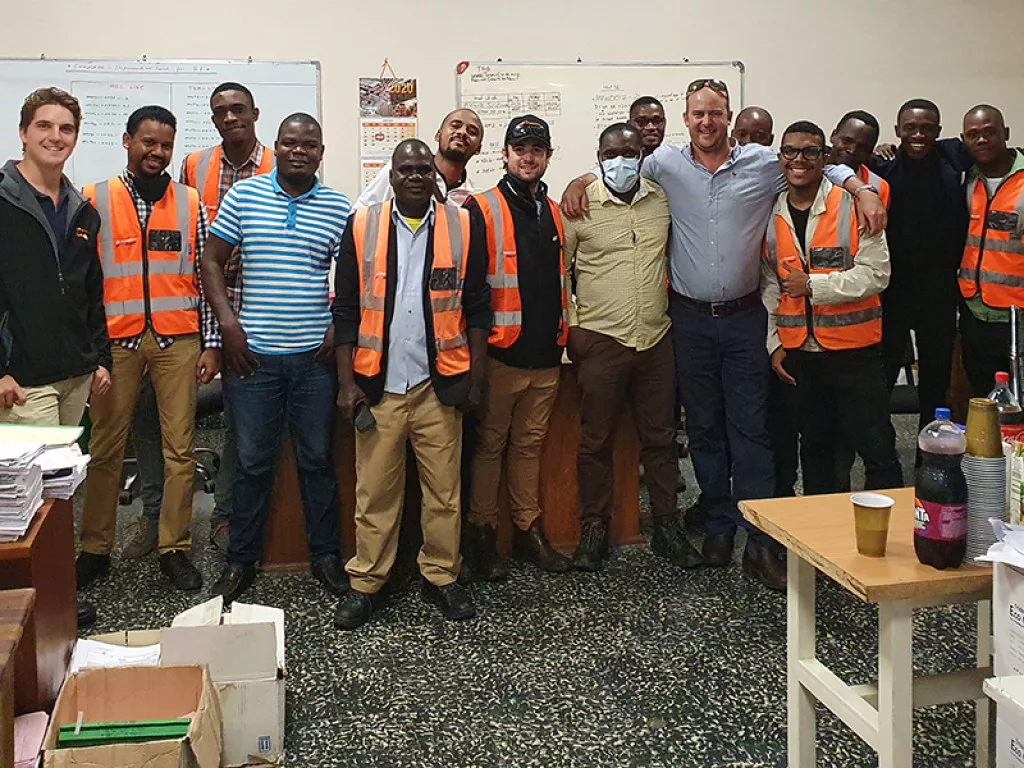 PROFESSIONAL MINDSET
Another place of pride that Transcom holds dear is that of its hygiene policies and the importance of this to the company's image, as well as the positive energy that is instilled in all of its employees from the top down. Transcom maintains extremely high standards in this regard, and according to Jahme, creates an oasis of professionalism for the company among its industry competition and a lasting positive impact on its clients.
"We designed and built our most recent tobacco warehouse by starting with a single 200 kilogramme (kg), C48 tobacco carton," Jahme elaborates. "From here, we designed a building to stack it at the ideal height, how best to segregate the grades and types, the most effective way to cover and protect it, and how best to maintain cleanliness. It also included how best to record location and the most efficient means to move the product into it from trucks and out of it into containers, with the most efficient product flow gained from our years of experience in the environment. All the while, we considered how to make the entire site as safe as possible for our employees to perform.
"The design also had to consider factors such as insurance values per section so as not to overexpose our clients, smoke imaging detection for early fire detection, CCTV and security. This facility would not have been possible without the support of the engineers and contractors that assisted with the entire process, and who also hold the same exacting standards as us.
Procurement in the region is a tough task, especially in a market with so many counterfeit products and often substandard materials. Novasol handles our procurement from South Africa when we cannot find suitable goods locally and we are safe in the knowledge that time sensitive items are road or airfreighted to us accordingly and cost effectively but that quality inputs are guaranteed. Companies like MELS Construction and PM Civils give us the confidence that what we build is the best of the best." It is an integral part of Transcom's nature to consistently encourage its current and prospective clients to visit the company in person, which is increasingly possible again as global COVID-19 measures ease. "It is these visits that allow our clients to fully appreciate how we define ourselves differently to our competition," Jahme adds.
COLLABORATIVE DEVELOPMENT
This definition is present across the multiple developments that Transcom undertakes. One critical aspect of warehouse operations is security and maintenance, ensuring that goods are well kept, ordered and safe, ready for transportation to an end location.
"A recent point of excitement is our wireless phosphine monitoring system that we have developed with Centaur Analytics," Jahme says. "Around 2015, we realised the single biggest threat to our tobacco business was a tobacco beetle infestation, something that has traditionally been a big challenge for all the tobacco producers in the region. The high temperatures and high humidity create ideal conditions for these beetles, and we knew that this could be improved upon.
"To start with, we conducted a fumigation trial with controlled atmosphere technology (CAT), as this is definitely the future for its environmental benefits. Together with one of our suppliers – Universal Tobacco and their customer Phillip Morris – we facilitated the start of a joint venture regarding embodied carbon dioxide (ECO2) and brought in the equipment from Europe. We successfully fumigated over 300 containers of tobacco with the first CAT fumigations on tobacco in Africa at the time. However, due to the expense of running this equipment, it was decided that the market would have to determine when this is more commercially viable to undertake."
For Transcom, this meant finding a new solution. The company had to improve when it came to limiting environmental negative impact and the way that traditional phosphine fumigations were carried out.
"Firstly, we created a beetle task force that included our clients but also all the forwarders and fumigators in Beira that handled tobacco, including the port authority, Cornelder," Jahme tells us. "Through stricter hygiene standards, training, synchronised warehouse fumigations and reduced port dwell times, this greatly reduced the cross-infestation numbers in transit. It also gave a focused understanding of the insect lifecycle to all parties in the logistics chain and how best to reduce ambient beetle counts."
Transcom then looked deeper into the process of phosphine fumigation monitoring. For many years, silo fumigations of stock such as maize and other cereal crops have been undertaken using wireless monitoring systems of some form.
"We had to adapt these systems firstly to be able to take place in containers, and secondly to develop a network that could communicate through containers on an unprecedented scale – up to 500 at a time," Jahme continues. "We then had to ensure the system was modified to meet the CORESTA standards of tobacco fumigation.
"Through tireless trials and many years of work by the ECO2 team and Centaur Analytics, we now have the only system in the world that does this on tobacco and are passing multiple benefits to our clients."
PREPARING FOR THE DECADE
Clients and business security are at the forefront of Transcom's upcoming aims. For the rest of 2022 and beyond, the company is expanding its physical presence, growing its scope of business and introducing further solutions to streamline its operations.
"On top of our recent purchase of the aforementioned 165,000m2 of land adjacent to our facility for future developments, we are very excited about some other new ideas that we have been discussing," Jahme says. "We feel that there is a lot of scope in the mineral and bulk handling sector, and in order to be more competitive in this area, we are looking for technological solutions to make this process a lot more efficient and cost effective for our clients, and to indeed expand this client base.
"This diversification will also take the seasonality out of business and provide a more sustainable business model over the full year. With the worldwide pressures of international shipping and container shortages, we also need to look at handling traditionally containerised products in bulk. The increased prices of minerals out of Zimbabwe and Zambia have also led to a boom in their mining sectors that we anticipate will continue to grow rapidly."
Transcom has partnered with some substantial facilities in Johannesburg and Durban (South Africa) to be able to provide the same levels of service through these corridors as the company does in Beira. This is especially important as ocean freight rates are so variable and volatile globally, and Transcom would like to offer its clients the most cost-effective solutions.
"Since cyclone Idai in 2019, which was closely followed by the COVID-19 pandemic, we have held back on infrastructural development to an extent, but the period has given us ample opportunity to identify new prospects," Jahme concludes. "Following our rapid expansion up to 2019 we have also had the opportunity to focus inwardly and build a robust platform to launch forward.
"This has also included the continuous assessment of how best to improve our service offerings to our long-term existing clients for the years ahead."