Jambo Food Products continues to upscale its beverage production capabilities at its highly efficient site in Tanzania, the company targeting product and geographic expansion in 2020.
QUENCHING EAST AFRICA'S THIRST
The world and life as we know it simply wouldn't exist without water.
From carving landscapes and fuelling photosynthesis in plants to powering industrial activity and quenching human thirst, it is, undeniably, the most precious resource on earth.
And while it appears to be in abundant supply, access to fresh drinking water is far from universally available.
Yes, around 70 percent of the planet's surface is covered by water, but 97.5 percent of it is saline and ocean-based, and much of the remaining 2.5 percent of freshwater is locked in glaciers and snowfields. In short, just 0.007 percent of the world's supply is available to feed its 7.7 billion people.
Responsible sourcing, production and distribution of safe drinking water is therefore paramount, and in Tanzania, this pressing need prompted entrepreneur Salum Khamis Salum to set up a new business.
"The idea of setting up a beverage company was inspired by an urgent demand to find a solution for our society to obtain safe clean drinking water at an affordable price," he explains. "Jambo Group is one of the leading economic forces in Tanzania, and we understand that safe clean drinking water defines civilisation."
Jambo Food Products is the company responsible for bottling and distributing water around Tanzania and the surrounding region, as well as numerous soft drink and juice products. It is part of the wider Jambo Group of Companies, which was initially more than two decades ago in 1998, with Salaam serving as the Operations Director and the younger brother of the family enterprise.
FUELLING THE REGION
The Food Products business is one of the region's largest beverage manufacturers, based in Shinyanga which is in the north of Tanzania around 100 kilometres from the stunning Lake Victoria.
Set up in 2011, recent investments have allowed it to reach the next level, as Salaam explains: "The company has increased production by installing additional two high speed lines of 36,000 bottles per hour capacity, each from KRONES in Germany.
"Hiring more professionals, enhanced business reporting systems, an increased professional sales team and adding to our truck fleet have all been carried out hand in hand with increased product differentiation to cater to a wide selection of distinct tastes."
Indeed, Jambo Food Products today produces and sells 14 juice products and 10 different types of carbonated soft drinks, a portfolio of beverages which is distributed to customers via a 300-strong fleet of trucks, 100 of those being added in the past year.
"We are hoping to add up to another 100 trucks early next year to cover markets in neighbouring countries like Rwanda, Burundi and Uganda," Salaam adds.
"We have already covered 60 percent of Tanzania because the demand for our products is so high – we have been seeing sales increases of 40 percent month on month, and can now produce 100,000 beverages an hour at our facility."
But what is the secret to this exploding popularity? For the Operations Director, it comes down to an unwavering commitment to quality and affordability.
"Jambo products are made by a technical team which is constantly in touch with people on the ground to enable us to continuously improve and create a wide range of quality products that are very fairly priced," Salaam says. "This has also been achieved by the acquisition of highly efficient machinery from Germany which incur very few breakdowns. Our consumers have therefore been able to differentiate the quality of our products from our competitors."
Other notable investments have also helped operations to become more efficient, including the acquisition of new plastic caps and preforming machinery, important steps if Jambo is to offset challenges such as high taxation and the cost of importing raw materials.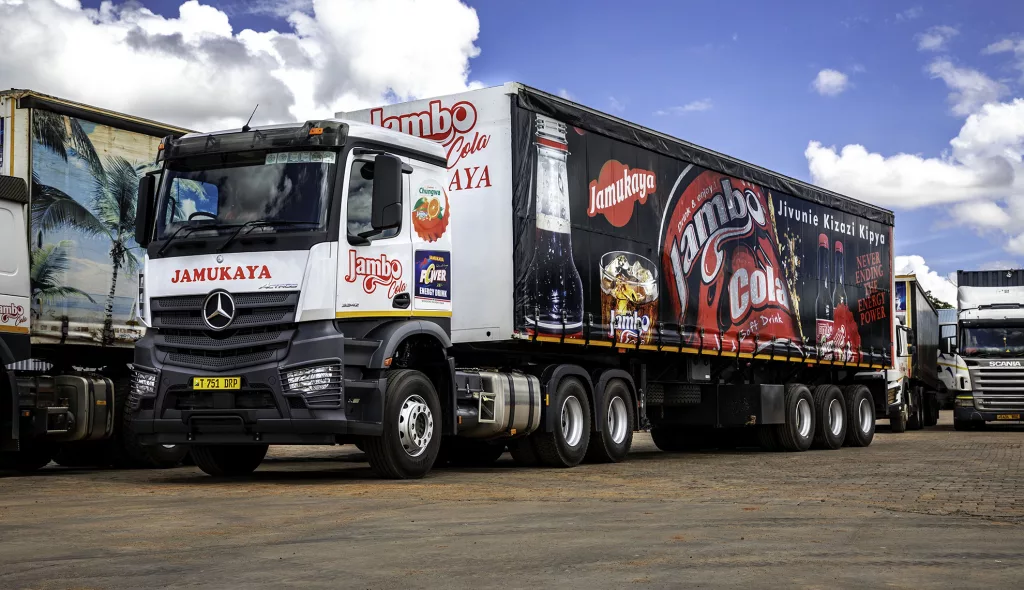 LOOKING AHEAD FOR JAMBO FOOD PRODUCTS
But despite these obstacles, Salaam is confident about the outlook for the next few years.
As well as fuelling Tanzania and its East African neighbours through drink products, the company is now turning to food manufacturing as a means to bolster its portfolio.
The Operations Director confirms that Jambo Food Products will be adding several new lines, including biscuits, candies, bakery goods, honey and pulp extraction, moves which will not only diversify its offering to customers, but also reduce purchasing costs of raw materials.
Salaam is also quick to praise the role of suppliers in doing their level best to keep costs down while maintaining high quality provision, labelling them all (be them ingredient suppliers or equipment manufacturers) as critical to the ongoing success of the business.
And they will continue to play a critical role as Jambo Food Products enters the next phase of its development.
Summing up his outlook for 2020, Salaam concludes: "A key question for us in 2020 is how to absorb the increased tax without passing the cost onto our consumers. Also, upcoming regulations on plastics is an area we will be keeping an eye on, especially given our plans to expand our business through exporting to countries outside of Tanzania.
"To achieve our goals, we will need to increase and cultivate loyalty in our customers by constant engagement and corporate social responsibility, as well as increase efficiency in production and distribution."
VIEW THE BROCHURE