Justin Lipshitz, CEO and Founder of Axon Wireless, discusses biometric products and services as a replacement for paper-based enrolment solutions in the telecommunication and finance sectors.
TRUSTED TECHNOLOGY FOR DIGITAL IDENTITIES
While studying electrical engineering in the 1990s, just as the Internet and mobile telecommunications became more commercial, Justin Lipshitz's interest in technology was accelerated further, after his father's Apple II computer had first piqued his interest many years earlier.
Following university, Lipshitz went on to build software at MTN Group, where he decided to establish Axon Wireless (Axon) in 2005.
Today, Axon employs 30 people across three continents, operating within South Africa, Nigeria, Côte d'Ivoire, Ethiopia, Austria, and China.
"We supply services for many mobile carriers in Africa, the Middle East, and Southeast Asia. Our customers include MTN Group, Zain Group, Ethio Telecom, and Zamtel, to name a few. We are also working with various banks in East Africa and have government projects in Southern and West Africa," opens Lipshitz, CEO and Founder of Axon.
By combining biometrics, automated ID card reading solutions, artificial intelligence (AI)-powered machine vision, and biometric devices, Axon is combatting identity theft and fraud, while continually searching for new and improved technology to optimise customer enrolment.
Axon has deployed the identity management platform Face2Face across 11 countries, registering over 200 million people. Consequently, the highly configurable software framework has reduced the threat of phishing, SIM swap fraud and other cyberattacks.
Biometric registration and authentication are popular with banks and mobile operators, as it allows Axon's customers to rapidly roll out SIM registration and distribution solutions to cater for multiple requirements.
With AI leading the fight against financial fraud and identity theft in Africa, and with digital ID gaining momentum, Axon appreciates it is an exciting time to work in such a fast-changing space for the technology industry.
"There is the intersection of several key technologies, powerful devices and advanced operating systems have been put in the hands of many people. AI is improving exponentially; this has allowed for powerful tools to protect against identity theft," Lipshitz explains.
"At the same time, those that would exploit systems are also improving quickly, and technologies such as deep fakes and ever improving capabilities have shown that systems can still be exploited."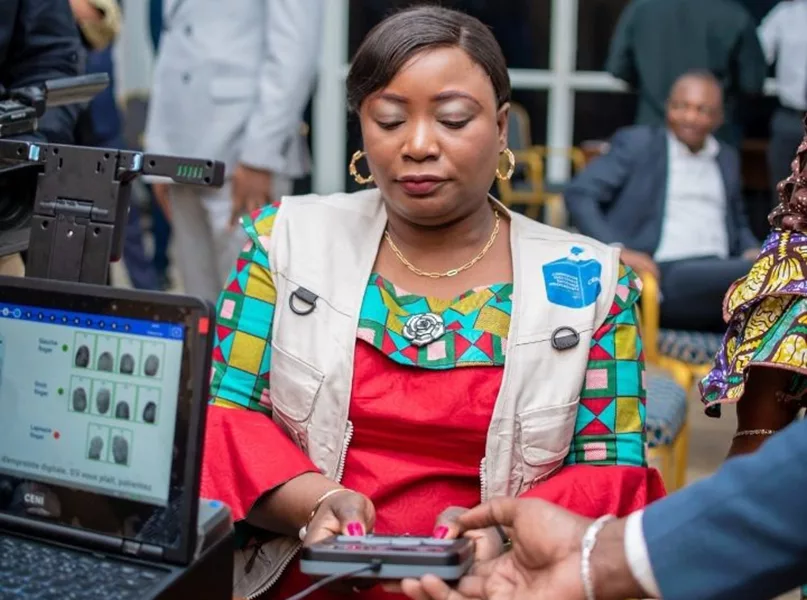 BIOMETRIC ENROLMENTS
Biometric technology is a convenient way forward, with the handheld Comet-10 providing verification and fingerprint enrolment
It is one of several different projects the company is involved in, recently providing a turnkey solution to a prominent Gulf country.
"We have been supplying our own Comet-10 biometric mobile devices capable of reading the Gulf Cooperation Council (GCC) ID documents, matching the fingerprints against the government database. It provides a strong customer validation process," says Lipshitz.
Furthermore, Axon has extensive capability for allowing customers to instantly credit check to discover which network packages they qualify for, allowing for the purchasing of various post-paid packages and provisions for fibre services.
Axon has also developed the next generation customer enrolment technology kiosks, equipped with a cash dispenser and thermal printer. To authenticate the user it has facial recognition, fingerprint verification and ID document validation, therefore reducing fraud and identity theft.
"We have recently released the Saturn-One, which is a complete solution to biometrically verify customers using various modalities and dispense SIM cards," Lipshitz reveals.
While the Saturn-One is a complete solution which enhances the customer experience with instant SIM issuance, SIM swaps, bill payments, and transfer of ownership, Axon's Comet range takes seconds to register citizens and can be used in various locations. It captures high-quality portraits with the front and rear cameras, and with plus-sized lithium batteries, operators can work all day.
"We have designed easy-to-use, handheld devices for biometric verification and enrolment in multiple form factors. The Comet-10 is our five-inch handheld version, while the Comet-20 is an eight-inch tablet. Finally, we have the Comet-60 lite which offers a built-in slap scanner," details Lipshitz.
"You can accurately read ID cards with our optional contactless and smartcard reader. The rugged device with rubberised casing enhances durability in harsh working conditions. In addition, each device is GMS certified, ensuring security and privacy."
Wrapping up the Axon selection is the Jupiter-One, a heavy-duty biometric enrolment kit equipped with high-quality facial cameras, a four-four-two fingerprint reader and dual binocular iris scanner.
"The kit is perfect for multi-modal biometric enrolment and verification. Boasting an A4 printer and document scanner, the equipment can easily handle tasks such as the instant issue of voters or other cards and printing voter lists and receipts. Packed inside an IP67 hardshell, and with an external power supply and depressurisation plug, it can be transported through many terrains," he elaborates.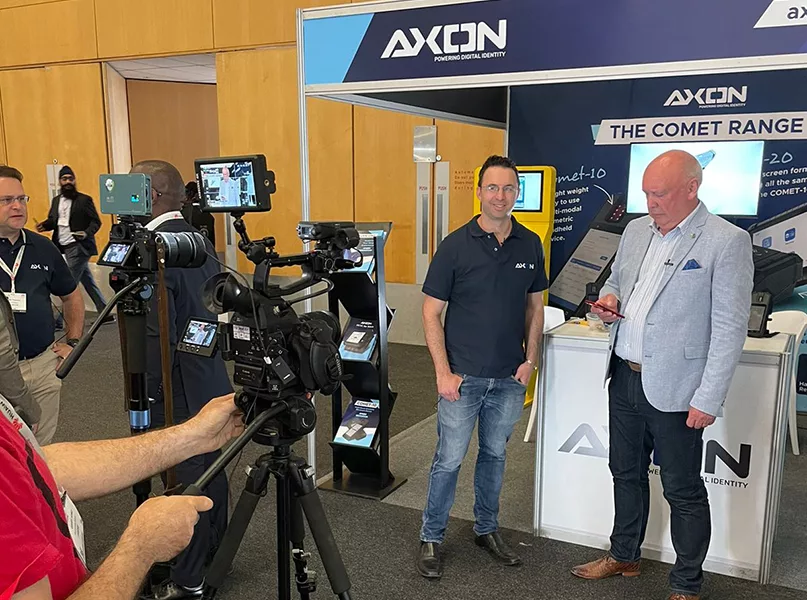 AXON WIRELESS WORKFORCE
Integrity, passion and commitment are important attributes for the Axon workforce, and it takes hiring very seriously as a candidate may be interviewed by an entire department.
"We have worked hard over the years to build a strong culture, a winning team, and a company that is a family," Lipshitz observes. "It is also important to recognise that employees are coming to work for you, and to make sure you are going to enjoy working with them."
For Axon, everything starts and ends with its customers, working together to deliver goals and ensure that teamwork means success. The team is responsible for supporting and assisting customers to stay ahead of their respective markets.
The management and technology team has highly skilled and experienced members with extensive knowledge of mobile devices, EKYC (Electronic Know Your Customer), SIM cards, biometrics, and identity and telecommunications solutions.
"Accountability and taking ownership of the good and the bad is a key principle that we look for in employees. We want to create an environment where people innovate and experiment," he continues.
Regarding corporate social responsibility practices, Axon is busy working on programmes within this space.
"We are looking to train people from disadvantaged backgrounds on our products and systems. We make donations to various charities and made a significant contribution to the solidarity fund in South Africa during COVID-19 with one of our partner companies," Lipshitz says proudly.
Along with its workforce, Axon's supply chain is a critical part of its ability to service its customers. In fact, Axon sees its partners as an extension of the team.
"We spend time nurturing relationships, aligning ourselves with likeminded business partners and people who can deliver and are committed to our customers as if they were their own," assures Lipshitz.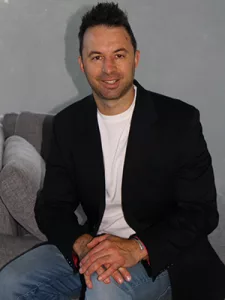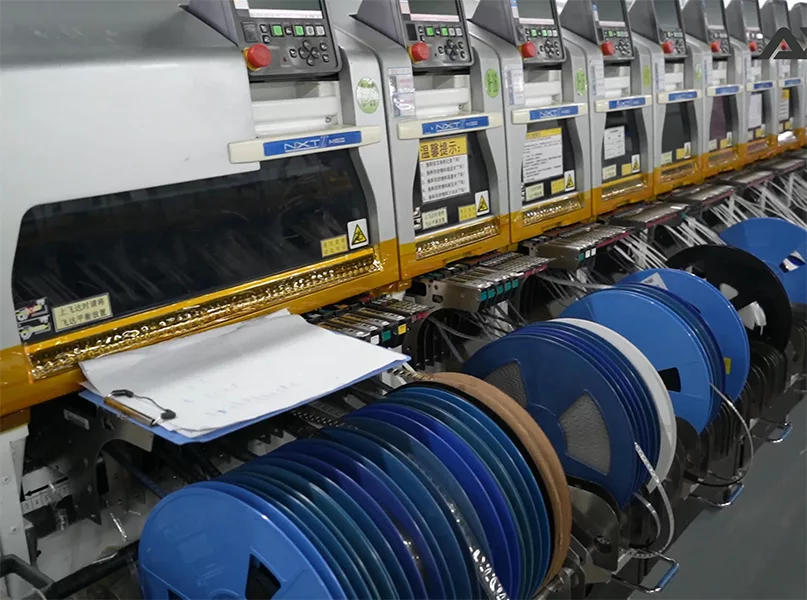 FACING THE FUTURE
An AI chatbot, developed by OpenAI and launched late last year, is on Lipshitz's radar.
"ChatGPT has been an eye-opener for the world and a hint of what the future holds. We are looking at various ways to incorporate such technologies into what we already offer, whether it is to improve our customer's or our client's experience."
As it is an exciting time to be in the fast-moving technology industry, the company is looking forward to the coming year. It has a number of new projects planned, including the recently released the Saturn-One.
"The Saturn-One kiosks received a lot of interest and excitement at the recent AfricaCom conference. We have a number of deals in the pipeline to rapidly roll out these devices for our customers," he confirms.
Mobile money operators want to use it for cash deposits and withdrawals, whereas some government organisations are looking to print birth certificates.
"This is an area we are very excited about; our team is working hard to expand on both the software and hardware, providing a robust solution for our customers."
One of the main services provided by Axon is EKYC, a complete customised turnkey solution for customer identity verification.
"The Jupiter biometric enrolment cases range is also exciting as it provides us with a product required by the government for widescale enrolment projects like voting and civil registrations. Of course, we will continue to grow and improve our EKYC offering and biometric terminal lines.
"With EKYC you can provide a fast, secure and convenient omnichannel experience for your customers to verify and enrol themselves wherever they are," states Lipshitz.
Self-service kiosks provide registration and SIM dispensing points for customers in stores, hotels and malls, and at airports, whereas remote self-service allows customers to identify and enrol themselves directly from their phones with no special equipment needed.
"EKYC offers your customers the ability to enrol in the field or in your stores through specialised biometric devices equipped with mobile device management (MDM) and an enrolment app."
From creating remote enrolment solutions to enabling customer enrolments for mobile money services, Axon's relentless search for better technology to improve identity management and optimise the customer experience continues to be at the core of everything it does.