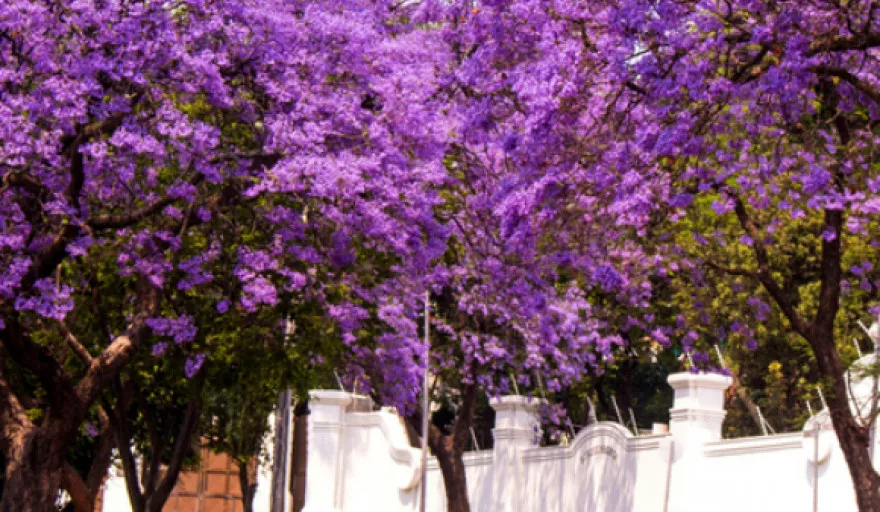 Amidst the jacaranda tree's purple haze of vibrant blossoms, South Africa's administrative capital presents a true taste of the country's rich heritage and fascinating history. A city once at the heart of the apartheid regime, Pretoria is now home to a growing number of black civil servants and foreign embassy workers, who are infusing the city with a new sense of multiculturalism.
Considered the lesser talked about city when compared to the wealth and glamour of neighbouring Johannesburg, sedate, leafy Pretoria lies in a warm, sheltered valley surrounded by the hills of the Magaliesberg range; meaning average temperatures are invariably a few degrees warmer than in Joburg's metropolis.
Pretoria has a beauty all of its own, and the slow pace of life is regarded as a bonus by its residents; many of whom are Joburg commuters who seek a quieter existence, prepared to commute daily rather than live in amongst the hustle and bustle of city life.
The profusion of jacaranda blossoms during October and November is the best time to see Pretoria come alive with Spring festivities that best showcase the capital's Afrikaner spirit and its picturesque urban centre forms a stark contrast to its more chaotic neighbour 56 miles away.

While it may not be one of South Africa's most popular tourist destinations, Pretoria makes a fantastic base for a multitude of sightseeing opportunities. Mandatory highlights when visiting the city include the Pretoria Botanical Gardens, the National Zoological Gardens, the Union Buildings; and various museums and galleries that include Melrose House, the Pioneer Museum, Sammy Marks museum and the Voortrekker Monument.
Transport links
Unlike other key South African hubs, Pretoria's transport system is more limited which means the best, safest and most efficient way to get around is by private car hire. There is an excellent network of highways and well-maintained roads in the city, with many car rental agencies located in tourist and business areas to make getting around fairly simple.
It is advised to follow the safety directions from the hiring company; keeping the car windows up and the doors locked, never stopping for hitchhikers and never leaving anything visible in the car when it is parked in a secure place.
Five national highways – the N1, N3, N4, N12 and N14 – join in the Gauteng region, making it accessible from all cities in the country. However, most national routes are now toll roads, with an e-toll system introduced as part of the Gauteng Freeway Improvement Project launched in 2007, so it is important to research your route prior to travelling.
If you are looking to travel further afield, then the high-speed Gautrain rail link is the perfect means of transport between Pretoria, Johannesburg and OR Tambo International Airport. Travellers can access a direct link from the arrivals hall of the latter, serving as a safe and comfortable way to start your Pretoria journey.
It is worth noting that there is also a very extensive network of informal, cheap minibus taxis, mostly used by local commuters. These taxis have a reputation for being unsafe, but this has greatly improved in recent years and most taxis are now relatively luxurious and not overcrowded, except during peak times. Ask locals waiting at taxi stops about regular routes and rates if you wish to have a more authentic travel experience.
The business end
Known as a tourist-friendly city that caters mainly for the mass market and business travellers, Pretoria also offers numerous advantages to global companies looking to set up shop in South Africa. According to Jim Myers, President of the American Chamber of Commerce in South Africa, nearly half of the chamber's members are Fortune 500 companies; with 90 percent of them also operating beyond the country's boarders in sub-Saharan Africa.
"The sophisticated business environment of South Africa provides a powerful strategic export and manufacturing platform for achieving global competitive advantage, cost reductions and new market access," said Myers.
In line with this, Pretoria's growth in infrastructure shows no signs of slowing, with new shopping centres, business hubs and housing complexes springing up in the city's most lucrative growth areas. With its close proximity to Johannesburg, businesses such as BMW South Africa have chosen the outskirts of Pretoria as the perfect manufacturing location. Moreover, the city is home to one of Pretoria Portland Cement's (PPC) main manufacturing facilities. As South Africa's leading supplier of cement, PPC is known as one of the most significant names in the construction industry; with a combined capacity – across its operations in South Africa, Botswana and Zimbabwe – to provide more than seven million tonnes of cement products annually.
Preparing the city for the next generation, Pretoria is home to more than 45,000 students studying at the largest and most respected university in the country, and several areas have become student hotspots for these future talents as a result. Ranked fourth in South Africa, the University of Pretoria proudly produces the highest number of graduates in the country every year; 67 percent of whom are from the Southern African Development Community (SADC countries).
Outlook recommends
"Pretoria offers visitors a unique glimpse into a city brimming with history and simultaneously embracing cultural change." – worldtravels.com
Museums
Ditsong National Museum of Natural History
University of Pretoria Museums
South African Air Force Museum
Nature
Pretoria National Botanical Gardens (SANBI)
Food & Drink
Retail
Landmark attractions
Voortrekker Monument
Situated in the Voortrekker nature reserve, this unique monument commemorates the pioneer history of Southern Africa and the history of the "Afrikaner". The 40-metre tall granite structure houses the Hall of Heroes and Cenotaph Hall and is the most visited heritage site of its kind in Gauteng; considered one of the top 10 cultural-historical visitor attractions in the country. Over the years, the complex surrounding the Monument has been expanded several times and now includes an indigenous garden, For Schanskop and amphitheatre, a Wall of Remembrance and the Arikaner heritage centre.
The Union Buildings
Easily the most famous building in South Africa, The Union Buildings tower over Pretoria city centre serving-up uninterrupted views of the city's skyscrapers, Freedom Park, the Voortrekker Monument and the jacaranda-lined suburbs. Housing the country's presidential offices, the architecturally-stunning 285 metre-long building also provides a spectacular backdrop to special events and public gatherings of national significance; including paying respects to Nelson Mandela, graduations and hosting the annual FMX competition.
Pretoria National Zoological Gardens
The oldest and largest zoo in the country, the Zoological Gardens in downtown Pretoria has a collection of wildlife that is second to none; including an extremely rare white tiger, a plethora of unusual insects, a host of large carnivores and the largest inland aquarium in the country. One of the top-rated zoos in the world, it is the only zoo with national status in South Africa, attracting more than 600,000 visitors annually. As you'd expect, the zoo features a full range of tours and programmes, including overnight camping options and moonlight tours.
Cullinan Diamond Mine Tour and Adventure Zone
A 30 minute drive from Pretoria, the Cullinan Diamond Mine offers an informative glimpse into the operations and history of this historic mine; where the world's biggest diamond was found in 1905. Cullinan's main street, Oak Avenue, has a whole host of shops and eateries within the town's Victorian setting. Somewhat unexpectedly beyond this area of tradition and tranquillity is Cullinan Adventure Zone, home to some of the best adrenaline-fuelled activities in Gauteng; including gorge gliding, abseiling, quad biking, paintball and more.
The main events
Fijnwyn Food & Wine Festival
"From wine tastings and loads of deli food stalls, to live music and kiddies entertainment, there is something for both young and old to enjoy. You can expect to see a variety of boutique wines from renowned estates across the country, including Vrede & Lust, Creation Wines, Hermanuspietersfontein, Glen Carlou and many more." – Joburg.co.za
Venue: Shokran Events Venue, Pretoria East
Date ('innie lente' edition): 24-25 September, 2016
Website: http://fijnwyn.co.za
Jacaranda Festival

"This event is held annually when the Jacaranda trees are in full bloom. It is a rainbow of colours with footstalls, markets and entertainment for the whole family. Flea markets, concerts and shows all make up for an entertaining time ahead." – Pretoria.com
Venue: Throughout Pretoria
Date: 1-31 October, 2016
Jacaranda Agricultural Show
"A mammoth agricultural show that places the spotlight on farmers in the northern part of the country. There are many agricultural competitions and a hoard of interesting exhibitions, relating to the industry. This is an established annual event and is the largest agricultural show in the country." – Gopretoria.co.za
Venue: Tshwane Events Centre
Date: Between August and September, 2017
Website: http://www.jacarandashow.co.za
Gauteng Motor Show
"If you are looking for an adrenaline-pumping day out, then be sure not to miss out on the Gauteng Motor Show which is jam-packed with a number of activities that will certainly get your pulse racing. In addition to loads of rip roaring activities… visitors can also experience what it's like to drift with professionals in a safe and secure environment." – joburg.co.za
Date: TBD, 2017
Venue: Rock Raceway, Brakpan, East Rand
See the fully illustrated version of this travel guide in both the latest issue of the magazine and individual brochure here.