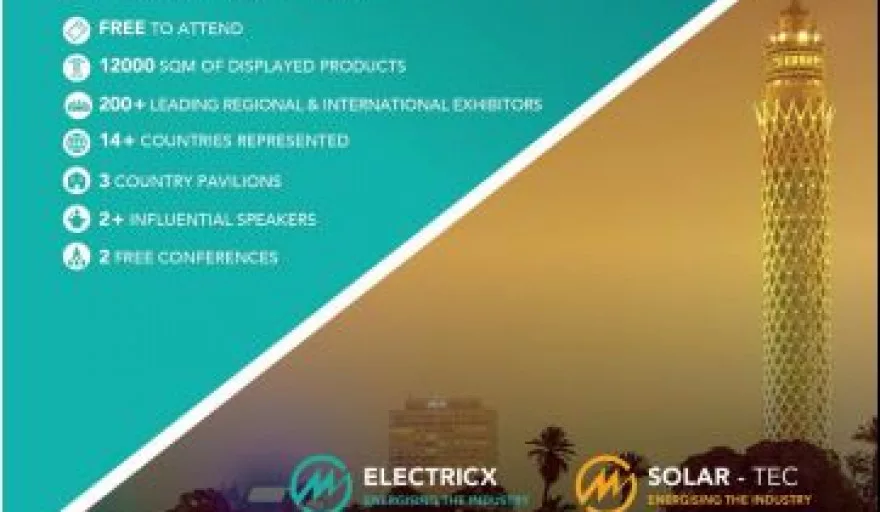 Electricx
The 2017 edition of Electricx will be one of the largest in the 27-year history of the power exhibition. With the growth to cover more than 15,000 square metres, the event will be a truly international gathering of more than 10,000 power distributors and retailers, consultants, government representatives, electrical engineers and purchasers from Egypt.
Demand for electricity is growing rapidly in Egypt at an estimated additional 1,500 to 2,000MW per year due to rapid urbanisation and economic growth. It was also announced that Egypt is the largest importer of gensets in Africa; 58.6 million units annually and 30GW of capacity is now planned to be installed every year until 2020.
Solar-Tec
Solar-Tec exhibition, co-located with the 27 year old Electricx exhibition attracts thousands of regional utilities and regulatory authorities, leading developers, contractors, consultants, system integrators, project managers and distributors who are constantly sourcing latest solar technologies from both the local and international markets.
The transition towards renewable energy is making a shift in Egypt's economy, especially with the 2030 vision being announced. In the next few years, Egypt will install over 6.5GW of solar power capacity with investments totalling more than US $30 billion. Also, it was announced that US $13 billion worth of potential investment planned in the renewable energy sector and 2.3GW of solar capacity is targeted by 2017 of which 2GW will be centralized PV power plants and 300MW will be distributed PV installations under 500KW.
To enhance the knowledge sharing experience and to facilitate business networking, the organisers of Solar-Tec have designed various comprehensive programmes highlighting key project developments and investments in and around Egypt. This year, based on extensive research about the market and current demands, the exhibition and conference will touch upon key subjects like energy storage (both on-grid and off-grid).
WHEN: 3-5 December
WHERE: Cairo International Convention Centre, Cairo, Egypt
CONTACTS: info@electricxegypt.com; info@solartecegypt.com
WEBSITES: www.electricxegypt.com; www.solartecegypt.com