With an unmatched tenacity, resourcefulness, and level of support, we talk to the CEO of Medical Teams International, Martha Holley Newsome, about the organisation that goes above and beyond in providing humanitarian support.
RESTORING HEALTH AND WHOLENESS
Across the world, the work of humanitarian relief is paramount to the care and well-being of millions of people affected by conflict, natural disaster, or socio-economic unrest.
Led by faith and an unwavering commitment to equal opportunities in healthcare, Medical Teams International (Medical Teams) is a Christian health and humanitarian organisation that has provided medical care to those in crisis since 1979.
The organisation's founding principle is to provide life-saving medical care and support to those in need in Africa and across the globe, as it helps millions of refugees and displaced individuals receive urgently needed medical attention.
Medical Teams follows a three-branched approach to its services – providing basic medical treatment, offering an outstanding level of individual care, and working to strengthen the existing system through building trust between the healthcare services and the community. Such honourable commitments are underpinned by a vocation of: "daring to love like Jesus".
"Like Jesus, we boldly break barriers to health and restore wholeness in a hurting world," begins Martha Holley Newsome, President and CEO of the organisation. "Not only do we desire to be the hands and feet of Jesus, but to also break barriers in access to places that have been the hardest hit by all kinds of difficult circumstances, whether that's a natural disaster or a manmade conflict. We want to go where we are needed most, to bring medical care that is so urgently required."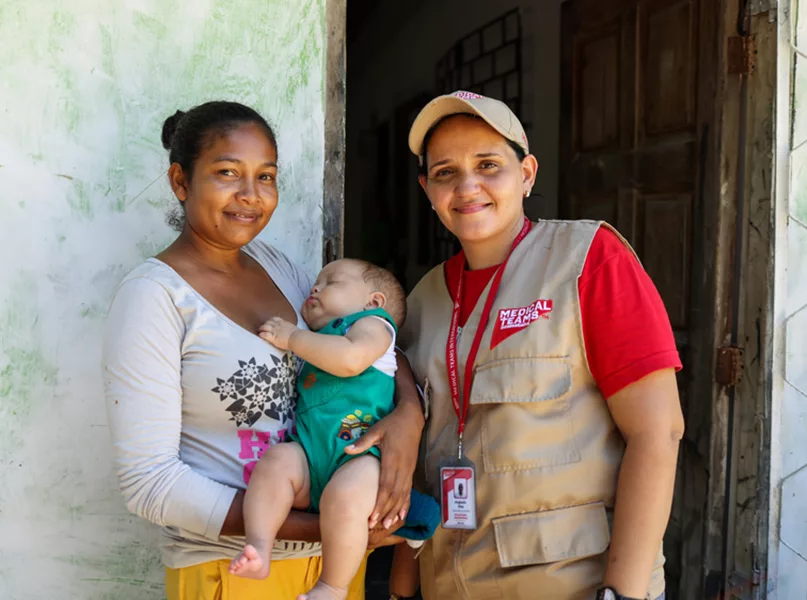 HEALTHCARE EQUALITY
Medical Teams works attentively with refugees across numerous countries in Africa, including Tanzania, Sudan, Ethiopia and Uganda. Regarding the latter, Medical Teams operates 65 clinics that provide health services to nearly one million people, of which 750,000 are refugees and the remaining 250,000 are local population. Consequently, the Uganda programme has a total cost of USD$17 million.
Further north, Medical Teams has been vital to those fleeing from conflict in Ethiopia. In total, 65,000 people from Tigray fled across the border to Sudan, and as such, the community health workers (CHWs) have been incredibly active in and around this area, despite difficulties caused by the civil war.
"There was no internet, so the health workers were cut off from everything including power. The only thing Medical Teams could do was fly cash to its team so they were able to continue to have mobile medical services until the peace accord," Newsome explains.
Once the peace accord was finally signed in Ethiopia, an imposed curfew meant that CHWs weren't able to access vehicles. Therefore, they continued to conduct mobile medical operations on donkeys, demonstrating courage and tenacity in extreme conditions.
This is further reflected in Medical Teams' work in Eastern Africa, in which team action has increased in response to recent droughts that are causing high levels of malnutrition.
Over in Colombia, South America, Medical Teams has also been working with Venezuelan migrants since 2019, who have been fleeing economic hardship caused by the collapse of the government in their home country. The CHWs provide support in strategic urban areas, providing vouchers for medical care and sanitation and hygiene supplies, with a large percentage of vouchers being given to young women and children.
"We had the chance to go to a community known as Cienaga, which translates as 'swamp' because the area routinely floods. Another community, called Soledad, is built on a literal trash dump. Both these areas have dire sanitation and horrendous healthcare conditions," Newsome informs.
It is in the latter region that Joanna and her baby live in a small cement room. With no access to healthcare, Joanna and her family fled across the Venezuelan border in search of aid. She had only seen her doctor once with her first pregnancy, and lived in constant fear that her baby wasn't healthy.
Her second pregnancy, however, was much different. Since getting connected with Medical Teams, Joanna has been able to get papers to qualify for insurance, and the CHWs helped her get registered in Colombia. She benefitted greatly from the vouchers, and described how it would have been very difficult to get help with her pregnancy otherwise.
Medical Teams provided both prenatal and antenatal care to Joanna, as well as regularly checking in to help with breastfeeding, alongside any other needs that arised.
"Our staff in places like Colombia are truly saving lives. The personal care and connection we provide to the clinics and services in their communities makes a significant difference in their health outcomes," Newsome describes.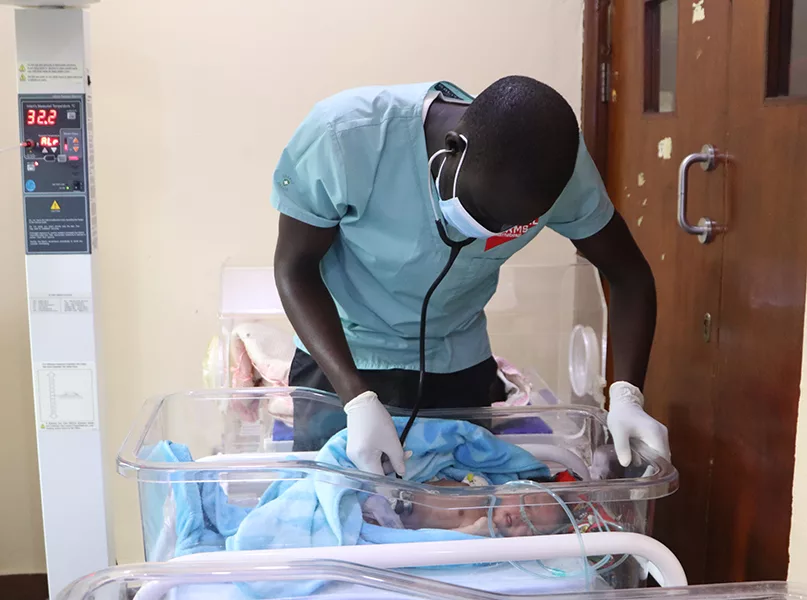 ---
MEDICAL TEAMS' ONGOING OPERATIONS IN SUDAN
Upon the eruption of the crisis in Sudan in April this year, 25 million people are now in need, as the entire population is affected by the conflict. Thus, Medical Teams has been working hard to help the one million people that have been internally displaced.
Initially, the team were helping the displaced in Tigray, until 300,000 people crossed the border to Ethiopia to escape the Sudan conflict. Thus, Medical Teams has been continuing to respond to conflict and displacement in both countries.
---
AIDING WITH FAITH
As a businessman from Salem, Ron Post, the founder of Medical Teams, had no prior involvement in medicine or humanitarian aid. And yet, he felt a calling one evening when he saw on television what was happening to Cambodian refugees that were impacted by Khmer Rouge.
Post was particularly affected by the footage of a young girl he saw stagger across the border and collapse. At this point, he felt God wanted him to do something. Two weeks later, Post was on a plane to Thailand to provide critical services for the Cambodian refugees in partnership with World Vision, which was running a hospital initiative on the Thai border at the time.
From such an impactful start, Medical Teams operates as a faith-inspired organisation that focuses on what daring to love Jesus means in the world. Thus, with the prayer that their staff can be the hands and feet of Jesus, Medical Teams demonstrates love to its neighbours and, most importantly, helps them survive.
"Our values are to be courageous and tenacious, accountable, selfless, and not alone. We think about the latter in two ways. We want to come alongside people so that they know they're not alone and work in partnership with others. However, we also believe that the contexts in which we work are so big that we need God as well," Newsome highlights.
LIFE-SAVING SUPPLIES
The notion of an international network of aid is paramount to the success of the organisation, whether this is provided through private individual contributions or comprehensive supply chains. Regarding the former, each contribution is perceived as "gold dust," Newsome describes, as it allows the organisation to leverage resources.
"People feel moved by our work and feel the need to support us, even if it's a small individual donation or corporate foundational funding, each contribution is greatly valued."
Due to Medical Teams' reputation and calibre of programmes, it receives many grants from the United Nations High Commissioner for Refugees (UNHCR), as well as other vital international institutions. Each organisation diligently works with Medical Teams as it recognises the value of having proactive staff on the frontline, to achieve critical last-mile care.
From a wider supply chain perspective, it has become increasingly important for Medical Teams to work closely with both partners and donors to ensure that each country's needs are being met, whilst following best practices to enhance low-resource health system strengthening.
For partners in-country, the need to have staff or volunteers who understand local custom requirements and can obtain tax-exempt status is pivotal to the success of an in-country supply chain. Medical Teams works with experienced expediters who can provide in-country agents if needed. Once in-country, medical supply management is key to the proper distribution of supplies.
Following the supply chain from donor to end user is one of the most challenging but rewarding aspects of the organisation. This year, Medical Teams has diverted 160 tonnes of medical supplies from landfills and served 490,000 people. The ever-changing landscape of customs regulations, donor requirements, and meeting in-country needs leads to many of the much-needed changes to the medical supply chain. Being agile and responsive is key in the procurement and distribution process of these supplies, and this is one of Medical Teams' specific areas of expertise.
Alongside the succinct organisation of the international distribution of supplies, the staff, from coordinators to CHWs, are at the core of the company's success. In total, it has 2,503 employees, as it has become more dependent on the national staff of each country to run the aid programmes. This means that CHWs on the frontline are aware of the context of the crisis, as well as the people they are working with.
Currently, approximately 25 of the staff in Uganda are refugees themselves, as the organisation prefers national staff over expatriates. This deliberate recruitment enhances the care provided by Medical Teams as they utilise the skills of refugees and nationals.
Medical Teams is also determined to ensure that each staff member has the opportunity to develop their skills. Thus, it provides a multitude of learning programmes in which team members can enroll and participate anywhere in the world.
---
MEDICAL TEAMS' STRATEGIES IN INNOVATING ITS DIGITAL TECHNOLOGIES
• Implementing electronic health records: ensures that patient data is easily accessible to partners and medical teams. By providing electronic records, the organisation can offer a better standard of care and refer individuals to long-term healthcare.
• WhatsApp groups used by CHWs: link patients to private and public health clinics.
• Red Rose Initiative: operating in Colombia, this mobile system facilitates vouchers for urgent care. The initiative additionally provides medical supplies through local vendors, which is a dignified way to provide support as patients can choose the items they need.
---
TRIPLING SUPPORT
As the organisation continues to provide healthcare and humanitarian aid across the world, it works to sustain its Love in Action Campaign: a five-year plan to triple its impact around three aspirational goals.
Firstly, Medical Teams is determined to triple the number of global refugees and displaced people that it serves, as well as triple its capacity to respond to natural disasters, and its ability to serve those around the world. This can only be achieved through an efficient mobilisation of its resources, private contributions, and its global supply chain.
When the organisation's board approved the Love in Action Campaign in May 2017, the global number of refugees and displaced individuals was 65 million. Five years later, that total now stands at 110 million, reflecting the urgency and necessity for the crucial work of Medical Teams.
"We endeavour to bring that number down, but unfortunately the level of conflict in the world and the impact of climate change in terms of storms and natural disasters, means that the number is going in the wrong direction. That's why we believe that these three aspirational goals are so important," Newsome concludes.