A powerhouse of the East African beverage space, Serengeti Breweries Limited continues to quench the thirst of Tanzania. Operations Director, Alfred Balikagira, discusses bottling the spirit of innovation and inclusion.
A TASTE OF SERENGETI
"Times are tough for everyone now, but it takes creativity, innovation and a certain mindset to survive in business and remain competitive. Above all, we need to make sure that we can deliver together, as a team."
As Operations Director of Tanzania's leading beer and spirits company – Serengeti Breweries Limited (SBL) – Alfred Balikagira maintains an astute perspective of the volatile market conditions currently impacting companies across the world – whether the ongoing conflict in Ukraine, escalating inflation levels or the disruptions in supply that continue to present obstacles in the wake of COVID-19.
However, his observation encapsulates the firm values that lie at the foundation of SBL, which have secured the company's status as a frontrunner of Tanzania's beverage industry for the past 20 years and will continue to serve it in good stead long into the future. Indeed, SBL represents the intoxicating combination of an unparalleled portfolio of world-renowned brands with a company culture that embraces inclusivity, creativity, and innovation.
From its headquarters in Dar es Salaam, SBL comprises two additional breweries located in Moshi and Mwanza and takes enormous pride in its flagship product of the Serengeti family of beers. A subsidiary of East African Breweries (EABL), which is in turn a subsidiary of worldwide drinks distributor Diageo Plc (Diageo), SBL thrives in alignment with the wider group's corporate values.
"I believe that is a unique offering that SBL presents in line with Diageo and we take great pride in our brands," Balikagira continues. "This is a business that lives its values and invests in its talent."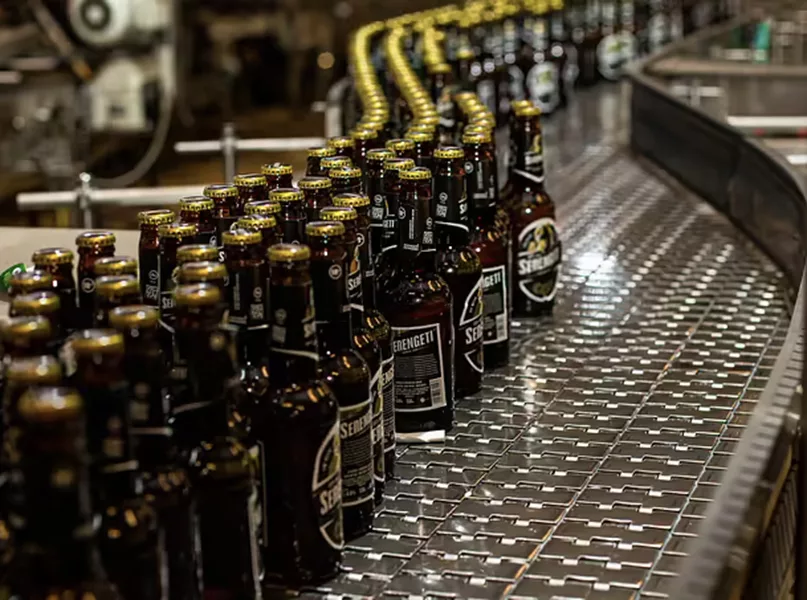 BREWING UP INNOVATION
Innovation is intrinsically woven into SBL's DNA and has risen in prominence as a response to the aforementioned market challenges. Rather than shying away from adversity in the face of prohibitively high costs of doing business as recent droughts across East Africa continue to raise the price of local grains, SBL interprets such hurdles as an avenue for further innovation.
"These circumstances call for innovation and the need for creative ways to drive efficiency and make sure that we are still able to offer our products at a price that is still competitive, but also affordable to our consumers," says Balikagira.
This includes the deployment of digital solutions, e-commerce and interventions to optimise the manufacturing process that are intended to mitigate the impact of current performance challenges and improve efficiency.
"At the end of the day, it's not a matter of operating in a 'business as usual' mode, but rather thinking out-of-the-box, to ensure that our teams are empowered to innovate, identify new ways of working, and become more efficient," he continues.
Complementing these efforts, the company continues to refresh and expand its distinguished brand portfolio by introducing new labels such as Smirnoff Ice Black and Captain Morgan. In both cases, these brands had previously been imported by SBL's parent company, however that story is now changing due to significant investment in local production. As a result, SBL's production capacity has grown by almost 50 percent in the last two years alone.
"We intend to continue investing in expanding our plants and infrastructure in order to have local capacity for production," Balikagira affirms.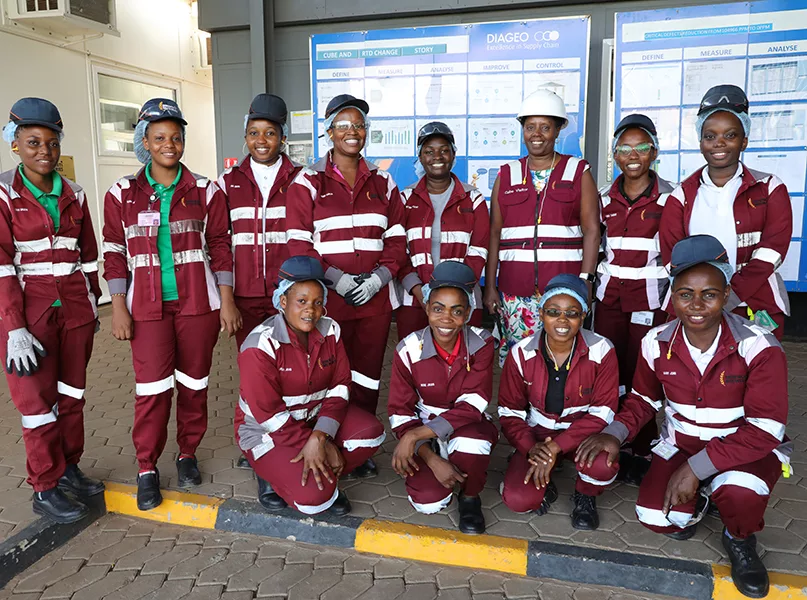 DISTILLING THE SPIRIT OF PROGRESS
SBL's plans for continued expansion of its production portfolio footprint are executed in line with the company's vision for sustainability, dubbed 'Society 2030: Spirit of Progress'. This is a 10-year action plan put in place to manage the business's most material environmental, social and governance (ESG) issues and ultimately, its strategic approach to ESG.
With over 25 individual targets set in alignment with the United Nations' Sustainable Development Goals (SDGs), the overall plan falls into three key pillars; promoting positive drinking, championing inclusion and diversity, and pioneering grain-to-glass sustainability.
In terms of environmental efforts, SBL counts several interventions in green energy, with investments in technology designed to reduce its carbon footprint and mitigate environmental impact. In this area, SBL's work with the local community is also instrumental, through various tree-planting initiatives working with local farmers, and its water replenishment schemes.
"We are in a part of the world where access to clean drinking water is not always a given. The company offers support to communities that are disadvantaged in this way," shares Balikagira. The 'Water for Life' scheme is a key example of this, and was founded in 2010 as a means to provide free, clean and safe water to communities around Tanzania.
Such endeavours represent a key part of SBL's activities as a responsible corporate citizen, demonstrating a commitment to caring for both people and the planet.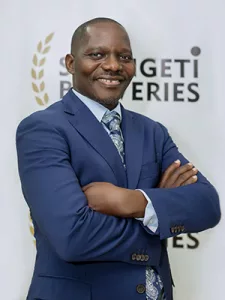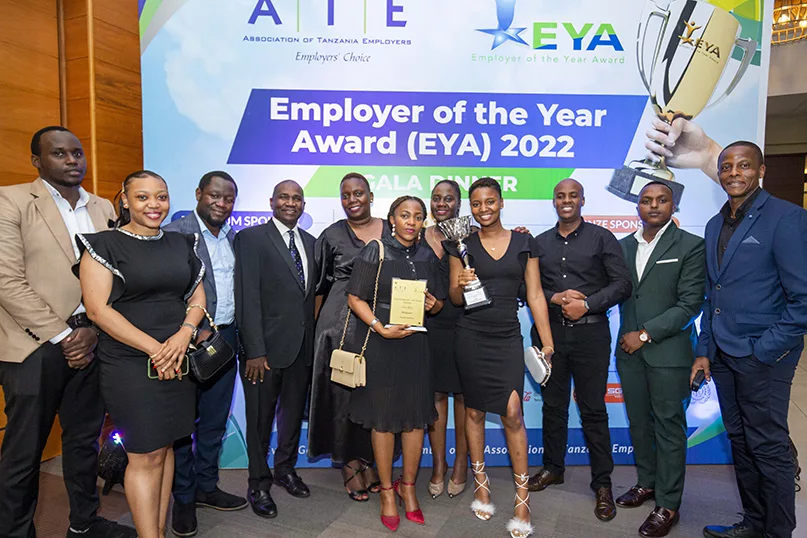 PRIDE IN PEOPLE
SBL's people-centric concern is evidenced not just by its work in the community, but also by the value it places on the team behind the business, comprising over 800 employees both direct and indirect. The company offers various welfare and growth programmes designed to empower its staff and nurture their progression, beginning with its apprenticeship schemes.
"It's always an exciting moment for me to see everybody growing in their own dimensions across the entire company," shares Balikagira.
In alignment with the aforementioned action plan, SBL is currently putting major emphasis on diversity and inclusion with a particular drive to recruit more female staff.
"Our main goal by the end of 2030 – both for SBL and Diageo – is to have a 50/50 ratio of female to male employees. We have several agendas in place to help us reach this target, particularly across our management teams and our directors overseeing the employment opportunities," he says.
This prioritisation of equal opportunities applies both internally and externally, with any community project that SBL undertakes aimed at traditionally marginalised groups such as women or those who are differently abled, who comprise at least 50 percent of the beneficiaries.
This is also embedded into the company's procurement process, as SBL prescriptively selects suppliers that provide equal opportunities to marginalised groups.
"We want to exercise diversity in a very broad sense across our entire ecosystem," emphasises Balikagira.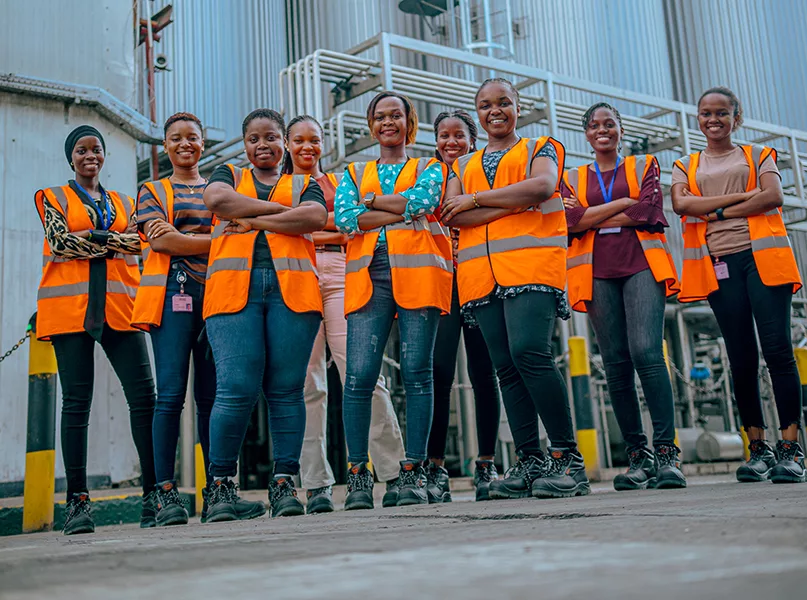 A TOAST TO THE FUTURE
Turning to talk of the years ahead, SBL remains firmly focused on its Spirit of Progress action plan and pursuing the key metrics of its ESG agenda to ensure that it remains on track to deliver its 2030 goals. This entails continuing to expand capacity to meet consumer demand and growth projections in a way that delivers value to both shareholders, and the wider society in Tanzania.
Drawing to a close, Balikagira returns to the importance of the SBL team as a vital means to guarantee the company's own sustainability and unlock a prosperous future.
"We will continue to invest in our talent, making sure that we attract the best and really grow our people," he says. "They are a critical focus since our staff are part of our success story and will help to drive this business to the next level."
SERENGETI BREWERIES PARTNER