Captain Dino Bisleti, General Manager of the pioneer safari airline, AirKenya, discusses its competitive advantage and future synergies for an unparalleled regional network.
INTRODUCTION
The origins of the word safari are rooted in the Swahili term 'safiri' meaning 'to travel', deriving from the Arabic verb 'safara' – to make a journey.
Today, a safari is considered a bucket list experience for many discerning travellers – a quintessential African adventure that is synonymous with the phenomenon's original heartland of East Africa. Nowhere is this more prevalent than in the vast savannahs of Kenya – the very birthplace of safari.
"Our business model is safari, and that's where we're different from other airlines. We're one of very few companies that flies exclusively to safari destinations," opens Captain Dino Bisleti, General Manager at AirKenya.
A niche airline specialising in servicing national parks, AirKenya has a monopoly over East Africa's leading safari destinations with an extensive network covering Kenya, Uganda, and Tanzania. The iconic plains of the Maasai Mara National Reserve, Serengeti National Park, Bwindi Impenetrable Forest, Amboseli National Park, Samburu National Reserve, and a host of other wanderlust-worthy destinations, all fall within AirKenya's remit.
"Western Kenya is our bread and butter. It's where we have the most scheduled flights every day and the most charters – everyone wants to see the Maasai Mara game reserve," he observes.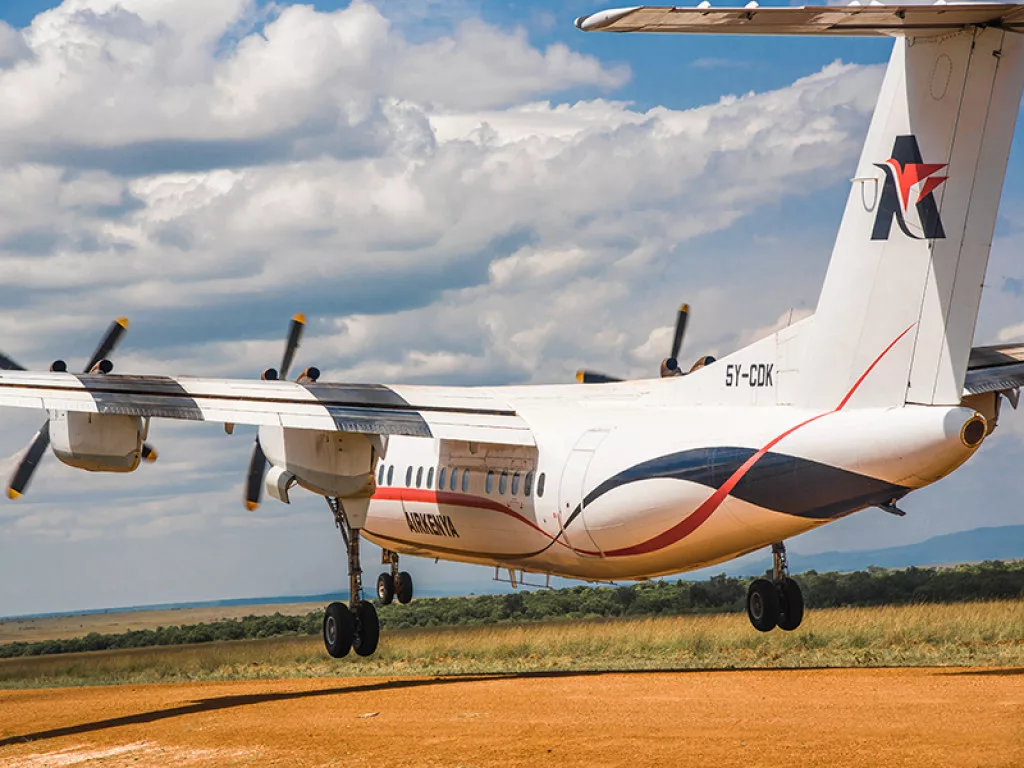 THE AIRKENYA DIFFERENCE
AirKenya is one of three sister companies that work in tandem to cover the East African region. This also includes Regional Air Services, based in Arusha Tanzania, and Aerolink, in Entebbe Uganda.
"We're not like other airlines that fly schedules point to point across the Kenyan border to commercial destinations. All our scheduled flights are tailored to the safari business," Bisleti continues. Aside from this, the company prides itself on bespoke charter services designed to fulfil the individual needs of each client with the ability to cover the length of Africa, from Egypt to Zimbabwe, and all coastal destinations.
"The group of airlines that AirKenya commands is unique in the area with an overview of the whole East Africa region. No one else has what we have, and no one covers what we do in regard to specific tourism and safari destinations," he tells us.
As Group CEO, it was a very conscious decision for Bisleti to veer the company away from the commercial market and exclusively cater to safari and charters.
"About two years ago we decided that we wouldn't fly to any commercial destinations. We realised that whatever benefits we would gain from safari services would be lost by entering into a price war with other commercial airlines.
"It was a very specific decision we made, and it's now paying back."
As a well-established pilot with over 19,000 flight hours under his belt, Captain Bisleti's aviation career comprises extensive industry experience – both from the cockpit and from behind a desk.
"I started my aviation career in 1976. Since then, I have flown commercially for various airlines and became Chief Pilot of AirKenya in 1985. From there, I became the General Manager and CEO, and the accountable manager of Air Kenya Express in 2007."
From small aircraft to giant 737s, and both corporate and commercial jets, Bisleti has flown them all.
"It's been quite a fruit salad of aeroplanes!"
AirKenya's own fleet comprises eight aircraft in Kenya, four in Tanzania and an additional three planes in Uganda. The larger capacity planes are the Bombardier DHC 8-202 (Dash 8), a model manufactured by de Havilland in Canada and the Dash 7 model, seating 50 people and extremely effective for short-haul travel.
AirKenya also utilises de Havilland's DHC-6 Twin Otter, and the Cessna Grand Caravan C208B – the latter of which forms the entirety of AirKenya's Ugandan service as an effective choice for rough terrain.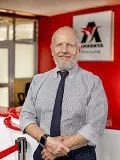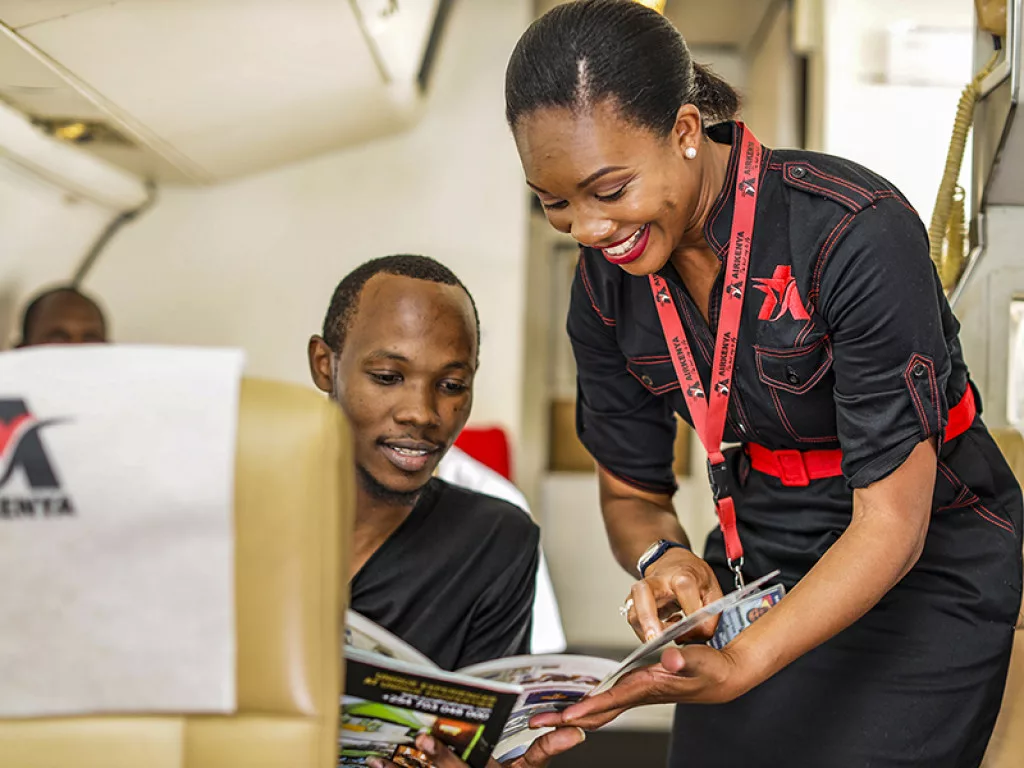 FLYING SAFE
Aside from its niche specialities, a major differentiator at AirKenya is its in-house engineering prowess. 30 percent of the company's 140 employees work in engineering, with a dedicated department for the maintenance of AirKenya aircraft and separate approved divisions deployed to both Uganda and Tanzania.
"The particularity and the uniqueness of this is that we maintain our own fleet, so we don't rely on third parties to provide aeroplane maintenance. Having control over our own aircraft maintenance is a great advantage for both flexibility and deployment in the region," says Bisleti.
This is especially crucial when considering the nature of the terrain that AirKenya's fleet covers. Across the region, bush airstrips can be in poor condition and are often unprepared. The fleet of planes are geared towards this, with the majority of models designed for short take-off and landing (STOL).
As such, training is of paramount importance, to equip pilots with the necessary skills to cope with short, unprepared airstrips and conditions specific to the locality.
To do so, AirKenya works with Flight Safety International, a world-renowned training provider based in Toronto, Canada that specialises in a host of aircraft.
"To be able to do this effectively and safely, we train all our pilots in Canada, since this is where they can work with the simulators. Meanwhile, training for the Caravans takes place in Wichita, Kansas, in the US," explains Bisleti, who also undertook his pilot training in North America.
In addition, rigorous local training is implemented in-house with recurring sessions covering regulatory requirements and essential topics such as dangerous goods legislation.
FUTURE HORIZONS
Looking to the future, a major focus for AirKenya concerns strengthening the interconnection between the three airlines, channelling a holistic operating model whereby they combine to create a seamless and expansive flight service throughout East Africa, allowing clients to cross borders and sample the best of the region's offerings.
"We are working very hard on strengthening our connectivity between the three countries. It's a regional project. We want to improve our connection times and establish increased frequencies between destinations in Uganda, Kenya and Tanzania," Bisleti explains.
He goes on to highlight a particular route the company introduced two years ago that is working well in this regard, whereby passengers can fly from the Maasai Mara Reserve to Entebbe, then on to Uganda's west for an unforgettable wildlife experience.
"With this route, passengers can effectively have breakfast in the Mara and trek with gorillas in the afternoon. Our efforts are now to increase and strengthen this route to give our customers better choice and a unique taste of the three countries."
Aside from this, expansion is a priority in increasing the number of seats available and growing the fleet with the addition of more Dash 8 aircraft.
"Only by establishing more seat availability can we improve on our volumes and return tourism back to 2019 levels before we were hit by the COVID-19 pandemic," concludes Bisleti.
With a hopeful future ahead, AirKenya continues to keep its eyes on the skies of one of the world's best-loved tourist destinations.