We speak to Bruno Silete Hounkpati, CEO of LafargeHolcim Guinea, regarding the supply of sustainable construction products and solutions in Africa.
INTRODUCTION
Holcim Group (formerly known as LafargeHolcim) is a globally recognised name in the international construction space.
With sites and offices worldwide, it comes as no surprise that the company is a major player in African construction, spanning multiple countries with its high-quality products and solutions characterised by innovative thought and expert leadership, as well as existing as a world industry leader in sustainable construction solutions.
LafargeHolcim Guinea is one of the longstanding subsidiaries of the group and enacts the wider company's mission across the country in accordance with the specific situational needs of clients therein. The company has approximately 250 permanent employees and contractors, and a customer base split between the four regions of the country.
"We've achieved strong financial results with a team of young Guineans over the past three years, despite a turbulent period in 2016 and 2017 beforehand," says Bruno Silete Hounkpati, CEO of LafargeHolcim Guinea. "We have successfully turned around our business and consolidated our position in the market with our million-tonne capacity plant.
"I am really proud of the team and the success we achieved so far."
According to Hounkpati, the cement market in Guinea has recorded steady growth in the past three years and is expected to grow at an average rate consistent with the country's GDP. This upwards trajectory is fuelled by the demand from the building and residential sectors and to some extent, continued investment in mining and infrastructure projects.
"We are the reference for infrastructure and retail customers in Guinea with our diverse products portfolio for all construction applications and digital services that address our customers' pain points," Hounkpati explains. "We are the first and only producer of higher cement grade 52.5 and ready to use mortar products – tiles adhesive and water-resistant wall protection mortar – in the country to date."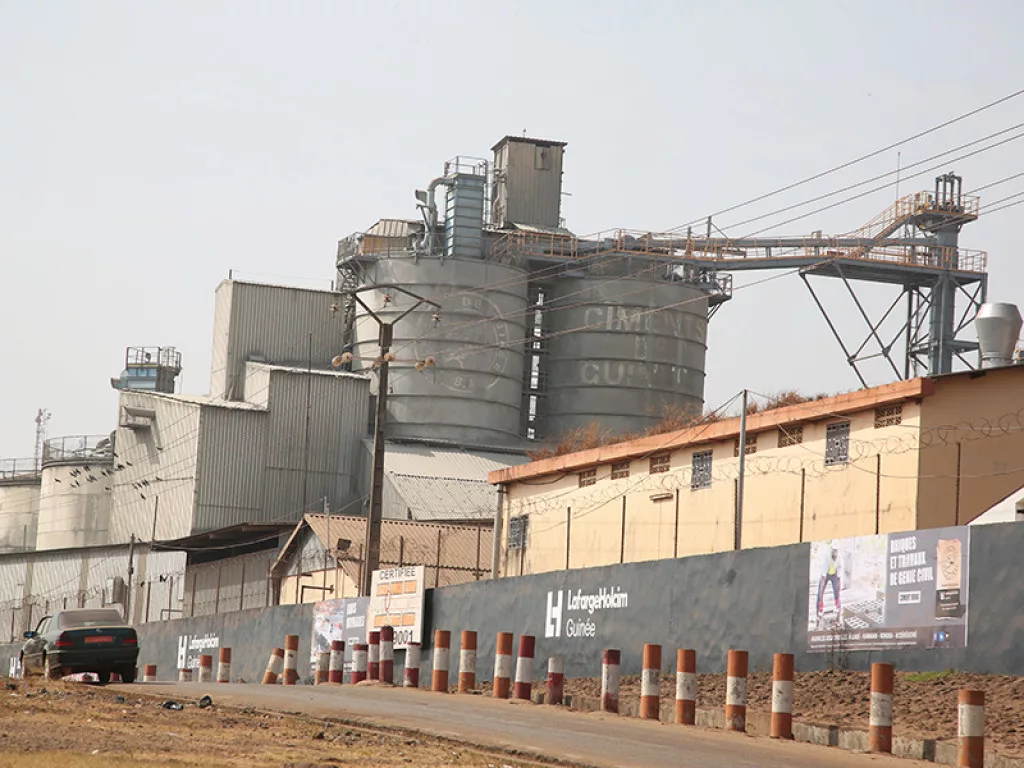 LAFARGEHOLCIM: WORKING WITH EXPERTISE
LafargeHolcim Guinea encourages its employees to behave impeccably in their dealings with suppliers and other business partners. Each employee must demonstrate a high sense of ethics and integrity in their business relationships and must comply with the rules contained in the Code of Business Conduct of the Holcim Group.
This code sets the rules of behaviour for all of the company's employees, managers and suppliers. It aims to establish a climate of trust at all levels. The parties involved in the act of purchasing undertake, with the purchaser, to show fairness in the treatment of suppliers, in particular by respecting rules such as supplier treatment equality and confidentiality, as well as a mutual understanding and commitment to sustainable development.
LafargeHolcim Guinea's success is largely due to its employees and supply partners, as well as the quality products themselves, but also the support the company provides its customers. In a country with promising construction potential, strengthened by an international network and years of experience, the company's unique offering of premium products allow it a competitive position in the market.
"The loyalty we get from our customers comes from our attention to their needs and our drive to help them grow their businesses," Hounkpati elaborates. "We provide technical support to our infrastructure customers, and our recently introduced mobile concrete laboratory with a dedicated team to help customers build in confidence.
"We have also introduced digital tools to improve our customers' experience. We've made it easier and simpler for customers to interact and get instant feedback from us, they can place their orders by just pressing three numbers on their feature phone."
DIGITALISED ECOSYSTEM
LafargeHolcim Guinea helps its customers develop and rewards them via a loyalty programme supported by Yigui, an in-house app that allows them to access a complete view of their individual transactions, claims, incentives, accumulated points and expected monthly, quarterly and yearly benefits.
"Our initiatives leveraging the digital ecosystem in the group will continue to prioritise our core and customer facing processes and our backend support key functions," Hounkpati says. "We will make available to our customers in the coming weeks a one-stop shop online solution that allows them to buy in bundle all their main building materials and get them delivered to their project's site. We've started the process of connecting our plant's equipment to improve its availability and overall performance.
"Our in-house team of developers and data analysts are at the forefront of our digital transformation aiming at making us an agile and a more data- driven decision-making business."
And on top of this, LafargeHolcim Guinea is moving forward with an increased sustainability and community-driven set of initiatives to facilitate its progressive operations. The company has planned to introduce solar energy to power its primary dispatch plant, as well as low-cement bricks at a reduced cost, to promote sustainable construction in the region. LafargeHolcim Guinea helps take care of the community through various donations in the support and improvement of education and healthcare for those who live around the plant.
"We believe in growing with our customers and our digital products help them as well on that journey," Hounkpati tells us. "We are also expanding our footprint in the region starting with a new mortar production plant to be commissioned in Upper Guinea in November.
"We believe in the potential and opportunities in this country."