Nigeria's Grand Cereals provides nutrient-rich products to help meet West Africa's growing need for healthy, affordable and accessible food.
INTRODUCTION
In West Africa, around half the population lives on less than $1.25 per day, according to a study by the International Food Policy Research Institute (IFPRI).
Persistent poverty leads to food insecurity, malnutrition and poor health. Roughly 75 percent of children under five and nearly 60 percent pregnant women in the region suffer from anaemia, while 32 percent of children under five are affected by chronic undernutrition (stunting).
Access to affordable, nutrient-rich food is of vital importance.
Meet Grand Cereals Limited, a company aiming to be the preferred provider of both human and animal nutrition in West Africa.
"There are 200 million Nigerians with about five million babies born every year. We have to feed this population," says Alex Goma, CEO and Managing Director of Grand Cereals Limited.
The food and beverage industry, he explains, is both a challenging and an exciting one, filled with opportunities.
"There is a lot of value to be created for consumers, supply chain partners, farmers, government and investors by feeding people the right way. There are many constraints that have to be dealt with across the whole spectrum, which makes every day exciting," he explains.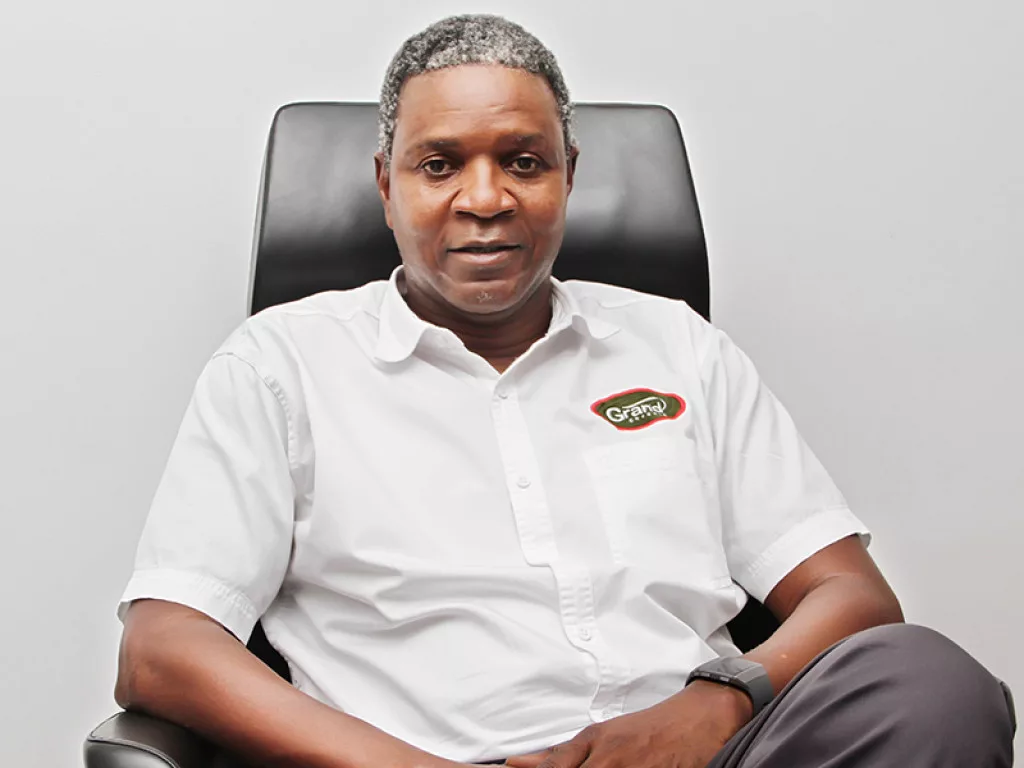 FEEDING WEST AFRICA
Grand Cereals Limited was established in 1983 and is currently a member of the UAC Group.
It is an integrated nutrition company that operates in the edible oils, consumer and industrial cereals and animal feeds categories.
It is currently led by an experienced board of directors, headed by Chairman, Chief Bode Emmanuel, with Alex having taken on the CEO position in 2019.
"I wanted to be part of a company that builds a world class institution and creates food security for Nigeria in the first instance and Africa in the second," the now CEO explains.
The company's head office and main factory is based in the beautiful Nigerian city of Jos. There are also factories in Onitsha and Kano, with divisional sales offices located in Lagos and Abuja. The organisation has more than 450 FTE and over 900-plus outsourced employees based across these locations with significant employment opportunities created via our farmers, key distributors and trade partners.
Grand Cereals has three master brands: GRAND (which sells consumer products); VITAL (animal feeds) and BESTMATE (pet food), the latter in the process of being established. All of these products are manufactured from locally sourced cereal crops and are intended to provide optimised nutrition at the best possible value for money.
When asked what differentiates Grand Cereals from its competitors, Alex cites the company's brands.
"Grand and Vital, our flagship brands have been trusted for years by consumers and farmers," he says. "Our focus on delivering quality to consumers with clear tangible benefits has sustained the business and will continue to drive the growth of the brands. It's the strength of the brands that has given Grand the right to extend from pure soya oil, maize flour, consumer grits to breakfast cereals like cornflakes."
Vital has also expanded its product range in recent years, expanding from poultry feed to fish and ruminants.
"These brands of course have been built by our people, who live our GRAND Values (Growth, Reliability, Agility, Networking and Drive). Our people create our brands and make the difference between us and our competitors," Alex explains.
A second reason for the company's popularity is the trust it has built up among the farming community in Nigeria and other West African countries.
It supports local farming communities and cooperatives by sourcing raw materials for its products from them. It provides technical assistance on sustainable production methods to these farms, and also optimises the delivery of raw materials from farms to production plants to ensure minimum waste.
Indeed, relationships with suppliers and other partners are critical to Grand Cereals' survival. The company has an end-to-end supply chain from procurement and manufacturing to customer service and delivery.
"These operations are at the core of ensuring we can deliver customers requirement on time and in full," the CEO says. "Our relationships with our suppliers are important to ensure we get quality input and also to work with them to reduce non value added costs. We are invested in ensuring their businesses are profitable, and we can work as partners rather than traders in delivering value for all."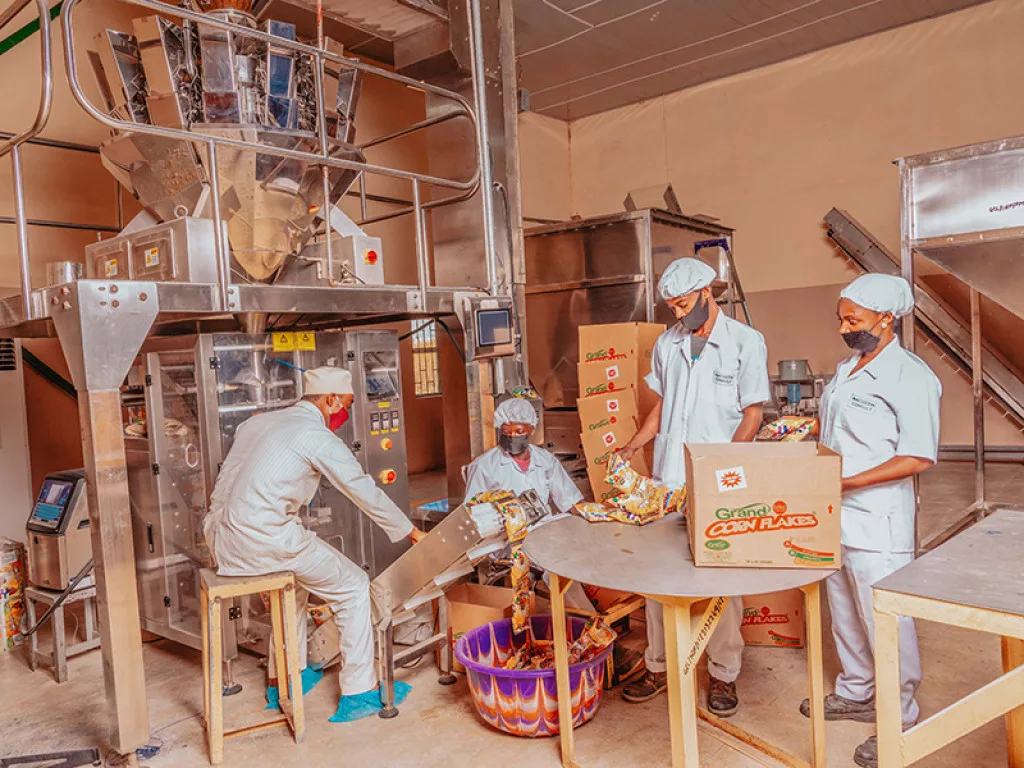 A SOCIALLY RESPONSIBLE EMPLOYER
Grand Cereals' corporate culture is to conduct business in an ethical, socially responsible and environmentally sustainable manner.
This begins in the workplace, which is characterised by trust, openness and visionary leadership. The factories themselves have been optimised to reduce waste and limit the impact on the environment. These efforts have led to Grand Cereals gaining an ISO 5001 certification.
As part of its business culture, it also engages in corporate social responsibility (CSR), with a focus on education, nourishment, socio-cultural development and sustainability.
"We have been involved in community development especially around where our factory is located," the CEO explains. "We have built and delivered a community centre in Jos and we have supported the recent government initiative to provide for the poor and needy during the COVID-19 pandemic in the three states where we have operations."
Back in June, for example, Grand Cereal Limited supplied food items to both Plateau State and Anambra State Governments to be delivered to vulnerable citizens. The donated items included 10 tonnes of fortified maize flour, 250 cartons of Grand pure soya oil, 900 crates of eggs source from the Poultry Farmers Association and 250 cartons of cornflakes.
However, CSR this year has gone beyond disaster relief.
"We also run a number of training workshops and schemes for farmers across the country to help them improve their farming best practices. Our next area of focus is looking at educational development and capacity-building for society," Alex says.
One aspect of this capacity-building is a graduate trainee scheme which it hopes to roll out over the upcoming year, helping ensure it builds talent for the future.
The conversation turns automatically to the year ahead, with Alex outlining plans to expand the company's oil refining capacity to meet the demand for oil for human consumption, as well as a material for its feed business. This is the latest in a string of upgrades that includes the installation of a breakfast cereal plant at the Jos factory and a new fish food plant in the Onitsha factory.
"Our next focus, of course, will be about driving profitable growth, so we have to be ready as a business to push all levers to support this. We have specific projects in the factory we have to complete as well as the expansion of our oil business," the CEO explains.
But its corporate expansion isn't solely motivated by profit. Grand Cereals Limited also wants to do its bit to ensure it provides Nigeria's growing population with affordable nutrition.
"With a young and growing population, we expect to be able to support the requirements for ready to eat meals as well as requirements for protein for nutritional wellbeing," Alex concludes.