Douglasdale Dairy is a key player within the South African food and beverage industry. We speak to CEO Rob Ward about the sector at large and the company's operations within the space.
INTRODUCTION
The dairy industry in South Africa is substantial. It is one of the largest agricultural industries in the country, providing livelihoods to more than 100,000 people, with large farms accounting for 80 percent of South Africa's total milk production.
Within the nation's dairy industry, Douglasdale Dairy operates as a large, respected and well-known processor and distributor of dairy products in South Africa.
A TALE FROM THE PAIL
Douglasdale Dairy was founded by Mr Thomas Douglas and his wife, Janet Alexander, who both immigrated to South Africa from Scotland in 1890. After establishing the farmhouse in 1905, the family began producing milk in the 1930s. A decade later, they began retailing their milk and hand delivered 240 bottles of milk a day, with the 1950s seeing deliveries by horse and cart, and later by delivery men on bicycles. In honour of their influence over the local community, the Douglasdale area, a residential suburb in Sandton (Gauteng), was named after them.
The late 1970's saw the dairy change its focus to the processing and distribution of dairy products and the milking of cows on the farm was stopped. Douglasdale Dairy now sources its milk from the Eastern Cape, KwaZulu-Natal (KZN), and the Highveld Regions, servicing over 6,000 customers in the Gauteng, Northwest, Limpopo, Mpumalanga and Northern Free State Province.
The original dairy is still operated on the very land on which it was started in 1905, and the passion for delivering fresh, quality products that began with its inception all those years ago is still found within its people and in every corner of the farm today.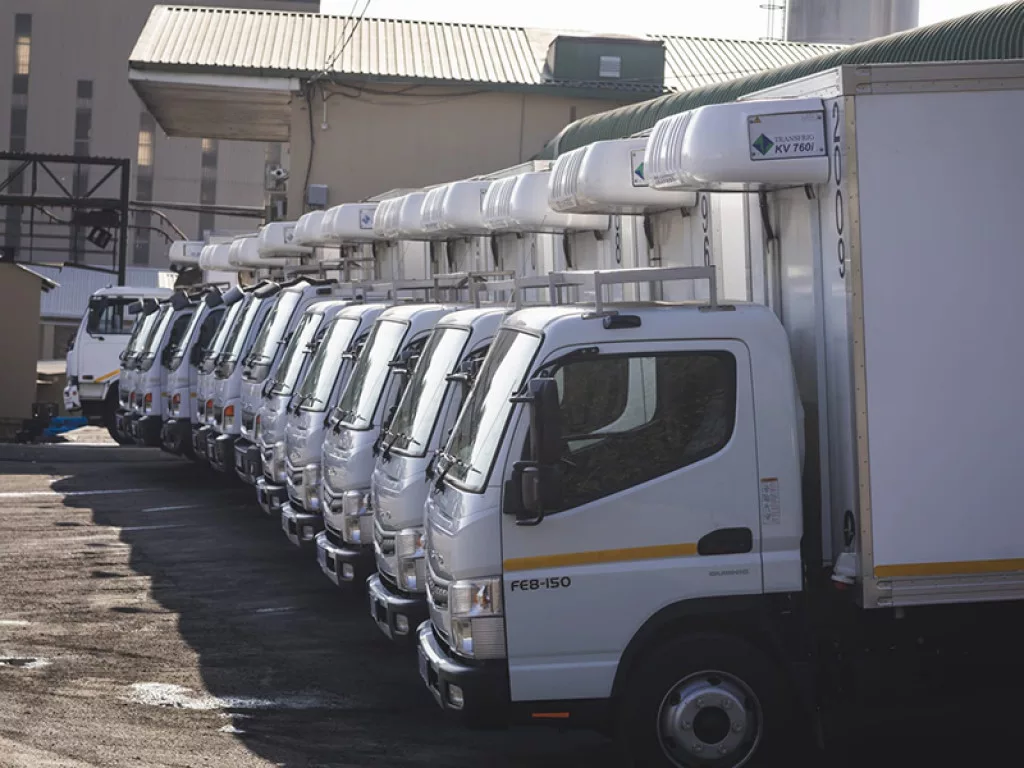 A MISSION FROM FARM TO FRIDGE
Douglasdale Dairy's company mission is to help fight hunger and malnutrition by producing the best quality products, at an affordable price for as many people as possible.
The company strives to make its customers feel like they are the most important aspect of the business, by providing the best possible service, delivery and products at all times.
Health is a critical part of Douglasdale Dairy's business journey, and this extends to the environment as well as that of its people. This is exemplified in the company's mission to reduce plastic bag usage, to which Douglasdale Dairy promotes a sustainable option in the form of handing out approximately 200,000 woven bags each year.
CLEAN WATER
South Africa is well-known to be a water scarce country. In light of this fact, Douglasdale Dairy decided to invest in a water treatment plant which would allow the company to purify and reuse the water it requires to wash and sterilise its processing plant.
To treat the water, two holding tanks were built. Each of these tanks have the capacity to hold one day's worth of grey water. A DAF (Dissolved Air Flotation) system was also installed. Flocculants and coagulants are introduced into the grey water; this coagulates the fats from the grey water, and tiny bubbles are used to float the fat to the surface. The fat is then skimmed off and discarded in an environmentally friendly manner. The water is then pumped through aggregate, and a series of dams, where aerobic bacteria is introduced to further clean the water. The water then passes through a sand filter, microfiltration, ultra-filtration, UV lights and finally a carbon filter to a storage tank.
The laboratory tests the water to see if any impurities are present. When the all-clear is given, the purified water is then reused, and the cycle begins again maintaining a consistent use of clean and safe water throughout.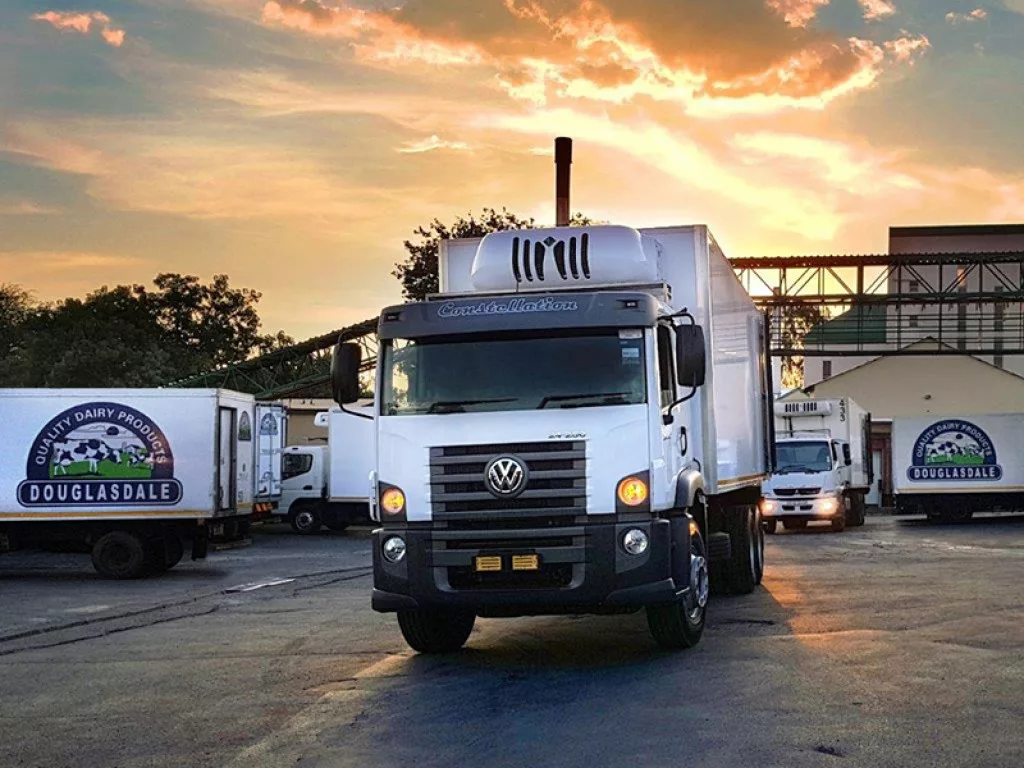 WASTE MANAGEMENT
As well as clean water processing, Douglasdale Dairy has partnered with recycling company Pandae Green Solutions to manage the waste generated on the company's premises. All waste is collected and sent to Douglasdale Dairy's recycling station for sorting.
During this process, all products are grouped into the various recyclable materials: HDPE, LDPE, PP and paper. They are then collected and taken for recycling.
In total through this sustainability initiative the company has managed to reduce its landfill usage by approximately 75 percent, and it remains committed to using materials that are recyclable to further reduce company landfill usage.
On top of this, to further promote recycling and allow Douglasdale Dairy consumers to participate in the recycling process, the company has partnered with Imagined Earth and their Reverse Vending Machine technology (RVMs) that allow consumers to 'return and earn.'
CERTIFIED QUALITY
In order to ensure the highest quality across its operations, every Douglasdale Dairy product is marked with a batch code for traceability. This enables the company to identify all components in the finished product.
And while the dairy is situated on the same premises as where it started, the demand for Douglasdale Dairy's product has outgrown the space available in suburban Johannesburg. That is why the company now works with a selection of farmers to supply its raw milk.
Douglasdale Dairy follows a thorough vetting process when selecting the farmers supplying the company with raw milk. The company's factory is FSSC22000 compliant. This ensures that the factory maintains the highest health, safety and quality standard's when processing, packaging and distributing quality dairy products.
Through this, Douglasdale Dairy can assure its customers that all products bearing the Douglasdale name are sure to be the best quality available. The company not only holds an export certificate, but its products are also Kosher and Halaal certified.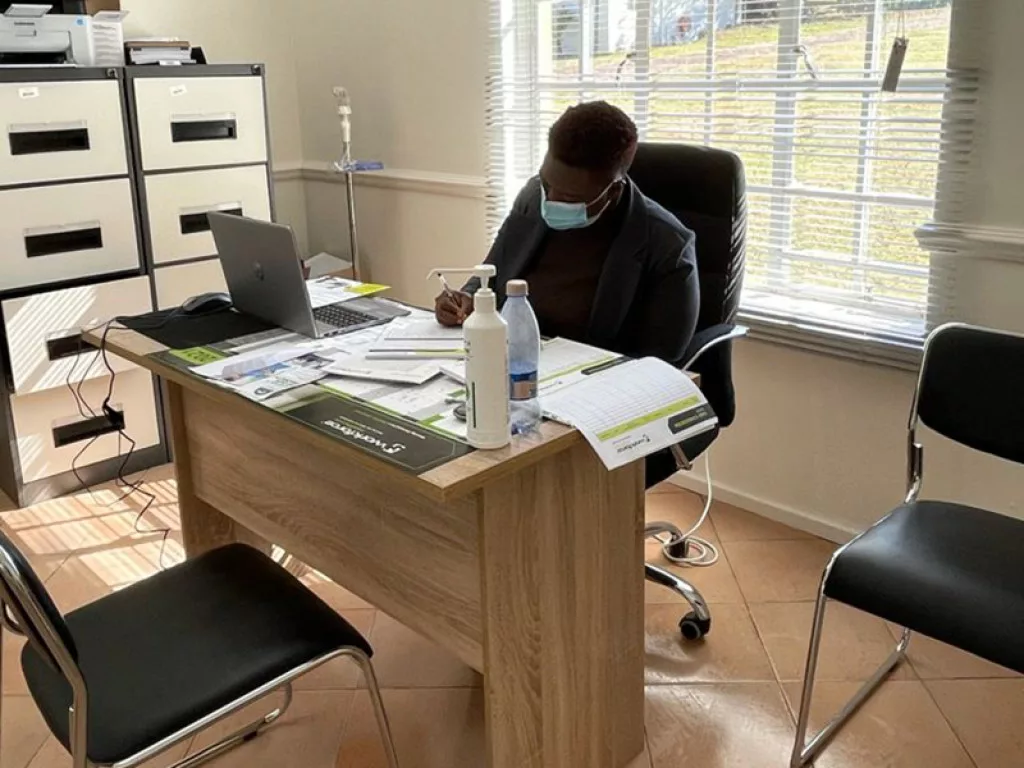 EMPLOYEE-CENTRIC VALUES
Operating as a dairy business it is the individual hard-working employees that make Douglasdale Dairy what it is. In recognition of their efforts, the company has and continues to further support its staff at all levels so that each and every one of them can develop and grow.
Exemplifying this, Douglasdale Dairy started a Long Service Awards Programme in 2019. This programme was put in place to recognise staff members that have been with the company for five through to 25 years.
Douglasdale Dairy hold an annual awards ceremony where employees are given certificates and receive the recognition that they deserve.
Douglasdale Dairy is also in the process of developing staff training modules that are tailored to specific jobs and roles or functions. This helps upskill the company's workforce and provide them with the tools not only to do their jobs, but also equip them with the skills to prepare them for more senior roles.
Yet on top of this, the company offers non-work-related skills that have been made into training programmes. Douglasdale Dairy's courses cover topics such as monthly budgeting which explains the impact of interest on a loan; a subject that aids many in the community and promotes the understanding of financial impacts to better their futures.
In addition to general training, Douglasdale Dairy also has a 'TOP' programme. This programme identifies TOP performing staff throughout the business. It's open to all staff and the objective is to find top performing members and help grow and develop them so they can maximise their potential.