MultiChoice Malawi delivers exceptional and creative media content across a range of platforms. As the influential brand continues to constantly evolve, it ensures that customers across the continent receive the very best in entertainment.
ENTERTAIN, INFORM, EMPOWER
MultiChoice is Africa's leading entertainment platform, with a mission to enrich lives across the continent through its wide range of products and services. The company's product portfolio and array of services are used today by over 23.5 million households in 50 markets across sub-Saharan Africa.
As the continent's most adored and established storyteller, MultiChoice is committed to supporting the development of the African creative industry and is proud to be a major employer across the region.
Excited about what the future holds for the company, MultiChoice believes that it can continue to grow its business and positively impact the lives of millions of people across Africa.
Additionally, MultiChoice aims to create 'a world of more' for Africa by leveraging its unique platform, scale, and distribution to build a broader ecosystem of consumer services that are underpinned by scalable technology.
In this way, the company focuses on offering the full package to its many customers and continues to create immense value for its shareholders by expanding in areas where the company has identified it possesses the right to play and the ability to make a meaningful impact.
A NATIONAL NETWORK
Under the broad reach of the MultiChoice umbrella, MultiChoice Malawi was established in 1996 as a locally-owned franchise. The vast operation now provides Malawian customers with a comprehensive choice of five TV packages.
Local operations are run by 115 local Malawian employees working in Blantyre, Lilongwe and Mzuzu, supported by a nationwide network of agents, retailers and installers.
Key to MultiChoice Malawi's impressive array of achievements to date is the creation of a strong local workforce that works smarter, not harder, to deliver innovation, service excellence and world-class entertainment to customers across the country.
This expert team has reshaped MultiChoice Malawi's business to improve every touchpoint along the customer journey by placing value at the centre of the experience.
Similarly, MultiChoice Malawi has grown hand-in-hand with its local communities and today boasts a staff footprint spanning the entire nation through retailers, 152 agencies and 58 accredited installers.
Together, this team works to make the best local and global content available through the company's products, which provide crystal-clear digital satellite TV to a large segment of the population through three dedicated transmitter sites.
GROWING MALAWI'S CREATIVE INDUSTRIES
At present, a major focus of the company's social investment efforts is being put towards igniting Malawi's creative industries through upskilling film and TV professionals. One example of how the business is doing this is through the introduction of the MultiChoice Expansion Programme, a collaborative skills development initiative between MultiChoice, local producers and the public sector – through the MultiChoice Talent Factory (MTF) skills development expertise.
Moreover, the annual MTF Academy, which develops the skills of young filmmakers through a year-long learning programme at the Lusaka-based MTF Academy of Southern Africa, has produced an ever-increasing collection of skilled alumni, who will undoubtedly positively affect and continue to grow the national media industry.
Back in 2018, Chimwemwe Mkwezalamba and Jonathan Kapumba represented the first MTF student intake in Malawi. Following the successful completion of the initiative, Kapumba also secured a three-week Bollywood internship and participated in a production that was nominated in the MTF category of the 2022 Africa Magic Viewers' Choice Awards, which took place in Lagos, Nigeria. This has been a notable point of pride for MultiChoice Malawi.
The hope of the company is that these students and the many other talented young Malawians will follow in their footsteps and help create a pipeline of local content, facilitated directly and overseen by the guidance of MultiChoice.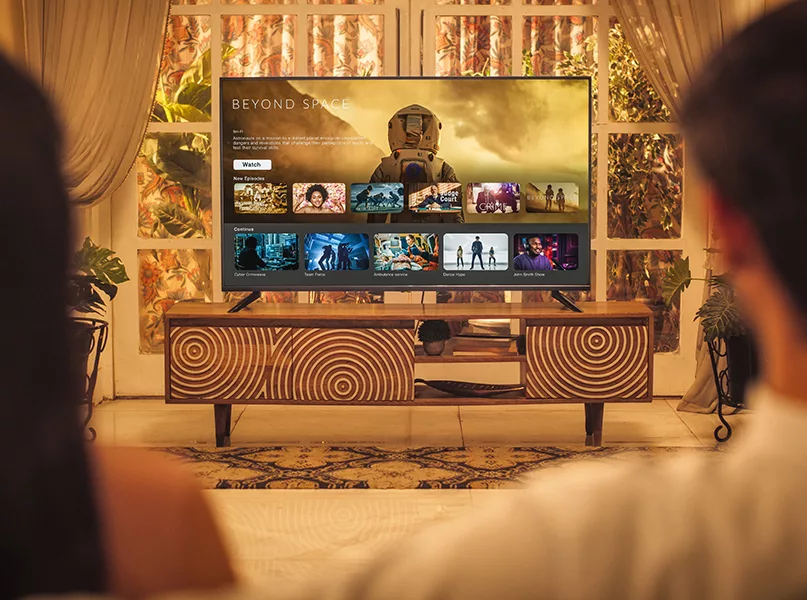 OFFERING A WORLD OF CHOICE
MultiChoice Malawi's company mantra of 'Sanka Wekha', meaning 'you choose', embodies its core belief that the customer possesses the ultimate power to choose. This involves giving customers the ability to pick from a variety of media packages that suit their specific needs and how they manage their subscriptions. Furthermore, 'Sankha Wekha' highlights MultiChoice's commitment to always putting the customer first through offering a wealth of variety, and more importantly, a world of choice.
Similar to how MultiChoice Malawi aims to ensure a better ability to choose between a range of premium products for its customers, the company strives to foster a healthy and open culture and community, linked with the collective goal of facilitating a better tomorrow.
Everyday, MultiChoice Malawi works to care, connect, and create the impacts that subsequently enrich the lives of its people and customers.
As part of this broader approach to benefitting the lives of its teams and the communities it serves, MultiChoice Malawi's corporate social responsibility (CSR) initiatives include the recent refurbishing of the intensive care unit at the Queen Elizabeth Central Hospital in Blantyre, alongside donating more than 7,000 personal protective items to Malawian citizens at the height of the COVID-19 pandemic.
With this collective mindset at the forefront of every company process, MultiChoice Malawi's teams entertain, inform, and empower through memorable experiences and powerful African stories that are shared across cutting-edge, breakthrough platforms.
The company states, "in every moment we are uniting the world in Africa, enriching the lives of every person to feel, experience and connect beyond their boundaries."
CONTENT FOR THE CONTINEN
By investing in original productions of authentic stories and talent across the continent, MultiChoice Malawi is helping to launch careers, both locally and internationally. With content designed to cater for a diverse swathe of varied audiences, the company supports local production houses as well as talented actors, writers, and filmmakers as part of its investment in the enhancement of the burgeoning Malawian media landscape.
In this way, MultiChoice Malawi believes passionately in telling African stories that touch lives, celebrate the entire continent, and initiate the positive consequence of building great futures for all. This is why MultiChoice Malawi's variety of channels has made growing Africa's video content industry a crucial and pressing priority. To substantiate this bold claim, MultiChoice Malawi has invested generously in local movies and TV series in recent years.
As part of this ambitious new direction for the company, SuperSport is the largest funder of sports on the continent and broadcasts most of the major sporting events and leagues, sourcing content from federations and license holders as well as producing its own thrilling programming.
A NATION OF STORIES
Shouldering the responsibility of sharing narratives of the nation's past, present, and future, MultiChoice Malawi asked three extraordinary poets – Lebohang Masango, Mumbi Macharia and Chika Jones – to create a remarkable on-air promotion, entitled "Ten Thousand Stories", which celebrates the company's dedication to promoting diversity and highlights the importance of tales told by Africans, for Africans.
Lebohang Masango, the originator of this ground-breaking work, is a South African writer and poet with an MA in Social Anthropology from the University of Witwatersrand.
In her collaboration with MultiChoice Malawi, Masango is not only bringing African stars to screens across the nation but is encouraging Africans to become involved in the production elements of shows.
Finding the oral storytelling tradition fascinating, Masango and MultiChoice Malawi remain aligned in the admiration of the unique ability of Africans to naturally convert history into entertaining and accessible stories.