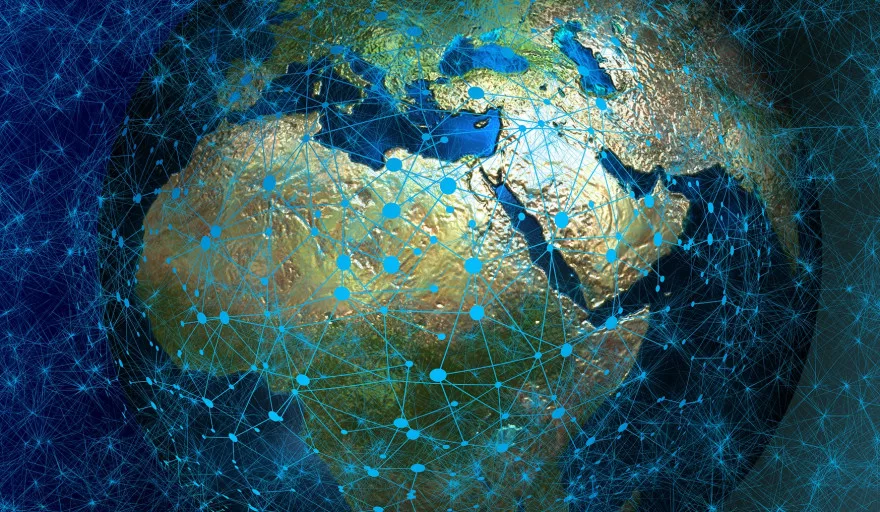 Kagiso Khaole, Chief of Staff and Head of Content and Services at Samsung Africa, talks about the tech giant's ongoing work to deliver affordable technology to African communities

Written by: Tom Wadlow


The African technology is rapidly evolving.


According to research by Forbes, the number of so-called tech hubs – incubator facilities, innovation centres and accelerators – has risen by 50 percent over the past few years to more than 640 such sites in 2020.


The continent is home to 1.2 billion people, a large proportion of them being young and eager to embrace an increasingly digital way of life.


Improving technology infrastructure and access to smart connectivity devices is therefore paramount to driving progress, progress which needs to be made with Africa's internet penetration sitting at just 39.3 percent in Q1 2020, well below the global average of 58.8 percent.


Global giant Samsung is a busy player on the continent, and Kagiso Khaole is the company's regional Chief of Staff and Head of Content and Services.


As Head of the Content and Services Group in Africa, he leads a talented team responsible for the continuous evolution the Samsung ecosystem which spans across AI, IoT, health, gaming, payments, insurance, mobile security and 5G networks.


Meanwhile, the Chief of Staff remit covers two key areas of responsibilities which span all functional areas of the organisation, including strategic initiative ownership and driving organisational effectiveness. Ultimately, the aim here is to serve as a linchpin within the executive structure and provide strategic counsel to the President of the organisation to solve immediate and long-term challenges.


A demanding, far-reaching brief, but one which fulfils Khaole's long-held passion for seeing technology deliver positive change. He took time out to answer our questions.


Africa Outlook (AfO): What sparked your interest in technology-based career?


Kagiso Khaole (KK): Technology is that boundless canvas which gives ideas an opportunity to become a reality. I believe in the power of applied technology to solve our toughest human issues and lift individuals, societies and entire countries to prosperity. My affinity to technology was formed at very early age, where many popular cartoons and toys revolved around robots and advanced mechanical creations of both heroes and mad scientists. One of my favourite childhood hobbies was repurposing old electronic toys and other gadgets in the house to make new toys. In hindsight, it got me into a lot of trouble but fuelled my innate curiosity of the world around me and ignited my love for the digital world I work in now.


AfO: What role can technology and Samsung play in creating a better South Africa?


KK: We believe technology can change lives. It empowers people to do what they couldn't do before and connect with the world in new ways. For Samsung, it's about offering purposeful innovation that enhances South Africans' lives.


We listen to the needs of our consumers and understand that they are looking to not just buy products but experience the benefits – convenience, peace of mind, and enjoyment. They are looking for technology to help them fully experience life. These are just some of the emerging factors that drives Samsung's thinking of innovation. We continue to turn innovative products into seamless experiences and memorable moments – and make the technology affordable to more people. As we follow this innovation philosophy, we can inspire people to 'Do What You Can't'.


Additionally, under Samsung's corporate citizenship vision, we are heavily invested in programmes that will help South Africa's youth gain necessary academic and professional skills useful for the fourth industrial revolution.


This is an integral part of Samsung's mission to empower South African communities to play a bigger role in the economy. It's innovation for all – empowerment that will make a real difference in the country and continent. Samsung is primarily focused on education such as the Samsung Engineering Academy and bursary programmes, which are focused on preparing youth to place their future in their own hands. This is aligned with Samsung's global mission, 'Enabling People', which is aimed at aiding people, discovering and developing their full potential. Every time we open new facilities like a Future-Innovation Hub in a university or a technology centre in a school, we are taking another step forward to making life better for all South Africans.


AfO: I see you recently launched three affordable devices. How important is it to produce smartphones which are accessible and affordable?


KK: It is essential. To turn Africa's potential into power, we must place cutting-edge technology in the hands of the youth and the many people who will shape the future of this continent. We also want to help solve social problems and build a better world for everyone. This is our commitment – enabling people to achieve more. To create this lasting change, we will continue to listen and create ideas and solutions that make a real difference in Africa and defy barriers to progress. Through affordable devices such as the Galaxy A51, A71 and Note10 Lite we can create a better future for all. These devices represent our continuous effort to deliver industry-leading innovations, from performance and power to intelligence and services – distinct premium features offered with unrivalled value. Now, importantly, the youth have access to longer-lasting batteries, smarter cameras and incredible performance. It opens up a world of possibilities. This is great progress.


AfO: How crucial is mobile money and Samsung Pay to opening up access to financial services in Africa?


KK: It's the future so it's very important. The use of mobile money and Samsung Pay has grown exponentially over the past few years, making Africa the global leader in mobile money innovation, adoption, and usage. Samsung Pay has, in turn, brought a new level of convenience and security when making contactless mobile payments. Armed with the ever-present smartphone, you can now pay with your smartphone in a way you just couldn't before. It's this kind of convenience where technology can make a massive difference in our lives. It allows for greater financial inclusion that can benefit more people than ever before. The fact is, Sub-Saharan Africa is the only region in the world where close to 10 percent of GDP in transactions occur through mobile money. This compares with just seven percent of GDP in Asia and less than two percent of GDP in other regions. Therefore, Africa is rich with the potential to adopt a future-focused idea sooner than the rest of the world and enhance the possibilities. Because most African users now rely on mobile payments to send and receive money domestically, they can increasingly take advantage of new services to also send and receive money internationally. In addition, they use mobile money to pay their bills, receive their wages, and pay for goods and services. Mobile money is the future and Africa is taking the lead in its many uses. For Africa, it's a game-changer.


AfO: If you could fast forward 10 years, what would you like to see in terms of Samsung and its impact on socio-economic development across the region?


KK: There is no doubt that the fourth industrial revolution is fast approaching and fortunately, with a broad youth base, access to global value chains as technology suppliers and the chance for SMEs to capitalise on new technologies, Africa is in a positive position to seize the opportunities ahead. Samsung's ongoing vision to develop skilled electronics technicians and engineers by bridging the current skills gap. Engineering academies across Africa have already seen thousands of students graduate with hands-on, practical skills at no cost, enabling them to move into jobs after they graduate.


In the decade to come, we want to see the results of these and many other programmes. Samsung will also continue to design cutting-edge products that are accessible to more people in more ways. The power of technology in the hands of inspired and talented Africans is the dream. We hope they, in turn, give back to their communities to build an empowered and prosperous Africa.