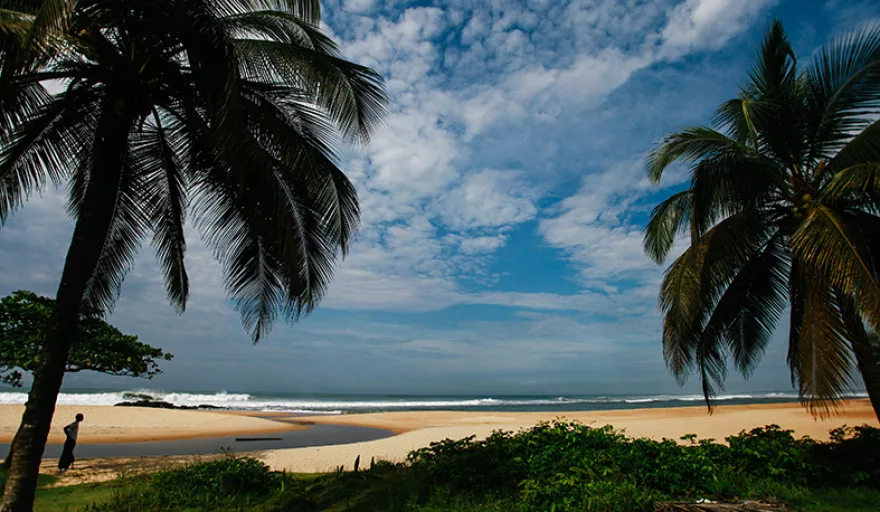 Standing proud as Africa's oldest republic, Liberia is the only black state in Africa never subjected to colonial rule.
Established on land designated for freed American slaves, the country officially became independent in 1847 and enjoyed relative stability for more than a century before civil war struck in the 1990s. Following a decade of troubles, Liberia once again has stabilised and is presenting itself as a dynamic destination for both leisure and business travellers.
From low and sandy coastal plains to rolling hills and lush rainforest inland, the country is home to a tremendously diverse array of terrain, the making of a fascinating visit for those seeking to revel in the outdoors. Indeed, it is home to one of the finest national parks in the whole of West Africa.
Likewise, the promise to build a state-of-the-art international convention centre is sure to attract commercial interest from around the region and further afield once built – a clear sign that Liberia is open for business.
And tourism will play a key part in realising the economic potential to be found here, not least because travel restrictions have been lifted following the World Health Organization's declaration in 2015 that the nation is officially Ebola-free.
The Business End
The end of the civil war in 2003 and democratic election of a new government in 2006 prompted reenergised efforts to build up Liberia's economic infrastructure.
Shipping represents an important income generator for the country, although the economy is still a largely agrarian one, with key exports coming from rubber, forestry, and mining with the help of foreign investment in the country. Liberia is rich in natural resources and has tremendous potential to generate hydroelectric power, something which was heavily disrupted during the civil war period.
Developing the national tourism sector has been highlighted as a critical means of diversifying the economy, and concerted efforts are being made to organise the tourism to make it easier for visitors to plan trips.
Available information on the value of Liberia's tourism industry is limited, with figures for 2014 and 2015 (when Ebola struck) showing a steep drop from the $232 million generated in 2011.
MICE tourism could prove an important subsector in the country's bid to restore and grow the sector beyond the income highs seen eight years ago.
In December 2018, President George Weah named Liberia's international convention and tourist centre after Indian independence campaigner Mahatma Ghandi. The centre will be built by Indian contractors and located on a parcel of land at Stockton Creek on the Mesurado River, near the Providence Island tourist attraction.
Visit Liberia
Visit Liberia is helping to place the country on the regional tourism map.
A country with unspoiled nature, a fascinating history and welcoming culture, there are huge opportunities that Geert Van Dorst, the association's Founder, is seeking to develop.
"The Visit Liberia website came into existence as a result of the lack of structure online when it comes to tourism activities, entertainment, travellers' tips and other relevant information when you want to visit Liberia," he tells us. "I noticed this when my wife Olivia Newton and I were searching for things to do."
"There was a void in the online platform and too many fragmented initiatives that can't be found easily by the normal surfer on the web, so we wanted to change that with the birth of our website. Sure, it still needs a lot of work and continuous content to make it better and user friendly for the tourists we want to attract to our beautiful country.
"Our vision is still to advocate with our Visitliberia.net to show Liberia in a more positive dimension away from the war-ravished country that still lingers on in people's minds. Our country has taken tremendous steps towards the future to showcase our beauty to the world and welcome everybody to come."
So, what else does Liberia have to offer? Van Dorst took time out to answer some more of our questions.
Africa Outlook (AfO): How Visit Liberia developed and progressed in terms of its key objectives and the messages it tries to get across?
Geert Van Dorst (GVD): Sure it hasn't been an easy task to get all the local stakeholders thinking the same way, but business owners have taken moved to the forefront to ensure collaboration under the form of the Liberia National Tourism Association, where we all join forces to create the much needed structure behind all the different tourism activities and provide them platform on our site.
The objectives will continuously change because we want to move forward and progress, so every milestone that we cross we will set a new goal to work for. Our work will never stop.
AfO: How would you say Liberia has developed in recent years as a business travel hub and what are the key reasons behind its growing appeal?
GVD: Liberia is now on the development path for tourism and equally for business – lots of opportunities in various sectors that can be explored for companies seeking long term development plans in Liberia.
A tourism sector that is yet to be developed is a very good investment strategy for long term business in the country, especially when you love unspoiled beaches, sea, water sports and lovely temperatures all year round.
Now as we speak the government is undertaking efforts to ensure that a tourism visa on arrival policy can be implemented in the following years at the brand-new terminal at Roberts International Airport, due to be operational soon.
AfO: Why, in your opinion, should someone visit Liberia?
GVD: In my opinion Liberia is a Gem to be discovered in all aspects, Unique culture from how the country became to be, the unspoiled beauty of the landscape, abundance of fresh fruit and vegetables, openness of the people who welcome you when traveling with an open spirit that you are welcomed into the country to explore and learn more about it and its customs makes it a destination where you will feel like an explorer venturing into new frontiers.
AfO: What are the best ways of getting around the country?
GVD: The best way to get around is with a taxi in Monrovia and its surroundings, and you can negotiate a day price to let the taxi stay with you all day so it's more practical to see more things. When you want to travel outside of the capital into the counties its advised to hire a 4×4 with a driver and helper because you have to bear in mind that there are no real structured ambulance networks yet in case of emergencies.
This is something you should always keep in mind for traveling – safety.
AfO: What trends are transforming the tourism industry in Liberia at present? How are you responding to these trends?
GVD: The trend is that tourism entities are getting more and more organised and new ventures have started in the tourism related sectors. We are giving them online visibility so more and more travellers will find their way to Visitliberia.net and continue working with all the stakeholders involved in this process of bringing out our country to the world.
Liberia is open for business and various sectors so we invite investors to come and check the opportunities out.
AfO: Are there any plans or projects in the pipeline?
GVD: The government is working hard on getting various road projects implemented so easy access can be obtained to the hinterland where various touristic attractions are located. Travel time will become reduced for future tourists and the business community in general.
AfO: Are you optimistic about the future of the tourism industry in Liberia?
GVD: We at Visit Liberia are very optimistic for the future of the tourism industry because of the resilience of the Liberian people to always reinvent themselves in a positive way, even after war and Ebola the people are standing there proud of their nation, "Mama Liberia", and are willing to develop and stand for that freedom. It's about time it became known to the world that we welcome everyone.
In Focus: Monrovia
Lying on the coast and serving as Liberia's capital, largest city and chief Atlantic port, Monrovia is named after US President James Monroe and began life as a settlement for freed American slaves in the 1820s.
Since this time the city has been through both ups and downs, overcoming the ravages of war and the deadly Ebola outbreak. Today visitors will find a vibrant city with many sights and sounds, including the must-visit Liberia National Museum, Waterside Market, Silver Beach and Providence Island.
Monrovia, as well as being the country's economic generator, is also an important educational hub.
The city is home to the University of Liberia, which was founded in law in 1851, opened 1862, given university status in 1951 and established a medical school in 1968. Elsewhere is the modern Monrovia Consolidated School System complex in the Sinkor district, and several church secondary schools.
An interest in history is recommended for anyone visiting the capital, the aforementioned museum containing many fascinating exhibits detailing the country's past – it is the oldest Africa republic and has an intriguing story to tell.
Likewise, a desire to try local and West African cuisine is also advantageous, as there are many opportunities to sample staple dishes such as jollof rice, fufu (dumplings), and okra stew.
Transport Links
Monrovia Roberts International Airport is the main airport in Liberia and where the vast majority of tourists will arrive.
Among the airlines serving the transit hub are KLM, Royal Air Maroc, Brussels Airlines and Kenya Airways, the nation recovering from the cuts to services made during the Ebola outbreak of 2014/15. Liberia also shares land borders with Guinea, Sierra Leone and Ivory Coast, meaning road transport from these places is another viable way into the country.
Once arrived, bush taxis are a popular way of travelling in and out of Monrovia from numerous other destinations, including Buchanan, Gbarnga, Ganta and Sanniquellie. Minivans also travel similar routes.
Car rental can be arranged through some hotels, and private taxis are another option for visitors looking to move around Monrovia and beyond. Motorbike taxis called pen-pens can be found in the major cities, while bicycles represent a final road-based option, although it is wise to avoid poorly treated surfaces.
Liberia does not have a train network, so alternatives to road transport are few and far between – while there is no official ferry service, tourists will be able to find canoes and boats able to take them up and down waterways.